If you've been forwarded this newsletter, click here to subscribe to get updates sent to your inbox every Saturday morning. If you have any feedback (newsletter too long? too short? have a tip?), just hit reply!
---
I met Mahathir and I'm apparently a traitor now
It's been a ridiculous week. Seah Kian Peng and K Shanmugam—both from the ruling People's Action Party and members of the Select Committee on Deliberate Online Falsehoods—have accused my friends and I of asking Malaysian Prime Minister Mahathir Mohamad to interfere in Singapore's politics. These are baseless allegations. As you can see from the mid-week special issue, three of us lodged complaints with both Prime Minister Lee Hsien Loong (as the leader of the PAP) and the chair of the Select Committee, Charles Chong. But Lee simply referred the matter to the Minister of Home Affairs… who is K Shanmugam. As we say in Singapore, "Ownself check ownself."
I tweeted a simple chronology for those who would like to see how things unfolded. I'd also like to highlight Desiree Lim Harkins' excellent commentary on this whole "foreign intervention" rhetoric.
I've encountered lots of trolls and people who just aren't interested in engagement online, but I understand that there might be Singaporeans who actually be concerned (or just confused) and might be worried about what we were up to. If this is you, I urge you to read my blog post (from before this whole thing blew up), or just hit reply to get in touch and ask me directly.
People are still worried about their HDB flats
While the stupid "treason" saga was ongoing, the issue of HDB flats and their value on a 99-year lease continued on. Minister for Transport Khaw Boon Wan, who was the Minister for National Development from 2011–2015, sought to reassure young Singaporeans that HDB flats are still assets. The current Minister for National Development, Lawrence Wong, has come out to say that it is "factually and legally wrong" to say that people are merely renting and don't own their HDB flats, since they have ownership rights over the property during the period of the lease.
(At the same event at which he made his HDB comments, Khaw also told Singaporeans that the high cost of living is a "problem of success", because it's inevitable that the cost of living rises as a country is doing well. Vikram Nair, another PAP MP, said Singaporeans should see the high cost of living as "paying someone else a higher wage". My first question: if that's the case, why are the migrant workers who build our flats, malls, hospitals, schools, etc. all so poorly paid?)
Rail-related matters
Singapore and Malaysia have come to an agreement about the high-speed rail project: it's going to be postponed until the end of May 2020, and Malaysia will pay Singapore S$15 million for costs incurred.
In other rail-related news, public transport fares are set to rise again. But the Public Transport Council has a handy tip about the new fare rules: "It gave the example of someone travelling on the Downtown line from Little India to Bendemeer, 11 stops away. But if he got off at Rochor, walked several hundred metres over to Jalan Besar station and continued his journey on the same line, he would pay 77 cents instead of $1.16. The 39-cent discount applies only if he completes the transfer within 15 minutes."
If you're wondering why the heck someone would get off the train and walk to another station to get back on the same line again, it's because the Downtown Line looks like this: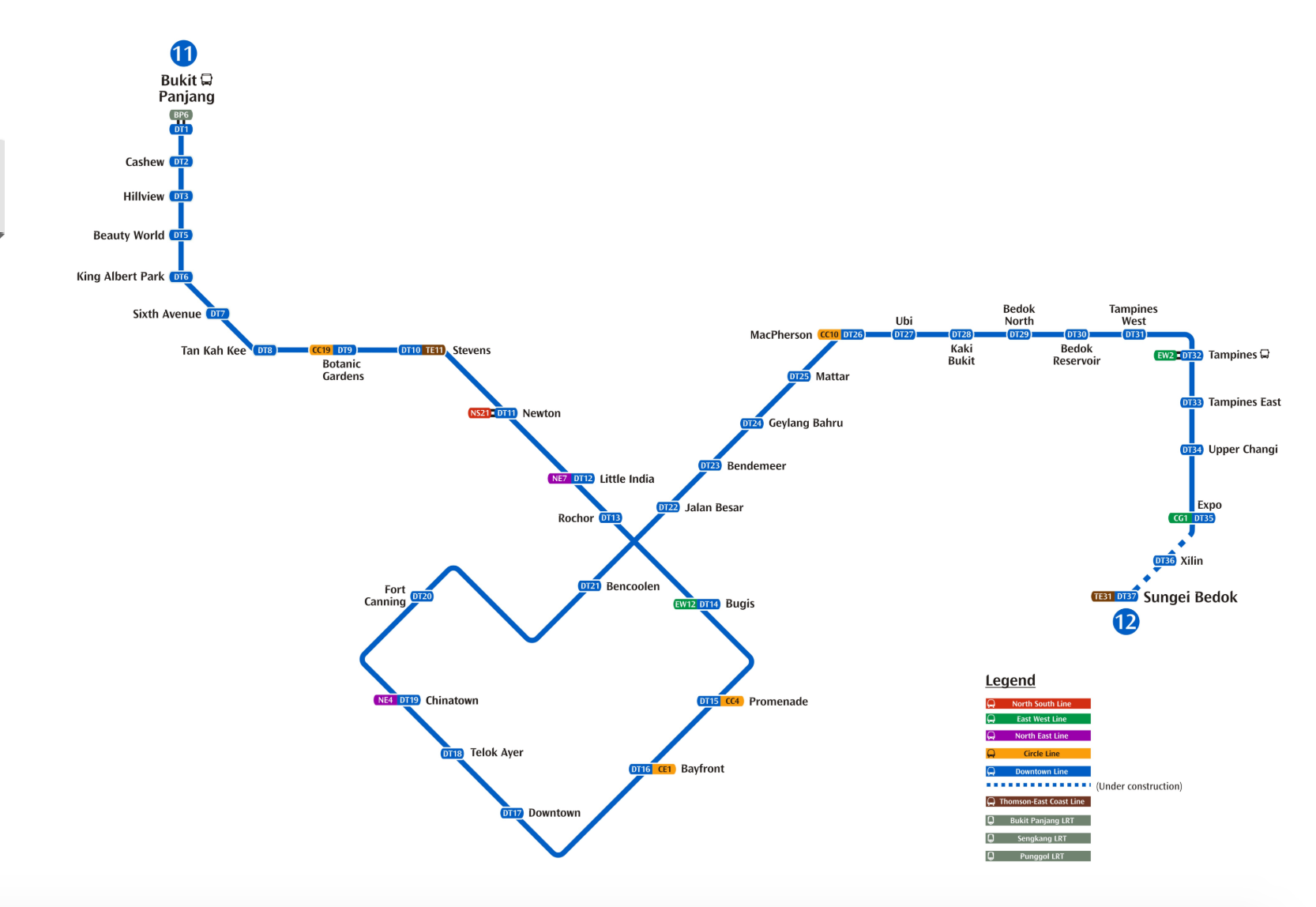 Take a bus, man.
Just repeal 377A already!
The Indian Supreme Court's ruling on Section 377 has decriminalised gay sex—fantastic news for the LGBT community in India, and a spark of hope former British colonies, like Singapore, who still have the law on our books.
Following this, Tommy Koh, an Ambassador-at-Large at the Ministry of Foreign Affairs, urged Singapore's LGBT community to challenge Section 377A. When someone pointed out attempts had already been made (unsuccessfully), he said, "Try again." It'd be great if he could elaborate further on how he might be able to help the LGBT community in their struggle.
But it doesn't look as if the government is very much moved, even though the upcoming review of the Penal Code would be a great time to relook 377A. A tl;dr of K Shanmugam's comments: "Lots of people want Section 377A to stay, so heh." (Click on the link in the tweet below to watch the video.)
I wonder how the government knows that the majority of Singaporeans are in favour of retention? 🤔We've had surveys on the "gay lifestyle" but I don't recall seeing any major survey on whether 377A should stay or go—if you've seen one, please hit reply and send it to me!
Contempt of court in Singapore (or not?)
The Court of Appeal has allowed Li Shengwu to appeal the court decision that let the Attorney-General's Chambers serve papers on him for contempt of court overseas. (Li, son of Lee Hsien Yang and nephew of Prime Minister Lee Hsien Loong, lives in the US.) According to Chief Justice Sundaresh Menon, it's a question of whether there's jurisdiction over someone who commits contempt of court, but is overseas when court proceedings begin. There's no appeal date yet, but the judges said it should be expedited.
"Law and order"
In support of their colleagues in Myanmar, the Reuters staff in Singapore took a photo holding up signs saying #FreeWaLoneKyawSoeOo. The police have now issued a reminder to everyone in Singapore to say that it's illegal to protest without a police permit. According to our very broad assembly laws, the police could take action if they want to. As a Singaporean journalist, I find this to be both embarrassing and pathetic.
A homeless man suffering from schizophrenia and substance abuse has been jailed for six months + 420 days for committing mischief by fire and reoffending while on remission from his previous sentence. He'd gone to a mosque and burnt the Singapore flag; at the time, he told the mosque caretaker that God had told him to do it. The deputy public prosecutor said in court that he was not of unsound mind. He was deemed fit to plead guilty.
---
And now for a visual break…
Turns out there's someone who struggles even more than I do to understand the complexities of economics and trade. Turns out he's POTUS.
---
Events and announcements
TWC2 Research Forum
This month's research forum by Transient Workers Count Too looks at migrant workers' access to justice at the employment claims tribunal and the costs of low-wage labour migration. Register to attend here.
A Complex Mission
A Complex Mission is still running this week, allowing visitors to bring downloadable mission cards to Golden Mile Complex and People's Park Complex to explore the space. You can download the mission cards here.
New Naratif turns one!
Our baby New Naratif turns one tomorrow, and we're marking it with our full launch (i.e. the introduction of the paywall). Members with be able to "gift" our articles an unlimited number of times with others (who will be able to read them for free), but we hope people will continue to support our work by signing up.
---
About the neighbours
Last month, the Medan District Court convicted Meiliana, a Chinese Buddhist, of blasphemy and sent her to prison for one-and-a-half years. But all she'd done was ask the volume of the prayer call at the mosque be turned down a little. Unfortunately, her comment spread within the community and grew distorted; it led to mob violence and religious organisations then stepping in to capitalise on it. It isn't the first time this happened in Indonesia, and if the politicians don't do something about it, it won't be the last. But the politicians aren't going to do something about it any time soon, because they're all playing to the conservative Muslim base in the run up to the 2019 presidential election. A story by Stanley Widianto and Aisyah Llewellyn for New Naratif.