I've made an incursion into Malaysian territory and am writing this from a shockingly affordable—dare I even say cheap—suite/AirBnB in Kuala Lumpur. New Naratif is hosting an open meeting and Christmas party at Rumah Seni Selangor on the 16th; if you're in town, come and say hi! We also have our first book up for sale online: get yourself a copy!
This week is going to be a short one with just one section, because in the past 48 hours I've been in a full-on, full-day seminar in Chulalongkorn University, two meetings, and a flight to KL. I'm knackered and desperately in need of sleep. 😴
If you've been forwarded this newsletter, click here to subscribe and get updates sent to your inbox every Saturday morning. If you have any feedback, just hit reply!
---
Maritime and airspace disputes
The spat between Singapore and Malaysia is doing my head in—Malaysia is unhappy about what we're doing at Seletar Airport, and Singapore says Malaysia's extended port limits are encroaching on our territory. There's so much back-and-forth between both sides, and not all particularly mature. In fact, the sabre-rattling has been pretty scary: here's a video Speaker of Parliament Tan Chuan-jin shared on Facebook, which asks if Malaysia is doing all this to "destabilise Singapore" or test the new leadership, and asks people to pray for Singaporean soldiers. He comments that "no one is trying to be jingoistic"—yeah bro, no one's saying you're trying, we're saying you are. And the message is getting received, as we can see in this case of a 76-year-old uncle who wants to be mobilised if Singapore goes to war. I'm going to go out on a limb here and make a daring prediction: WE ARE NOT GOING TO WAR.
Please read Sudhir Vadaketh's commentary on this dispute: both sides are milking things for political points, and in the end it's the people who are going to lose.
"The highest echelons" have hurt fewlings
Leong Sze Hian's commented on being sued for defamation by Lee Hsien Loong for simply sharing an article, without comment (see issue #33). He says he'd received a letter from the Infocomm Media Development Authority ordering him to take the post down within six hours, and that he had complied, only to find himself on the receiving end of a lawyer's letter two days later.
This is like what happened with The Online Citizen, where they complied with IMDA's order only to get a police report filed against them anyway. TOC's Chief Editor Terry Xu was charged with criminal defamation this past week, and is currently out on bail of S$5,000. Daniel de Costa, who had written the letter which claimed that there was tampering of the Constitution and corruption at the "highest echelons" of government under the pseudonym of Willy Sum, was also charged with criminal defamation. Daniel is also charged under the Computer Misuse Act because he's being accused of using someone else's email account without authorisation. (He told me that his friend hadn't been using that account anymore, and had given him permission to use it.)
Senior Parliamentary Secretary for Home Affairs Amrin Amin justified all this by saying that the government has to take a "clear stand" on those who make accusations "which go to the core of the integrity (and) reputation of (our) leaders and the Government." What interests me, though, is how the law is going to be interpreted: who, exactly, is being defamed here? Who is the "highest echelons"? Whose reputation is on the line here? Are the "highest echelons" to be treated like natural persons under the law?
Terry and Daniel's pre-trial conferences are going to be on 8 January. Meanwhile, Leong says he'll be representing himself in the defamation suit.
The loyal opposition
The Workers' Party is leaving nothing to chance and working the ground for the upcoming election (widely rumoured to be in the second half of next year). Someone posted on Reddit that they've received a WP pamphlet which takes pains to assure Singaporeans that they don't "oppose for the sake of opposing".
I understand why an opposition political party would feel the need to do this in Singapore, but it's also really frustrating. There are so many political decisions made for the shorter-term win, but these gestures to show that one isn't too radical and scary and can "play nicely" really limits our political imagination in the long run. It would be a lot more inspiring to have opposition parties working based on clear principles and values. The problem with a lot of opposition parties in Singapore is that, apart from not being the PAP, we don't really know what they stand for. Where is the ideology, where is the vision? Why is everyone so afraid of using human rights language? (The question is rhetorical.)
Of course, this is a long-standing peeve I've had with the WP—they're so cautious about their own image and standing that opportunities for solidarity and collaboration with civil society and activists have been lost. And then, of course, there are those unfortunate incidents where the WP ends up being complicit in oppressive smear campaigns.
No big no small
Does anyone have the instruction manual for public servants in Singapore? What does it say about dress code?
Photos of Li Hongyi, son of Prime Minister Lee Hsien Loong and Temasek Holdings CEO Ho Ching, have been circulating. If you haven't seen them, here they are: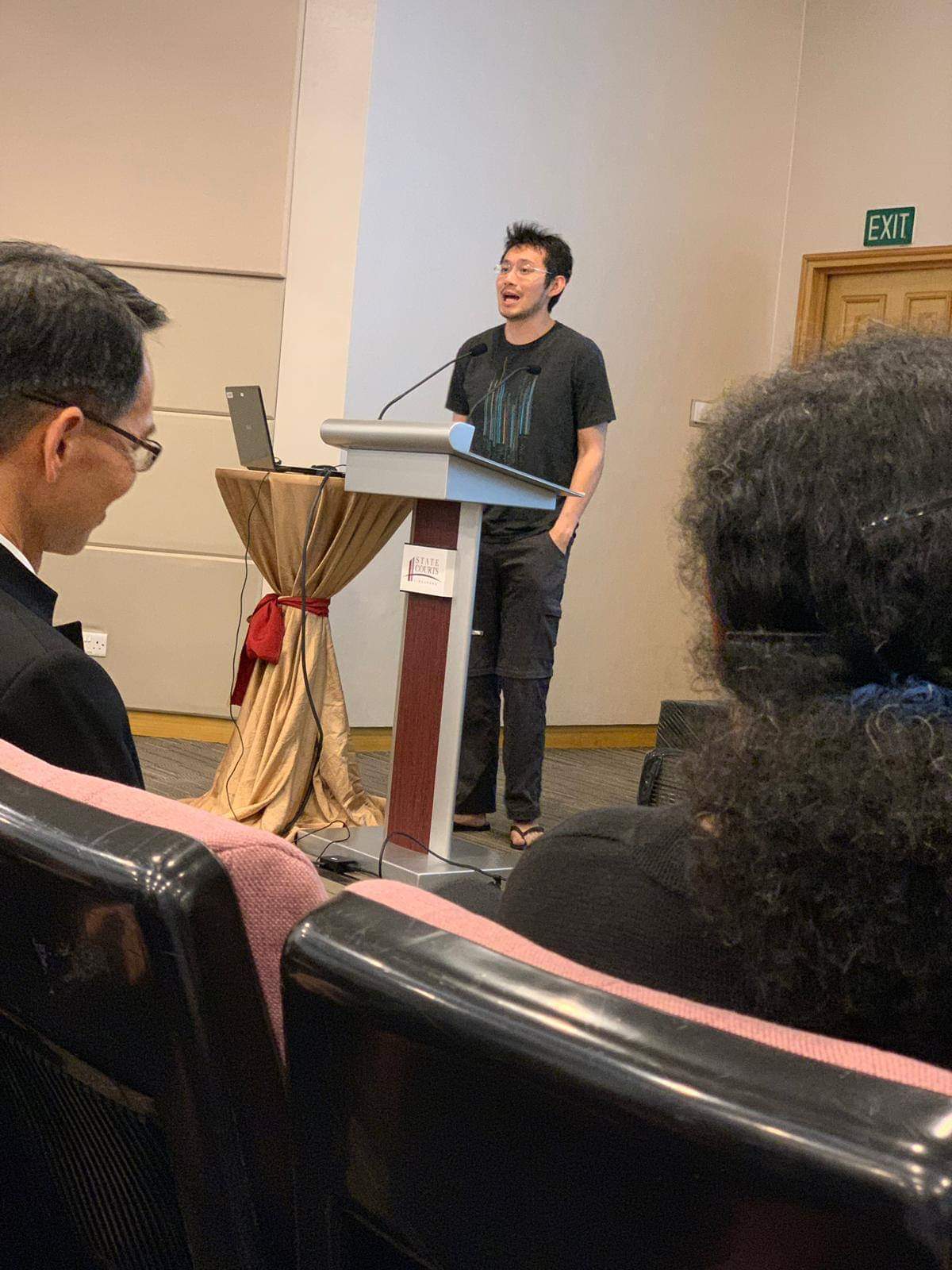 Seeing that my own 2018 aesthetic can be described as an exploration of the question "can pyjamas be outside clothes?" (the answer is that UNIQLO's drape pants are both inside and outside clothes), I fully empathise with the desire to work in comfort. But this still seems remarkably inappropriate. I don't know what event this is; the first photo shows that he's at the State Courts, and in the second he seems to be part of a panel. It looks pretty official. In any case, it's definitely work-related. You don't wear your flip-flops to something like this.
Plus the Public Service Division should have a dress code—I've been trying to find if it's written down somewhere publicly accessible but so far no luck—so this also seems to be in contempt of what's required from someone who works for the Government Technology Agency of Singapore.
If he's short of outfits, I think Miss Universe Singapore has a dress she would probably like to get rid of.