FICA has passed. Now what?
In this week's wrap: FICA's passage, confidentiality and survivors of sexual assault, and a look back on two years' of POFMA.
Milo Peng Funders keep this newsletter running, as well as supporting my other independent writing and civil society work, so please become one if you can! You can also tip me on my Ko-Fi page.
---
---
FICA is here to stay
My God, what a week it's been. I don't know about you, but I'm exhausted, and not even from the work that I'd planned for the week (which has since fallen to the wayside a bit 😭).
On Monday, we had the 10-hour debate over the Foreign Interference (Countermeasures) Bill, which eventually — and to no one's surprised — passed with 75 votes for, 11 votes against, and two abstentions. An amendment was adopted, but it's not a major change and doesn't substantially alter or address concerns that were highlighted prior to the debate.
Responding to criticism about how FICA has been rushed, the PAP argued that there has actually been a lot of public consultation because hey, they've been talking about having a law to deal with foreign interference for three years, there have been panel discussions, and remember the Select Committee on Deliberate Online Falsehoods? As it turns out, the PAP also sees that Select Committee process as public consultation on FICA, even though "foreign interference" wasn't even mentioned in the Select Committee's Terms of Reference: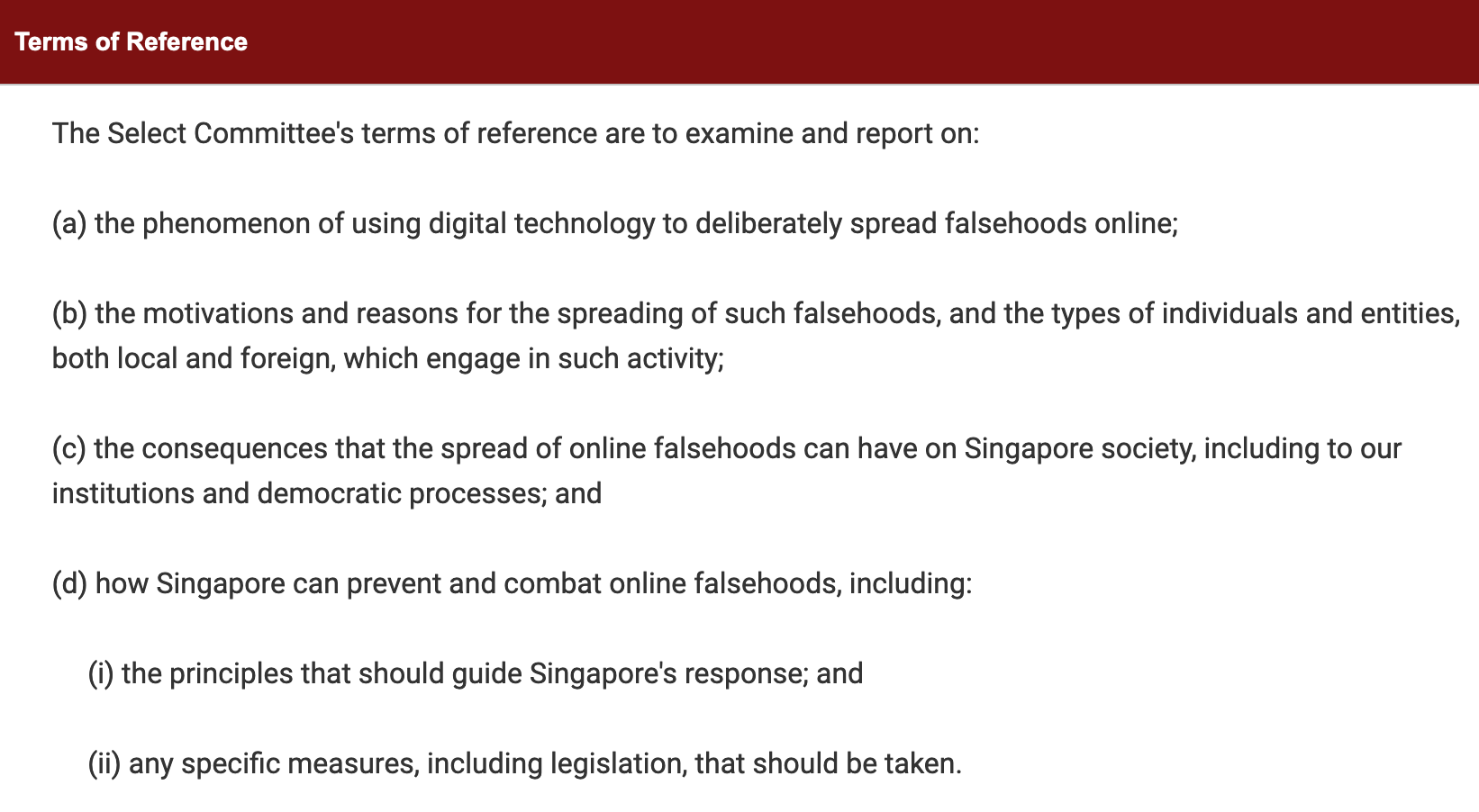 And this isn't even counting the fact that the text of FICA was only made public on 13 September. 😩
The PAP also pushed back against criticism that FICA gives the Minister for Home Affairs far too much power, although many of these rebuttals were along the lines of "none of these powers are new, they already exist in some other legislation" — which doesn't actually mean that FICA isn't problematic. (It just means that we have more problems!) Shanmugam also argued that FICA needs to be broad, because it needs to catch foreign interference masquerading as normal, legitimate activity.
But the fact that it's the government that gets to decide what is normal and what is "actually not normal" is one of the core problems with the law — they get to act on suspicions and make accusations, whereas targets of directions and designation have limited avenues to challenge these actions. I received some special (unwanted) attention during the Minister for Home Affairs and Law's speech — for what it's worth, I responded to his claims earlier this week.
On Tuesday, Parliament passed the Sedition (Repeal) Bill. Among the notable changes are amendments to Section 267C which now makes it illegal to "utter any words" that counsels disobedience to the law with reason to believe that disobedience to the law or breach to the peace will occur. Naturally, there are questions about what this means for activists discussing civil disobedience as a potential tactic. (Click on the tweet below to see the text of the amended Section 267C).
The Sedition (Repeal) Bill also included amendments that made Sections 298 and 298A of the Penal Code — to do with "wounding religious feelings" and promoting hostility between groups on the grounds of race or religion — arrestable offences. Previously, the police needed to obtain warrants to make arrests for these offences.
On Thursday, I received a letter via email from the Ministry of Home Affairs, accusing me of having "completely misrepresented" what Shanmugam had said about rule of law in Parliament. The letter demanded that I put up a correction and apology within the hour, ending with, "The Minister reserves all his rights. The above [the correction and apology] should be put up with sufficient prominence."
What it turned out to be about was a Mothership.sg article that I'd read the day before, which contained reporting about Shanmugam's comments on rule of law that seemed quite shocking, which is why I screencapped that section and posted it on Facebook and Twitter. In both cases, I included short captions, but nothing that added substantially to what was in my screencap of Mothership.sg's story. It later turned out that Mothership.sg had made a mistake and later corrected their story, appending an editor's note explaining the error. Once I became aware of this, I edited my Facebook post to include their editor's note, and also updated on Twitter. Then I saw the MHA letter. I've put clarifications up on Facebook and Twitter.
I was among nine recipients of this letter demanding corrections and apologies. We'd all shared or amplified Mothership.sg's story in some way. MHA also released a statement about us; it foregrounds the nine of us, saying we "published false posts", before saying that the misrepresentations were "also" published by Mothership.sg. Eh, how can their misrepresentation be described as "also" when my posts were literally a screencap of an excerpt from their article? *sigh* In any case, Jolovan didn't issue a correction on his tweet, so they have now POFMA-ed him.
In between all this I've been attending meetings and online events — including my very first Instagram Live experience — where a recurring question was, "What now?" The short version is: no one really knows. We're not really sure how long they'll take to publish FICA's subsidiary legislation, or when the law will come into force, or how/how often it'll be used.  
And that brings us to this weekend. Where hopefully nothing important is going to happen and we can all have a break — except it's been announced that Lee Hsien Loong is going to address the nation on Covid-19 at noon today.
---
Confidentiality and ethics
Some time back, during the parliamentary debate on empowering women, the Workers' Party's Raeesah Khan made reference to an experience she had years ago accompanying a survivor who had a bad experience with the police. On Monday, Shanmugam demanded more information about the case, saying that this is a "very serious matter" that they have to investigate. He pressed Raeesah to reveal which police station she'd gone to, in which month, and any details about the police officers she could remember. Raeesah declined, saying that she has not been successful in contacting the survivor, and that she would not like to reveal any more information given confidentiality concerns. Shanmugam eventually said that the police will investigate further, and will interview Raeesah.
AWARE has backed Raeesah up: "Sexual assault survivors often experience a loss of autonomy during their assaults, and an important part of their recovery journey is regaining a sense of control. Sharing information — particularly identifying information (which includes more than just a survivor's name but other details that might, in conjunction, reveal their identity) — without permission would constitute yet another violation of that survivor's consent."
---
Got some more…
🧑🏻‍💻 The International Commission of Jurists have published a report reviewing the two years that POFMA has been in force. "The briefing highlights emblematic instances where POFMA has been used in contravention of the principles of legitimate purpose, legality, necessity and proportionality under international human rights law. The briefing further emphasizes how POFMA has been applied without sufficient judicial oversight."
👩🏻‍⚖️ Speaking of POFMA, a development: the Court of Appeal set aside part of a Correction Direction issued to the Singapore Democratic Party. The government had asserted that their graph referring to "local PMET" would have been understood to mean citizens and permanent residents, whereas the SDP contended that the average person would understand it to mean only citizens. The court agreed with the SDP, therefore finding that the minister's interpretation was not contained in the graph and that the statement the government said SDP had communicated hadn't actually been "communicated in Singapore" as far as POFMA was concerned. This is good news for the SDP, and very interesting to researchers, legal practitioners, etc. who will gain more insight from the court's rulings. I suspect it's kind of moot for the average citizen — who remembers a Facebook post from two years ago? — but it isn't for the government, because they've just POFMA-ed the same post again, essentially saying, "Well, even if it's just meant to be Singaporean citizens, it's still wrong!"
🏠 It was the launch of the 2021 report on Minimum Income Standards last night. They found that a couple with two kids would need $6,426 a month, while a single parent with a young child will need $3,218. Read more here.
🚌 Chua Qwong Meng used to be a bus driver. He's now spearheading a lawsuit against his former employer over unfair labour conditions. Read Southeast Asia Globe's piece on him and his efforts to support other workers.
---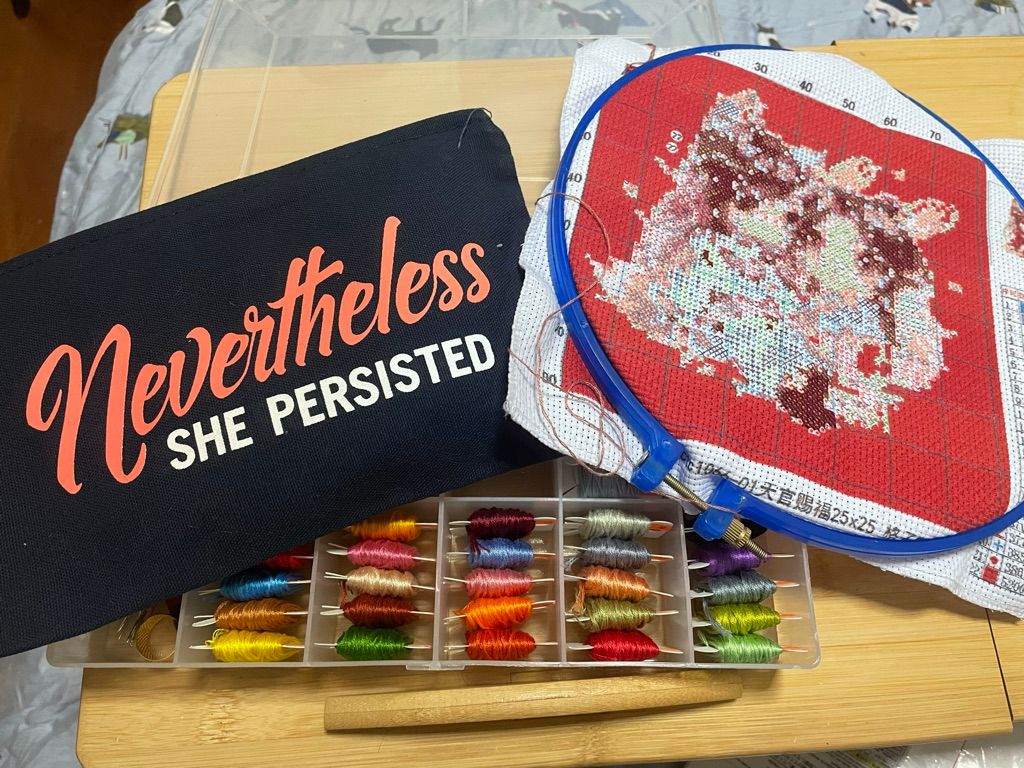 Thank you for reading! Feel free to forward this on to anyone you think might be interested. 🙏🏼 Once again, a reminder that becoming a Milo Peng Funder is an awesome thing to do! You can also make a one-off contribution via my Ko-Fi page.
We, The Citizens Newsletter
Join the newsletter to receive the latest updates in your inbox.