A look at Pink Dot (and Singapore's) development: Part 2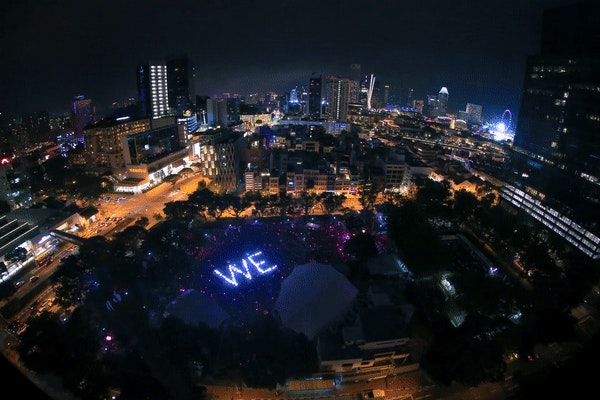 HAPPY PINK DOT DAY! If you haven't left a message for their digital pink dot yet, you can do it here. Tune in to their livestream tonight at 8pm!
Yesterday I emailed everyone Part One of my longread on Pink Dot. Here's Part Two today.
---
The Limits of Singaporean Activism?
Pink Dot's 11th edition in 2019 didn't look all that different from previous iterations: the cheerful pastel pink-and-fuchsia colour scheme, the speakers blaring pop music, the people trampling the grass in search of friends or a spot to unfold their picnic mats. At first glance, it seemed like the Pink Dot Singaporeans had come to know—an annual LGBT rights rally with a political message that was more implied than explicit.
Listening to the emcee, though, it quickly became apparent that this Pink Dot was different. Apart from the usual hype about performances, sponsors, and NGO booths, the emcee also took aim at claims—made by Singapore's prime minister himself—that the existence of such an event proved that LGBT Singaporeans hadn't been "inhibited" from living in a city-state that still refused to repeal a colonial era law (Section 377A) effectively criminalising gay men.
"Pink Dot isn't just a picnic!" the emcee declared. "Pink Dot is a protest!"
This is a protest. They'd never said that before.
In Part One of this series, we looked at Pink Dot's beginnings, and how the choices made by the organisers reflect the state of politics and activism in Singapore. In this final part, we trace how the movement shifted from "this isn't a protest" to "this is a protest" in the span of 11 years—and how effective (or not) this has been in pushing for LGBT rights and equality in a one-party state.
The evolution of the movement
Pink Dot's inaugural event in 2009, and the choices made in those early years, were the product of Singapore's very conservative political landscape. But, during an interview with New Naratif, Pink Dot's spokesperson, Paerin Choa, points to a turning point: the 2011 general election.
That election was remarkable for Singapore in a number of ways: with opposition parties splitting territory among themselves to run for 82 out of 87 seats, it was the most contested election since Singapore became a sovereign state in 1965. About 200,000 of the voters in 2011 headed to the ballot box for the first time. Singaporeans living in wards that'd seen PAP walkovers election after election suddenly realised they didn't have to sit things out any longer. It was also the first vote in which online media—be it independent blogs or social media platforms—made an impact.
It was as if Singaporeans had awakened. "I remember there was a wave of courage, that people who… were afraid to say things, suddenly [were] all very vocal," Choa says.
The traditional mainstream media, widely seen as biased in favour of the ruling party, no longer had the monopoly on election news and analyses. Volunteers for the independent news website The Online Citizen fanned out across the city (including this writer), attending political rallies, snapping photos, writing reports, and curating social media chatter. Not everyone was immediately comfortable with this, but people began to openly express their support for opposition parties.
At the end of the 10-day hustings, the results that came in were heralded, somewhat hyperbolically, as a political earthquake for Singapore. The PAP received about 60% of the vote—it's lowest vote-share since independence. Also, for the first time in Singaporean history, an opposition party—the Workers' Party—seized a five-member mega-constituency (known as a GRC, or Group Representation Constituency) from the PAP, resulting in the loss of two Cabinet ministers.
In practical terms, not a lot changed after 2011 despite the result. Thanks to the country's electoral system, the PAP's 60% vote-share didn't stop it from taking 81 out of 87 contested parliamentary seats, which meant that it still enjoyed a supermajority to pass laws or even amend the Constitution. The PAP's responsiveness to pain points surfaced during the 2011 election, combined with the feel-good factor of the nation's Jubilee celebrations and the emotional pull of first prime minister Lee Kuan Yew's passing, and helped them turn things around in 2015: the party enjoyed a 10% swing back in their favour that year.
But something had changed in 2011. The "wave of courage" that Choa observed might not have ushered in regime change, but it'd shifted the political discourse, even if only slightly. Deviating from the PAP line, while still seen as risky, had become a little more normalised.
This also affected discussion of other national issues, such as human rights and equality. "2011 was the year that Pink Dot suddenly… our videos went viral for the first time. The park was filled for the first time," Choa says.
It's this change that leads Choa to segment his reflection on Pink Dot's development into two parts: pre-2011, and post-2011. But that watershed election wasn't the only factor that nudged Pink Dot onto a more explicitly activist path.
The emergence of a culture war
As the movement for LGBT equality in Singapore gained traction—demonstrated by increasing participation in the annual rally, alongside other LGBT and rights-related events organised by a variety of groups—so did the countermovement. Efforts to exert conservative influence didn't stop with the attempted takeover of AWARE in 2009; as Pink Dot grew year-on-year, voices demanding the retention of Section 377A and other conservative policies grew.
The two opposed movements, both trying to stake their claim on being "pro-family", brought a version of the culture war seen in the United States to the tiny Southeast Asian country. As in the US, evangelical Christians in Singapore proved ready and enthusiastic in opposing any perceived move towards not only equal rights for LGBT people, but any policy shift that might signal the "normalisation of homosexuality".
It was a "war" fought both online and off. Facebook groups and pages like "We Are Against Pinkdot in Singapore", "Singaporeans United For Family" and "Singaporeans Defending Marriage & Family" began popping up, sharing articles and videos condemning LGBT activists and allies, or propagating anti-LGBT messages. Pressure was applied upon institutions and the authorities to deal with "objectionable" content.
In 2014, after complaints were made, the National Library Board came close to pulping children's books that featured same-sex families. It was only after public outcry, culminating in a "read-in" protest, that a compromise was reached: the books weren't destroyed, but moved to the adult section. This practice—largely done by very organised fundamentalist Christians—of petitioning to shut down content or activities they disapprove of has only continued, resulting over the years in the removal of "religiously sensitive" songs from pop queen Madonna's Singapore concert set list, the excising of a brief same-sex kiss from a staging of Les Miserables, and the cancellation of a heavy metal concert.
It was also in 2014—Pink Dot's sixth year— that a Muslim religious teacher, Ustaz Noor Deros, called on conservative Muslims to dress in white to "stand up and defend the sanctity of family". In a (somewhat unusual) display of unity, this "Wear White" call was quickly adopted by conservative Christians as well.
"We cannot and will not endorse homosexuality. We will continue to resist any public promotion of homosexuality as an alternative lifestyle," wrote Lawrence Khong, a pastor at the Faith Community Baptist Church, on his Facebook page.
It was something that Pink Dot, even at its most conflict-averse stage, couldn't ignore. That year, the group celebrated a turnout of about 26,000 people—over 10 times the crowd they drew in 2009. The post-event press release declared it a "coming of age for the movement that has championed inclusivity and diversity amid an increasingly volatile social landscape."
"Actually Pink Dot has slowly changed from Wear White onwards," Choa says. "Initially, in the first few years, we were very careful not to talk about religion as well, because religion is taboo, right? But Wear White… we had to address it full on."
It wasn't just 2014; conservative groups continued to dress in white in subsequent years to express their opposition. "I want to pray that we will continue to wear white as long as there is pink, and we will wear white until the pink is gone, and even if the pink is gone we will continue to wear white," said Khong in a sermon he delivered in 2015.
This direct challenge to Pink Dot's cause required some sort of response. While still central to Pink Dot's messaging, it was no longer enough to focus solely on love and family and togetherness.
"After Wear White, Singapore's Pink Dot wasn't as happy-clappy as before," Choa recalls. "There was actually a purpose in the agenda."
Not just about the "freedom to love"
Despite Pink Dot's early insistence that it wasn't a protest, this wasn't a claim that they could get away with for very long. They might not have framed their activities in such a way, but it wasn't hard to conclude that a mass gathering of people in support of a community that the state is still reluctant to fully decriminalise is a protest.
As the movement matured, its organisers became less quick to deny that Pink Dot was about advocacy and protest. Instead, they began slowly upping the ante, nudging people gently towards more explicit expression. 2016's Pink Dot, for example, asked participants to collect pink placards upon which they could write their own messages—although, so as to stay within Singaporean regulations that banned foreigners from participating in cause-related events, citizens and Permanent Residents were required to produce identity cards before they were allowed a placard.
"At the beginning, people always said, 'Oh, you know, your mission is very vague, like what do we actually stand for? 'Freedom to love' is very ambiguous.' And over the years we've really crystallised that message and we've taken people along that ride," said Pink Dot committee member Clement Tan in a podcast with New Naratif in September 2018.
"Because not a lot of people then were used to this idea of political action, of participation, of assembly. And you know, essentially what we've done in Hong Lim Park is legally a demonstration. And we've encountered so many people along the years who were like, 'I did not realise I was just participating in a demonstration.' But like, you are. If 2016 was any indication… we made people hold placards and they were like, 'This feels like a protest.' And we were like, 'It is… in some ways.'"
With Pink Dot turning more overtly into a civil society organisation—issuing statements and posting articles about LGBT issues on social media year-round—it became clear this was something that couldn't be easily ignored. Regardless of its position on Section 377A, the government simply had to acknowledge Pink Dot's presence, and the impact it was having on Singaporeans who showed up by the thousands every year.
This acknowledgement came in good ways and bad. As the Wear White countermovement emerged, the government began to engage with Pink Dot's organisers, inviting them for closed-door meetings to talk about the LGBT community and its issues. Such meetings aren't unique to Pink Dot; the PAP government has long reached out to certain civil society organisations for dialogue, opening up a new, albeit still limited, avenue for advocates to negotiate for their cause.
But the government's attention also manifested in new rules: in 2016, the Ministry of Home Affairs made clear that it would ban foreign sponsorship of events like Pink Dot, effectively cutting the movement off from some of its wealthiest backers. Prior to this rule change, the rally had enjoyed the support of multinational companies like Google, Facebook, and Apple, as well as banks like JPMorgan and Goldman Sachs, allowing it to set up stages and sound systems to project the rally's party-like atmosphere.
It didn't stop there. When 2017 rolled around, the regulations were amended so that foreigners (people who were neither citizens nor Permanent Residents) weren't even allowed to be present in the park. This, plus security concerns, led to the police requiring Pink Dot to erect a barricade around the entire perimeter of Hong Lim Park, with security staff positioned at entry points to carry out security and identity checks. All this was at the organisers' expense.
"[The authorities] say that it's the duty of the organisers to pay, because by organising this we are creating an opportunity," Choa explains. "We're creating an event that congregates a good number of Singaporeans, and any event that has that number of people is an opportunity for terrorists to attack. So therefore, [they say] it's only right that we foot the bill for that because we are creating this opportunity for terrorists to come."
With their biggest sponsors barred from chipping in, and costs shooting up thanks to the need for fencing and extra security measures, it seemed as if Pink Dot would struggle to put together an event on the same scale as previous years.
But then a splash from the "wave of courage" that Choa had observed in 2011 kicked in.
Indignant over the restrictions on foreign sponsors and attendees, Pink Dot's supporters rallied. Singaporean entrepreneurs got together to organise "Red Dot for Pink Dot"—a sponsorship drive to get local companies to fill the gaps left by the now-banned foreign sponsors.
When Pink Dot rolled 'round in 2017, over 100 local companies (including this writer) had stepped up as sponsors, and Hong Lim Park was jam-packed. Security officers were left with no choice but to turn people away, leaving them standing outside the barricade.
"The barricade year [2017] was a total retaliation to the government. People who left Pink Dot came back that year because of that," Choa says, adding that it "matured the community, matured the discourse". From that moment on, there was no pretending that Pink Dot was merely a family-friendly picnic about the freedom to love; it was now clearly an activist group, pushing for change in Singapore.
Pink Dot gets fed up
21 July 2018. People were sweaty but exhilarated, pushing close together as they pointed pink flashlights (or lit-up phones wrapped in pink cellophane) to the sky, waving it this way or that according to the instructions of Pink Dot's "countdown queen", veteran performer Pam Oei. On stage, singer Tabitha Nauser led the thousands-strong crowd in a heartfelt rendition of that year's theme song, This Is Me, a hit from the film The Greatest Showman, about unapologetically embracing oneself.
It was a moment that enveloped a person in a cocoon of acceptance and love; an instance of Singapore at its most relaxed, most spontaneous, most fun-loving. This 10th anniversary had seen Pink Dot ambassadors from the past decade take to the stage to read 10 declarations, calling for a variety of changes, from better support for LGBT youth in schools, to an end to censorship of LGBT people and relationships in the mainstream media. The rally had been slowly moving in this direction for years, and this list of demands was the boldest yet.
At least, until the organisers released aerial footage of the Dot.
As attendees bunched up into position for the Dot, Oei had announced that volunteers with white lights and umbrellas would be interspersed throughout the crowd. They, she said, would be doing their own thing, and there was no need to pay them any heed. At the time, no one had known what the volunteers were up to. But when Pink Dot released official photos later that night, they included a video that showed how the light-up had looked from above.
As Oei began counting down over the roar of the crowd—"Ten! Nine! Eight!…"—the volunteers, standing in formation, spelt out three words, boldly, and in all caps: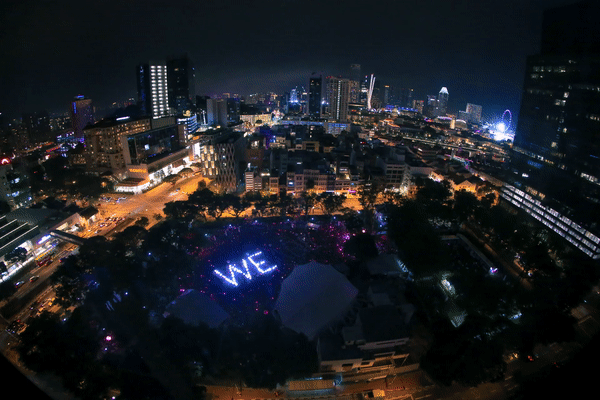 "WE. ARE. READY."
It was a clear message to the PAP government, who had, time after time, insisted that they couldn't repeal Section 377A because Singapore was still a conservative society that was "not ready" for such liberalisation. For the first time in its decade-long history, Pink Dot was directly addressing the government.
This could have been as far as they'd go for some time… if only Prime Minister Lee Hsien Loong hadn't made the comments he did just days before the 11th Pink Dot on 29 June 2019.
Responding to a question at a conference, Lee reiterated that Section 377A would be retained in Singapore for some time. But he also argued that, since the law wasn't actively enforced, this didn't really affect the lives of LGBT people on the island.
"You know our rules in Singapore. Whatever your sexual orientation, you are welcome to come and work in Singapore. But this has not inhibited people from living, and has not stopped Pink Dot from having a gathering every year," he said.
For Choa, it came as a blow. Since the 10th Pink Dot, he and other members of the LGBT community had watched wistfully as progress was made in other parts of the world: the Indian Supreme Court struck down Section 377 of their Penal Code (on which Singapore's Penal Code was based) in September 2018, while other countries like Botswana, Ecuador, and Bhutan also took steps toward LGBT equality. In May 2019, Taiwan became the first Asian country to legalise same-sex marriage.
The developments in India spurred the launch of the "Ready 4 Repeal" campaign in Singapore, the second civil society attempt to petition to get rid of Section 377A. The campaign attracted support from establishment opinion leaders; the petition counted among its signatories a former attorney-general, heavy hitters in business, and a veteran diplomat.
These were all signs of hope for Singapore's LGBT activists, and Lee's comments came as a harsh reality check. "World events [do] change you, and then for [Lee Hsien Loong] to come out and say [Section 377A] is here to stay, 377A doesn't affect your lived experience as a person… it was so tone-deaf and so cavalier," Choa says with a sigh.
"But what [made me] most angry was [that] he used Pink Dot as an example of how it's okay to be gay in Singapore. Like totally missing the point, over and over again."
And so Pink Dot set out to make sure that Lee and his government got the point. The theme for the 11th Pink Dot was about taking a stand against discrimination, and they'd planned for volunteers to spell the word "UNITY" during the Dot. After Lee's comments, the decision was made to change the Dot's message to "REPEAL 377A".
On the day of Pink Dot itself, there was a more driven, purposeful energy. As people milled about the park, visiting the civil society booths, queuing for sponsored coconut water, or settling down on picnic mats, Pink Dot's emcee didn't mince his words. On multiple occasions throughout the event, he announced that Pink Dot was not just a party or a picnic.
"This is a protest!" he shouted into the microphone, his words blared from speakers across the park. That night, Choa led a chant, directed at the prime minister, to "tear down" Section 377A.
It took 11 years, but Pink Dot had, finally, officially declared their presence as a Singaporean LGBT protest movement.
So… what next? The limits of civil society activism
Despite the range of criticism that it's received, from both conservative and progressive segments of Singaporean society, Pink Dot is the most successful civil society movement in terms of turnout. While protests—albeit restricted ones, confined by law to Hong Lim Park—have become more common in Singapore post-2011, no other campaign or organisation has been able to attract anywhere near the amount of people who show up for Pink Dot year after year. In a country where protests have been so demonised, this is no mean feat.
But what has all this achieved?
While both Pink Dot and the LGBT community in general have been acknowledged by the PAP government as a legitimate part of Singaporean society, Section 377A still remains on the books. Thousands and thousands of dollars have been spent to get thousands and thousands of people to gather in a park year after year to make a statement on LGBT equality. The Pink Dot team issued statements, made videos, advertised in a local cinema chain, held fringe events, and engaged directly with government officials. When these things didn't seem to work, they went even bigger, writing their message with people standing in formation, making a darkened park light up pink against Singapore's night skyline.
All this was still not enough to generate political will in the ruling party to take steps toward repeal. Given Singapore's political climate, the PAP's refusal to budge on this issue means that there's no momentum in the corridors of power for the removal of a law that's at the tip of an iceberg of discrimination and marginalisation, providing cover for downstream policies such as the censorship of positive LGBT relationships from the mainstream media, the lack of LGBT-inclusive sexuality education in school, and refusal to officially register LGBT groups as legitimate organisations.
A far cry from the gay party boy that he'd been over a decade ago, Choa isn't completely defeated yet. But he is tired.
"I don't know whether the change will happen in our lifetime. I think it'll happen, but I think it's going to be a very slow change," he says. "My only gauge [on whether there'll be change in Singapore] is that if [the PAP] still wins by a landslide [in the upcoming general election], then I think we all should start making plans to move already."
Following Pink Dot's more political and confrontational turn in 2019, Choa isn't sure what's in store next year: "I would say that if you ask me what's Pink Dot going to do next, two, three years ago I still would have an answer, but now I don't know. Now I don't know because I also belong to that generation that's a bit fed up of them already."
He's also tired of closed-door meetings with elected officials and civil servants. "The purpose of law and policies is to ensure that the minorities are not subject to the tyranny of the majority. Because in that case, if whatever the majority says goes, then there's no reason for law, because that's what people will do anyway," he says.
"So I just see a government that's pandering to the demographic. We're not worth their political expense."
Outside of Pink Dot, gay activist Jolovan Wham focuses on broader civil liberties, rather than just LGBT rights. He tells New Naratif that Pink Dot's strategies have worked for it thus far, but he feels that it should push for greater overall freedoms.
"As the movement grows, it should push for more freedoms, especially freedom of assembly, since this lies at the heart of Pink Dot's success," he says. "For instance, it can try to challenge the government, through the courts, to organise Pink Dot at another location, and push for the right of foreigners to participate."
He adds: "Campaigning for a more democratic society, and advocating for civil and political rights is important regardless of the issues we are working on, because our ability to ask for the changes we want depends on the extent to which we can advocate without fear of political reprisals. When civil society is controlled and fearful, and the press is beholden to the government and our parliament controlled by one party, our effectiveness as advocates diminishes significantly."
Pink Dot does have one more ace up its sleeve: its support base is young. Very young.
In 2019, many of the rally's most enthusiastic attendees singing and dancing along to the pop and hip-hop acts on stage were below the age of 21. They hung out with their friends, wrapped themselves in rainbow flags, and had the time of their lives. Somewhere along the past decade, Pink Dot has transformed from an event that organisers needed to reassure Singaporeans was safe to attend, to a highlight of a teenager's social calendar.
To these young, energetic, "woke" youth, LGBT relationships and rights aren't matters of controversy, but things they've seen normalised in the international pop culture they consume, the articles they read online, the conversations they have with their friends. And they're making an impact on society: studies have found that support for same-sex sexual relations and gay marriage, while still in the minority, has increased in Singapore.
It's to these young ones that Pink Dot looks for change. "I think the young people are not scared to [speak], I think they're still brave," Choa observes.
But he also points to burnout among the older generation. "I see a lot of older participants who didn't want to come for Pink Dot this year, and the thing they told me was, 'What is the point? Do you still think that the PAP will change? It's been 10 years.'"
"So, in a way, the older ones who have been through the 10 years are like, 'Okay, it's been 10 years, shouldn't something have changed?' And there's nothing. Nothing has changed. That's how sad it is, right, nothing has changed. Except the people."
But it's not over yet. In November 2019, three challenges to the constitutionality of Section 377A were heard in the courts—the third, fourth, and fifth attempt by gay men to take on the statute through legal avenues. Singaporeans are used to hearing that the country has little to no natural resources, and that all they have to rely on are the people. It's not too late for Singaporeans to demonstrate that there's still some power in the people yet.
---
Thank you for sticking with me through such a long read over the past two days—I hope you found it engaging with lots of food for thought. I certainly felt that way researching and writing it.
We, The Citizens Newsletter
Join the newsletter to receive the latest updates in your inbox.