I saw another Substack newsletter this past week in which they put the issue number in the subtitle, which saves space in the subject heading in people's inboxes. WHAT AN OBVIOUS THING TO DO!
---
Help save Pannir Selvam
Pannir Selvam was granted a stay of execution in May—just one day before he was due to hang. His family are now fighting for his life to be spared. They are asking for his death sentence to be commuted to life imprisonment.
Pannir, who's from Ipoh in Malaysia, was arrested in 2014. He was convicted of trafficking 51.84g of diamorphine and sentenced to death. His family say that he'd been tricked by an acquaintance, and they've stuck by him through thick and thin. His sister, Sangkari, found out that couriers who provide assistance to investigators can be issued Certificates of Cooperation that would allow the courts to exercise some discretion and sentence the offender to life imprisonment with caning instead of death. So Sangkari took it upon herself to find the man who had given the packets (containing the diamorphine) to her brother—and she did. The information was handed over to the Central Narcotics Bureau in Singapore, but the Attorney General's Chambers (who are also the prosecution) refused to give Pannir a Certificate of Cooperation. No reason was given.
The family have now started a petition to call for Pannir's life to be spared. You can sign it here.
There's no discrimination against LGBT people, as long as LGBT people don't talk about their experiences
There's no discrimination against the LGBT community in Singapore, the politicians in power say. There is nothing inhibiting LGBT people from living their lives, we're told.
If that's the case, why did The Straits Times quietly censor its own article on Pink Dot—removing mention of Lee Hsien Yang and family, as well as comments by the Pink Dot organisers about changing their plans for the photo to respond to Lee Hsien Loong's comments?
Also, Kiss 92FM DJ Joshua Simon dropped out of TEDxYouth@SP because his script raised red flags with the organisers. According to a Singapore Polytechnic spokesperson, Joshua had been told that "certain references to his sexuality might be sensitive, given the diverse profile of the audience", and he was asked to edit it. SP also pointed to guidelines from the Ministry of Education to "exercise appropriate judgment" when it comes to "sensitive" issues.
Joshua chose to withdraw from the line-up instead. "It would be against my principles to flip the gender of my ex when mentioning my breakup and to totally leave out my coming out story to my father—both of which are, and will always be, defining moments of my story," he wrote on Instagram. More power to him. ✊🏼
The Pink Dot photo is awesome, by the way. I can't have anyone on this mailing list missing out, so here it is: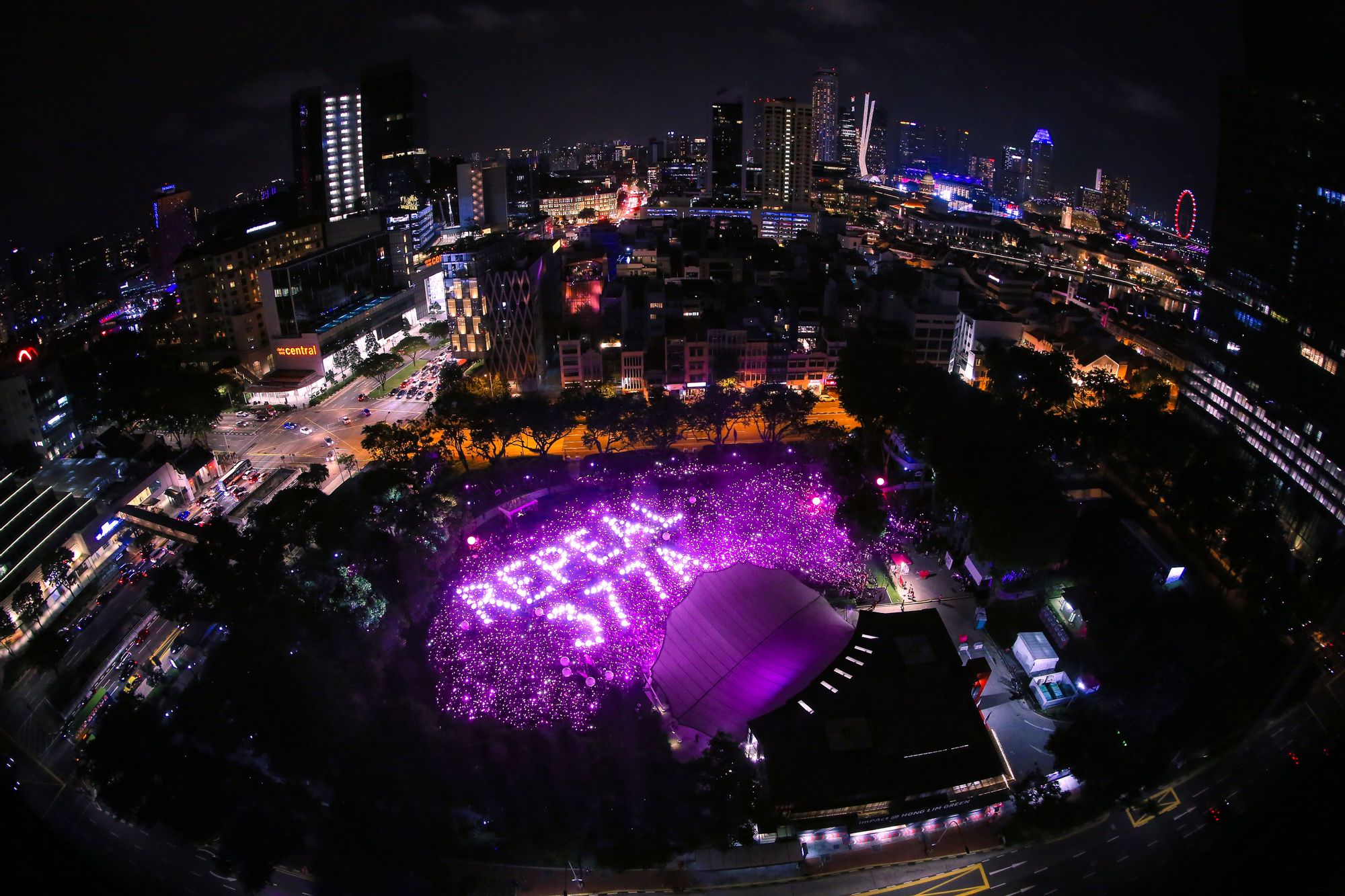 Why we didn't ratify that ILO pact
Why was Singapore one of only five countries that abstained from voting for the International Labour Organisation's Violence and Harassment Convention 2019, which will require, among other things, mandatory workplace policies to tackle violence and harassment? According to this (paywalled) article, it's because the government felt that "the scope of the convention was cast very broadly".
---
Announcements
Photographer and filmmaker Lloyd Belcher posted on Twitter and Facebook saying that his wife is in ICU in Singapore with dangerously low blood levels. He made an appeal for people in Singapore to donate blood. I headed over to the bloodbank at Westgate Tower today (it's right next to Jurong East MRT, and there are other bloodbanks in easily accessible places too, like the one at Dhoby Ghaut Xchange) and made a donation—it was really quick and easy, yet can really make a difference to someone in need. Please be a blood donor if you can.
Both Sides, Now, run by the awesome Drama Box, have their arts installation and carnival at Telok Blangah until tomorrow.
---
About the neighbours…
Malaysia's mulling over changes to the death penalty—while their de facto law minister said that he wanted full abolition, it doesn't look like that's going to happen—and so there's no better time to examine capital punishment in the country. Over at New Naratif, Emily Ding looks at the case of Mainthan Arumugam, who was sentenced to death for a murder case in which many very crucial questions have been left unanswered. Lianain Films has also dug deep into the death penalty debate in Malaysia in a documentary for Al Jazeera English's 101 East.