Milo Peng Funders keep this newsletter running, as well as supporting my other independent writing and civil society work, so please become one if you can! You can also tip me on my Ko-Fi page. (If you're looking for an RSS feed for this newsletter, you'll find it here.)
---
We've made it to 2022! Even while knowing that a new calendar year doesn't really mean a clean slate, I was still quite relieved to see the back of 2021. I had a bit of a stressful Christmas/New Year period, but am currently still wallowing in my languid holiday mood, trying to coax myself back to work. Which needs to happen really soon because I just promised my editor that I'll finish the current edit of my manuscript in two months' time.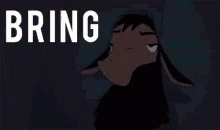 What about you? What are you looking forward to in 2022?
---
Holding up a sign = illegal assembly
In an absurd but not surprising turn of events, Jolovan Wham was found guilty of participating in a public assembly without a permit in a prohibited area on Friday afternoon, for holding up a piece of paper saying "Drop the charges against Terry Xu and Daniel De Costa" outside the State Courts back in December 2018.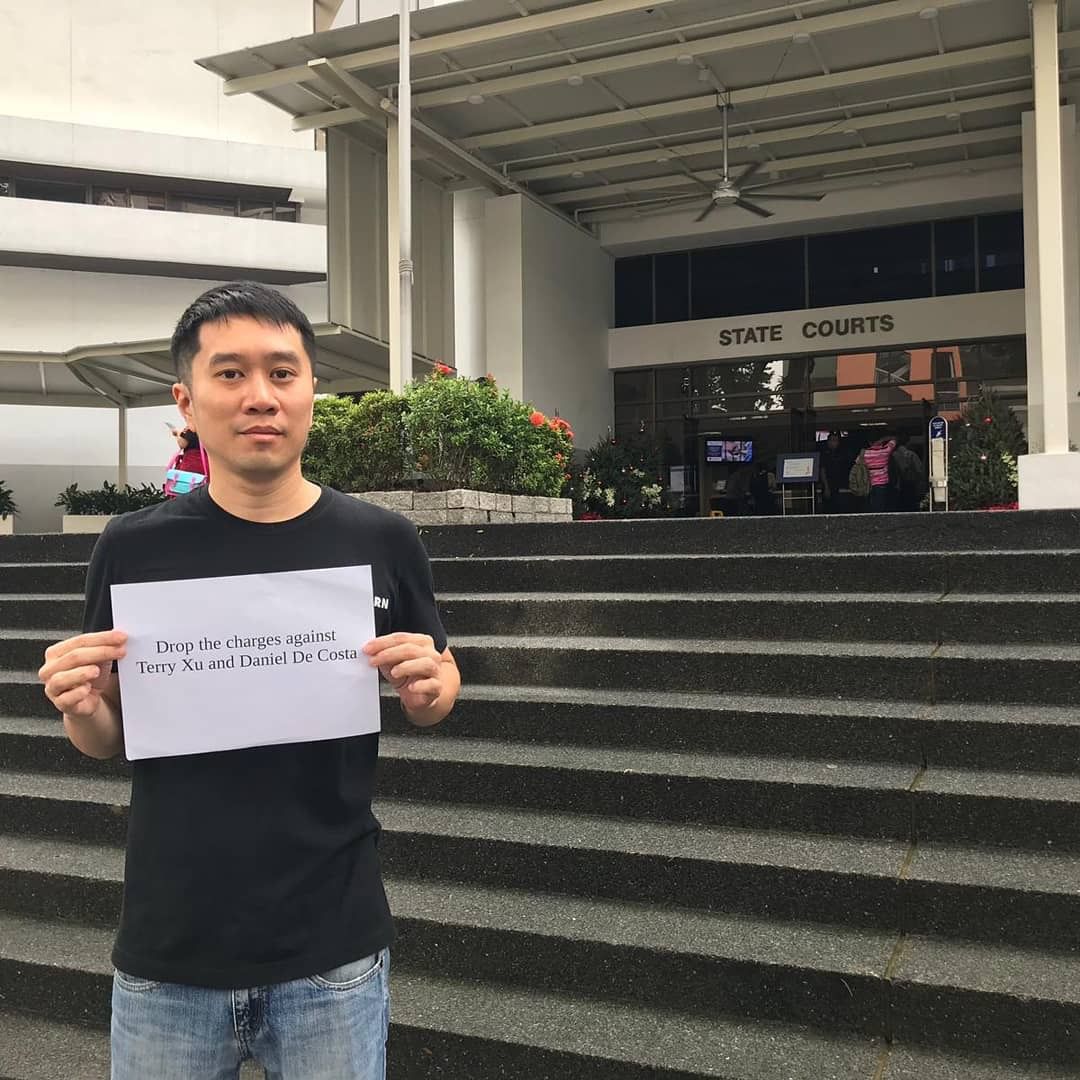 Jolovan's defence lawyer, Eugene Thuraisingam, had argued that it'd merely been a photo session — it had, after all, only taken 15 seconds, hadn't attracted the attention of anyone in the vicinity, and there was no public disruption — and didn't constitute an assembly as defined under the Public Order Act, which is supposed to be aimed at maintaining public order. The district judge disagreed, pointing out that the legislation doesn't actually require a risk to public order before an activity constitutes a public assembly, and that Jolovan's actions fulfilled the definition of an assembly under the law — which really goes to show you just how broad the Public Order Act is.
So there you have it, holding up a sign, by yourself, for 15 seconds, can constitute an unlawful assembly under the Public Order Act if you don't have a police permit for it.
Sentencing has been scheduled for 25 February. Under Section 15(2) of the Public Order Act, the maximum penalty is a $5,000 fine.
Also notable from the judgment; the judge didn't completely rule out the chances of getting into trouble with the Public Order Act for wearing T-shirts with slogans on them. So that's nice. 😬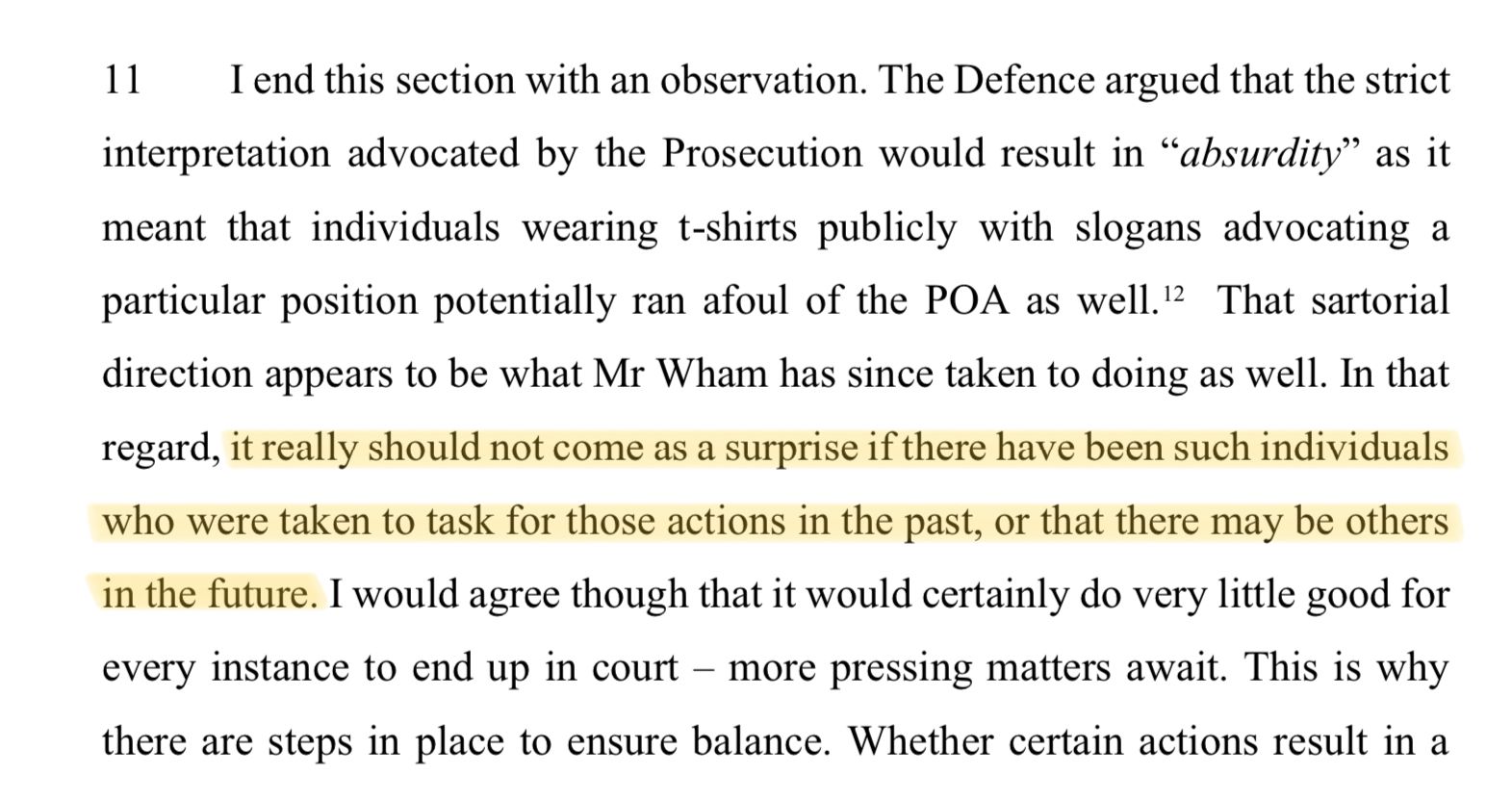 ---
Why police someone's paywalled parts?
22-year-old Titus Low now holds the dubious distinction of being the first person in Singapore to be prosecuted for content on OnlyFans. He's been charged with two counts of transmitting obscene material via electronic means. But OnlyFans is an adult site and images of Low's bits sit behind a paywall, which means that those who see it have to actually seek it out and fork out money. If it's all consensual, why should the state intervene and police Low's  paywalled parts?
Project X has published a blog post highlighting the ever-shifting definitions of "obscenity", the difference between consensual and non-consensual activity, and the issues with moral policing.
---
Trying not to be Omipwned
Omicron is here in Singapore, and we're not going to see the Covid restrictions loosen for the upcoming Lunar New Year. The authorities have also brought up the possibility of a "worst case scenario" of up to a whopping 15,000 cases of Covid (of course, not all will be serious) per day.
The government has warned people to stick to the rules so we don't have to tighten restrictions further if the shit hits the fan due to "unnecessary" risks. Singaporeans, by and large, have been abiding by the rules and doing what we can with masks and safe distancing and things like that. But then there are pockets of lapses/stupidity, like the crowds that gathered in Clarke Quay to ring in the new year. One doesn't need to have been in that crowd to feel like all the regulations have been absolutely exhausting, and the pandemic never-ending.
Meanwhile, the Ministry of Health has filed a police report against Healing The Divide, known for its overall anti-Covid vaccine stance (if you poke around the Telegram group you'll find a range from the confused and sceptical to the "just asking questions" anti-vaxxer to the conspiracy theorists). The group's founder had posted a message urging concerned parents to book vaccination slots for their kids at vaccination centres, then show up and demand to speak to doctors and ask them questions (she provided a link to a short questionnaire in a Google Form). The government says that this would "greatly disrupt operations at our paediatric vaccination centres, and amount to an instigation of harassment of the medical staff." Healing The Divide's response is that there is nothing wrong with asking questions, which is technically true, if we assume that everyone is operating in good faith and open to listening. But if you were vaccinated in Singapore, you probably know that the vaccination centres aren't places to have conversations with doctors and be persuaded to get jabbed — you go there when you've already made up your mind, because they're busy and need to keep things moving. And, from the experience of having seen some members of Healing the Divide ask doctors questions firsthand, I'm not sure they're all that interested in really hearing what doctors have to say. 😮‍💨
---
Got some more…
👮🏻 Police officers have got more powers this year. Amendments to the Police Force Act have kicked in, allowing cops to make forced entry into any place to protect people from injury or death. Officers who investigate commercial crimes will now be allowed to arrest people.
🏫 After the shock announcement last year that Yale-NUS College will eventually be closed, we now have the name of the college that'll replace it. While the decision to shut down YNC wasn't made with consultation, stakeholders were apparently consulted over the name of the new entity. And they settled on... NUS College. National University of Singapore College? k.
---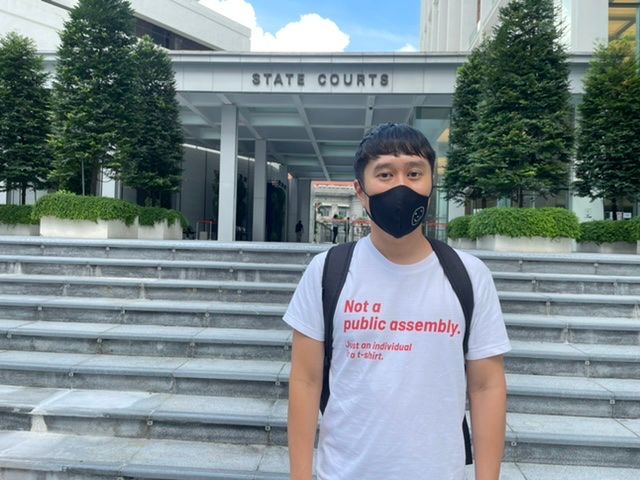 Thank you for reading! Feel free to forward this on to anyone you think might be interested. 🙏🏼
Once again, a reminder that becoming a Milo Peng Funder is an awesome thing to do! You can also make a one-off contribution via my Ko-Fi page.