Bidding farewell to Liew Mun Leong and taking a look at the Auditor-General Office's report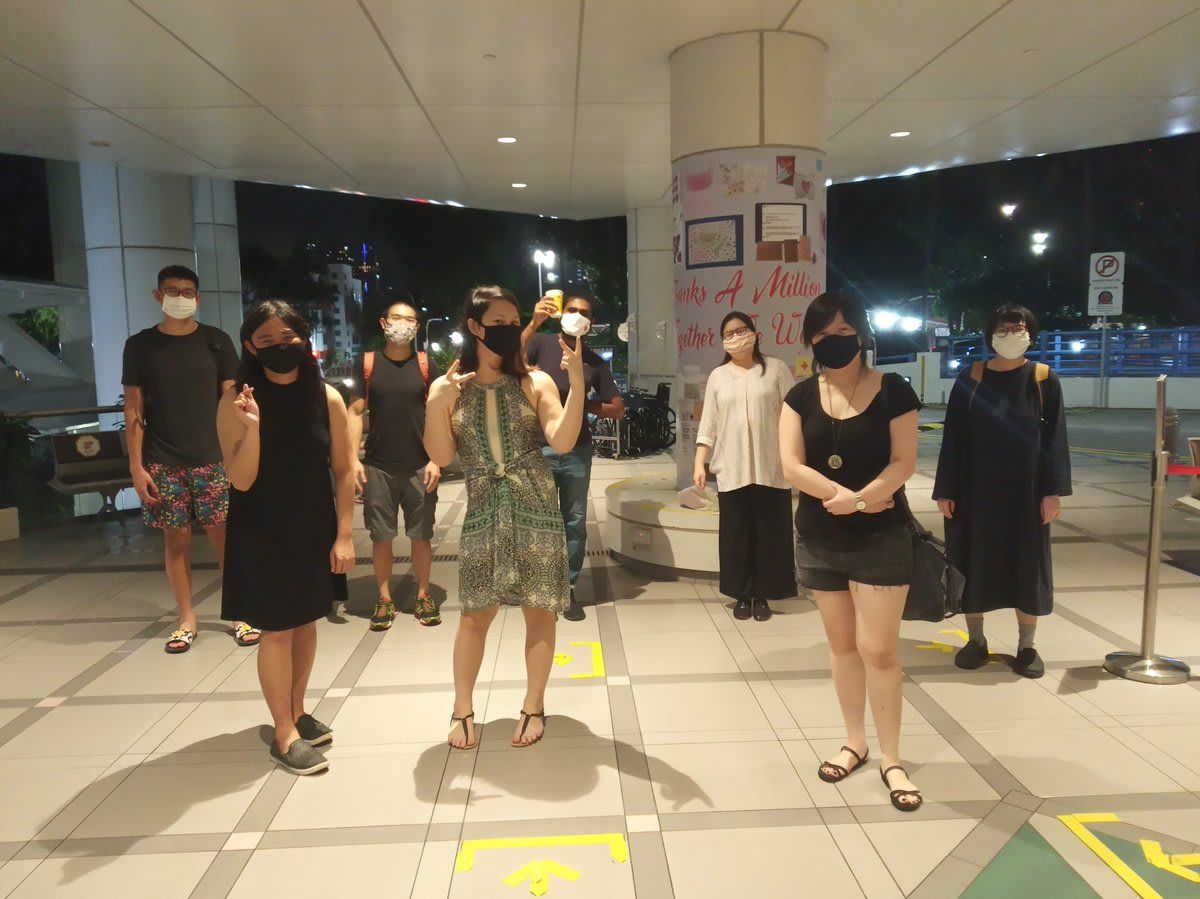 Whew, that was a flurry of special issues over this past week! For those who could do with a break, I put together a list on Samseng Zhabor of Chinese dramas you could be watching instead of Disney's train wreck of a Mulan.
---
Before we begin, this is how I spent my Friday evening:
Parti Liyani 1 Liews 0
Earlier in the week, I sent out three special issues zeroing in on things highlighted by Parti Liyani's acquittal. First, I went over the High Court judgment and the problems pointed out by Justice Chan Seng Onn. Then I looked at challenges with access to justice for marginalised communities such as migrant workers. Finally, there was the matter of illegal deployment, an exploitative practice that isn't just confined to the Liews.
This story has really captured public attention; apart from the online comments, I've even overheard people talking about this at lunch. Understandably, there's been a lot of criticism and scorn directed at the Liews, and questions asked about double standards and inequality.
The Attorney-General's Chambers has announced that the AG, Lucien Wong, has recused himself from the matter because of "personal reasons". Wong had previously been on the board of directors of CapitaLand, at the same time that Liew Mun Leong was the president and CEO, although the AGC says they don't have a "personal relationship". The review of the case will be led by former PAP MP and current Deputy Attorney-General Hri Kumar. Apart from that, there aren't that many details about how and what the review will entail.
The elite have since weighed in, in ways that haven't impressed. Law and Home Affairs Minister (i.e. prosecution and police, both pinged by the High Court, all under his purview) K Shanmugam has urged people not to "prejudge" what went wrong, even though we've been reading about it from a court judgment. He also asked that people refrain from a "witch hunt", which, as Andrew Loh has pointed out, is pretty different from the PAP's own behaviour in cases concerning their critics or political rivals.
The CEO of Temasek International highlighted Liew Mun Leong's many contributions to Singapore and asked people to listen to his side of the story before leaping to judgment, which was remarkably tone-deaf and also ridiculous, given that Liew and his family did give their side of the story in court, and the appeal judge has since ruled on it. Since when do "contributions to Singapore", for which he was very richly rewarded, cancel out deficiencies in integrity and character?
In any case, Liew has now retired from his roles in Surbana Jurong, Changi Airport Group, Temasek International and Temasek Holdings.
I tuned into an excellent discussion on Singapore politics and the general election yesterday — you can catch up here — where Michael Barr pointed out that the Workers' Party has been rather silent on this whole case, even though one should expect the opposition to be zeroing in on something like this and holding Shanmugam's feet to the fire.
HOME has also published an interview with Parti's lawyer Anil Balchandani about the case, which you can watch here:
Since we're on the subject of Lucien Wong…
This old Straits Times article from 1986 has been circulating: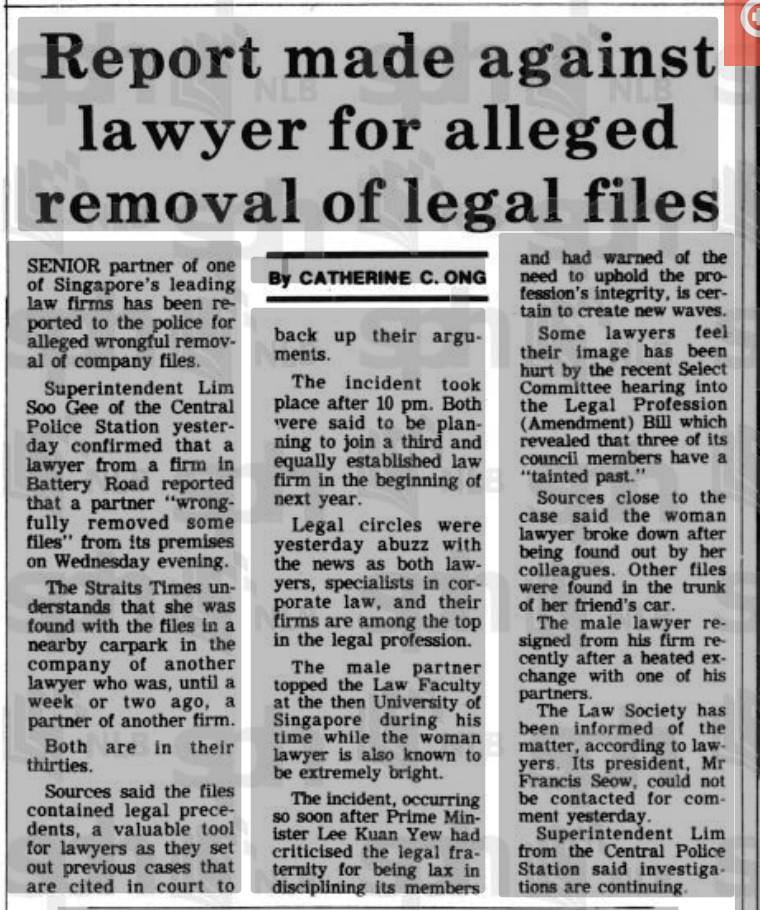 The male lawyer named in this case of wrongfully removing legal files is now understood to be the current Attorney-General Lucien Wong 😳. At the time, the AGC decided not to pursue the matter. The Law Society has since told the Straits Times that "[the] complaint was dismissed as being unmeritorious."
Stuff the Auditor-General found
The Auditor-General's Office's report for the financial year of 2019/20 is out. Multiple lapses were found within three government ministers and eight statutory boards, and five police reports have been made based on the AGO's observations.
Among the issues flagged in poor management at the National Library Board, leading to the revamp of the National Archives building exceeding its budget by $1.72 million. There were also issues with operations management found at JTC, where around 26,000 premises were found to possibly have been sublet without authorisation, and in a few cases tenants were found to be storing and selling diesel to the public illegally.
The AGO also highlighted issues with IT controls in various state organs, particularly in the management of user accounts with access to the full operating system. That's pretty worrying news considering how much data the government collects.
The Elections Department on Polling Day queues
The Elections Department has reviewed what happened on Polling Day this year, where queues at certain polling stations stretched for ages. Among the reasons for it were, unsurprisingly, safe management practices because of COVID-19, an uneven spread of voter turn-out, problems with the e-registration system, and issues with resources at larger polling stations. They've also set out measures that they'll take in the future to improve the situation, like increasing the pool of reserve manpower and equipment, reducing the number of voters at larger polling stations, and reviewing the need for time bands for voting.
---
Missed all the Peranakan food discourse?
This was something that erupted on Twitter so you might have missed it. But Very Good Points were made, so I'm embedding this thread in this issue for you to have a read ⬇️
---
wares mutual aid
I missed out on this section previously, but it's back! I'm finding it so difficult to rank needs in order of urgency, so I'm still going to do the thing of randomly choosing some rows to highlight. A reminder for everyone to check out the wares mutual aid spreadsheet, and to help meet some needs if you can.

---
Please help spread the word about this newsletter!
Milo Peng Funders help me keep this newsletter, as well as other independent projects, going. If you can, please consider becoming one:
We, The Citizens Newsletter
Join the newsletter to receive the latest updates in your inbox.