Capital punishment in the news
We, The Citizens is a newsletter covering Singapore with a focus on politics, democracy, human rights, and social justice. These weekly wraps are free to access—feel free to forward them on to anyone you like!
Milo Peng Funders keep this newsletter running, as well as supporting my other independent writing and civil society work, so please become one if you can! You can also tip me on my Ko-Fi page.
---
🚨 LOBANG ALERT! 🚨
There's just a few days left to take advantage of these discounts! I'm taking 20% off the first three months of a monthly subscription (i.e. you'll pay US$4/month for the first three months), or 20% the entire annual subscription (i.e. US$40/year for the first year).
If you've been mulling over becoming a Milo Peng Funder, then this is a good time. I'd also really appreciate it if you could share this around with your friends/family/networks! 🙏🏼
---
Bad death penalty news from the courts
I wish I could be delivering good news, but things aren't looking in terms of capital punishment in Singapore. On Friday morning, the Court of Appeal squished the hopes of three men on death row.
27-year-old Kamalnathan Muniandy and 52-year-old Chandroo Subramaniam lost their appeals against their death sentences for the trafficking of about 1.3kg of cannabis. A third person, Pravinash Chandran, was given life imprisonment and 15 strokes of the cane, after he was found to only be a courier and received a Certificate of Substantive Assistance from the prosecution.
Following that hearing, the Court of Appeal also dismissed an appeal by Pannir Selvam Pranthaman to mount judicial review proceedings. Pannir had originally been scheduled to hang in 2019, but his lawyers managed to get him a stay of execution. Yesterday, the court's decision had to do with whether Pannir had "substantively assisted" the authorities in fighting drug trafficking, which should then have entitled him to a Certificate of Substantive Assistance that would allow the courts to sentence drug couriers to life imprisonment and caning instead of death. From what I understand, the prosecution accepted that Pannir had cooperated and given information about man named Zamri and that he hadn't lied, but they said that the information he gave was not used in the arrest of Zamri, and therefore Pannir did not get a Certificate. Because of this, he has to die. It's horrific.
Although we all breathed a collective sigh of relief on 9 November when Nagaenthran K Dharmalingam's execution (scheduled for the 10th) was stayed due to his Covid-positive status, we need a fuel injection into the #SaveNagaenthran campaign because his appeal hearing has now been fixed for 30 November. If the Court of Appeal dismisses all his applications, the stay will be lifted and Nagen could be executed soon after.
We need all the help we can get to further spread the #SaveNagaenthran campaign! Here are some ideas of what you can do. You can also help us amplify the campaign by tagging your faves, because we stan life-saving fans: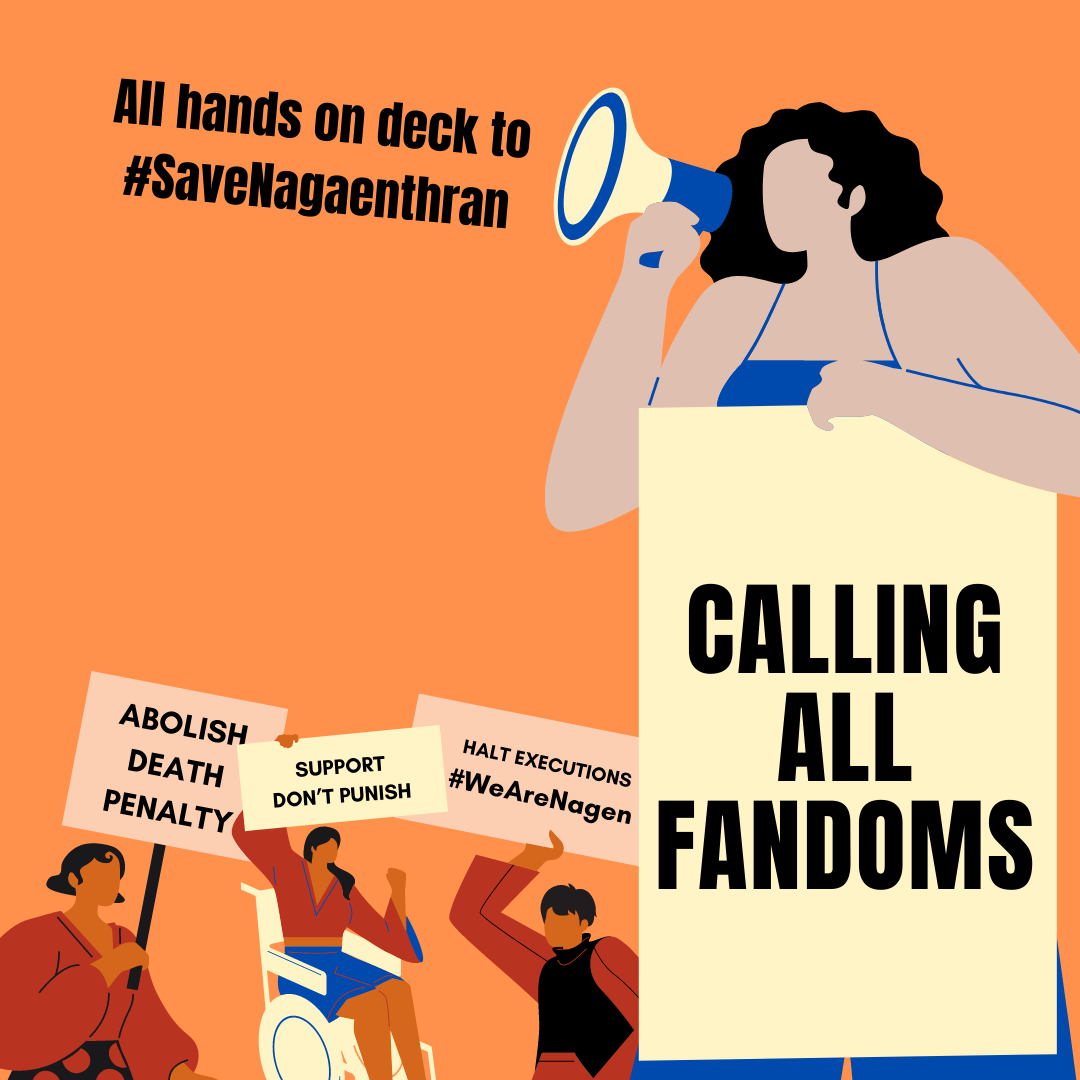 ---
Please don't clog public helplines
A prominent couple among anti-vaxxers in Singapore are now being investigated by the police. They're being accused of urging or organising people to flood public health hotlines to "give your feedback" about the imposition of differentiated measures for vaccinated and unvaccinated people in Singapore.
Looks like we're going to have to add "and please don't clog public helplines" to the end of our "please get vaccinated" messaging. 😵‍💫
---
Got some more…
🚍 The SBS bus drivers have switched lawyers, from M Ravi to Lim Tean. The remainder of the funds from the crowdfunding campaign will be used to cover court fees and also be used as mutual aid for drivers who need financial support.
🍗 A law protecting businesses that donate uneaten food could be coming our way. Basically, such legislation would shield such businesses from liability as long as they have complied with food safety and hygiene laws and if the food was safe for consumption when they donated it.
🦁 The African lion exhibit at the Singapore Zoo will reopen, since the lions have recovered from Covid-19. Good job, lions!
---
Thank you for reading! Feel free to forward this on to anyone you think might be interested. 🙏🏼 Once again, a reminder that becoming a Milo Peng Funder is an awesome thing to do! You can also make a one-off contribution via my Ko-Fi page.
We, The Citizens Newsletter
Join the newsletter to receive the latest updates in your inbox.