Errrr... on the Taiwan-Singapore mask drama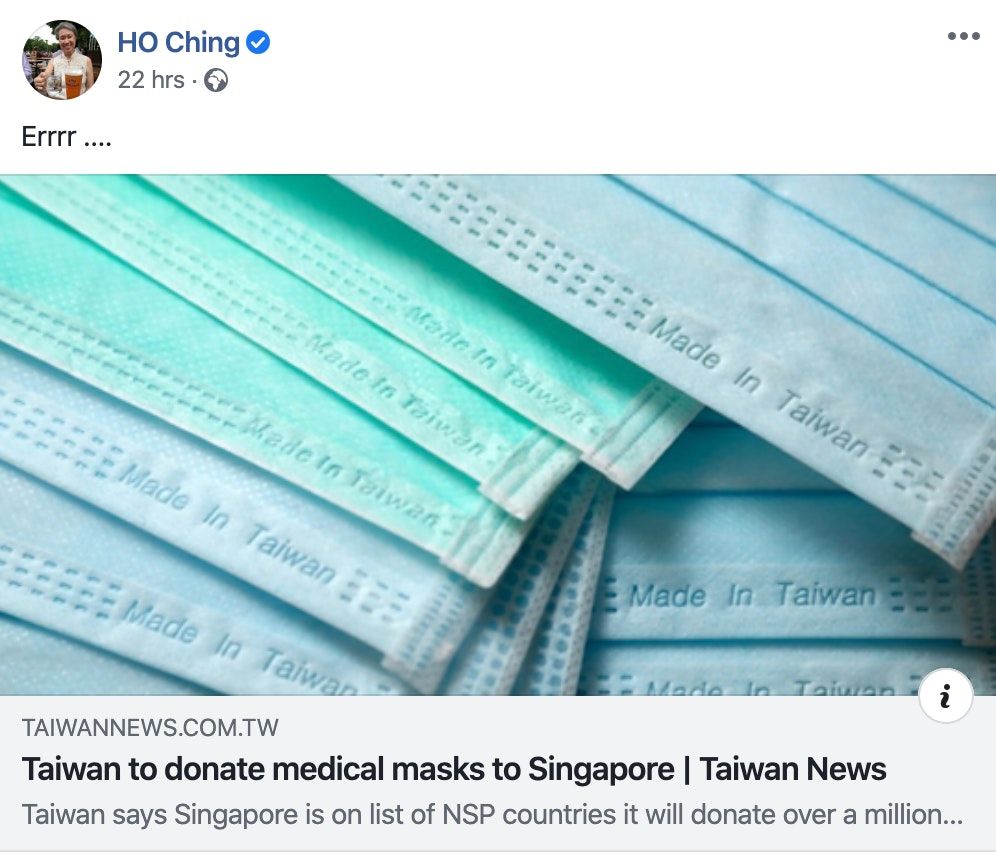 If you're not on Facebook (good for you), you might have missed a little drama between Taiwan and Singapore about masks; specifically, discussions of Ho Ching's reaction to the news of Taiwan donating surgical masks to Singapore.
Against the backdrop of a global pandemic this isn't a particularly important sub-plot, but it's pretty weird and awkward and I thought it might be worthwhile doing a little special issue to sum things up based on my interweb adventures.
First, the context
Taiwanese social media has been abuzz recently because Ho Ching shared an article about Taiwan's mask donations on 11 April with the caption "Errrr ....", which seemed to indicate that she had some sort of issue with Taiwan's actions. This really got the Taiwanese talking, leading to the Taiwanese media picking it up, and pushing the Taiwanese government to respond.
All because of "Errrr …."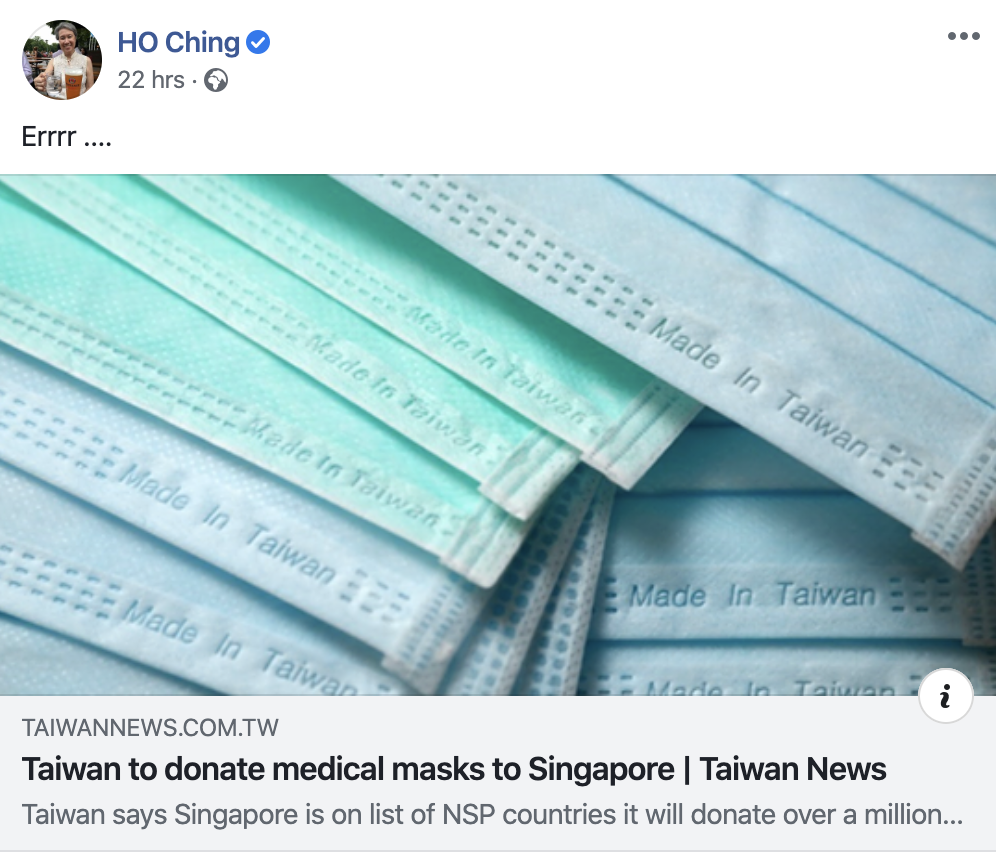 Ho Ching was also criticised by Singaporeans who felt that she was being ungracious about an offer of help from Taiwan.
When I posted about this on Twitter (not quite knowing what it was about at that point) I was surprised to get some responses about how Taiwan had supposedly confiscated masks meant for Singapore:
Upon further social media hopping I found that a Facebook page called "Global Times Singapore" was claiming that Singapore would have had enough masks if not for Taiwan's ban on mask exports, which came into effect on 24 January this year. As far as I can tell, "Global Times Singapore" is not linked to China's Global Times (itself seen as a Chinese Communist Party mouthpiece). I'm not linking to the "Global Times Singapore" page because I find it dodgy, but you can see most of its post in this screencap: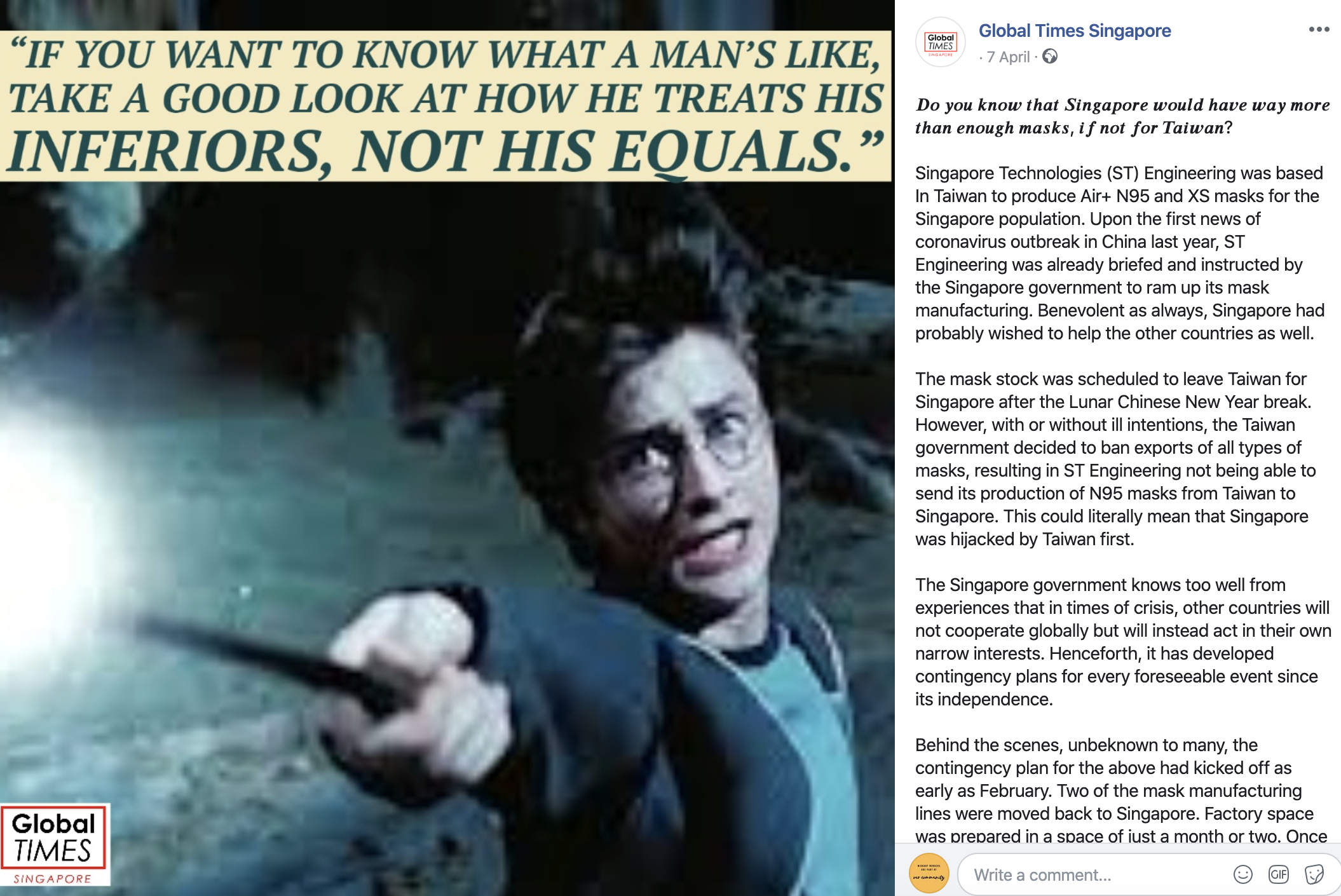 The tl;dr of this is that ST Engineering had two production lines making N95 (and also smaller masks for children) based in Taiwan. When COVID-19 cases started emerging, Taiwan swiftly implemented a mask export ban, which "Global Times Singapore" claimed meant that ST Engineering couldn't send masks back to Singapore. Therefore, Singapore was unable to have "way more than enough masks" because of Taiwan.
The South China Morning Post reported that this was shared over 100 times, and then replicated and shared over 2,000 times.
So… is it true?
I don't remember seeing this talked about in February (which is when we were allegedly "hijacked" by Taiwan), so found it strange that this narrative is circulating on social media now that Taiwan is offering to donate masks to us. In any case, back in late January Singapore's official position was that we had a sufficient supply of masks if used sensibly, and people didn't need masks unless unwell anyway. (Things have changed since, to put it mildly.)
Nevertheless, I was curious to find out more, especially since Speaker of Parliament Tan Chuan-jin also waded into the fray with this now-deleted tweet: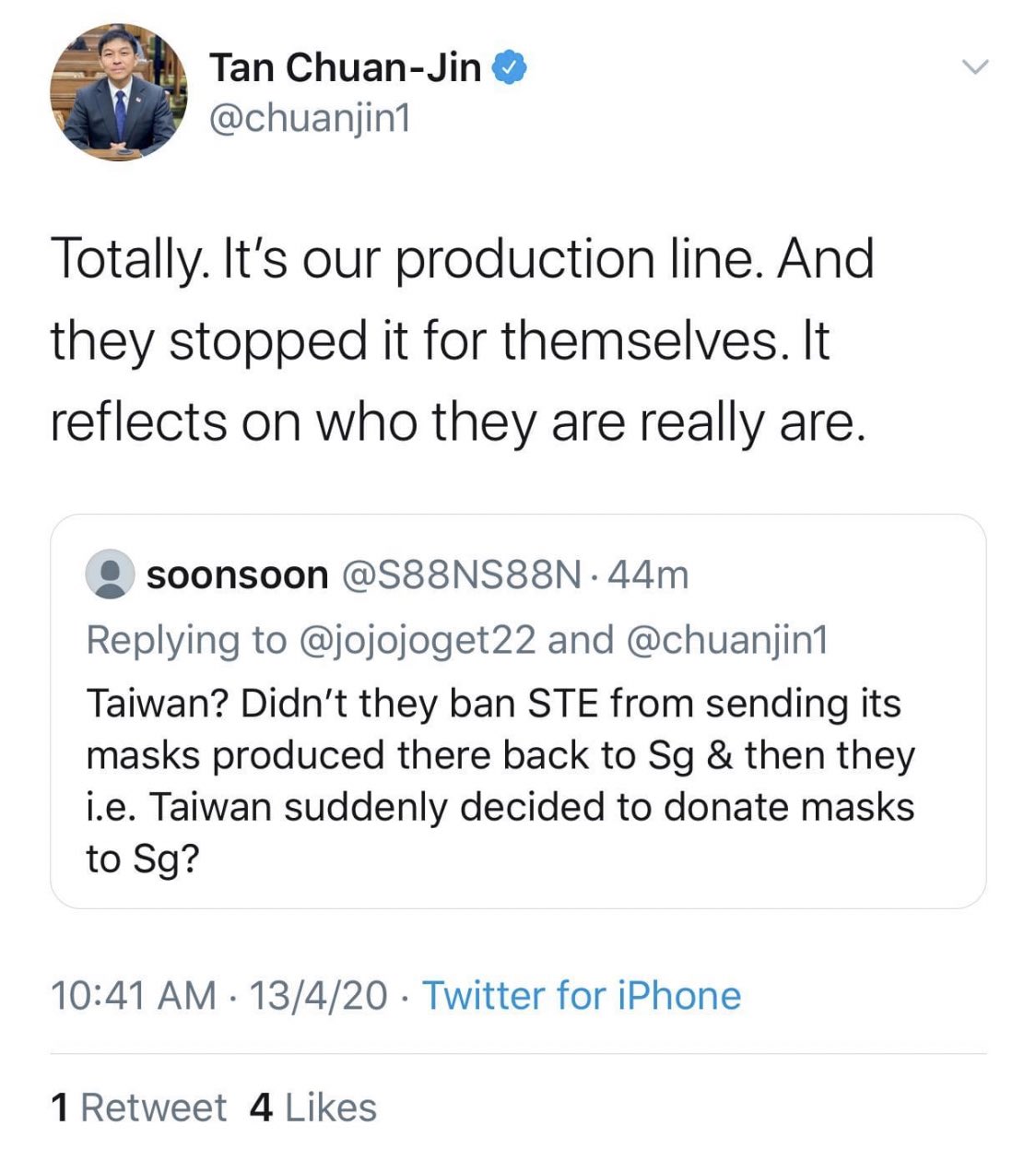 "It reflects on who they are [sic] really are." Wah.
This is what I've got so far
Taiwanese news reports from back in February already mentioned that ST Engineering was moving its production lines back to Singapore (linked video in Mandarin). This appears to be corroborated by Ho Ching herself, who posted about ST Engineering's subsidiary Innosparks setting up mask production back home "over the last few months [from April]", as you can see: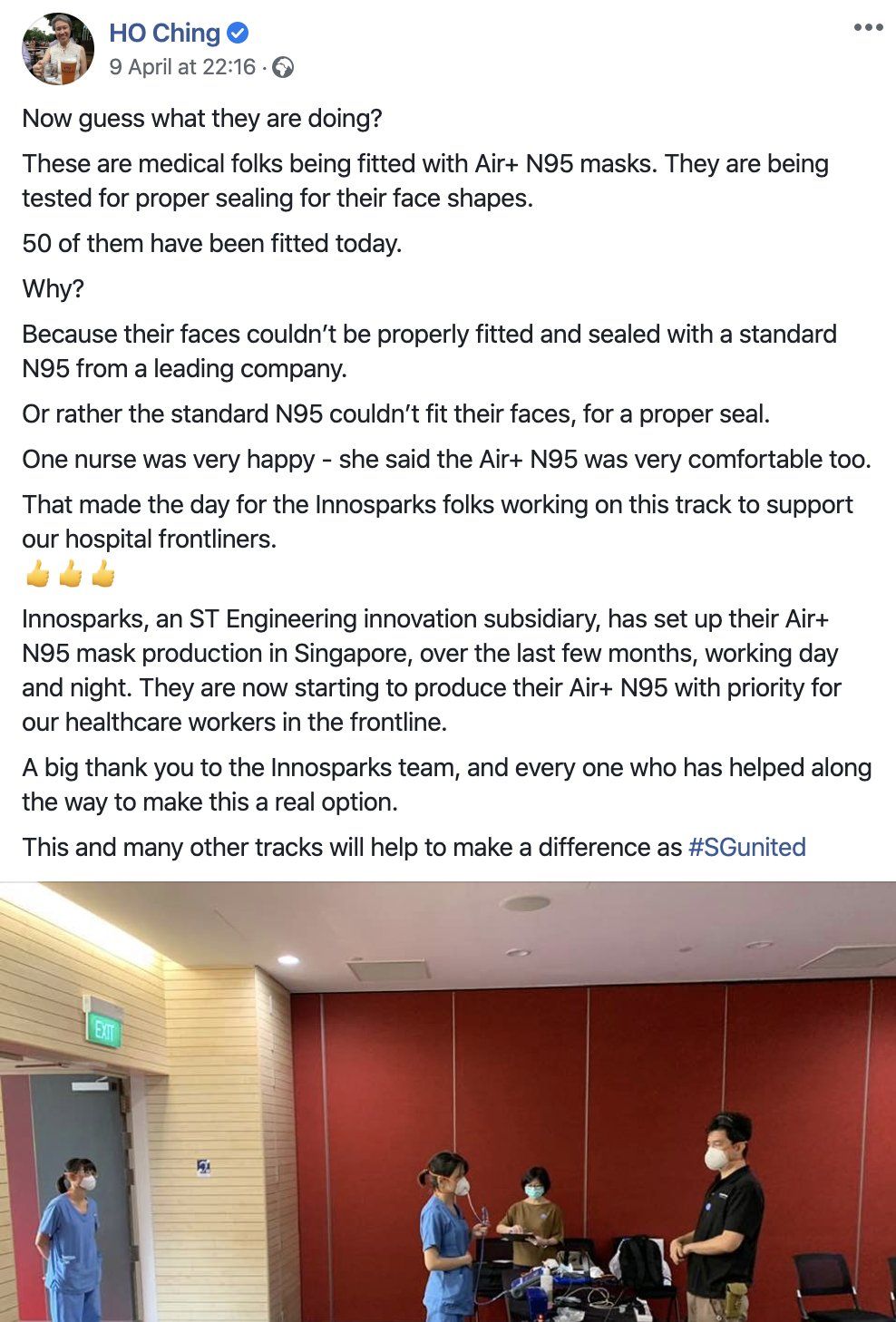 So ST Engineering was able to move its machines back to Singapore; according to the Taiwanese authorities, they had banned exports of masks, not the production lines, and they hadn't factored ST Engineering's production capacity into their plans anyway, so releasing ST Engineering's machines didn't have an impact on their local mask stocks or production capabilities. Since then, Taiwan has dramatically increased its mask production and is producing about 15 million masks per day (you might have read about it in the 100th issue of this newsletter).
Response from Taiwan
Posting on Facebook yesterday (13 April), Lin Chi-yun, a Taiwanese legislator, posted some of the information (link in Chinese). Her whole post is in Chinese, so I'm just summarising the relevant points here:
Lin was mostly trying to respond to the question of whether masks that had been produced by ST Engineering prior to Taiwan's 24 January mask export ban had been stopped from leaving the country.
According to her findings and answers to questions in the legislature, ST Engineering's final shipment of masks was on 22 January, bound for South Korea—it cleared customs and left Taiwan on the 29th. Two days before (20 January), a shipment was sent to Malaysia. Three other shipments in January (7, 13, and 14 January) were sent to Singapore.
ST Engineering's production lines were shifted from Taiwan in February; records show that they were shipped out from Taiwan on 12 February.
Lin also said that ST Engineering was mainly producing N95 masks (not surgical masks), and its machines were at no point requisitioned by the Taiwanese government. She claimed that if ST Engineering had really needed to ship out masks after 24 January, they could have applied for permission with the relevant authorities. So Taiwan didn't seize any masks made by ST Engineering (linked video in Mandarin).
Taiwan's health minister Chen Shih-chung was also asked about this matter at the regular COVID-19 press conference on 13 April. This is a translation of what he said (done with my O Levels B3-standard Chinese):
Actually we've always had a lot of interactions with Singapore, many relevant plans and collaborations. Everyone has talked about this [Ho Ching's Facebook post and reactions to mask donations] a lot online—I think that can stop now.

I will also admit that at that time, when we banned mask exports, these two production lines were disrupted, and that created an issue for Singapore. But we also tried our best to let these two production lines move out so they could go back into production.

Thinking back, Singapore's situation at the time… back then, at the end of January, both Taiwan and Singapore only had about 10 cases each. Also, at that time, everyone thought that Singapore was doing really well at epidemic prevention. So we never thought about the impact on the future, and might have moved a little too slowly. But really, at that time, we couldn't have predicted this.

Now, the situation in Singapore is more urgent. From 10 cases then, now they have 2,532 cases, and these cases are increasing in recent days. The COVID-19 response situation in Singapore now is different from then. They're in a difficult situation now.

So on this issue of masks, if we can—if they're willing, if they hope for us to do this—then  we would like to help on the basis of friendship. We're willing to do this. In such a situation, if there are too many emotional responses… I don't think that's necessary. Actually during this period, every country has their own situation and considerations to make. If they have a need, and the situation is developing, we're willing to keep communicating.
What about the Singapore end?
As I said, Tan Chuan-jin has deleted his tweet. Ho Ching has also edited that "Errrr …." post that's generated all this drama, now thanking Taiwan for "all that you have done, and please know that I'm forever grateful" and urging people to "stop trying to beat each other up in cyber space."
All in all, attempts from both Taiwan and Singapore to diffuse online tensions. But what a bizarre drama to erupt over the weekend. Errr… 🤷🏻‍♀️
And now you're caught up.
Want more of this?
Subscribe for regular news and views about Singapore!