As Singapore flips the "circuit breaker", a look at what others have done
Issue 100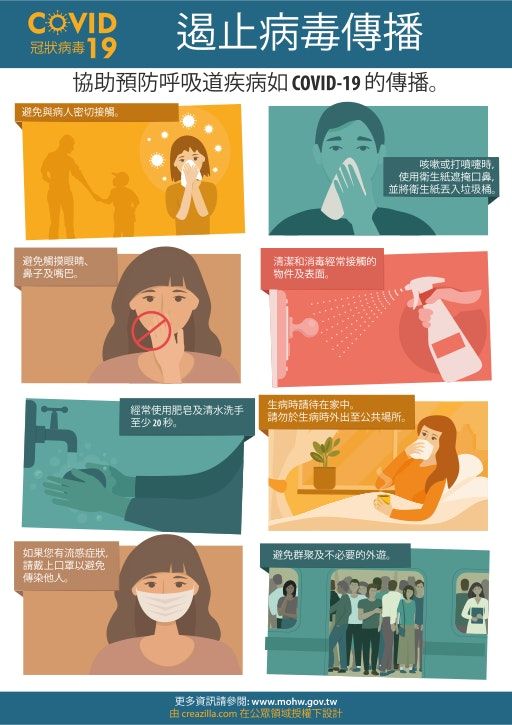 It's the 100th issue of We, The Citizens! It's amazing that this little project of mine has come so far: there are almost 1,500 of you on this email list, and we also reached the 100 Milo Peng Funders milestone this past week! 🎉 Thank you all so, so much for your support.
Just in time for these milestones, I've got a longform piece in lieu of the weekly round-up (I'll be back next week with links, organisations/initiatives to support, and Nice Things). It seems apt to have a comprehensive round-up of measures that's worked in various places so far, and challenges ahead—particularly now we're going to be hunkering down for a "circuit breaker" month.
This is a piece written in collaboration with the Hong Kong-based publication The Initium. They've published the original piece in Traditional Chinese on their website (please subscribe and support their work!) I translated and edited the English version that you see below.
---
Fighting COVID-19 in Singapore, Taiwan, Hong Kong: Lessons to learn, challenges to watch
By: Irene Chen (in Hong Kong), Kirsten Han (in Singapore), Roy Ngerng and Ho Hsin Chieh (in Taiwan)
Without a vaccine, a novel coronavirus has practically paralysed the world as we know it today. Flights have been grounded, cinemas shut down, entire cities placed in quarantine. Across the globe, people are sharing in the experience of going stir-crazy at home as part of drastic physical distancing measures.
Countries across continents are now trying to "flatten the curve", which refers to efforts to slow the spread of a virus so that fewer people are seeking medical attention at any given point in time. This is desperately important: the unchecked spread of the coronavirus now known as COVID-19 would likely lead to the collapse of national healthcare systems, particularly in countries where such infrastructure is already under strain, be it through the lack of funding, manpower, supplies and equipment, or facilities (or all of the above).
In late January this year, a study published by the John Hopkins University pinpointed Taiwan, Hong Kong, and Singapore as three areas expected to be most severely impacted by the novel coronavirus. But all three have defied expectations. Instead of being brought to their knees, their responses to the coronavirus have been held up as models for the rest of the world. Taiwan's number of confirmed cases only crossed the threshold of a hundred on March 18; despite seeing COVID-19 cases since the end of January, the first deaths were recorded in Singapore on March 21; and in Hong Kong, the basic reproduction number (R0) was only 0.319 in mid-February.
R0 (pronounced "R-nought") refers to the average expected number of infections from one case in a population where all are susceptible. The larger the R0, the harder it is to contain the epidemic. So far, research into COVID-19 suggests that its R0 is usually within the range of 2.6 to 4.71, making Hong Kong's mid-February number particularly impressive. (In a sign of how things have changed, a recent interview with the head of Hong Kong University's medical school revealed that the city's R0 is now above 1.)
But it's far too early to declare Taiwan, Singapore, or Hong Kong victorious over the epidemic. As the situation officially developed into a global pandemic in March, prompting many to flock back home from the United States and Europe, all three have seen worrying increases in confirmed cases: at the time of writing, Taiwan has 348 confirmed cases (up from 40 reported on March 1), while Singapore's was at 1,114 (up from 106) , and Hong Kong's at 845 (up from 97). (For a global overview of COVID-19 cases, John Hopkins University's interactive dashboard is particularly useful.)
In this cross-border collaboration, we take a look at what Taiwan, Hong Kong, and Singapore have done over these past two months: are there lessons that can be gleaned from their experience? Have there been shortcomings that can be improved upon? With all three introducing tighter measures in the face of a global spread, will they face another wave of infections?
A rapid response: shutting borders and implementing quarantines
Hong Kong, Taiwan, and Singapore all learnt bitter lessons from the 2003 outbreak of Severe Acute Respiratory Syndrome (SARS), another deadly coronavirus. Following that painful experience, the governments and people learnt the importance of early vigilance, and were quick to take the news of a new virus seriously. While others looked on at developments in China with a sort of detached curiosity, or argued that the new virus wasn't any scarier than the flu, action was already being taken in these three places.
As early as December 31, the Taiwan Centers for Disease Control began checking passengers on flights arriving from Wuhan, China. Those presenting with high temperatures or respiratory symptoms at the point of entry were swiftly bundled off to designated hospitals for further evaluation. On January 20, the government set up the Central Epidemic Command Center (CECC) to take point in responding to the coronavirus.
When SARS hit 17 years ago, Hong Kong was the second-most affected in the world—299 lives were lost in the city. This time, the Hong Kong government acknowledged the problem fairly quickly: the Centre for Health Protection (set up after SARS) activated the "Preparedness and Response Plan for Novel Infectious Disease of Public Health Significance" in early January, and the coronavirus was soon gazetted as a "statutorily notifiable infectious disease". This meant that if Hong Kong doctors came across any patients with a fever and/or acute respiratory illness, and who'd been in Wuhan in the past 14 days, they were legally required to report the case to the Centre for Health Protection for further investigation.
Singapore wasn't too far behind. The city-state began looking out and testing for the virus in January. On January 22, a day before the first confirmed case was reported, the government announced the establishment of a multi-agency taskforce to deal with the virus.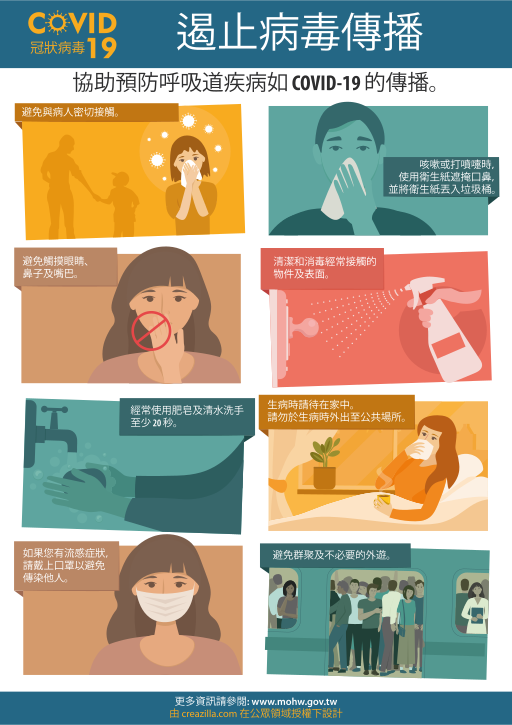 (An advisory from Taiwan on what to do during the COVID-19 outbreak.)
As the crisis began to look more and more serious in China, both Taiwan and Singapore were early adopters of travel restrictions, despite claims of overreaction by the World Health Organisation and admonishment from Chinese officials.
After Wuhan went into lockdown, Taiwan began requiring all travellers entering the country from Wuhan and Hubei Province to complete 14 days of compulsory home confinement—this was later expanded to include those coming from Guangdong and Zhejiang provinces. In early February, Taiwan temporarily banned foreign nationals with travel history to China, Hong Kong, and Macau. Self-quarantine requirements were later expanded to include travellers from Europe, the Middle East, and North Africa. These measures were increasingly tightened, until Taiwan closed its borders to foreigners and even travellers in transit in March.
In Singapore, travel restrictions and distancing measures were also gradually brought in. Beginning with a mandatory 14-day leave-of-absence for preschool employees and students with recent travel history to China, the regulations were expanded to restrict entry and transit according to a growing list of criteria—such as recent travel to places like China, South Korea, Italy, etc.—until the borders were completely shut to short-term visitors. Singapore citizens and those with long-term visas are subject to 14-day stay-home orders; while these were originally allowed to be served at home, the government has since begun booking out entire hotels to put people up for this isolation period.
The Hong Kong government, on the other hand, has been criticised by its people for being sluggish in imposing border checks and travel restrictions, despite its proximity to China. It was only on January 20, when China confirmed human-to-human transmission of a new virus, that the Hong Kong government began implementing a health declaration system for all incoming flights from Wuhan, with the same system only implemented for high-speed rail arrivals from China three days later. Entry to Hong Kong was denied to individuals who'd been in Wuhan within the past 14 days after the Chinese city went into quarantine; by this point, confirmed cases with recent travel history to Wuhan had already been identified in Hong Kong.
"If we close the border and do not let anyone coming in and out of Hong Kong, the impact will be far-reaching," Carrie Lam, the city's Chief Executive, said on January 28.
This inaction has been a constant source of angst among the people, particularly when the government response to the public outcry was merely to close certain border checkpoints, while allowing regular operations on major bridges like the Hong Kong–Zhuhai–Macau Bridge that connects the city directly to China. Large numbers of Hong Kong medical workers even went on strike to demand that points of entry be shut down to help stem the spread, but to no avail.
But while slow to shut borders, the Hong Kong government was swift when it came to closing schools. As early as January 25, schools across Hong Kong were closed—at the time of writing, the government has said that the earliest that physical classes will resume would be April 20. Taking that cue, universities have also stopped in-person classes, shifting gears to online learning. At the same time, government-run recreational facilities were closed and major events temporarily halted. Public hospitals also suspended public visits, as well as volunteer services and clinical attachments.
Infrastructure matters: providing widespread testing and healthcare facilities
Testing has been made generally accessible in Taiwan, Singapore, and Hong Kong. In fact, it's likely that no other country in the region has done as much testing as Hong Kong: as of March 31, 12,000 out of every million have been tested. The government has been testing people with relevant symptoms since January, and the system has since been decentralised across big public hospitals. Hospitals can complete tests between an hour-and-a-half and three hours, and inform patients within a day. Private clinics are also asked to support testing efforts by collecting throat swabs to send on to the government laboratory.
Taking no chances, Singapore's health ministry in January began testing all patients admitted to public hospitals with pneumonia, even if they hadn't been to China. In Taiwan, the authorities looked through the National Health Insurance Administration's database to identify patients who'd reported severe respiratory symptoms but had tested negative for influenza. As the number of confirmed cases increased, both countries also expanded testing to travellers.
According to an article in the Journal of the Formosan Medical Association, the National Health Research Institute swung into action right after China made the genome sequence of the virus public on January 10. By the end of February, there were 27 labs in the country capable of processing about 2,250 tests per day; capacity has since risen to about 3,000 per day.
But the availability of testing is only one side of the coin; accessibility is another. It's therefore important to note that Hong Kong, Taiwan, and Singapore have ensured that testing is as low-cost as possible, or even free, removing a key barrier that might deter people from getting themselves checked out.
The Hong Kong government bears substantial cost for testing and treatment at public hospitals. Patients need only pay HK$180 (S$33). Treatment is likewise highly affordable. Presently, COVID-19 tests at all private hospitals in Hong Kong cost between HK$1,000 and HK$2,000 (S$184-S$367). But this only extends to locals; while the government announced in January that it would foot the bill for non-Hong Kong residents infected with the virus, it was forced to backtrack following public outcry.
Testing in Taiwan and Singapore is free, and both governments reduced the requirements for receiving support for medical expenses, removing obstacles preventing people with relevant symptoms from seeking medical attention. In mid-February 2020, the Singapore government said that it would pay all the hospital bills of patients admitted to public hospitals on suspicion of being infected with COVID-19—important reassurance for those who worry about hospital fees ballooning to unmanageable levels and thus avoid testing. (This position has since shifted; short-term visitors down with the coronavirus are now required to pay for their treatment. As a way to deter Singaporeans from leaving the country, the government has also said that all subsidies will be removed from citizens who catch the virus on travel against official advice.)
During an outbreak, another major test for a country's healthcare infrastructure is whether it can deal with a sharp increase in demand for medical attention and screening. Efforts have been made in all three countries to spread out the increased workload.
In Taiwan, 167 smaller hospitals are equipped to test for the virus, only sending people on to major hospitals only if they test positive. As a back-up, 50 medical centres in the country are equipped to handle critical cases if the hospitals are overwhelmed.
As locally transmitted cases grew, Singapore reactivated its Public Health Preparedness Clinics—a network of about 900 general practitioner clinics designated to provide subsidised treatment, medication and support during the outbreak. These clinics had previously been activated during the H1N1 influenza outbreak in 2009, and are now briefed to care for people presenting with respiratory symptoms, while referring those suspected to have pneumonia to hospitals for more advanced care. Protocols have also been drawn up directing doctors to order five days of medical leave for those presenting with milder flu-like symptoms, with instructions for a follow-up if the illness hasn't cleared up by then.
Similarly, Hong Kong in February also announced that public and private hospitals were coordinating to shoulder the burden. To prevent overloading public hospitals, patients are sent along to private facilities, but charged at the same price as public hospitals. The Hong Kong government also assigned 18 clinics to treat those with mild symptoms and identify potential COVID-19 cases as quickly as possible.
A hospital's capacity: what about the beds?
The COVID-19 outbreak has presented governments and medical facilities with many challenges, key among them the capacity to provide isolation wards and intensive care.
After SARS, the Hong Kong government poured resources into the construction of a new building to deal with infectious diseases, and also increased the number of negative pressure isolation beds in various hospitals. (Negative room pressure is an isolation technique used to prevent cross-contamination between rooms by creating conditions in which air flows into the room but doesn't escape from it.)
David SC Hui, a government consultant and professor of respiratory medicine at the Chinese University of Hong Kong, says that many of the city's isolation beds are currently being used by other seriously ill patients—especially since Hong Kong has an aging population and has not experienced a serious epidemic in many years. He adds that there are currently about 800 isolation beds ready for coronavirus patients if necessary, and that hospitals are in the process of converting regular beds into isolation ones in the hopes of preempting pressure on the system.
At present, Singapore has about 300 negative pressure isolation beds, with the capacity to increase the number to 500. Taiwan has about 1,000 negative pressure isolation beds.
According to a survey published in Critical Care Medicine this year, Hong Kong has 287 ICU beds (7.1 beds for every 100,000 people), while Singapore has 335 beds (11.4 beds per 100,000), and Taiwan has 5,758 beds (28.5 beds per 100,000). These beds are of critical importance for severe cases of COVID-19; a study of 1,099 Chinese clinical cases found that about 15.7% of the novel coronavirus cases ended up in critical condition.
But Hui points out that Hong Kong has seen fewer than 20 critical cases, which is only about 3% of the total number of confirmed cases in the city. His theory is that a policy of "early testing, early isolation, early treatment" has reduced the rate of patients developing more severe symptoms. As of the time of writing, Singapore has 25 cases in critical condition. (Taiwan does not seem to have reported the latest number of those in critical condition.)
Following the trail to stop community spread
Once suspected cases are tested and confirmed, contact tracing comes into play. It's a crucial tool when it comes to containment, particularly if local transmission is still fairly limited.
In Singapore, the Ministry of Health has leaned into contact tracing in a major way, swiftly setting up teams dedicated to this process. When an individual tests positive for COVID-19, they're asked to provide a detailed account of their recent movements, so tracers can identify people they've been in close contact with (defined as those who have been within a two metre radius of the infected patient for a period of over half an hour). These people are then informed that they need to be isolated and tested. To supplement the manpower needed for such a labour intensive endeavour, even police officers from the Criminal Investigation Department have been roped in, using CCTV footage—of which there is plenty in Singapore—and other investigation methods to track people.
According to a BBC report published on March 19, Singapore has already reached out to about 6,000 close contacts via such methods. In fact, Singapore's contact tracing is so thorough that about 40% of all positive COVID-19 cases identified by mid-March first realised that they needed to get tested after they were called by contact tracers.
Taiwan has also carried out contact tracing, putting together lists of people who need to be contacted for isolation and testing. After the first reported COVID-19 death, epidemiologists retraced the case's progression from the patient's bed, through the intensive care ward to the emergency ward, seeking out people he had come into close contact with. A seating plan was eventually put together identifying people he'd dined with at a family gathering, allowing health experts to identify a cluster within the group. According to experts like Cheng Hao-yuan of the Taiwan Centers for Disease Control, the country was able to successfully detect four cases of local transmission within two weeks.
The health department and Centre for Health Protection are responsible for contact tracing in Hong Kong, and all close contacts of confirmed cases are required to spend 14 days in one of three government quarantine centres. The Hong Kong Police Force in February launched a "supercomputer" system to carry out major investigations to support contact tracing efforts. In early March, the Department of Health said that the system had successfully tracked down 28 passengers as well as 69 others who could have been in close contact with a taxi driver who tested positive.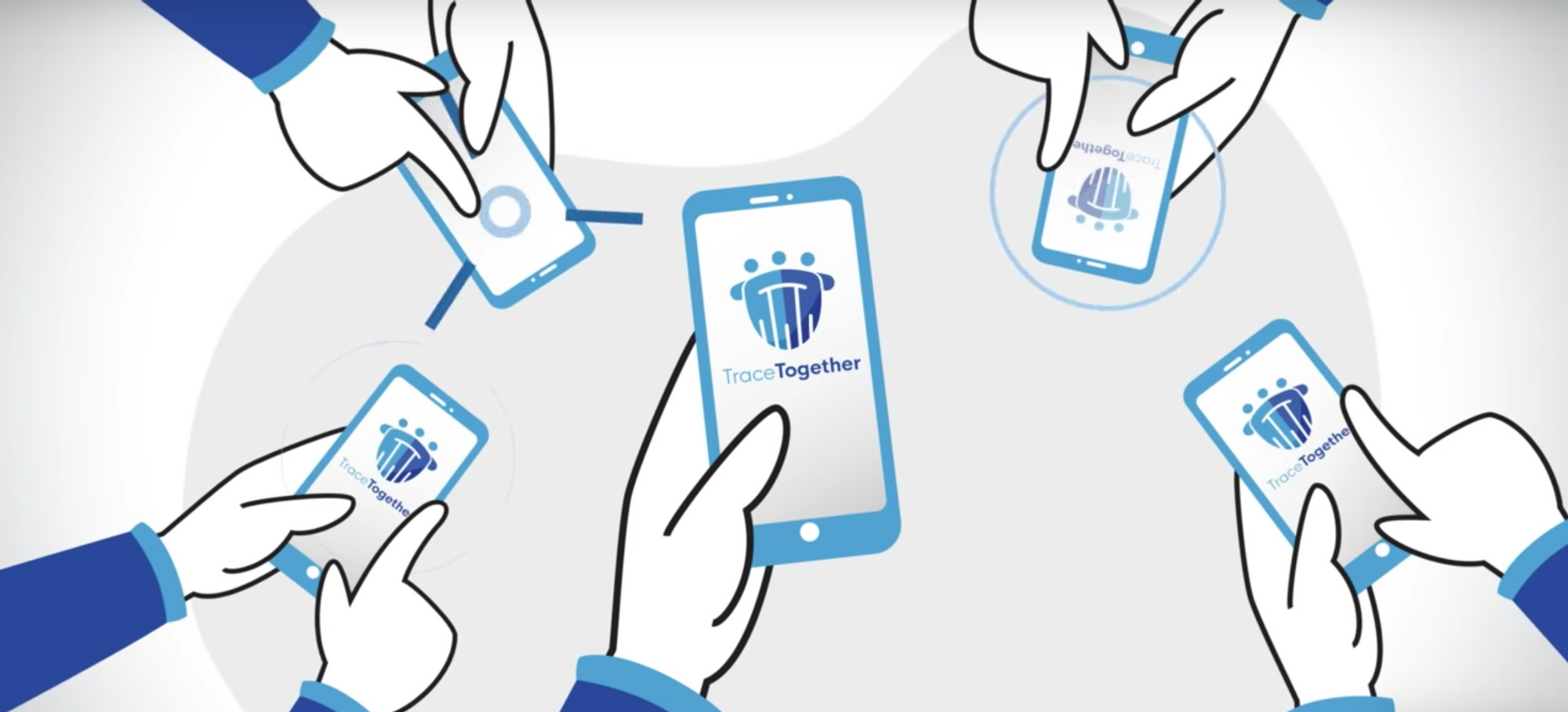 Singapore was praised by Harvard researchers for having a "gold standard" detection capability in addressing the spread of COVID-19, but it is continuing to innovate to make contact tracing more efficient. The government has launched an app, aptly named "TraceTogether", aimed at speeding up the work of contact tracers and investigators. Using Bluetooth on Android and iOS devices, the app logs anonymised identification keys — which can only be decrypted by the Ministry of Health — to keep a record of people who have been in close contact. If an individual turns out to have COVID-19, contact tracers can then refer to the log on their phone as a quicker way to derive a list of contacts.
Although TraceTogether's developers have put some effort into reassuring users that their privacy will be respected, there hasn't yet been any full independent audit of the app to evaluate potential privacy or surveillance concerns. However, an oversight has been pointed out in the original app—its code had included a government data collection service's library, meaning that TraceTogether collected more data than necessary. The developers are working to remove this.
In order to keep track of visitors from areas hit by COVID-19, Taiwan's government has set up a system requiring travellers to fill in an online health declaration and declare a working mobile number. This is then fed into the national contact tracing and "digital fence" systems. This allows the government to track those meant to be in home quarantine via GPS on their mobile phones; if the phone leaves the quarantine area, the system alerts the local authorities.
Those returning to Hong Kong from China or overseas are required to self-quarantine if they have a Hong Kong residence or hotel accommodation. Those without Hong Kong addresses are required to go to a quarantine centre. The Hong Kong government initially tracked people by their phones too, but was criticised for failing to detect some who had left their homes in breach of the quarantine order. This prompted the government to escalate to more drastic measures; they ordered 60,000 electronic wristbands to be distributed to individuals required to isolate themselves. These wristbands sync up with one's mobile phones to alert the authorities if one leaves a geofenced area. However, people have still been caught cutting off the wristbands and sneaking out.
These uses of technology have been praised for their speed and efficiency, but have also rung alarm bells for those more privacy-minded, particularly among civil society groups and marginalised communities that have either experienced or witnessed the use of technology for less savoury purposes. On April 2, over 100 civil society groups across the world issued a joint statement warning that "efforts to contain the virus must not be used as a cover to usher in a new era of greatly expanded systems of invasive digital surveillance", and urged governments "to show leadership in tackling the pandemic in a way that ensures that the use of digital technologies to track and monitor individuals and populations is carried out strictly in line with human rights."
State-citizen relations, face masks, and communication
While COVID-19 interventions are often (and understandably) talked about in terms of public health, political contexts and relations cannot be overlooked or discounted. Even during this extraordinary period, politics continues to play a part in responses, not only by governments, but also by society.
Take Hong Kong: the coronavirus outbreak hit during a period of political crisis, on the heels of months of protests that have severely damaged trust in the government and law enforcement, and exacerbated hostility towards China. Against this backdrop, Hong Kongers weren't about to wait for directions from their political leaders; they simply took matters into their own hands.
Local civil society groups and political parties mobilised and demonstrated impressive levels of resourcefulness in purchasing masks from overseas—even as the government admitted that they'd not been very successful at acquiring stock. Long queues formed at pharmacies as people, following their experience from SARS, began stocking up on necessities like masks and disinfectants. It got to the point where, when walking on the street or taking public transport, one would be hard-pressed to find any Hong Konger not wearing a mask. Residents also began voluntarily practising social distancing. Experts and medical workers in Hong Kong repeatedly reminded citizens to don masks, wash their hands often and properly, and be aware of hygiene and cleanliness, such as putting down toilet seat covers, so as to prevent the transmission of germs and bacteria.
In sharp contrast, Singaporeans have demonstrated much higher trust in their government. This trust in the establishment is a long-standing characteristic of the country's political climate, but it's also been bolstered by the government's general transparency thus far. Ministers hold regular press conferences, and the country provides a daily breakdown of COVID-19 cases. People also have the option of subscribing to a WhatsApp broadcast list or a Telegram channel for official updates.
But it hasn't always been smooth-sailing: these methods of communication weren't quite enough to assuage the concerns of Singaporeans in the early stages of the outbreak, when people rushed to purchase surgical masks, wiping out the stocks in pharmacies and other stores.
Unlike Hong Kong and Taiwan, the Singapore government has insisted that surgical masks aren't the most important when it comes to stemming the outbreak, and that one only needs a mask if they're sick. This position wasn't particularly well-received at first: Singaporeans pointed to advisories issued by other governments recommending the use of masks. The news that asymptomatic carriers of the coronavirus are also able to infect others further added to the sense that the government's advice didn't quite seem to make sense.
Behind the government's advice, though, was a difficult reality: a limited supply of masks. In comments to Singapore's Chinese Chamber of Commerce and Industry that were later leaked, Singapore's Minister for Trade and Industry, Chan Chun Sing, said that the government "took a gamble" on this matter, choosing to issue four surgical masks per Singaporean household to calm nerves and prevent a rush on masks that would deplete supplies for frontliners. By February 27—two days from the deadline for collection—about 67% of the 1.37 million eligible households had collected their one-time ration of masks.
A little over a month on, the situation is now drastically different. With local transmissions on the rise, sparking fears of as-yet-undetected carriers of the virus in the community, Prime Minister Lee Hsien Loong reversed the official position on mask usage in an address to the nation on April 3, and announced that the government would be issuing reusable masks to Singaporean households.
"We will no longer discourage people from wearing masks. Wearing a mask may help to protect others, in case you have the virus but do not know it," he said. "This is so that you keep your droplets to yourself—when you sneeze or speak or cough. It can also protect yourself a little better, especially if you are elderly, or vulnerable because of pre-existing health conditions."
Taiwan, on the other hand, had taken this tack from the beginning. On the same day the country confirmed its first COVID-19 case, Premier Su Tseng-chang assured the people that the government had reserves of about 45 million surgical masks, and that Taiwan had the capacity to produce another 1.88 million masks daily. The government also introduced a ban on the exporting of masks overseas, prioritising local needs.
While the premier said that production could be ramped up to 2.44 million masks a day, the government soon surpassed this goal—by the third week of February, Taiwan was producing 4.6 million masks a day. By mid-March, the country was churning out a whopping 12 to 13 million masks a day, all for domestic use, and will increase this to 15 million by early April.
In comparing and contrasting these divergent approaches to face masks, it's worth noting that Singapore doesn't have the same capacity to produce surgical masks locally in the way that Taiwan does. In fact, it was only in mid-February that the government brought up developing local manufacturing capabilities. As for Hong Kong, some local factories have begun production, but are facing a lack of materials. On average, they're producing about a million masks a month. Despite this, the local shortage of masks has eased up, and Hong Kongers can now be found queuing at post offices to send masks to friends and family elsewhere.
Taiwan further implemented a mask rationing system. As of February, each Taiwanese citizen is able to purchase three masks a week each, a system tracked via integration with the National Health Insurance database. Audrey Tang, a civic tech hacker-turned-minister in charge of digital technology, worked with IT experts to create online maps allowing people to look up pharmacies in their vicinity with stocks of face masks. It's also possible to order surgical masks online and pick them up at one's local convenience store.
The difference in approaches to COVID-19 response hasn't gone unnoticed. King Chwan-chuen, an epidemiologist at the National Taiwan University, points out that Singapore's National Centre for Infectious Diseases has its own in-built capabilities, such as hospital beds, and can integrate epidemic control under a single institution. "It's even more centralised than Taiwan," he says. "Taiwan has delegated testing and treatment to various hospitals, and the Centers for Disease Control doesn't have any relevant capacity in and of itself."
He continues: "A lot of the work health education and epidemic prevention work that has taken place in Taiwan this time has come from the School of Public Health taking the initiative to mobilise its alumni to participate in public education." In fact, he reveals, these alumni members have demonstrated such a strong sense of social responsibility that they embarked on public health education even before the actual health officials.
In contrast, King says, the biggest drawback of Singapore's epidemic prevention measures is that it is completely top-down; while people have demonstrated a willingness to comply with regulations issued from the top, they've been less active than the Taiwanese in organising and mobilising on their own.
The top-down tendency that King's observed in Singapore has been on full display throughout the outbreak. "The ability to independently discern what to do in a situation and take the initiative for self-organisation is more constrained in Singapore," political scientist Ian Chong told New Naratif in February.
While this might mean that the state can generally expect little resistance to its decrees, people could also be prone to panic or overreaction if there aren't clear signals or instructions from the state—as was seen during the spate of panic-buying in supermarkets that occurred when the government raised the country's Disease Outbreak Response System Condition from yellow to orange in early February. Another short-lived rush on the shops was seen in mid-March after Malaysia abruptly shut its borders, leaving thousands of Malaysians working in Singapore scrambling for alternative arrangements and triggering fears of impact on food supplies in the city-state.
Cases of local transmission have increased—on April 3, 56 of 65 new cases were local—and the government has moved to tighten measures day-by-day. While many Hong Kongers had taken the initiative to practise physical distancing even before government directives, the Singapore government has had to step up enforcement and penalties to ensure more Singaporeans will abide by new safe distancing policies. Regulations have been introduced into the Infectious Diseases Act to include potential fines and jail time for those who intentionally breach the rules. The government has also demonstrated zero tolerance for anyone who violates stay-home orders, revoking permanent residency statuses and even cancelling the passport of a Singaporean.
Conclusion
Although Taiwan, Hong Kong, and Singapore have all received praise for their early responses, the three are now facing new challenges as the rest of the world struggles. Citizens returning home from Europe and North America have driven up the number of reported cases, and authorities have to guard against new clusters of local transmission. Such developments can put added strain on health systems in the three areas.
In Hong Kong, for example, government consultant David Hui points out that many returnees or inbound visitors weren't required to undergo quarantines if they'd entered the city prior to March 19, when compulsory quarantine measures were implemented. These people, some of whom could be carriers of the virus, may be related to local clusters emerging in Hong Kong. The last batch of these arrivals—who would have entered Hong Kong on March 18—will have completed the 14-day incubation period on April 1. "We'll have to keep an eye on the next two weeks," he warns. "This is key; we'll have to see if there'll be another wave of local infections."
With new clusters popping up across Singapore—including in migrant worker dormitories, nursing homes, and preschools—the government has edged towards a lockdown, without actually using the word. On April 3, it was announced that all workplaces (except for essential services) and schools would be closed for at least a month from Tuesday and Wednesday respectively. While hawker centres and restaurants are allowed to stay open, dining in will no longer be allowed.
As Prime Minister Lee Hsien Loong urged: "It boils down to three things. First, stay at home, as much as possible. Second, avoid socialising with others beyond your own household. Gatherings should be confined to your household. Avoid visiting even your extended families who are not staying with you, especially if they are elderly or vulnerable. Third, go out only to do essential things. For work, if you are in essential services or key economic sectors. To buy food at markets, or to take out from restaurants and hawker centres. Or to exercise in the neighbourhood park, keeping a safe distance from others."
When it comes to Taiwan, the big question is: can the measures implemented early on prevent further community transmission? With the Qingming Festival coming up, there are worries that new variables will emerge as families seek to gather for tomb sweeping and commemorating their deceased. This could complicate the country's ongoing fight against COVID-19.
Under the shadow of SARS—and the lessons learnt and preparations made in its wake—Hong Kong, Taiwan, and Singapore have, in the past three months, demonstrated good practices in "flattening the curve": whether through speedy responses, long-term preparedness, or both. These have been key reasons why they appear to have performed better than others.
But the fight is far from over. Whether attempts to tighten measures, in the face of fast-changing circumstances, will be effective in keeping transmissions down, remains an open question. How will government and social responses in these three places evolve to keep pace with a different phase of the pandemic? The current crisis is a serious test for the world, including the three areas who initially did well.
---
That's it from me this week! This piece might be long, but I hope you found it informative about how Hong Kong, Taiwan, and Singapore have dealt with COVID-19 in our own ways. If you enjoyed it, why not share it with someone?
Want more of this?
Subscribe for regular news and views about Singapore!