Check out We, The Citizens' spreadsheet compilation of party manifestos for this election. If you're looking for an explainer on the election itself, here's a comic explainer for you.
---
Whew, here we are at the weekend (well, the only weekend) before the vote. All political parties have been pounding pavements, knocking on doors, and hosting/starring in party-produced talk shows on Facebook. If you're struggling to keep up with what's happening, the good folks behind the GE2020 Guide are providing email updates, or sending them out on a Telegram channel. You can also consult their master spreadsheet.
As covered in previous issues, there's been a lot of talk about potential opposition wipeout, NCMPs and immigration. Today, Chan Chun Sing said that the focus of this election should be on COVID-19 and how we're going to get through it.
GE2020 news has pushed COVID-19 to the background, but Singapore is far from past it. The number of new cases reported daily is still in the three digits. The number of cases outside of the dorms has also risen: on 2 July, Gan Kim Yong, co-chair of the taskforce to tackle COVID-19, said that it's increased from an average of four cases per day the week before to an average of eight cases per day. You can watch his briefing here:
This isn't entirely surprising; we've been warned that there might be a slight increase in the number of cases as the lockdown lifts and people start going out and congregating in public spaces again (no matter how much we're reminded to safe distance, it isn't always going to work, and some F&B outlets have pointed out their difficulties). An increase in numbers as we went from Phase 1 to Phase 2 doesn't automatically point to a failure of the authorities in their handling of COVID-19.
But the fact remains that the number of cases have gone up, and it's something that needs to be dealt with as we emerge from our homes and return to our bubble teas and food courts. Migrant workers are also in need for attention and help: three months after the first dormitories went into full lockdown, we're still seeing more than 100 new cases of migrant workers in dormitories testing positive for COVID-19 every day. As you'll see in the YouTube video embedded above, 58 households in a HDB block in Tampines have been put on "active phone surveillance" after a COVID-19 cluster was detected there, presumably started by an individual who had been working in a dormitory. We reported 185 new cases today, with nine cases outside of dormitories and one imported case serving a stay-home notice.
Why, then, have we introduced a massive new variable — a general election — into the mix?
Speaking at the NUSS Pre-General Election Forum last night, the SDP's Paul Tambyah — president-elect of the International Society of Infectious Diseases based in the US — questioned the wisdom of having an election now. He also wondered if the PAP government had been distracted from the COVID-19 crisis in March (when the case numbers began going up):
I have an opinion as to why that happened, I don't know for sure. But you know that was the time they started talking about an early election. And you wonder whether the ministerial committee lost their focus on the public health and started thinking about the election…

Like even today, we've got this cluster of cases in Tampines. And the head of the ministerial committee has to go to Marsiling to explain to people why they should vote for PAP even though Madam Halimah abandoned the constituents there…

He should be there in Tampines trying to sort out what's going on with the outbreak. So it's a huge distraction and we've argued that for a long time — that this distraction has actually hampered what was really going well, has just gone south.
He isn't the first person to bring this up; Sudhir Vadaketh also wrote about this for the South China Morning Post in early May. (It prompted an unhappy letter to the SCMP from the Singapore's consul-general in Hong Kong, who accused Sudhir of "pushing a particular point of view meant to influence Singapore's domestic politics, rather than writing for an international audience.")
In his speech announcing the dissolution of Parliament, Lee Hsien Loong said:
An election now — when things are relatively stable — will clear the decks, and give the new Government a fresh, full, five-year mandate. It can then focus on this national agenda and the difficult decisions it will have to make and to carry. The alternative is to wait out the COVID-19 pandemic. But we have no assurance that the pandemic will be over before this Government's term must end next April. And this is why I have decided to hold the General Election now.
We don't know what things will look like with the pandemic over the next year, or whether a vaccine will be found before April 2021, which is when the last electoral term was to end. With the time to further refine operating protocols and continue ramping up testing and tracing, the transmission figures could be much lower, or perhaps some calamity could strike to leave us desperately fighting fresh waves (although one would have to wonder what was going on with our COVID-19 response for us to be taken off-guard like that again).
Some will say that other countries, such as South Korea, have shown us that it's possible to hold an election during COVID-19. Sure, it's definitely possible. But does that mean now is a good time to hold an election ahead of schedule? Most opposition parties — including the one with the infectious diseases expert — say no.
We're only a couple of weeks into Phase 2. Crisis communications is no longer quite as smooth and clear as it was early this year. Remember DORSCON, our disease outbreak response system that's meant to tell us how severe things are, and what conditions will apply? That's pretty much out the window; we've gone in and out of lockdown without having budged from DORSCON Orange, and no one even brings it up anymore.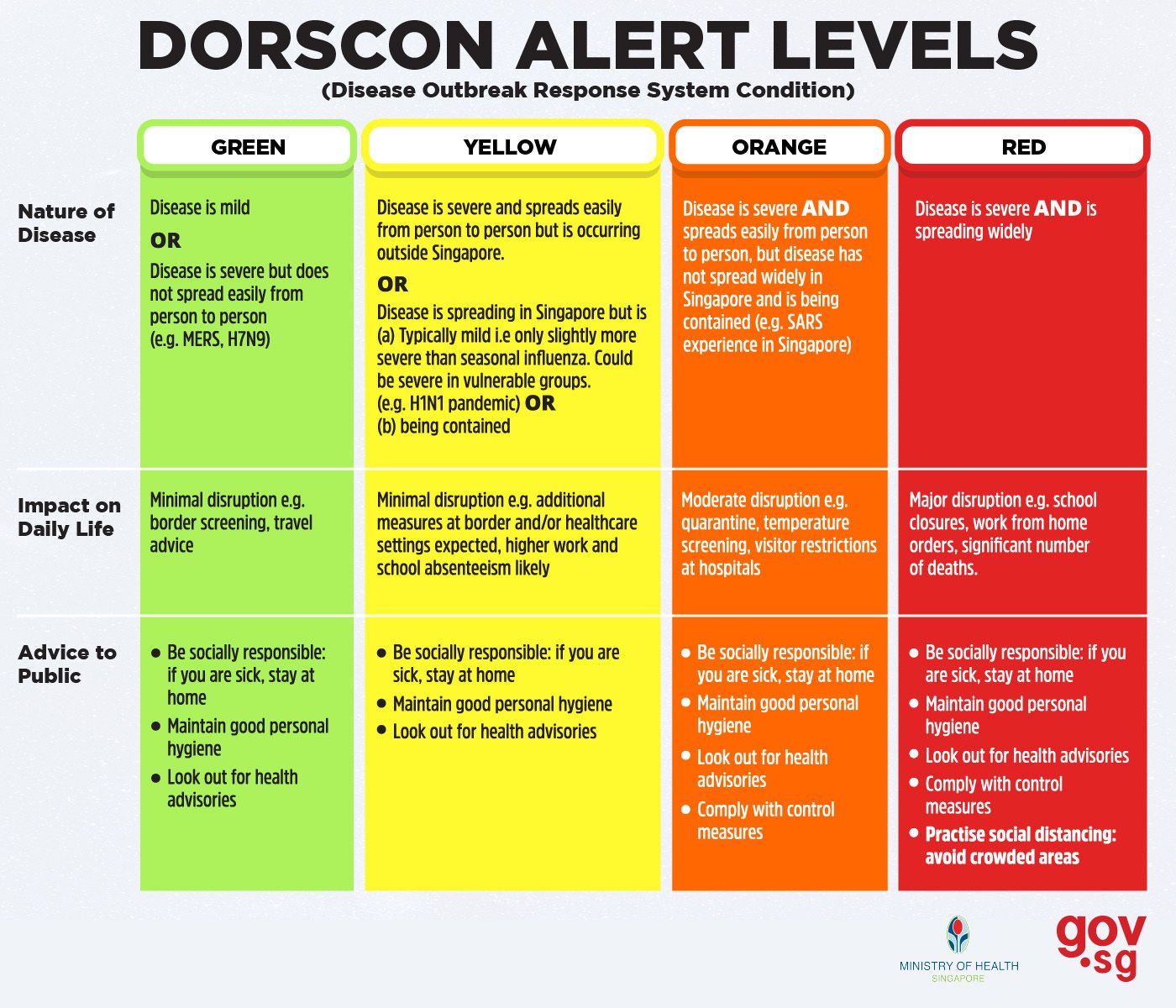 [DORSCON Chart: "Remember me??? 😭"]
Phase 3, we're told, could be months away. The taskforce's comments point to a careful monitoring of case numbers, and suggests that while they might calibrate the restrictions of Phase 2, they will only move us to a new phase as the situation improves, and more safe distancing measures are put in place and firmed up in different contexts.
This is absolutely the right thing to do — so why was it deemed a good time to have an election now, while we're only just starting to open up? How is it that the situation is not safe enough for us to allow social gatherings of more than five people, but safe enough to have an election that would require groups of people (even if they're trying to safe distance) to go around fist-bumping, taking photos, handing out flyers, and knocking on doors?
Opposition parties might not necessarily want to spend too much time on this question; no matter how they feel about it, there is an election on now and not much time to campaign. But this is a question that Singaporeans can, and should, keep asking.
---
Thank you for reading! If you'd like to support my work, please consider becoming a Milo Peng Funder by getting a paid subscription, or buying one for a friend:
Subscribe nowGive a gift subscription
You can also help spread the word by sharing this newsletter!