KTV lounges put Singapore in a sticky spot
We, The Citizens is a newsletter covering Singapore with a focus on politics, democracy, human rights, and social justice.
The weekly wraps are free to everyone. I also often send out special issues, ranging from analysis/commentary on current affairs to longform reported features—these are always emailed directly to Milo Peng Funders, and sometimes made accessible to the public on the website later.
Milo Peng Funders keep this newsletter running, as well as supporting my other independent writing and civil society work, so please become one if you can! You can also tip me on my Ko-Fi page.
---
Covid and the lounges
The never-ending pandemic pendulum keeps on swinging. We're doing great, we're doing all right, we're doing terrible, it's better now, oh no it's not, oh maybe it'll be okay, oh shit.
More rules for dining out! Group sizes are going back down to two from 19 July, unless everyone is fully vaccinated, in which case, you can have a group of five. The government has left it open to F&B outlets to decide if they're going to implement these vaccination-differentiated group sizes. Hawker centres, food courts, and coffee shops are going to drop down to groups of two across the board, regardless of vaccination status.
Our latest spike of cases comes from KTV lounges, known to be seedy places (not to be confused with family friendly karaoke lounges!) where men go to drink with hostesses, many of whom are migrant entertainment and/or sex workers. The government had shutdown nightlife activities during the pandemic, but some KTV lounges were allowed to convert to F&B outlets. Or, at least, that's what they were telling the authorities.
The index case* from this KTV cluster was a Vietnamese woman who worked as a hostess. An important note: "index case" just means that it's the first identified case. It does not mean that person is the source of the infections in the cluster.
As of yesterday, the KTV cluster is at 12o cases. 2,480 people, picked up via SafeEntry and TraceTogether, have been quarantined. The government is also asking patrons who have visited the KTV lounges and interacted with the hostesses to come forward to get tested. The police are investigating breaches of safe management rules at some of these KTV lounges. Here's Prof Paul Tambyah making some very important points to CNA about this cluster:
There's been lots of criticism, jokes, and memes going around, given the reputation that KTV lounges have. Some are harmless fun, but there are also a lot that play on the stigmatisation of sex work. And would anyone really be surprised, at this point, that there are already reports of Vietnamese/migrant women being judged or blamed or subjected to stereotypes? It seems, throughout the year-and-a-half we've spent under Covid-19's shadow, that we will never run out of people to single out for prejudice and discrimination, and we never. seem. to. learn. 😡
Please read: Project X's statement on the recent cluster, and the stigmatisation of immigrants and entertainment and sex workers:
I also hope that this recent spike in cases shows us the importance of vaccinating everyone who can be vaccinated. As a short-term pass holder, the Vietnamese woman was not—and, under the current rules, still isn't—eligible for vaccination. I've met many people who were under the impression that short-term pass holders are merely excluded from the national vaccination programme and can still get Sinovac via private clinics, but this is not the case. Even Sinovac is restricted to citizens, PRs, and long-term pass holders.
There'll be people who'll argue that as a short-term pass holder, she wasn't meant to be hostessing/working anyway. But the fact remains that Covid-19 doesn't care about your occupation, your visa status, or whether you're working legally or not. There are short-term pass holders who are already here in Singapore—who have actually been here for some time because of pandemic travel restrictions—and it just makes sense to allow them access to vaccines too.
---
Let's talk some politics
Meet-the-People Sessions are held by elected Members of Parliament to meet their constituents and assist them with a variety of matters. Before July last year, the People's Action Party would hold MPS even in constituencies where they had not been elected; this was possible because losing PAP candidates stay on as grassroots advisors.
But Rice Media has found that, after the last general election, the PAP has stopped holding such sessions in Aljunied, Hougang, and Sengkang—constituencies won by the Workers' Party. Does this make things more fair? Not necessarily, because there are still structures in place that are unfair, such as not granting WP MPs to the same spaces and facilities that PAP MPs have in their constituencies, and the continued messy relationship between the PAP and the supposedly non-partisan People's Association.
Meanwhile, Yahoo! Singapore has a profile of Progress Singapore Party's Tan Cheng Bock, in which he reflects on the performance of PSP's NCMPs, shares his thoughts about how we're managing vaccinations, and calls Law and Home Affairs Minister K Shanmugam "a bully".
And back we go to the question: who is going to be Singapore's next Prime Minister? tl;dr 🤷🏻‍♀️🤷🏻‍♀️🤷🏻‍♀️🤷🏻‍♀️🤷🏻‍♀️🤷🏻‍♀️🤷🏻‍♀️🤷🏻‍♀️🤷🏻‍♀️
---
Got some more…
🙆🏻‍♀️ Check out Solid Ground, and really important resource that provides you a step-by-step guide to dealing with online harassment and abuse. It's user-friendly and helps you work out the options that you have based on your situation.
🇨🇳🇸🇬🇺🇸 William Choong, a senior fellow at the ISEAS-Yusof Ishak Institute, wrote for Foreign Policy about how it's tricky for Singapore to try to be friends with both China and the US at the same time.
📊 Shannon Ang for Academia.sg about race-based data in today's Singapore. "How do we release data in a way that does not simply hand-wave racial differences away, but at the same time ensure it does not lead to racial discrimination?" Have a read.
---

🦄 On Thursday night, I caught Wild Rice's Faghag, with Pam Oei and Julian Wong. I recommend it to anyone and everyone who has ever taken an interest in LGBT issues in Singapore, and also to anyone and everyone who has never thought about LGBT issues in Singapore. They've extended their run until the end of the month.
---

Here's a new section! As some of you know, I often tsundoku, which refers to the act of collecting reading material, only to let them pile up without reading them. I'm constantly running out of space for all the books I'm hoarding. Recently, I've tried to be more honest with myself. Some of the books in my bookcase I have actually read, but am unlikely to read again. Some others, I should just admit that I will probably never actually read them.
So what I've decided to do is start this irregular section where I put up books for adoption to new homes. I've got a bunch of Smartpac envelopes, and I'll post the book to the first Singapore-based person (sorry I can't do international postage!) to ask for it. (If you're reading this via email, you can just reply. If you're the first, I'll get back to you to ask for your address, so don't feel like you have to give me your home/office address without any assurance of actually receiving a book!)
As a thank-you to Milo Peng Funders for supporting this newsletter, my plan for the future is to offer books in Funders-only emails first, and only to the wider WTC community if there are no takers. But since this is the very first one, I'm putting it up for everyone straight away!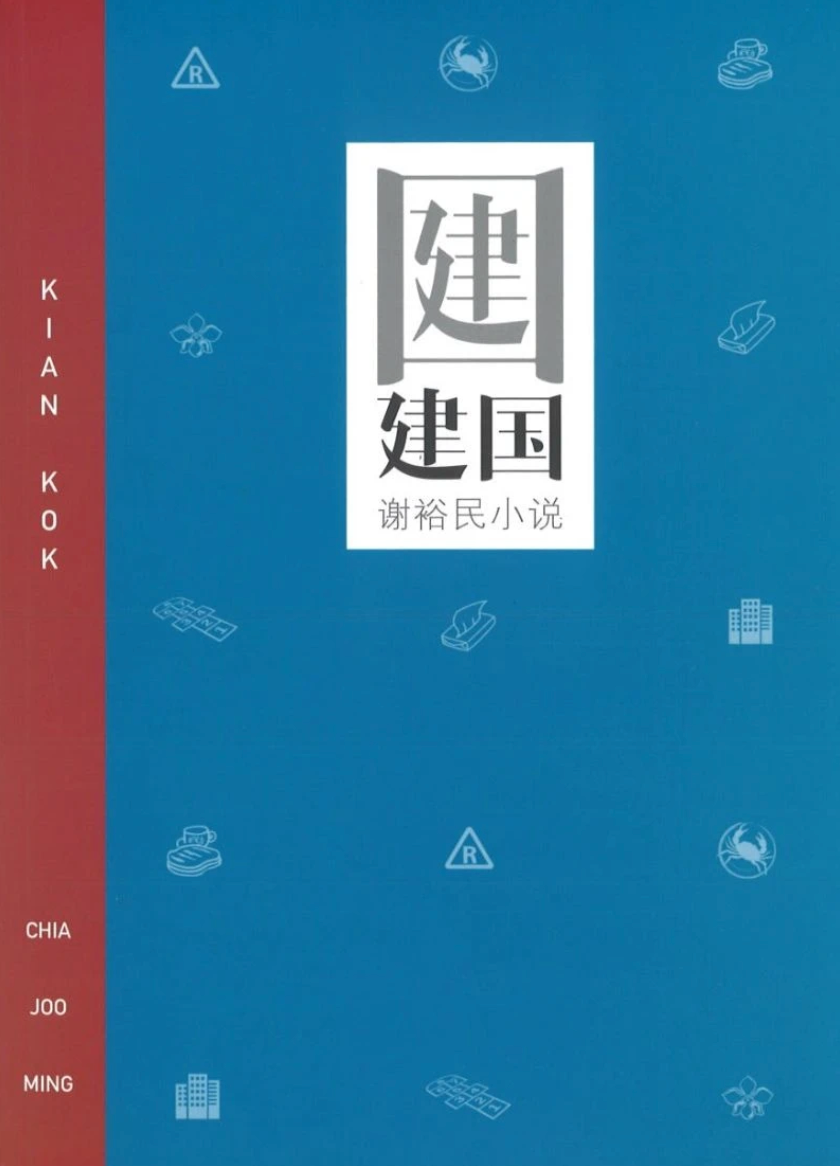 First up: 《建国》(Kian Kok) by Chia Joo Ming. In 2020 it was the co-winner in the Fiction in Chinese category of the Singapore Literature Prize. The book follows Kian Kok, a Chinese Singaporean man born in the year of Singapore's independence, as he looks back on the major events of SG50 in 2015.
This book is written in Chinese. But the next book I'll be sharing will be in English, so look out for that!
---
Thank you for reading! Feel free to forward this on to anyone you think might be interested. 🙏🏼 Once again, a reminder that becoming a Milo Peng Funder is an awesome thing to do! You can also make a one-off contribution via my Ko-Fi page.
We, The Citizens Newsletter
Join the newsletter to receive the latest updates in your inbox.