Not going according to the (East Coast) Plan: Heng Swee Keat won't be next PM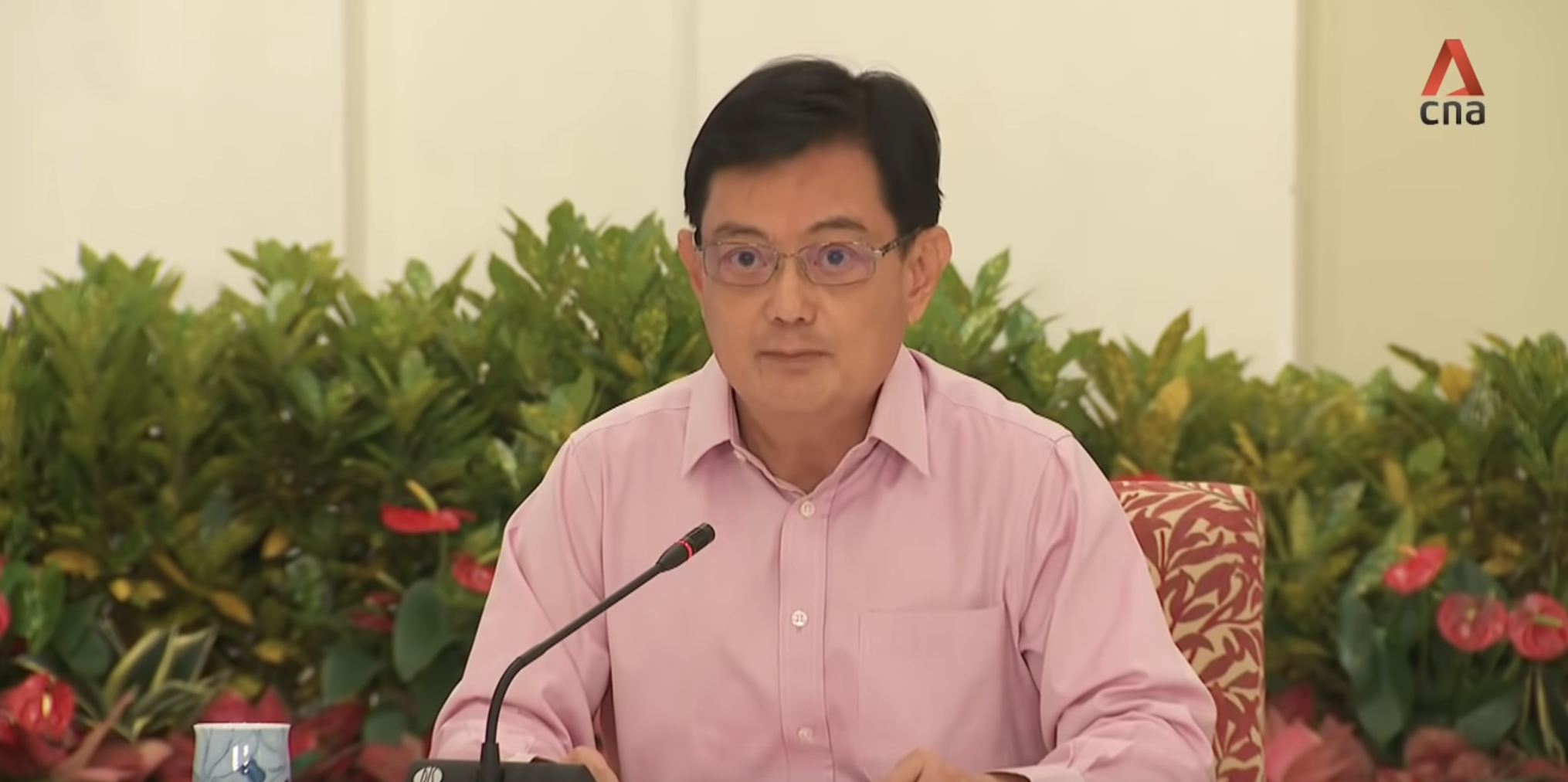 ‌
---
When the ruling party's succession plan goes up in smoke, one gets to work on the newsletter right away.
---
Bye, Heng Swee Keat
Heng Swee Keat is stepping aside as the leader of the 4G PAP team. While he'll still be deputy prime minister and the coordinating minister for economic policies, he'll be stepping down as finance minister in the Cabinet reshuffle that we can expect in about two weeks' time. So he'll still be around, although the rest of the PAP are almost acting as if he won't—Prime Minister Lee Hsien Loong has said that he'll default back to the old practice of having Senior Minister Teo Chee Hean be acting PM in his absence.
Heng says that he's already 60 years old this year, and will be in his mid-60s by the next term, which he thinks gives him too short of a runway to be head honcho before he gets too old. He says this development has nothing, nothing at all, to do with his East Coast GRC team only winning 53% of the vote in last year's general election.
"The pandemic disrupted our plans" is a great go-to excuse for all sorts of things, but closer examination shows that this narrative is full of holes. There was no reason Lee Hsien Loong couldn't have stuck to his original schedule of stepping down by 2022, and it originally seemed like he was going to. He'd already let the 4G team take the lead in Singapore's Covid-19 response, and it was only during the campaigning period in July 2020 that he pledged to stay on—a move interpreted as a response to Singaporeans' lack of enthusiasm for a 4G team led by a guy who couldn't even coherently tell you about his plans for one constituency.
The East Coast Plan speech was a mess, but it wasn't the only, or even the worst, "Heng Swee Keat is the weakest link" moment. Remember when he tried to "fix" the Workers' Party, and only succeeded in getting himself in a fix? He had to be coached by Lee Hsien Loong, fumbling his way into asking for an adjournment. (For the purposes of writing this issue I re-watched the video and it was as painful as I remembered, perhaps even more so.)
Heng might have been a pretty damn good principal private secretary to Lee Kuan Yew, and might still be a very hard worker, but let's face it, he was never cut out to be prime minister. Which makes his stepping aside breaking news that should surprise no one.
Following Heng's announcement, PAP office holders have put out a statement saying that they need time to find a new leader for the 4G team, and requesting that Lee Hsien Loong stay on until they figure all this out. Lee said yes—did anyone think he was going to say otherwise?
So, how now? If not Heng, then who? The Straits Times reminds us that we have a veritable buffet of choice, as long as you choose a Chinese man.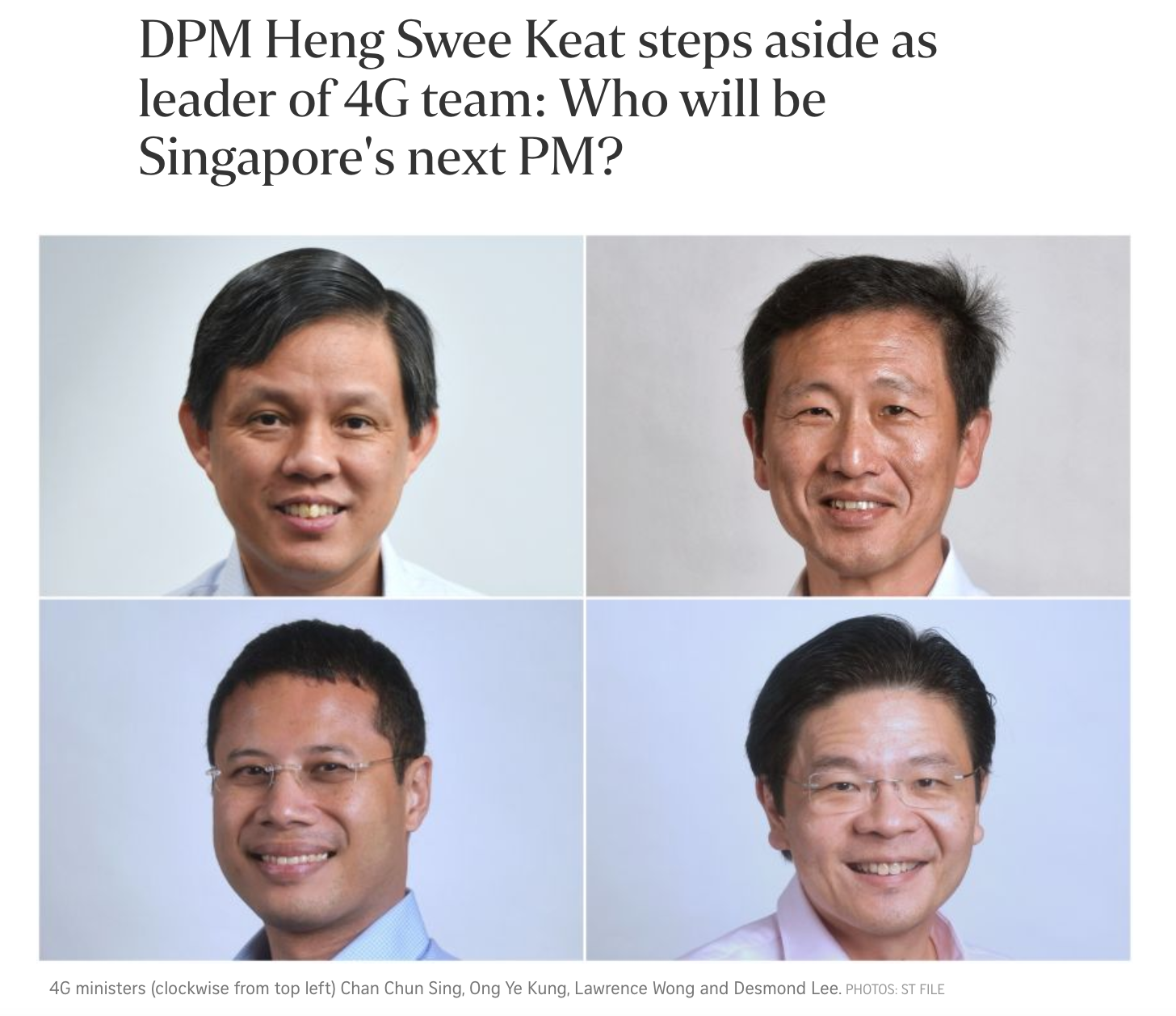 I wouldn't be surprised if the PAP went back to Chan Chun Sing, who was considered a hot favourite before Heng Swee Keat was anointed the Chosen One and is the current second assistant secretary-general of the party. But how popular is Mr "Cotton Comes From Sheep"? Especially after leaked audio clips suggest that he thinks Singaporeans are pretty dumb? Maybe he'll just ask me what is the point of these questions, but a "Say NO to Chan Chun Sing for PM!" petition has already sprung up, is my point.
Lawrence Wong might be in for a good shot, maybe, especially since his being the co-chair of the Covid-19 taskforce and appearing at all those briefings have made the public more familiar with him than ever. Being on the taskforce is not an enviable job, after all, and he's done generally all right with it, projecting an image of overall calm at a batshit hectic time.
Ong Ye Kung and Desmond Lee are also in the picture.
To be honest, I don't know who is going to be the next PM. I don't even think it's the most important question for Singaporeans. If all our choices are drawn from the same military and/or adminstrative classes, if they are all driven by the same ideology, and if they aren't willing to open up the space for genuine freedom of expression and democractic participation, then we're only quibbling about the degree of likeability of the PAP's next new face.
Singaporeans might understandably be fed up; we've been talking about the 4G and succession for ages, and they still can't seem to get it together and pick someone. It does show that the People's Action Party isn't as strong as it once was, which makes it even more of an urgent problem that our political landscape, systems, and structures have been set up in such a way that we effectively have all our political eggs in one PAP basket. Ong Ye Kung might have argued that one-party rule is Singapore's best chance of success, but if this is how the one party is doing... 😬😬😬
---
Who do you think is going to be Singapore's next PM?
(Click on your choice to vote!)
---
Roy Ngerng revives his crowdfunding campaign
Following Leong Sze Hian's very successful crowdfunding campaign to raise S$133,000 to pay off the damages the court awarded to Lee Hsien Loong in the defamation suit, Roy Ngerng has (re)started his own crowdfunding campaign. For those who aren't already in the know—or who have forgotten, given how long it's been—the prime minister first sued Roy for defamation in 2014, and won the case. In 2016, the court ordered Roy to pay Lee S$150,000 in damages, and a payment plan was worked out.
Five years later, Roy still owes Lee a whopping S$144,000. He's been paying the PM S$100 a month since 2016, but according to the payment plan, he's supposed to start paying S$1,000 a month from now on, for the next 12 years. 🤯
Roy now lives in Taiwan, having moved there after he was unable to find a job in Singapore, after he was sacked from his hospital job in the light of the defamation suit. He says S$1,000 is almost half his monthly salary.
It's ridiculous that a Singaporean has to pay out half his monthly income to the most highly paid national leader in the world. The lawsuit was years ago, and it's widely known that Lee won the case. Any point he wanted to make about clearing his name must have been made by now. And it's not like Lee needs the money.
Considering that Roy only launched this crowdfunding campaign on Wednesday night, it's doing really well. At the time of writing, he's already raised over S$24,000 from 373 people. Some contributors have been long-time supporters; others say they're giving not because they agree with Roy's writing, but because they want to express their disagreement with what he's been put through.
If you'd like to chip in—it's not just about the amount of money, but also about the number of people who contribute—you'll find details on his Facebook page.
---
Checking in on our neighbours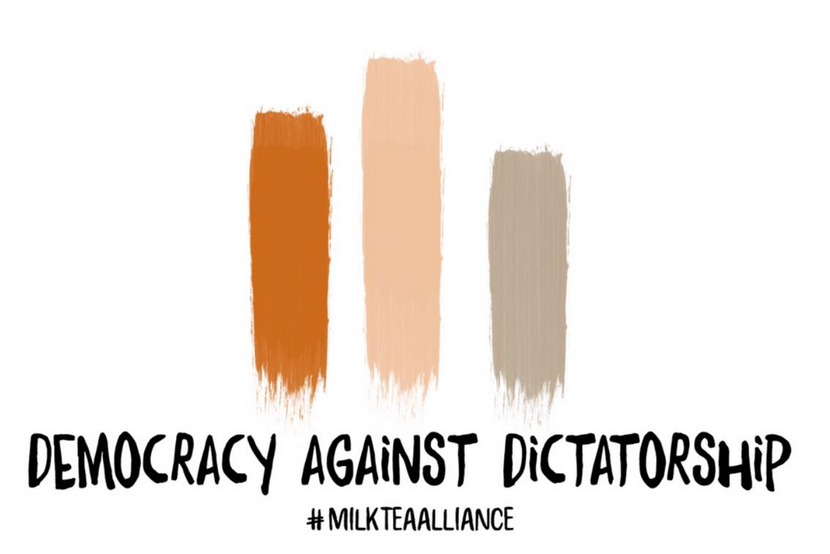 Members of the Milk Tea Alliance are calling on organisations and individuals to sign an open letter urging the United Nations, ASEAN, and their member states to take action to address the humanitarian and political crisis currently unfolding in Myanmar, where the military junta seized power in a coup on 1 February.
I've signed the letter. Fill in this Google form if you'd like to sign too.
---
We, The Citizens Newsletter
Join the newsletter to receive the latest updates in your inbox.