Lots to cover today! But I'd also like to recommend this feature on Singapore in Nikkei Asian Review. I'm putting it in this intro because I wasn't sure which section I should slot it into!
And Happy Lunar New Year, everyone! 🧧If anyone would like to leave an angpow, you can always become a Milo Peng Funder, or head over to my Ko-Fi page.
---
Coronavirus in Singapore
There are now three confirmed coronavirus patients in Singapore. But while people should be concerned and prepared, there's no need to panic. All hospitals are capable to treating confirmed cases. Screenings are now being conducted at border checkpoints, since heavier traffic is expected ahead of the Lunar New Year. Retailers are also stocking up on face masks. Even the transport company, Comfort DelGro, says they are stockpiling masks and disinfectants for their taxi and bus drivers.
Take care, everyone!
Family drama ahead of Lunar New Year
Li Shengwu has had it with the contempt of court case against him. He says that the Attorney-General's Chambers have been trying to get parts of his defence affidavit struck out and also sealed, so the public won't know what was struck out. "In light of these events, I have decided that I will not continue to participate in the proceedings against me. I will not dignify the AGC's conduct by my participation," he wrote on Facebook.
The AGC did not take this announcement well. They say that Li's actions show that "he knows that his conduct will not stand up to scrutiny" and is therefore coming up with excuses to run away. They also said that they were going to ask him questions about his Facebook friends, and how many are members of the media—according to the AGC, this would demonstrate whether Li would have expected his friends-only comments to be spread more widely. Li says who his FB friends are is none of the AGC's business.
Then there's the family drama, because Li's FB post also mentioned that he's unfriended his cousin, Li Hongyi, son of Prime Minister Lee Hsien Loong. The premier's younger siblings allege that Lee and his wife Ho Ching have plans to bring Li Hongyi into politics.
Li Hongyi's since responded via a public Facebook post response to his cousin. "I don't know whats going on between you and the government, but I've got nothing to do with it," he wrote. (Thought: maybe he should sign up to this newsletter so he will find out what's going on. 😛)
If you'd like a recap of the family saga, I refer you to Issue 37 of this newsletter. It's a little out-of-date but you'll get the gist.
Kena POFMA
I really should start a permanent POFMA section to this newsletter, shouldn't I…
I wrote an op-ed for the New York Times on POFMA this past week, covering the four cases (up till that point) and looking at how the usage of the law hasn't lived up to the reassurances that we were given ahead of its passage.
Then I got POFMAed the next day.
To be clear, I wasn't POFMAed for the op-ed (the timing was just magic 😘). Instead, I was given a POFMA order because Minister for Home Affairs K Shanmugam was POFMA-ing Malaysian NGO Lawyers for Liberty. If you remember from the last issue, LFL had put out a statement claiming that, in the event of a rope breaking during an execution, prison officers were told to kick the prisoner in the back of the neck. The Singapore government has now responded by issuing a Correction Direction to LFL, but also to The Online Citizen (who had published an article about the allegations), Yahoo! Singapore (who had shared a link to a story containing the allegations), and to myself (for sharing the statement on Facebook).
In the government's response, they say that LFL's statement is "completely baseless". They also say that the rope has never broken during executions, and that prison officers aren't given any of the training that LFL alleges they have.
It's completely reasonable that the government be able to respond to LFL's claims. That's not in dispute. But the method is troubling. After sharing the statement on Facebook—in which I made no statement or conclusion as to the truth of LFL's allegations—I'd sent questions to the Singapore Prison Service to seek their response and other information related to how executions are carried out. The Online Citizen did the same, before they ran their article. Neither of us received a response, only the eventual POFMA order.
This matters because, unlike press statements or other responses to the media, Correction Directions under POFMA come with other implications. Non-compliance can result in a big fine or imprisonment, and even if you do comply, there are other considerations too. I covered this in a previous supplement.
Yahoo! Singapore has complied with the order. The Online Citizen applied to the minister to get him to retract the direction, failed, and will be taking the matter to court. I've added the correction notice to my post, but with additional comments. LFL themselves, though, have stated that they aren't going to comply, and have taken legal action in the courts in KL to declare the order illegal.
And in more POFMA news, the Singapore Democratic Party's appeal against their POFMA order is ongoing. They are arguing that the law should only be going after "deliberate falsehoods", and therefore shouldn't cover their interpretation of publicly available data. But Deputy Attorney General Hri Kumar Nair argued otherwise. He says that POFMA also covers matters of interpretation, as well as implied statements. Bertha Henson quoted this astonishing excerpt from his submissions:
"Different people may therefore reasonably read or understand a publication differently. It is evident that where one segment of the public may reasonably understand the statement in a way which is false, the relevant Minister is permitted to take action to deal with that falsity. It is irrelevant that the statement may also be reasonably understood in another way which is not false."
😰😰😰
The judge has reserved judgment in the case, but the AGC is now asking for further hearings because they're taking issue with how SDP characterised their arguments in public statements.
---
In the era of POFMA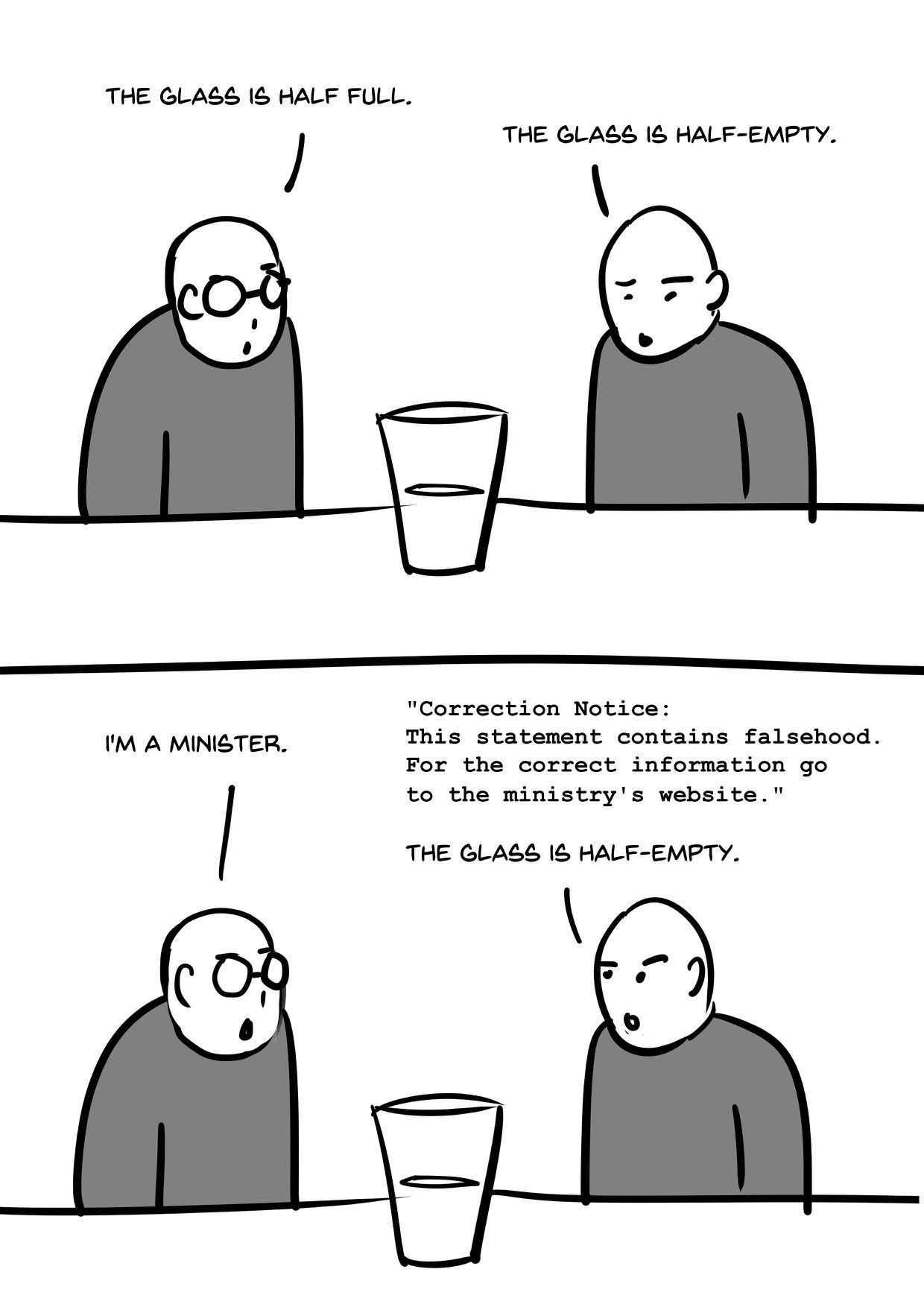 Reproduced with permission from the artist, Joshua Chiang.
And don't miss this talk by Cherian George, either:
---
What's new on New Naratif?
We've got a research piece for you this week about the British colonialists and how they constructed racial categories in Malaya that still have an impact on our lives today.
Please join New Naratif as a member—your fees go directly to supporting our operations and content. (If you're a Milo Peng Funder of this newsletter, you get a discount on New Naratif membership too!)