The F&B industry pays the price (again) as Delta spreads
Milo Peng Funders keep this newsletter running, as well as supporting my other independent writing and civil society work, so please become one if you can! You can also tip me on my Ko-Fi page.
---
Here we go again...
Singapore is back to Phase 2 (Heightened Alert) measures, which means that dine-in is a bust again, gyms are shut, and social gatherings are limited to two people. This is because of a big ol' cluster of 665 cases linked to the Jurong Fishery Port, which is linked to the cluster around KTV lounges (which is at 227 cases). The fishery port is worrying authorities, because it's seeding cases in markets across the country; fish stall owners and suppliers have been ordered to close in the meantime, and there's confusion over when they can open again.
Those in the food-and-beverage industry are understandably angry; we've not seen giant clusters emerging from irresponsibility in eateries, but they're always the ones who get hit first when Covid-19 restrictions come in. A lot of us are relying on food delivery apps to get our noms these days, but hawkers and other F&B operators are finding it a real struggle. What originally made people even more fed up was the announcement that the National Day Parade was going to go on as planned—which led to a petition calling for its cancellation—but it has now been postponed to 21 August, with a ceremonial parade held on 9 August.
The government has introduced another $1.1 billion package to support those affected by Covid-19 regulations. Meanwhile, migrant workers are still trapped in their dormitories.
Based on what I've seen from social media comments and messages from friends, the Groundhog Day feel of this seemingly never-ending pandemic is really getting people down, even those of us who still say that we've been luckier than most. There have been op-eds about how the government seems to have veered off-course from its claim to move towards treating Covid-19 as endemic, but the sense that I'm getting is that people are actually more pissed off by:
(1) Confusing and ever-changing regulations that are annoying to remember (and even more annoying to implement, if you run a business), and,
(2) a sense that even when things get cocked-up—like not being sufficiently vigilant at the fishery port, or not properly enforcing regulations at KTV lounges—there will not be any genuine inquiry into what went wrong, and therefore no real accountability from those in charge, which then feeds a sense that
(3) the burdens and costs of Covid-19 are going to be largely borne by those who have little power, while those who actually have the power to manage the situation (and have lapsed) are still going to be generally okay because they won't be held to account even as our local businesses struggle and close.
Chao turtle. 🤬 #LockdownAngst
You might also be interested in watching/listening to Kenneth Paul Tan's talk on the Singapore Story and brand during the pandemic, in which he talks about the serious problems that we've seen, and whether these point to systemic issues with the way things operate.
---
A difficult time for all, but especially the young ones
On Monday, a 16-year-old Secondary 4 student at River Valley High School allegedly murdered a 13-year-old Secondary 1 schoolmate (preliminary investigations suggest that two boys hadn't known each other). The police also seized an axe as evidence. The boy has since been charged with murder and remanded for psychiatric assessment. We obviously don't have a lot of details, but the police prosecutor said that, when he was 14 years old, the boy had been referred to the Institute of Mental Health after he had attempted suicide.
It's a tragic, traumatic incident, and has drawn lots of attention to whether there's enough support for young people struggling with their mental health. President Halimah Yacob has said that schools, parents, and society are ill-equipped to deal with this. (Please read her full statement if you have time, because she makes some really important points.) I think comments from Wong Siew Hoong, the Ministry of Education's Director-General of Education, proves this: at a press conference, he said that 97% of River Valley High's students were back in school on Wednesday (Tuesday was a public holiday), and described it as an example of "resilience". But what do we even mean when we talk about "resilience" in this context? People, especially kids, should be allowed to feel scared, and weak, and exhausted. We shouldn't be holding up "hey, the kids went straight back to school!" as an example to say we are "proud" of.
On Thursday, a student fell from the fourth storey at St. Joseph's Institution and is now in hospital. The incident was witnessed by some of the other students at the school, and SJI's principal has asked that parents look out for their kids in the time being and inform the teachers if they are in need of any support.
For anyone who is struggling right now, here are some questions that you can ask yourself. Small steps count too, and you are stronger than you think.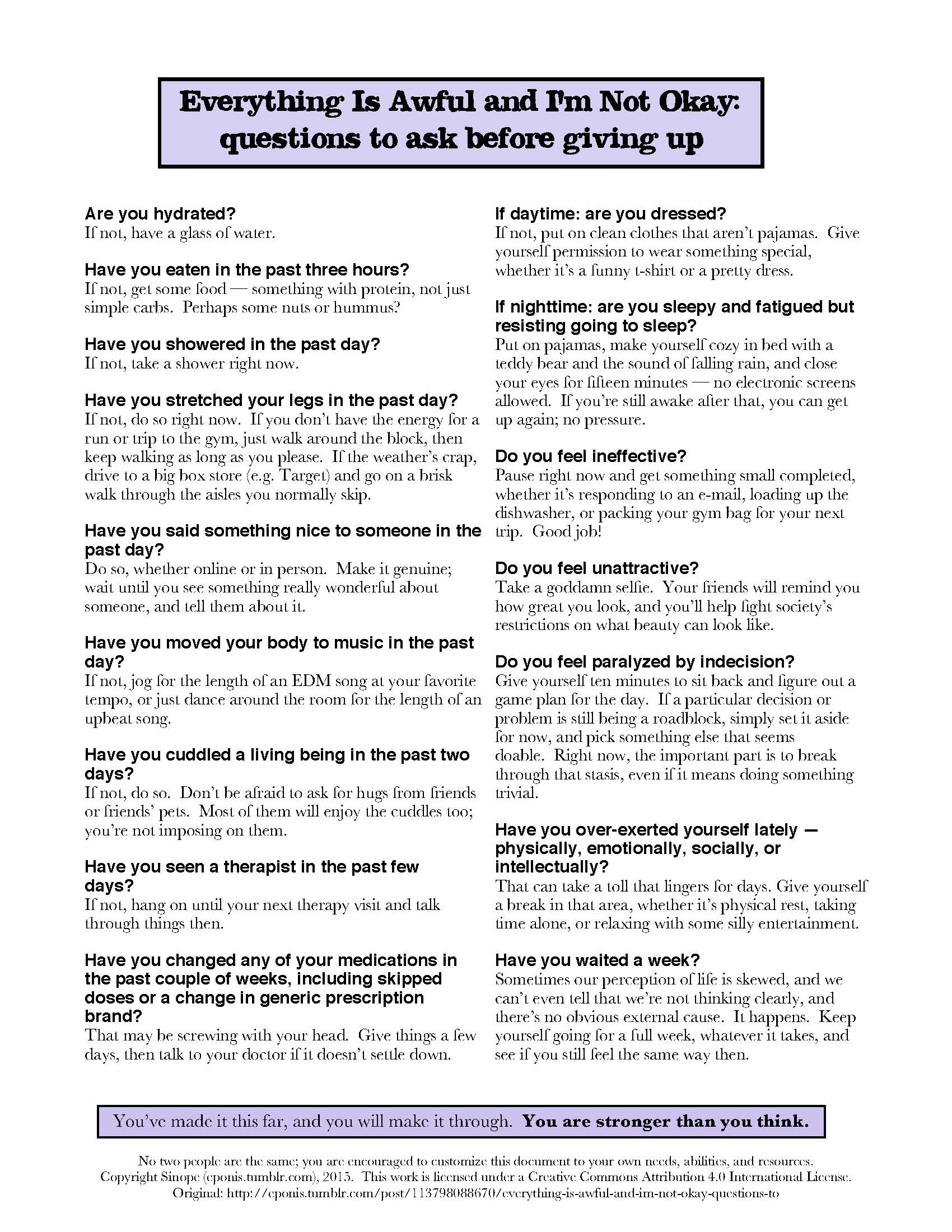 There's also been some discussion about the ethics of reporting on such traumatic events. River Valley High School students have criticised the way the press hung around outside their school and snapped photos of them as they came in and out, and tried to interview them for quotes even though most of these kids know about as much as we do about what happened.
I don't envy the journalists who had to cover this story as it developed, but I hope that we can always be reflecting on the work we do and the impact that we might have. As this piece points out, there are rigorous processes that trauma researchers have to go through to interview people, but journalists just show up and start asking questions. It's worth asking ourselves what the journalistic purpose of such interviews/vox pops are, whether we're actually getting anything that will better inform the public, or if we're simply re-traumatising vulnerable people so we can get "colour" for our stories.
---
Got some more…
FINALLY, the government is requiring employers to give migrant domestic workers one rest day a month that cannot be compensated away. It'll take effect at the end of 2022. This is a tiny step forward that is a long time coming, but we'll take it. Still, we need regulations to require that this rest day be a full 24 hours, and there are lots of other issues—such as access to mobile phones—that need to be addressed.
The managing director of the Monetary Authority of Singapore is suggesting that we consider implementing a minimum wage. He makes the case that it can complement the Progressive Wage Model scheme.
The Auditor-General's report has flagged that hundreds of thousands of fitness trackers, worth over $5 million, have been left unused. 😱 They were bought by the Health Promotion Board for their National Steps Challenge.
---

🐈‍⬛ This week's shout-out goes to Cat Cafe Neko No Niwa, my favourite cat cafe. They're still open during this time; they're no longer serving beverages and cakes, but if you need some time to relax and pat cats, consider dropping by.
🍱 I also recently discovered that Shashlik, whose borshch and Baked Alaska I've been obsessed with since I was a little kid, is now delivering very nice-looking bento boxes. I haven't tried them yet, but am sharing this information with you in the hopes of accruing good karma.
🥘 Also yums, you can order frozen packs of beef rendang, ayam buah keluak, babi assam, etc. from Godmama's. This is very good for those of us who really like to eat these things but can't cook to save our lives.
As usual, if there's any local business, initiative, or group that you'd like to amplify, please let me know! You can reply to this email, or contact me here.
---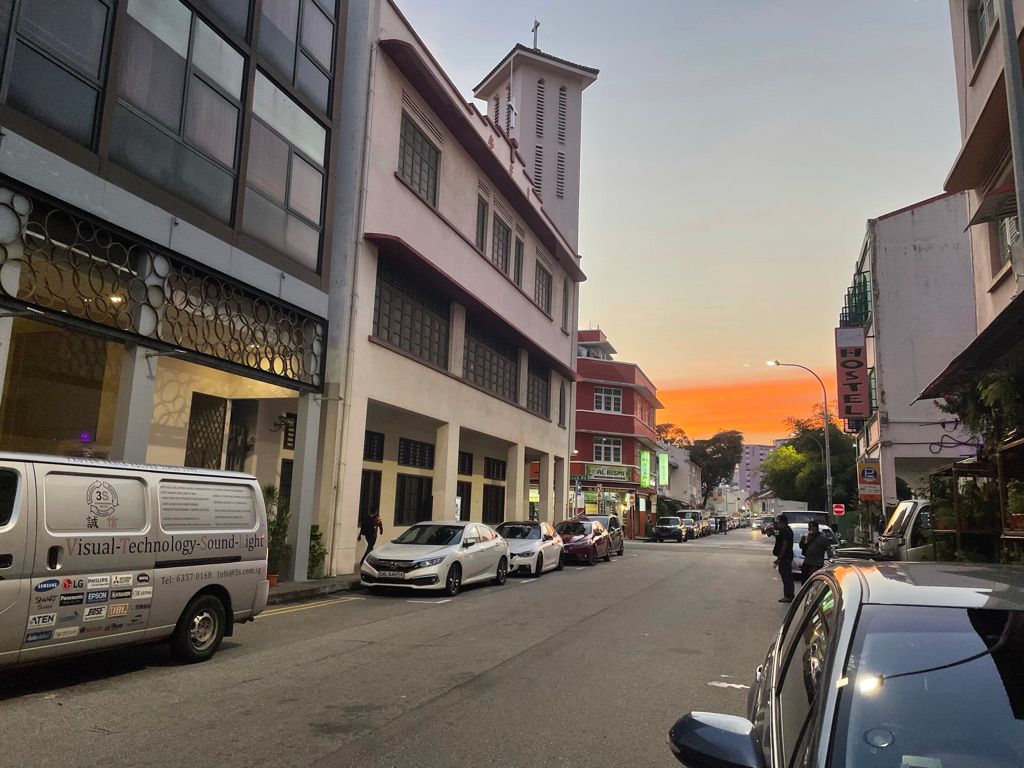 Thank you for reading! Feel free to forward this on to anyone you think might be interested. 🙏🏼 Once again, a reminder that becoming a Milo Peng Funder is an awesome thing to do! You can also make a one-off contribution via my Ko-Fi page.
We, The Citizens Newsletter
Join the newsletter to receive the latest updates in your inbox.