The People's Association's Hari Raya snafu
Milo Peng Funders keep this newsletter running, as well as supporting my other independent writing and civil society work, so please become one if you can! You can also tip me on my Ko-Fi page.
---
It was the anniversary of the June 4, 1989 massacre at Tiananmen Square in Beijing. Read this beautiful essay, written by Yangyang Cheng, in 2019, about unearthing this history and the importance of memory. 🕯
---
Covid-19 update
13 June is coming up and we're all looking forward to find out what will happen then: will the current restrictions be lifted, or will be end up going into a full "circuit breaker" lockdown? Prime Minister Lee Hsien Loong said in his national address that if the number of community cases falls, we might be able to relax restrictions. But before we celebrate, Lawrence Wong, the co-chair of the multi-ministerial task force on Covid-19, said that it's "very unlikely" we'll go back to the Phase 3 conditions we were enjoying (well, relatively speaking, anyway) before; they're worried about hidden cases in the community, and continue to urge people to stay home as much as possible.
Lee also announced that testing is going to be made more accessible and widespread—people will soon be able to get DIY testing kits over the counter to monitor their own health. The national vaccination programme continues, except they've now leapfrogged those 39-and-under to prioritise students, especially those prepping to take their O-, N-, and A-Level exams. So Singaporeans of my age group will have to wait until mid-June for our vaccinations.
If you have family and friends who can get vaccinated now but still haven't, please urge them to register for vaccination!
---
Who okay-ed this?!
The People's Association (PA) had to apologise this past week after Sarah Bagharib (a former colleague of mine) discovered that her wedding photo had been used as part of Hari Raya decorations in Radin Mas SMC. And not only had the photo of her and her husband been used without consent as a standee in the display, but their faces had been cut out so people could poke their heads through and take photos.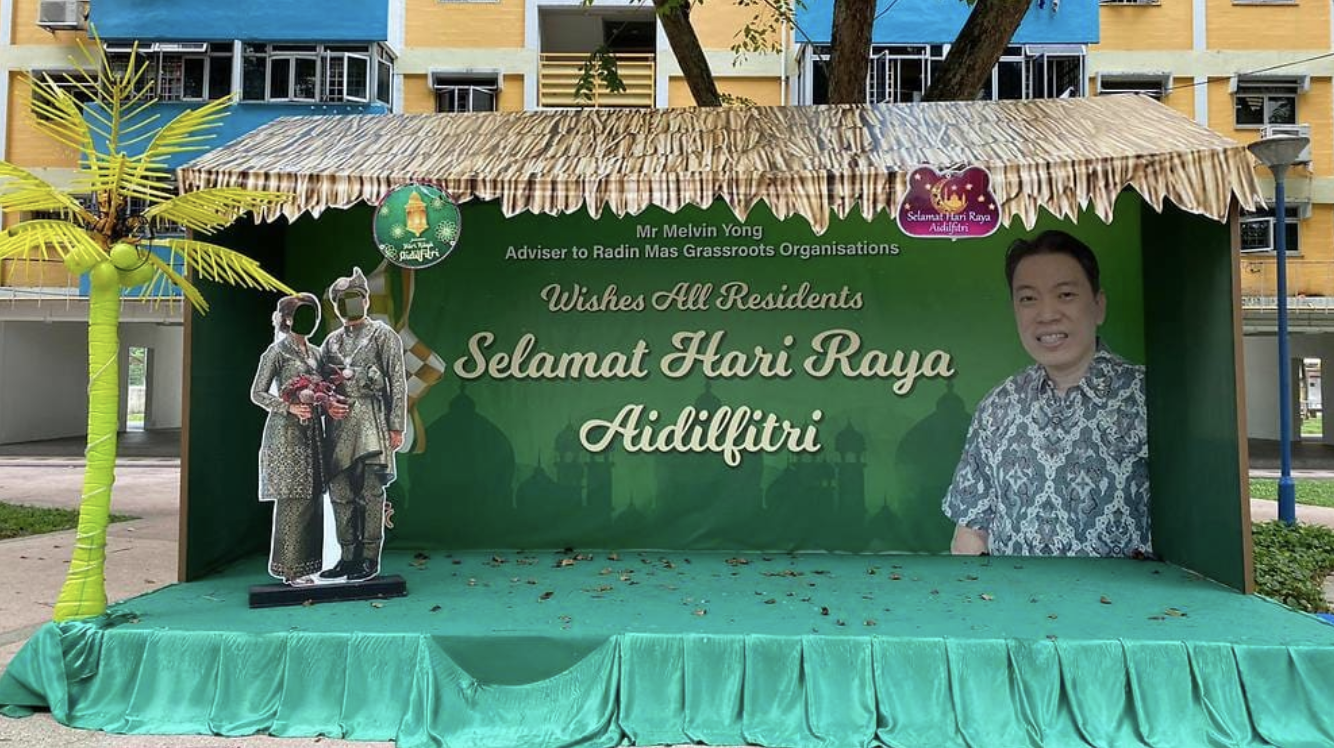 As Sarah wrote in her Instagram post: "Using a wedding photo to depict Malays/Singaporean Muslims celebrating Hari Raya is inappropriate. Using my wedding photo without my consent is unwarranted. Using my wedding photo as a caricature of Malay people is unacceptable."
Melvin Yong, the Member of Parliament of Radin Mas, has apologised for the incident, as has Lim Hock Yu, the chief executive director of PA, and Edwin Tong, Minister for Culture, Community and Youth and deputy chairman of PA. From what was reported by Channel News Asia, PA's apology seems to largely revolve around the breach of copyright and the "oversight" in using a photo from a Malay wedding to depict Hari Raya celebrations. They promise that they'll "put in place stricter internal controls and processes to ensure this does not happen again."
But as Sarah points out in a follow-up post, this isn't just about an isolated case of breached copyright. It's also part of a larger issue that impacts the Malay-Muslim community, and raises questions about diversity and inclusion within public institutions and at decision-making levels. What policies and processes does PA have in place? Who calls the shots? Whose voices are included? Whose voices aren't?
I hope they respond to the points that Sarah has made... although I'm not exactly holding my breath.
---
Immigration, citizenship, belonging, and prejudice
Here's how not to write a headline (and no thanks, Straits Times, for the graphic, either):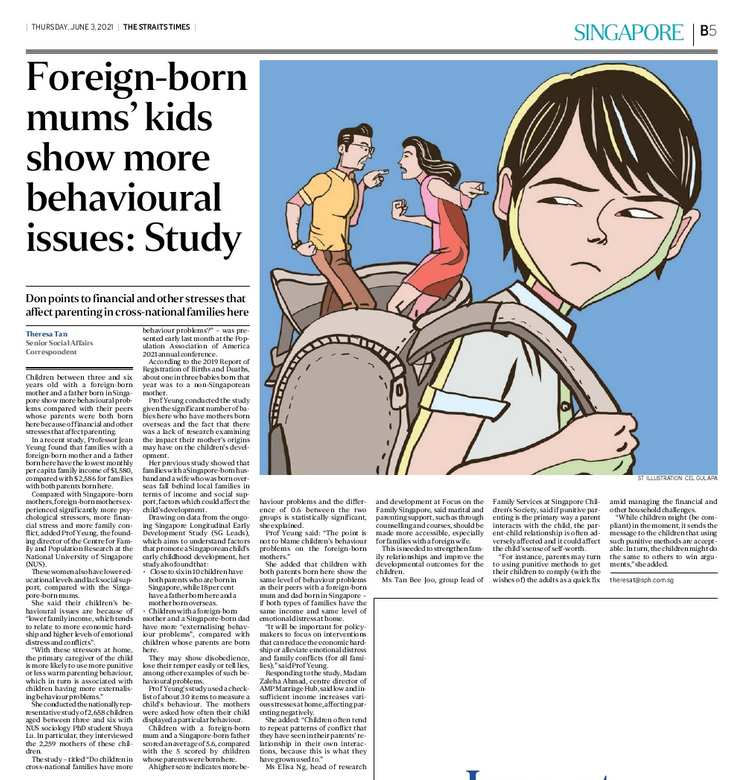 If you read the article (paywalled), the professor in charge of the study makes it clear that the issue stems from low-income families struggling with various financial and emotional stressors. Given various factors—which include Singapore's policies—transnational families with foreign wives are more likely to fall within this low-income group. As AWARE previously noted, policies tend to favour wealthier transnational families. Foreign spouses aren't able to access a lot of the subsidies and support schemes that we have, even though they're part of Singaporean families. During the pandemic, this has made things really tought for a lot of families. But all this headline does is imply a causal relationship between children's behavioural issues and their foreign mothers, which enables and perpetuates xenophobic and sexist prejudices.
Still on the subject of immigration, this piece on Rice Media has been going around this past week: Maria "Masha" Isaeva has lived in Singapore for 17 years, but has decided to leave. The piece is a thoughtful one reflecting on her time here, and questions about identity and belonging.
---
Got some more…
A Protection from Harassment Court has been established to speed up the processing of relief for victims of harassment. While welcoming the move, AWARE has further questions about the system.
Academia.sg has been publishing excerpts from the book Voting in a Time of Change: Singapore's 2020 General Election. Read the excerpt of Kevin YL Tan's chapter on the drawing of electoral boundaries, and lawyer Priscilla Chia's call for us to evaluate if the GRC system is really meeting its stated aim of minority representation.
For Pride Month, NBC News did a short profile of Gina Chua, executive editor of Reuters, who came out as transgender last year. "I want to move out of the shadows and live in the sunlight." 👏🏼👏🏼👏🏼 🏳️‍⚧️
---

This section is for the We, The Citizens community to send messages of encouragement to one another, and to spotlight local businesses that might be struggling at this time. If you have a shout-out, or a local business that you'd like to spotlight, please reach out! Reply to this newsletter, or contact me with a message you'd like me to put into the weekly wraps.
Note: Spotlights on local businesses are just to help them amplify their reach at this difficult time. They don't amount to We, The Citizens endorsements and I'm also not charging for advertising space.
🍪 Do you like baked goods? Do you like Nutella? If your answer to both questions is yes, check out these Nutella tarts. I haven't tried them myself yet, but I have plans...
🥘 This was in last week's Shout-outs and Spotlights, but I'm bumping it here again because since the last issue, I ordered My Home Café's chicken rendang and it was soooooo satisfying. Nom. They do islandwide delivery for $5 via the Makanguru app. More details here.
🎧 Related to this section, I'm listening to KF Seetoh and Melvin Chew talk about how hawker food was never meant for delivery apps, and how many hawkers are struggling during the pandemic. It's really difficult for many hawkers to go digital and get on delivery apps. If you can, support hawkers by dropping by and tabao-ing food in person.
---
Thank you for reading! Feel free to forward this on to anyone you think might be interested. 🙏🏼 Once again, a reminder that becoming a Milo Peng Funder is an awesome thing to do! You can also make a one-off contribution via my Ko-Fi page.
We, The Citizens Newsletter
Join the newsletter to receive the latest updates in your inbox.