The Value of Our Creative Scene
A guest issue by Terence Tan of Artsolute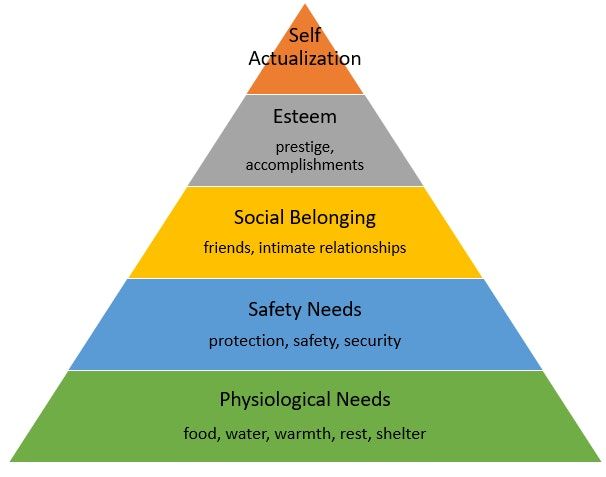 I have lots of friends who are artists, so my social media feeds have been full of angst over a poll by The Sunday Times in which over 70% of respondents voted "artists" as the top non-essential job. ("Journalist" didn't appear anywhere in the poll, so my feelings have been spared for now.)
It was most serendipitous that Terence had emailed me just the day before with his thoughts on Singapore's creative scene. I'm glad he said I could publish it and send it out to everyone via this newsletter!
---
The Value of Our Creative Scene
By Terence Tan of Artsolute
In the months of the COVID-19 crisis, the local and global creative scenes — comprising of studios, theatres, cinemas, galleries, warehouses, entertainment halls, workshops and many professionals, students, and amateurs — have seen a severe loss in income. As of end April 2020, 56.2% of artists polled in Singapore had undergone financial losses of between 80-100%, while 46.3% of the rest reported seeing at least a 50% drop in income.
Having dabbled in education, arts, and social work, I've come to realise that there is a grave misconception about the activities we consider vital and what is essential, the difference being the jobs we need 24/7 for our immediate health and safety, versus the work that helps us with our progress and psychosocial well-being. This was recently clearly demonstrated via a survey published in The Sunday Times, in which over 70% of 1,000 respondents ranked artists as the most "non-essential" during this period.
As Singapore takes a cautious approach to reopening its economy, creative-based activities have not been permitted to resume under Phases 1 or 2, with the exception of design and media, even though many are indoor, occur in small groups, and might even be rather sedentary, for example, the visual and theatre artists have not been permitted to go back to work in their studios.
What do we lose when we're missing our arts and entertainment services? An offer of $55 million in total has been made to the arts to keep their work afloat via digitisation — inviting them to perform or distribute their work online — but this can be restrictive for many arts practitioners. To qualify for the grant, they'd have to make deep cuts and amendments to their work, to make it suitable for general audiences. While the inconvenience is not impossible to work around, a G-rated scene reduces some of the arts' dialogic functions for society. Some of these works may not even be explicit in nature, but are deemed not for general audiences due to "political content" or "mature themes".
I've been curious about the challenges artists face when it comes to adapting their work for audiences stuck at home. While musicians have generally been able to adjust to the requirements of the grant, dancers and other performing artists have yet to come up with more creative solutions from their homes. To find out, I started a series of interviews, and although my research isn't complete, came to a realisation that I felt was important to share.
My second interviewee was dance duo ScRach MarcS, a couple who did brilliantly on Mediacorp's The Dance Floor in 2016. Being married, they've been able to continue working at their parents' home while waiting for their BTO flat. They told me about how it's been difficult to connect with other dancers online, because dance is a multi-dimensional, improvisational art form that synchronises visuals, music, space, and force. Dancing in isolation may be sufficient for some, but for the most part, dance is a social activity enjoyed by professionals, amateurs, or anyone who thrives on connecting with others physically. In that conversation, I not only understood why dance practitioners have trouble working through digital screens, I also realised there are needs dancers have to fulfil for themselves as well.
My interview with ScRach MarcS showed me that most creative activities actually do fulfil tangible needs. Whether it's a play about real-life events, a performance on video, or a physical art piece, self-expression — via words, movement, objects, and images — is essential for many, if not all, of us.
The idea that creative endeavours come after other, more 'basic" needs — such as food, shelter, and security — probably stems from the popular Maslow's hierarchy of needs. This hierarchy, first proposed in 1943, put esteem and self-actualisation as goals that people will consider only after a certain degree of their basic needs are fulfilled.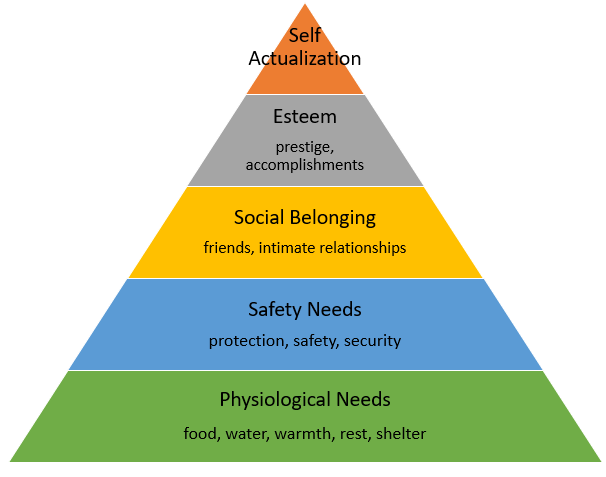 ("Mazlow's Hierarchy of Needs (1943)" by Con Stev is licensed under CC BY-SA 4.0)
As a community artist, I've always been curious about this. Having volunteered for hospitals and disaster relief for children and youth, I've noticed that our needs don't always run on such a uniform track. Why do some teenagers choose to endure pangs of hunger just to fit in at school, or young children take their lives because of poor grades? Why do some disaster victims seek solidarity with other kids while others choose solitude, even if both lost their loved ones at the same time?
Thinking about the needs of the performer to express themselves, I realise the infractions in Maslow's theory exist simply because it was outdated. The hierarchy he formed was based on a select pool of persons, and may be too linear and simplified for our times. And it certainly made sense when it came to the choices people made from the times of industrialisation till the Cold War, when health and safety, robust infrastructures, capital, unity, defence, and scientific discoveries were paramount.
The 21st century no longer follows this routine. Gender neutrality has blossomed, uniformity has been ditched, and the science has shown the limits of our planet. And then came COVID-19, which promotes the idea that working together at the same time, meeting at the same place or country, is no longer safe or always necessary. Businesses will be highly customised from now, when there's no need for the same overheads as before.
We therefore have to consider how each person doesn't have the same structure of values or needs. Where maths and the sciences were once favoured to promote our capabilities in construction and technology, COVID-19 and our struggles to cope with the isolation and confinement of lockdowns have demonstrated that it's equally important to understand the need for personal well-being. Given that our sense of identity isn't just about what we have, but also about our need for interpersonal communication, "non-essential" industries such as the arts and sports might actually be more important than we give them credit for.
Apart from our well-being, creativity is a vital part of economic recovery as well. It can be the difference between being a Silicon Valley or a database service for other innovators, if Singapore becomes a destination or a pit-stop. A group of advocates for the arts and creative industry in Singapore, @SupportMADEinSG (Media, Arts, Design, Entertainment), made representations to various Members of Parliament to seek the inclusion of the creative industries in bailout or support schemes that form part of the country's regrowth package. We were politely relegated, mildly considered, or told that there were many taxi drivers and airline staff who needed help too. There seemed to be a concern that our proposal would take away opportunities from other jobs. Similarly, the Emerging Stronger Taskforce has yet to include any representative from the media, arts, design, and entertainment industries.
This seems counterintuitive: creative industries have proven themselves to be among the strongest economic multipliers. This concept has already been picked up by other governments. When New Zealand Prime Minister Ardern announced a NZ$175 million bailout for the music and arts, it was with the recognition that "[a] healthy cultural sector has many positive flow-on effects for other important parts of [New Zealand's] economy, such as technical production, hospitality, venues and domestic tourism."
The Associate Ministers for Arts, Culture and Heritage, Grant Robertson and Carmel Sepuloni, further justified this expense to Kiwis, highlighting how creativity and culture created jobs and drove economic recovery after the Canterbury earthquakes. "Artists contribute so much to our economy, the fabric of our country and our communities," Sepuloni said.
The same should go for Singapore. Without local events such as the Night Festival, entertainment such as Comedy Masala, or our traditional and contemporary architectures, would as many visitors be attracted to this island? Without our writers, artists, and producers putting Stella Kon's Emily of Emerald Hill on stage, creating our own Singapore songs, or glamming up our hawker foods and dine-ins, what would be the difference between Singapore and any other gentrified city in Southeast Asia?
I fully appreciate that everyone in Singapore has to weather this storm together. But I wonder how this necessitates sidelining the arts. I question if it is wise to put all our eggs in one digitised basket on one hand, while we continue to focus on bailing out our transportation and aviation industries on another, when improving one directly lowers the need for the other.
As an advocate for the creative scene, I believe it can do its part by bridging both indoor and outdoor activities. For example, audiences could enjoy a performance from home and, in small numbers, attend a live portion of the show with a dining experience, exclusive to paying audiences. Presentations could be made to enliven districts, F&B outlets, or enhance private car hire services. It's also a relatively safe investment, as empathy, physical socialising, rituals, and wonderment are essential experiences that will always see demand.
The creative scene isn't a small community, and we cannot afford to disenfranchise an estimated 3–4% of our local workforce. These are industries dependent on local employees and freelancers to produce a sense of local identity. This workforce includes the crew, designers, and technicians enhancing the work of our performers, and the producers, publishers, and distributors bringing their works to your homes. These are the products and services that bring people together to socialise, or allow them to ponder in solitude, or learn from to better themselves.
Artists are much more intertwined with our daily lives than we might realise. They could be the designers who help fit the next smartphone in the palm of your hand, or the animators who spent hours on that movie you're watching on the train. Even the Sunday Times infographic proclaiming the superfluity of artists was produced by an artist. Some of us also use the arts as therapy for our children or elders, and rely on it to bridge our differences, especially in these fraught times.
Some of us, including myself, have been impatient, waiting for further news, dialogue, and updates on our living situation. There is now some confidence that our payouts' and rebates' teething problems can be resolved given time; NTUC Secretary-General Ng Chee Meng has admitted in Parliament "[they] still have much to do". Likewise, the creative workforce has to be accountable for our work. We cannot take shortcuts, and must remain appealing to our public, as the work of self-expression, catharsis, and contentment is a social responsibility. The art of entertainment helps us laugh and cry when we cannot. Creative activities provide the necessary distraction and inspiration when we are overwhelmed or lost. And it is a soft power we should sustain, rather than consume blindly from international giants like Disney and the Korean wave.
Advocating for the arts and creative sector has never been easy in Singapore; not then, and certainly not now. But we should keep doing so, for there is value in the creative scene in more ways than one. It is how we build, define, and protect the Singapore soul, and I hope our scene will continue to remain a vital part of our future economy.
---
You can find out more about Artsolute via their website.
If you found this a good read, please share it!
We, The Citizens Newsletter
Join the newsletter to receive the latest updates in your inbox.