Who's in favour of a minimum wage? 🙋🏻‍♀️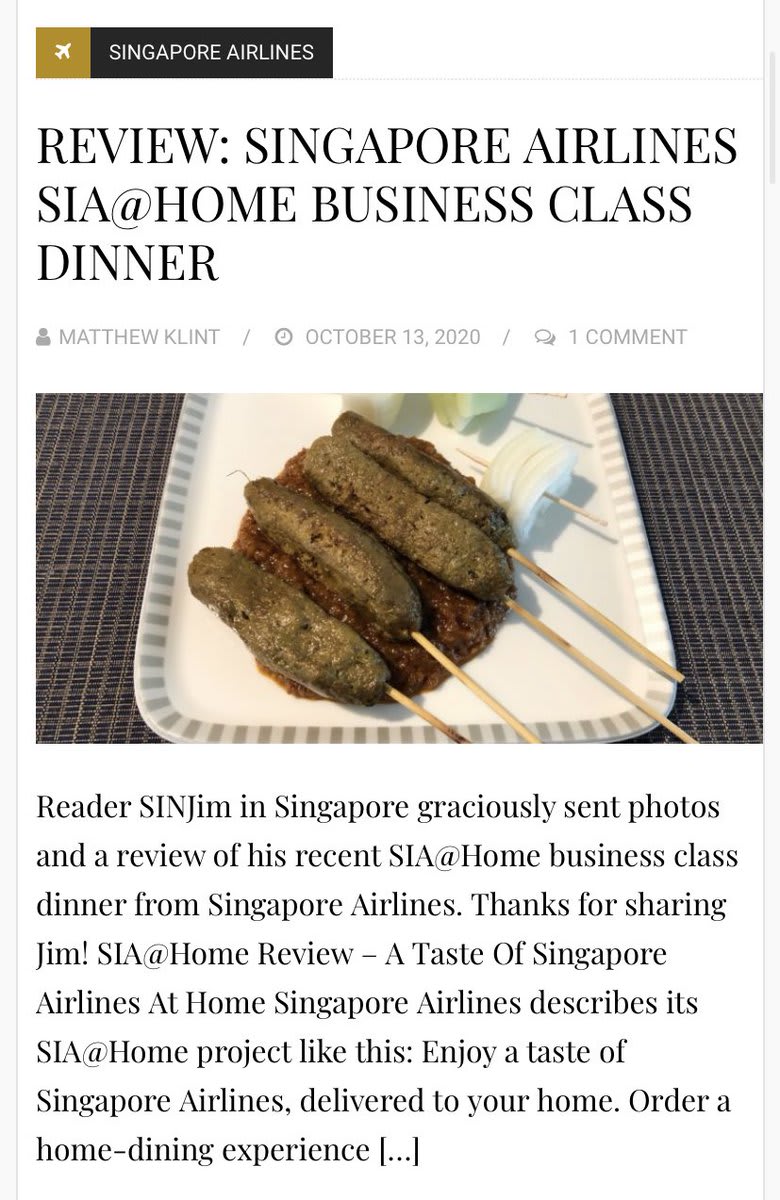 The profile I wrote of Preetipls and her role in conversations on race in Singapore has been published by Rest of World. Check it out here!
Also, I get asked quite often for advice on journalism, so I've put some thoughts down over at the secondary newsletter, Samseng Zhabor.
---
The continuing tussle over the minimum wage
In a country where there are people who would pay hundreds of dollars to get Singapore Airlines to deliver food to them which they then have to heat up themselves (seriously, look at my tweet ⬇️), we're arguing about whether there should be a legally mandated minimum that workers should be paid so that everyone can afford to live.
The Workers Party is calling for a minimum wage of $1,300 per month, which has been described as a "universal minimum wage" but really isn't, because in his Facebook post Pritam Singh specified "for the Singaporean worker", so they're still excluding the migrant worker population.
The PAP government is die-die not shifting from its position that a universal minimum wage (whether it's really universal, or only universal-to-Singaporeans-which-is-not-really-universal) is a bad idea, and that their Progressive Wage Model is much better. Manpower Minister Josephine Teo has announced a new task force to look into how to raise the wages of low-income workers and increase productivity growth.
Since this is Singapore, we also have to witness the ludicrousness of trade union leaders — in this case, NTUC's Deputy Secretary-General Koh Poh Koon, he of "everybody has a car, we have two" — arguing against a minimum wage for workers. 🤬 Koh claims that it'd be too difficult to settle on the right number for a minimum wage (even though there's research on the Minimum Income Standard in Singapore available), that this number can then be politicised when different parties start trying to out do each other (oh noes, playing politics is the worst thing political parties can do), and that WP's proposal would open up the question of whether this minimum wage should be extended to migrant workers (yes, the answer is yes).
While arguing against the minimum wage, Koh also produced some data: about 100,000 Singaporean workers earn less than $1,300 a month. However, if you include Workfare disbursements (a mix of CPF top-ups and cash) and CPF contributions from employers, that number goes down to 56,000, with 32,000 of these workers (1.7% of the local workforce) working full-time. He presented this as evidence that the PAP's policies are working well, and are better than a minimum wage.
Meanwhile, conservative estimates from the NUS Social Service Research Centre put the rate of absolute poverty in Singapore at 12.46%, and the relative poverty rate, after tax transfers, can be "very roughly estimated at around 18.5%".
What's going on here 🧐
Seven people have been charged with corruption in a case linked to Keppel FELS, which is owned by Keppel Offshore & Marine, which was itself embroiled in an international corruption scandal. Three of them are accused of conspiring with each other to corruptly obtain bribes from sub-contractors (to the tune of $879,900), one is accused of accepting gratification and falsifying papers, and the remaining three are the sub-contractors involved.
Separately, Singaporeans are also paying attention to this case involving Goh Jin Hian, the son of former prime minister Goh Chok Tong. He used to be the director of Inter-Pacific Petroleum (IPP), a marine fuels supplier that is now insolvent. The judicial managers of IPP are now suing him for many monies over the losses that the company had sustained, alleging breach of director's duties.
To add to his woes, Goh, who was the CEO of New Silkroutes Group until the beginning of this month, is also being investigated by the Commercial Affairs Department under Section 197 of the Securities and Futures Act, which has to do with false trading and market rigging transactions. (The finance director of New Silkroutes is also being investigated.) Goh hasn't been charged yet, but his passport has been impounded. He's since resigned from his position as the non-independent, non-executive chairman of New Silkroutes, and also as the independent director of cord-blood banking company Cordlife Group.
Go Parti go!
Parti Liyani, the Indonesian domestic worker who emerged triumphant after being acquitted of all charges of theft, is seeking accountability. She's decided to continue with her application to seek a disciplinary inquiry into the prosecutors over their conduct of her case.
If you're still trying to wrap your head around this whole case, Stephanie Chok has provided an invaluable and incredibly comprehensive resource by launching this repository of information related to the years-long saga.
Civil society news
Singapore is due for its third Universal Periodic Review, which is when our human rights record is scrutinised by the United Nations' Human Rights Council. A coalition of civil society organisations has submitted a shadow report, touching on civil and political rights, discrimination, climate change, and economic rights. You can read the joint report here.
---
From the Transformative Justice Collective
We at the Transformative Justice Collective have been busy this past week. First, we published an interview with Mila, Syed Suhail's sister, on her brother, his struggle with drug addiction, and her views on drug policy and the death penalty in Singapore. One of Syed's applications was dismissed by the Court of Appeal yesterday — he has other applications that will be heard on 23 October.
Please watch and share:
We also took a closer look at Minister for Home Affairs K Shanmugam's claims about the deterrent effect of the death penalty. tl;dr The data he presented doesn't actually prove that the death penalty is the most effective deterrent for crime.
---
Please spread the word about this newsletter!
Milo Peng Funders keep this newsletter running, as well as allowing me to do other independent work (such as writing a book!) Please become a Milo Peng Funder if you can!
We, The Citizens Newsletter
Join the newsletter to receive the latest updates in your inbox.