WTC Long Read: How might Singapore be affected by Hong Kong's woes?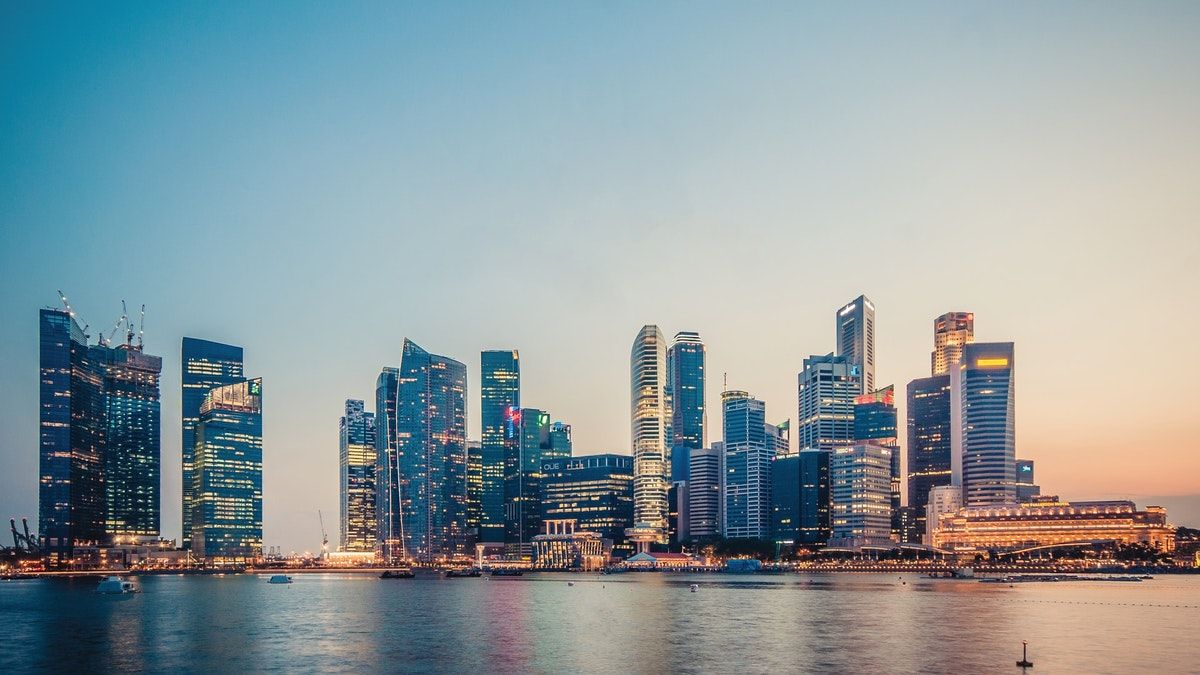 This long read was written in collaboration with The Initium《端傳媒》, who published the Traditional Chinese version on 3 July 2020. You can become a member of The Initium and support their longform journalism here.
I held back on the English version because of the general election, but here it is now, with some edits and updates.
---
There was a point in time, maybe about three years ago, when some friends and I joked that there could potentially be a Singapore "government-in-exile" in Hong Kong.
Back then, a number of Singaporean friends and acquaintances had, for a variety of reasons and over a period of a few years, upped sticks and moved. Among some of the higher profile were Cherian George, a journalism professor who had to leave Singapore after he was rejected for tenure twice at a local university — the first time, he'd been told that there was a perception his critical writing on Singaporean politics and media freedom would pose a "reputational risk" to the institution. Then there was Donald Low, who resigned as an associate dean from the Lee Kuan Yew School of Public Policy, and is now teaching at Hong Kong University of Science and Technology. At that time, there was also plenty of speculation over whether Lee Hsien Yang, the estranged brother of Singapore's prime minister, would relocate.
Hong Kong, the logic of the joke went, was the freer, more vibrant place that stifled Singaporeans could "escape" to.
This joke doesn't come up anymore these days; not because of any real change on Singapore's part, but because the situation in Hong Kong now looks increasingly dire. Protests against the controversial extradition bill that kicked off last year have only grown in scope, evolving into an increasingly desperate attempt to resist the extension of the Chinese central government's power into the special administrative region.
The national security law foisted upon Hong Kong by the Chinese central government has already taken effect, covering broadly defined offences of secession, subversion, terrorism, and collusion with foreign forces. Under these wide categories, advocating for Hong Kong self-determination or independence could lead to heavy penalties. A primary election held by pro-democracy candidates drew participation from over 600,000 Hong Kongers; the Chinese authorities have since said that this exercise might have been in breach of the new law. Some tech companies are trying to buy time by hitting pause on requests for data from the Hong Kong government. Media organisations are also considering their next move: the New York Times has announced that they're shifting part of their Hong Kong office to Seoul.
As the principle of "One Country, Two Systems" crumbles before our eyes, there's been much discussion and speculation of not only Hong Kong's future, but also the impact this ongoing political turmoil might have on other places. Long held up as a sort of "sister" to Hong Kong, people have naturally wondered how Singapore might be affected, for better or worse, by Hong Kong's woes.
Where the capital flows
Both Hong Kong and Singapore are wealthy Asian cities that heavily promote themselves as good places to do business. But as the streets of Hong Kong grew clogged with teargas, its status as an attractive financial hub in the region started to come under question. In October 2019, Goldman Sachs estimated that about $4 billion might have left Hong Kong between June and August… and wound up in Singapore.
More money has since made its way to the Lion City. According to central bank data, April 2020 saw a 44% jump, from a year earlier, in deposits in Singaporean banks from non-residents, to the tune of over S$62 billion. It appeared part of a general trend; over the past year, there was only one month in which the amount of deposits hadn't risen. While one can't discount other global events such as the US-China trade war and the COVID-19 pandemic, analysts have pointed to the political crisis in Hong Kong as a contributing factor.
A narrative depicting the rise of Singapore and the fall of Hong Kong is a convenient one, but much too simplified for it to be reality. Following media reports, on June 7, 2020, the Monetary Authority of Singapore (MAS) released a statement saying that claims of "large flows of deposits from Hong Kong to Singapore were incorrect."
MAS added: "The strong growth in foreign currency deposits in Singapore this year has come from a variety of sources — domestic, regional, and beyond the region. No single region or country source dominates."
The 27th Global Financial Centres Index, published in March 2020, ranked Hong Kong as the sixth largest financial centre in the world—a drop of three places from the 26th edition published just six months earlier. Singapore was ranked fifth, a drop of one spot. The Index takes into account different aspects of competitiveness: human capital, infrastructure, the development of the financial sector, reputation, and the overall business environment.
Both cities are seen as modern and business-friendly, with decent infrastructure for work and life. Both are former British colonies, and the use of English is widespread, making it easier for globe-trotting expatriates to adjust and settle. But as Donald Low, now a Professor of Practice in Public Policy at the Hong Kong University of Science and Technology, points out, financial centres aren't monoliths, and it isn't as simple as swapping one for the other.
The position of such centres, built over years, aren't so easily shaken, Low points out. "Simply because you're a hub, you tend to have that ecosystem, that supporting infrastructure," he says, adding that there's a "winner takes all" effect with hubs — precisely because they have ecosystems conducive to particular activities, people and industries flock toward them, further reinforcing their position as key nodes. "So it's very hard to dislodge hubs once they're established, and that applies to financial hubs as well."
Furthermore, despite certain similarities, Hong Kong and Singapore aren't interchangeable. "These are two very different financial centres," Low says. Considering whether there'll be shifts from one to the other requires breaking down different types of activities within the finance industry.
Cindy (not her real name) is a permanent resident of Hong Kong, and works with investments and hedge funds. She moved with her family from Hong Kong to Singapore in the middle of 2019. Based on her experience, many of the people, particularly expatriates, working in the fund management industry in Hong Kong have been there for some time, likely settled in place through previous jobs. But if they were looking to relocate, Singapore would be an extremely viable option.
"If I were an [American] investor looking to invest in Asia, I wouldn't have any issue if the fund that I'm investing in is in Hong Kong or Singapore; for me, they look the same," she says. "If you're a fund manager just looking for where to set up shop, I would set up in Singapore because politically it's more stable, and I don't think it would look different from Hong Kong."
Lily (not her real name), another Hong Kong permanent resident now living in Singapore, agrees. She used to work for a bank, and points out that it's easy to move money between the two cities: "It's really liquid, between Hong Kong and Singapore, you can have two accounts and it does same-day transfers." It's a matter of relative ease for people to shift their money out of Hong Kong if the situation seems volatile, then move it back if things improve.
It's for this reason that Low describes wealth management as the more "footloose" part of a financial hub's activity, since "moving capital is relatively costless and frictionless." The flow of money to Singapore seen since last year was likely part of a short-term move by fund managers and clients seeking to hedge risks and balance portfolios. Even if Hong Kong's economy suffers due to the instability, clients will at least have a portion of their wealth safe in Singapore.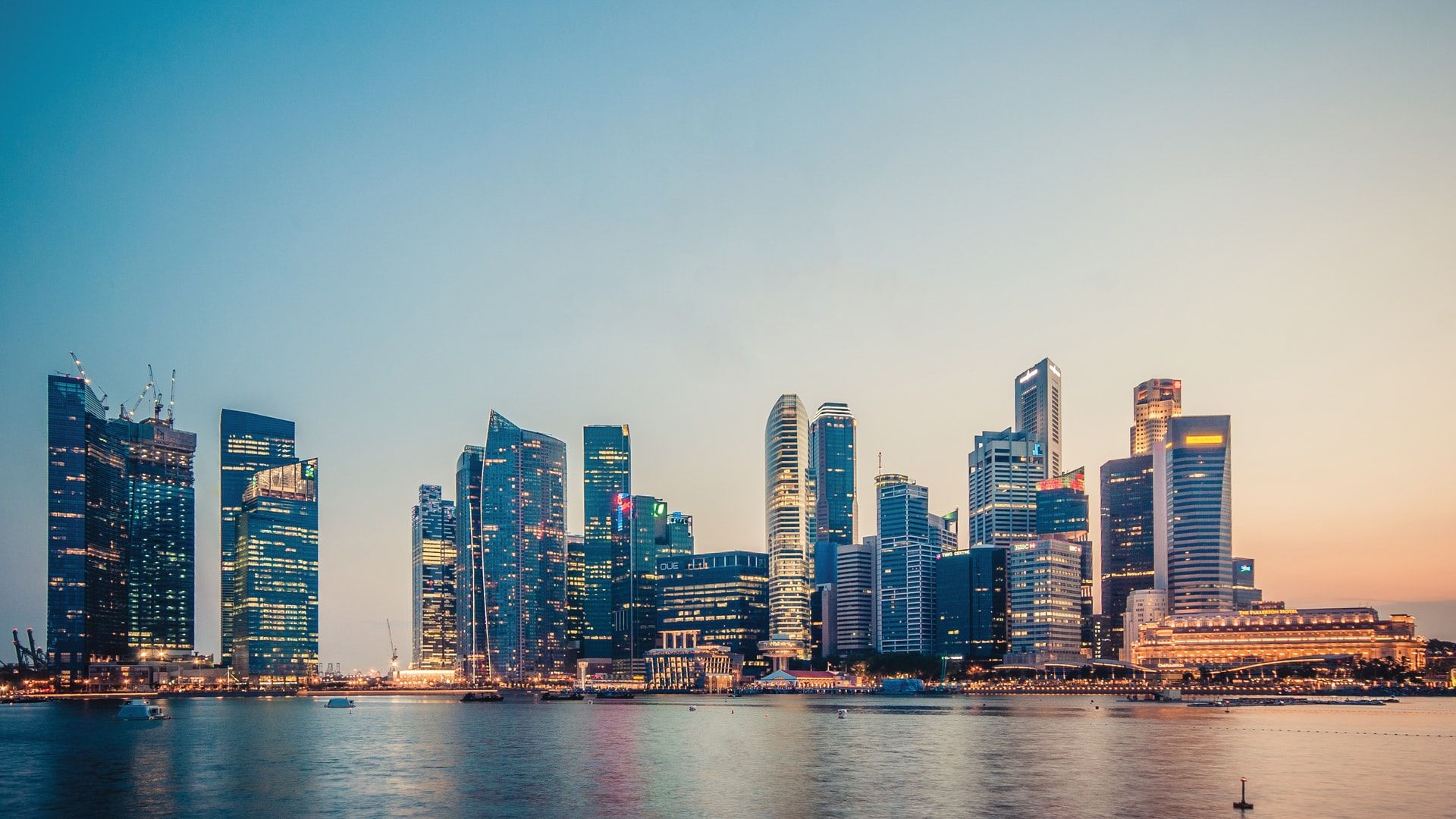 (Photo by Peter Nguyen on Unsplash)
Not everything shifts so easily
Funds might be able to flow easily from one place to another — and not just between Hong Kong and Singapore, but also to and from other financial and urban centres — but other aspects of financial activity in Hong Kong are, as Low puts it, "more sticky", and can't be so quickly or easily transplanted.
One clear edge that Hong Kong has over Singapore is its proximity to China. This not only attracts companies with business in China, but means that Hong Kong is also a conduit for Chinese firms to raise capital. This is why Hong Kong was the world's top Initial Public Offering (IPO) exchange in 2019, and although it dropped to sixth place in the first quarter of this year, observers point to the potential of big deals being launched later in the year. With the entire financial structure set up — from location and ease of access, to talent and know-how — there's little reason to shift all this to Singapore, which has a far less vibrant equity market.
"Because China has capital controls… one way people can bring the capital out is to invest in Hong Kong, whether it's real estate or in the stock market," Low says. "So that's one place where it provides a legitimate avenue for Chinese savers to invest abroad."
Trading Hong Kong for Singapore
Some people might be moving their money to Singapore… but are they moving themselves?
The answer to this question runs parallel to the one on financial centres: since 'people' aren't a monolith any more than financial centres are, it depends on who you're talking about. And physical relocation isn't quite as seamless as shifting wealth.
Cindy and her family left Hong Kong around the time protests were ramping up, but says they'd been planning the move before anything had kicked off. An expatriate family, they'd lived in the city for the best part of a decade, but had never fully integrated into the local community.
"We'd been in Hong Kong for a long time, and we didn't plan to stay for that long, but… planning for the future, we didn't really feel like we belonged in Hong Kong in terms of integration into the local culture," she says. "We had zero local friends, and I guess this was an error on our part… we didn't really make an effort to learn the local language, we weren't incentivised to learn the local language." Their children, too, went to international schools and befriended the offspring of other expats.
While she says it wasn't so much the political crisis that had spurred them to relocate, she and her husband felt that "in the future Hong Kong is going to be more China-centric". Looking around for other options, they were attracted by Singapore's more diverse society.
"One thing that's very important to note is that we're a Muslim family," she says. "In Hong Kong, [there are] very few Muslim restaurants that serve halal food, the Muslim holidays aren't even observed — they're not official holidays."
In this case, Singapore presents a significant change. According to the 2015 General Household Survey, about 14% of residents above the age of 15 — about 460,000 people — identify as Muslims. It's over double Hong Kong's reported Muslim population, and while Hong Kong's Muslims can worship at five mosques, there are about 70 mosques across Singapore.
The pressure cooker environment of Hong Kong also got to Cindy and her family. Considering the way Singaporeans complain about the soul-crushing Singapore rat race, it perhaps says more about Hong Kong than about Singapore when Cindy says she feels the latter is much more laid-back and relaxed. Property prices are a major gripe in Singapore, but they still don't reach Hong Kong's eye-watering levels.
Cindy also points to the pressure put on children: "In Hong Kong, there are a lot of international schools, but it's very competitive. When… my seven-year-old... was going into primary [school], we had to go through four interviews. Interviews! He was five years old! We had to prep him, and he broke down three to five times."
Away from home, watching Hong Kong
Andy (not his real name) is a Hong Konger who works in tech. He chose to move to Singapore in 2014, pushed to leave his city by its overcrowding and China's increasing influence over life, culture, and politics. He says he decided on Singapore because it wasn't too far from home, and offered more space for professional development and progress than Hong Kong. Furthermore, Singapore's ethnic Chinese majority — about 74% of Singapore's residents are ethnic Chinese — meant he didn't have to worry about discrimination or racism, and its English-speaking populace and globalised outlook meant it wouldn't be too hard to adapt.
When asked how he feels about seeing the ongoing protests back home, Andy invokes the Chinese proverb "遠水不能救近火". Literally translated, it says that a distant water source is no use when the fire is nearby — an expression that encapsulates a helplessness caused by distance and geography.
"It's clear that the demonstrations are the effect, and tyranny is the cause," he says. "Like in the film Fight Club, one knows that there has to be destruction before there's rebirth, but now all I can do is watch the city collapse."
Following developments from Singapore, there's little he can do, especially openly. "In this country that's 'open and free', there are some things that can only be done quietly, without attracting attention," Andy says, alluding to Singapore's restrictions on political expression that has made it difficult for immigrants to express solidarity with struggles back home.
The city-state holds a firm position on immigrants not "importing" issues from their country into Singapore. In 2014, Hong Kongers who attended a solidarity gathering in Singapore's Speakers' Corner — a small park, and the only space in the entire country where citizens and Permanent Residents are allowed to gather for causes without prior police permission — were investigated by the police. In 2019, restaurateur Alex Yeung was repatriated and banned from re-entering Singapore after he organised a meeting to discuss the Hong Kong protests and express support for the Hong Kong police.
Choosing Singapore
The restrictions that Andy's answers point to cannot be overlooked when considering Singapore's attractiveness to Hong Kongers. While the Washington Post reports that applications for police certificates needed for emigration from Hong Kong was 80% higher in the latter half of 2019 than the year before, Singapore might not be people's next destination.
Kyle Leung is a property writer and researcher with a leading property portal in Singapore. In October 2019, he looked into whether Hong Kongers would invest in Singaporean property, and found that Hong Kongers were more likely to gravitate towards countries like Taiwan, the United Kingdom, Canada, the United States, and Malaysia.
"Hong Kongers picked these countries ahead of Singapore for two probable reasons, firstly because some of these countries might align more with their beliefs on how interactions between civil society and government should be, and secondly because properties in some of these countries are cheaper than in Singapore," he says.
After completing her postgraduate studies in the United Kingdom, Lily, who is originally from China, decided to take a job in Singapore rather than return to Hong Kong. She says there was a variety of reasons for her decision: while the ongoing political conflict in Hong Kong was part of the reason for not returning, she'd also been offered a good position in Singapore and thought it would be an opportunity to try something new. She isn't the only one in her circle of friends to have left Hong Kong, but says many of them are expatriates or mainland Chinese — people who aren't particularly invested in any political struggle for self-determination or democracy in Hong Kong, but who have felt their daily lives impacted by ongoing protests and turmoil.
Lily doubts Singapore is the place for local Hong Kongers leaving their city because of disappointment in its politics. "For people who want political freedom, Singapore is not the place to go," she says.
While there is plenty of concern about the rapid erosion of civil liberties in Hong Kong, many of the fundamental freedoms that people have been outraged about losing have long been restricted in Singapore.
Freedom of assembly is heavily curbed in the city-state; under the Public Order Act, even a single person can constitute an illegal assembly if they participate in any cause-related event without prior permission from the authorities. Singaporean activists have been hauled up for investigations simply for posing for photos with placards in public spaces.
Press freedom and freedom of expression is also an issue: while Hong Kong ranks in 80th place in the Reporters Without Borders World Press Freedom Index — a drop of seven spots from the year before — Singapore ranks far lower at 158th. The People's Action Party brought the local mainstream media to heel decades ago, limiting the space available for a range of perspectives and shaping public discourse in ways that favour the ruling party and establishment positions.
Lily says she doesn't envision herself settling in Singapore for long: "I can see myself being here [for] one year or two, but over the long run this is not a system I appreciate."
SeeThroughSingapore is a Facebook page that introduces and explains Singapore for a largely Hong Kong audience. "Considering immigration is akin to choosing a life partner; it's not about choosing the best, but the most suitable. If you're looking for a stable, safe place to bring up your children, a place with stability in terms of work and economic development which isn't too far from Hong Kong and not too difficult to adapt to in terms of culture and lifestyle, then Singapore is not a bad choice. But if you prioritise freedom, vibrancy, then perhaps you should think again," writes the owner of the page in response to questions.
While some Hong Kongers might be put off, Singapore might still be attractive to some from China. As Donald Low points out, there hasn't been a spike in anti-Chinese sentiment in Singapore, unlike Hong Kong.
Lily has observed something similar, too. "I do realise that for a lot of the mainland Chinese living in Hong Kong, Singapore is a very good option," she says. "A lot of my mainland Chinese friends love Singapore because they feel like Singapore is more Chinese than Hong Kong."
Leung says there's been consistent interest from Chinese nationals in property in Singapore. "The mainland Chinese have always gravitated towards Singapore property because they like how we're stable, in almost every sense of the word. They've always seen Singapore property as an ideal safe haven asset, combined as a possible future home if they take up [permanent residency in Singapore]. Plus, from the transaction data, we've seen real buying power from Chinese nationals."
But this doesn't mean that the Chinese are ditching Hong Kong for Singapore. "I have yet to speak to or hear of Chinese nationals selling a Hong Kong property and then buying one in Singapore," Leung says. "Typical investment decisions are not that clear cut, especially since there are other factors in the equation."
In any case, this might not be the best time for people seeking to relocate to Singapore. The country is now in recession; GDP dropped by 41.2% in the three months ending in June on a quarter-to-quarter annualised basis, even more than economists had predicted. With the government seeing foreigners as a "buffer" for the labour market — welcome during times of abundance, but the first to be shed when the going gets tough — immigrants are likely to feel the sting; 60,000 foreigners have already lost their jobs between January to May this year.
Speaking in response to criticism from opposition parties over Singapore's immigration policies during the recent election period, Minister for Manpower Josephine Teo emphasised the focus on local workers: "The Jobs Support Scheme is fulfilling its objective of saving jobs and protecting livelihoods. And as a result, when companies have to make a decision on whether to continue with their local employees or to continue with their foreign employees, I think it's quite clear to them where the support from the government is, and they will make their decisions accordingly."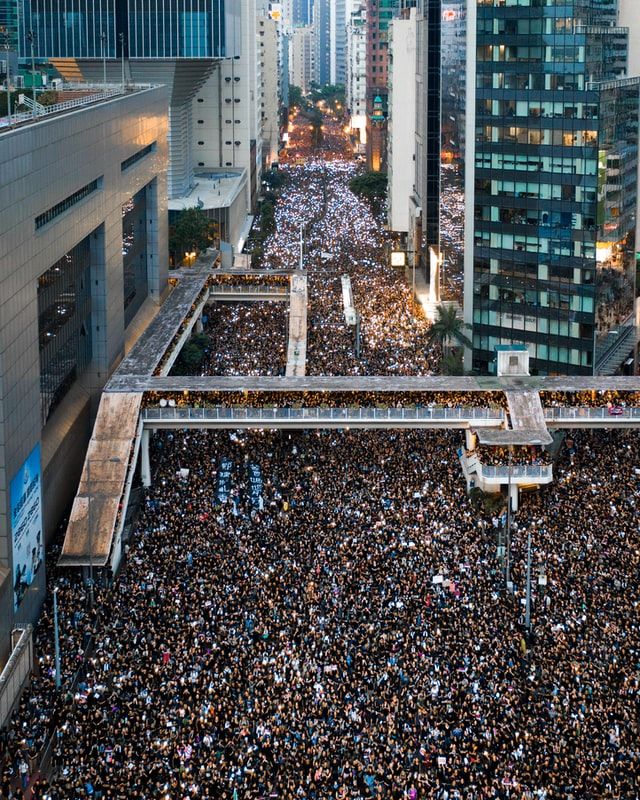 (Photo by Manson Yim on Unsplash)
What protest contagion?
Earlier speculation that Hong Kong's protesters might inspire and motivate Singaporeans — a senior official told the Financial Times that Singapore's government was "terrified" that "something similar" would happen in the city-state — have come to naught, mostly because they were fairly overblown in the first place. Musings about whether Singapore's social and economic policies — in particular, its policies related to housing and property — could provide Hong Kong a way out has also fizzled out.
These two talking points neglected key considerations: Hong Kong's troubles are rooted in a political, not economic, crisis, and Singapore, for all its issues with civil liberties, is still a sovereign country with universal suffrage.
Nevertheless, some establishment Singaporeans were quick to draw lessons from the crisis. In a strident op-ed originally published in the Chinese newspaper Lianhe Zaobao, then translated for the English Straits Times, the former People's Action Party (PAP) parliamentarian Goh Choon Kang claimed that the protests in Hong Kong were "the result of foreign manipulation" and presented a cautionary tale for Singaporeans.
"Singapore is by no means another Hong Kong. It does not need a 'colour revolution' and there are absolutely no circumstances in its society to fuel one," Goh asserted, warning his readers against certain individuals — including myself — or organisations that might be targeting Singapore with revolutionary intent.
Speaking to the press in November 2019, Minister for Trade and Industry Chan Chun Sing held forth on the need for well-functioning political systems, long-sighted policies, and social cohesion.
"To insist on maximum individual gains at the expense of the common and collective good cannot be the Singapore way. The pursuit of such narrow interests will instead fracture the political centre for compromise and constructive solutioning," he was quoted as saying, stressing that there should be constructive methods to resolving conflict, rather than resorting to violence. For many Singaporeans, the upheaval in Hong Kong has been treated as further validation of their country's political system.
The shadow of the national security law looms over Hong Kong, but it's featured a lot less in Singaporean public discourse. Between the disruption of COVID-19 and the recent general election, Singaporeans have had little attention to spare on another city.
"Everybody's trying to get a piece"
Hong Kong and Singapore aren't engaged in a zero-sum game. Hong Kong's losses might not result in gains for Singapore, and they aren't by any means the only players.
Donald Low points out that, with a growing Chinese middle class, there's a huge demand and appetite that can be tapped on. "People are looking for safer environments to park their monies, to buy property, to raise their kids," he says.
"It's not as if there's only a fixed 'lump' of Chinese people looking to move their monies and whatever abroad — it's growing. And of course it's not just Hong Kong versus Singapore; lots also want to go to Australia, Canada, the US… even Japan. Everybody's trying to get a piece."
Some Chinese nationals in Hong Kong might be considering returning home, particularly since the Chinese government has moved to tax their global income. It's likely, though, that others will choose to escape this increase in taxation by taking up Hong Kong passports.
Low thinks that it might actually benefit Hong Kong if it were to become less dependent on Chinese capital flowing in. "If… that provides an impetus for [Hong Kong] to diversify its economy, say through higher education and other high value-added services, that's probably a good thing," he says.
Apart from competing, Hong Kong and Singapore also trade with and invest in one another, with products like semiconductors, telecommunications equipment, and computers crossing borders from one to the other. According to an analysis published by the Business Times in November 2019, Hong Kong is Singapore's fifth largest trading partner, and fourth largest destination for investments. It's in no one's interest for either partner to be destabilised, or see its economy nose-dive.
Money and politics
All in all, Singapore is unlikely to massively benefit from a crisis in Hong Kong that cannot merely be measured in dollars and cents. Even if money might be flowing to and fro, Singaporeans aren't going to feel much impact in their day-to-day lives; that weight will largely rest on the shoulders of Hong Kongers, particularly those with limited or no option of emigrating and settling elsewhere, regardless of their political beliefs.
---
If you'd like to read more about Hong Kong, I'd recommend checking out Lausan for leftist perspectives, or reading Antony Dapiran's latest book about last year's protests. And if you're an English language reader who'd like to support independent news reporting Hong Kong, I'd always, always point you towards the Hong Kong Free Press.
Feel free to share this long read!
Want more of this?
Subscribe for regular news and views about Singapore!