15 days in prison for a 15-second photo
This week: Jolovan heads to prison again for the most outrageous reason, a chatbot fails to help teachers, and "heightened safety" measures brought in at worksites.
HELLO! I sent out a special issue earlier in the week and it's free so check it out!
---
That's a lot of wasted time and energy for a photo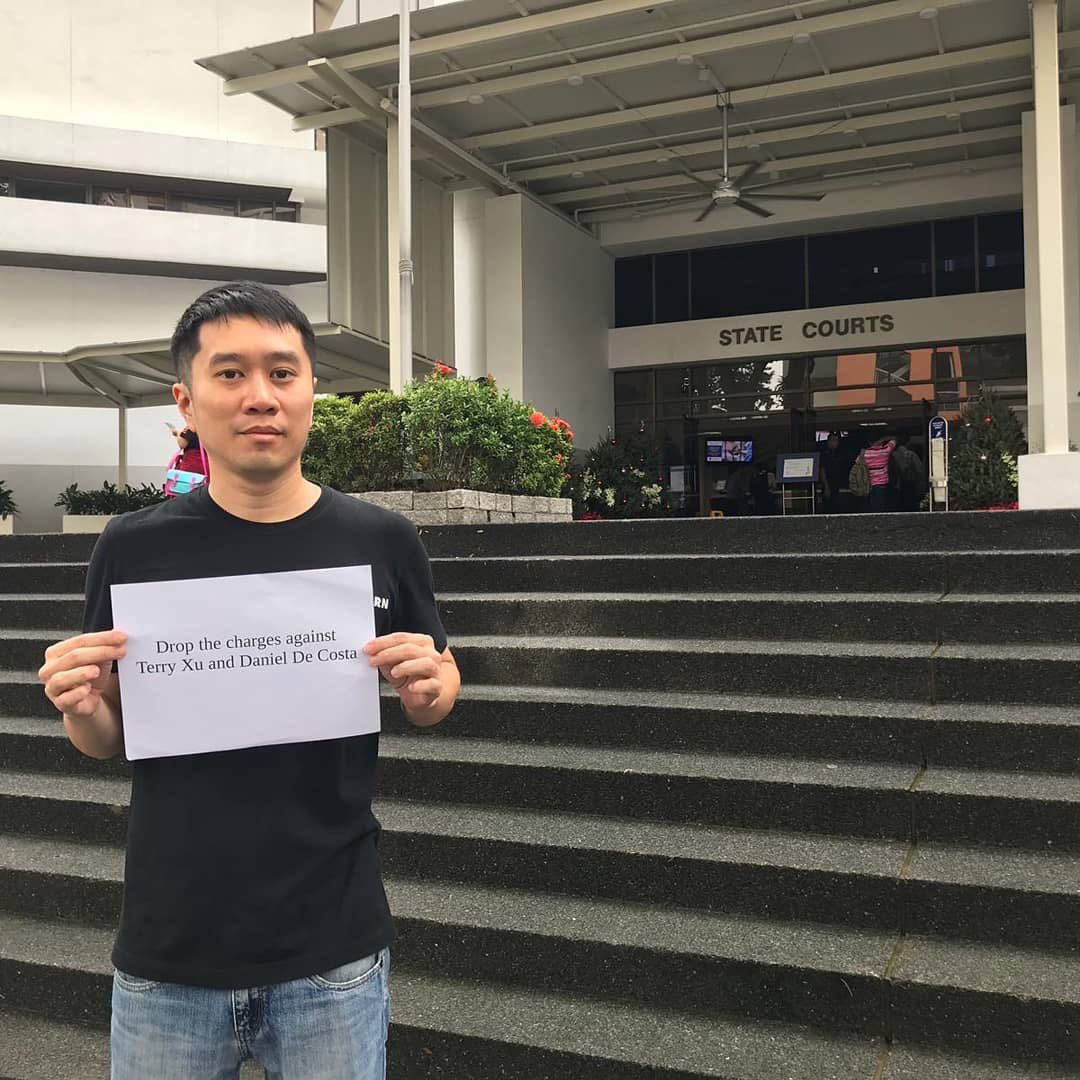 Four years ago, Jolovan Wham posed for this photo outside the State Courts, in solidarity with Terry Xu and Daniel De Costa who had been charged with criminal defamation. CCTV footage shows that it took about 15 seconds — he posed for the photo, kept the A4 paper sign, and went in to attend the court hearing. It drew no attention and caused no disruption, and Jolovan only posted on the photo on social media later.
For this, the authorities decided to take action against him. First, the police questioned him and "investigated" the case (what is there to investigate?) Then the case went to the Attorney-General's Chambers to prosecute. There was a trial that involved testimony and cross-examination. The judge convicted Jolovan under the Public Order Act of participating in an illegal assembly. He was sentenced to a fine of $3,000, or 15 days in prison in lieu.
On Friday morning, a High Court judge heard Jolovan's appeal against his conviction and sentence. His defence lawyer, Johannes Hadi, argued that Jolovan did not have actual knowledge that he had needed a permit to take a photo like that outside of the State Courts, because a regular person wouldn't have expected that posing for a photo would be treated as equivalent to protesting. The deputy attorney-general (what seniority for such a case!), Tan Wei Shyong, argued — in a very rambly way, I have to say — that Jolovan knew that he needed a permit because he had previously applied for a permit for a solo protest in the same location. The Tan also took issue with Jolovan posting the photo on social media, saying that this is the "modus operandi" these days for activists, and that it was not up to Jolovan to determine whether his act poses a threat to public order (again: it was 15 seconds and no one gave a damn!) In response, Jolovan's lawyer pointed out that just because Jolovan knew that you need a permit to protest doesn't mean he knew that he would need one to take a photo, and also that whatever Jolovan does on social media is a separate issue, since the Public Order Act concerns the physical action.
Still, the judge dismissed the appeal on the spot. He said he would give his reasons later.
Jolovan decided not to pay the fine, and therefore started serving a 15-day term yesterday. We had to leave him sitting in the dock as court security ushered us out. He had a piece of paper with a heart drawn on it that he wanted to show us, but they wouldn't let him. With good behaviour, he will probably be out in nine days' time.
There is no freedom of assembly in this country. This is rule by law to absurd levels. He posed for a photo. It took seconds. It didn't hurt anybody. But the authorities are saying only they get to decide whether something carries a public order risk, and so Jolovan has to be punished for this act. They expended resources — despite having said before that police officers have a huge workload — on something that caused no problems and, frankly, would have had rather limited impact if they'd just ignored it, simply because they want to punish an activist and send a message to everyone else. 😡 😡 😡
---
Stressed out teachers
I don't think it's controversial to say that it's tough to be a teacher. It's been even more difficult with the pandemic; keeping a bunch of kids engaged with their classes over Zoom is no joke. (I'm not saying this from experience, but I experience sympathy pain just trying to imagine it.) It sounds like there's really not enough hours in a day for teachers to get everything they need to do done and have time for themselves. So what's one thing that the government has done? They've started a chatbot to help teachers with their mental health.
Is it helping? I'm guessing it wouldn't surprise you to find out that the answer is no.
If we really want to help teachers, one thing that can be done is to rethink our expectations. Today, teachers are expected to do so much beyond teaching — as this op-ed says, it's like the work of parenting also gets outsourced to them sometimes.
---
Dorms and workplace accidents
The Foreign Employee Dormitories Act is going to be expanded, effective 1 April 2023. All dorms that have seven or more beds are going to be covered. That means that over 1,500 smaller dorms that weren't originally covered by the law are going to have to comply with the same regulatory standards as the bigger dorms that have over 1,000 beds. The dorms will be receiving licences of different classes based on their size. Some of the stipulated conditions for Class One (seven- to 99-bed) dorms include having an en-suite toilet for every six residents, with up to 12 residents to a room. Some new monitoring measures have been added: dorms will have to give the government a resident roll for contact tracing purposes (are they still doing that right now, or is this one of their just-in-case things?), and report incidents affected health and safety.
Given the horrific number of workplace deaths, the Ministry of Manpower has also declared a period of "heightened safety" until the end of February next year. What this means is that more stepped-up measures and penalties are going to apply. For example, if a company is found to have unsafe workplace conditions after someone got injured or died, they can be banned from hiring new foreign employees for up to three months. Companies also have to take a time-out to review their safety measures and report back to the ministry by 15 September. Some companies have said that they are concerned by these measures, such as the ban on hiring new employees, because there is a reliance on foreign labour and these are onerous conditions. Still, we're talking about workplace deaths here, so there are more important things afoot.
🫶🏼 Related to migrant workers issues: remember Zakir? The Ministry of Manpower refused to renew his permit, saying that he had overstayed his welcome, when he's only ever worked hard in Singapore, contributed to the literary scene, and wrote a poem critical of the government and their treatment of migrant workers. Some friends of Zakir have now started a fundraiser for him — please chip in (and share the page!) if you can.
---
✍🏼
Thank you to the team at
Jom
for offering me a one-month subscription to their magazine! Last night, I read
this piece
on how some of Singapore's roads are named in honour of some truly gross colonial monsters. If you want to check out the article — and more — you can
get yourself a subscription to Jom here
and give Singapore's independent media scene a bit of a boost.
---
Got some more
😱 Two prison officers have been jailed for disclosing confidential information about a prisoner to another prisoner. They said they did it so that the guy asking for the information would behave and no create problems while they were on night shift.
🐱 HDB doesn't allow you to keep cats. This rule is routinely ignored; I think cat ownership in public housing is probably one of the most widespread examples of civil disobedience among Singaporeans. I basically assume that there is at least one cat (likely more) being served like an emperor/empress in any given HDB block in the country. There just has to be. HDB says that it gets over 1,500 cat-related complaints every year, but the rules might finally change to catch up with reality. The government is seeking public feedback on this issue about cat ownership. The URL for the survey is go.gov.sg/catsg, which my brain insists on parsing as "GO GO CATS!"
---
It took me longer than expected to find a nice video I wanted to share because I have completely skewed my YouTube algorithm towards Stray Kids and K-pop given how much I've fallen down the rabbit hole recently. There is literally nothing else. I finally found this cute video of a cat who really loves his family's baby:
Thank you for reading this week! As always, please help me spread the word about this newsletter by sharing it widely.
We, The Citizens Newsletter
Join the newsletter to receive the latest updates in your inbox.