#17: From the crazy rich to the crazy poor.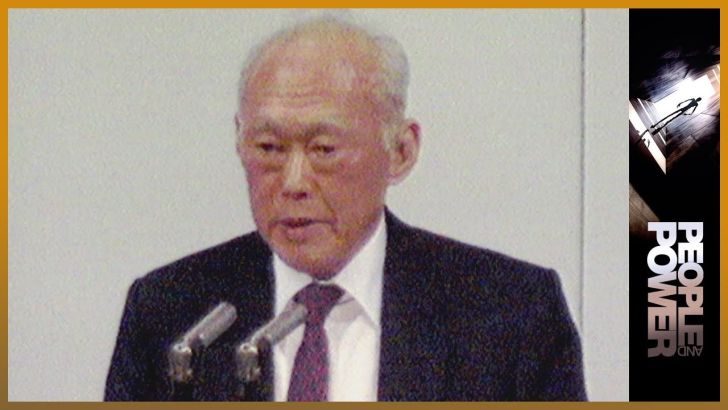 I've engaged in far too many Twitter arguments this week. Social media + procrastination = DANGER DANGER DANGER
If you've been forwarded this newsletter, click here to subscribe to get updates sent to your inbox every Saturday morning. Feel free to leave comments or hit reply to get in touch!
---
A win for representation?
Crazy Rich Asians will be released in Singapore on 22 August. The film has already attracted tons of attention in the US, where it's been trumpeted as a "movement" and a Very Big Deal. Which is lovely for Asian Americans, but…
I wrote for Foreign Policy about how American-centred politics of race and representation haven't brought sensitivity to the depiction of Singapore. (Vox also adapted and republished a piece I wrote for The Establishment a year ago.) PRI talked to Singaporeans like author Jeremy Tiang and poet Pooja Nansi and got some brilliant comments. The New York Times also has a pretty good story; they quoted poet Ng Yi-sheng in the story, but he's posted his full comments on Facebook. Bharati Jagdish of Channel News Asia says we need to create more Singaporean stories and support them on the global stage, which is a good time to point out that Singaporean filmmaker Yeo Siew Hua's feature A Land Imagined clinched the top prize at the Locarno Festival in Switzerland.
It's worth thinking about the depiction (celebration?) of obscene wealth in Singapore, devoid of any sense of history or politics. Issues of wealth, poverty and inequality are very current in Singapore right now, so let's take a look at how this manifests in real life, away from the Hollywood glitz and glamour…
Ministerial salaries
Ministers in Singapore have said that a national minimum wage isn't a good idea, but they themselves are some of the highest paid in the world. We can always count on the issue of ministerial salaries to upset Singaporeans, or at least get us talking.
This article from June provides some perspective: "Singapore's GDP is less than one-tenth that of Germany, but the Singapore prime minister earns more than four times that of the German chancellor." Goh Chok Tong's comments about ministers not being paid enough (see the last issue) prompted criticism from even The Straits Times (although a pretty big loop had to be made before ticking him off quite gently, behind a paywall). ST's Chua Mui Hoong called Goh's comments a sign of "casual snobbery", but Andrew Loh argues that it isn't all that casual—this elitism is entrenched within the ruling party. This Yahoo! Singapore commentary is far more straight to the point: "…what rankles is the seemingly arbitrary manner in which the government can raise its own salaries—an apparent case of ownself reward ownself, to paraphrase the popular saying."
Migrant workers
While some supposedly high-quality people are being paid a ton, HOME points out the issue of low-wage migrant workers being taken advantage of when their employers revise their salary downwards once they arrive in Singapore. They bring up two cases: Safiar (I interviewed him for this story), whose salary was reduced from S$1,600 to S$429, and another worker whose salary was reduced from S$1,650 to S$524. The contrast between this paragraph and the one above is an example of the state of inequality and exploitation in Singapore today.
In other news, the former domestic worker of the Changi Airport Group chairman Liew Mun Leong is on trial. The family say Parti Liyani stole a number of branded items which add up to over tens of thousands of dollars. But Parti says she'd picked up many of those items after the family had thrown them out.
During a cross-examination of the investigating officer earlier this year, it was found that the police had not verified the police report made on 30 October 2016 before applying for a warrant of arrest for Parti, and that the alleged stolen items had only been fully seized as evidence on 18 April 2018, six days before the trial began. The investigating officer also said he hadn't verified the value of the items himself; the estimated value had been supplied by the complainants. Defence lawyer Anil Balchandi said that the employers had previously blamed Parti for stealing things that they'd misplaced. Pointing to mistakes in the police report, the defence lawyer put it to Liew that he had "trumped up" the statement he gave to the police.
"There is no motivation for a person like me to go against a maid," was Liew's response. "There is no reason for me to fix anyone up."
The trial continues.
Low-income mothers
AWARE has released a new report based on interviews with 47 low-income mothers. With employment becoming more precarious in Singapore alongside the erosion of family support (due to smaller, nuclear families), it's become harder and harder for lower-income families to balance care-giving and work. The gender equality organisation's recommendations include free childcare for families with a household income of less than S$2,500 and enhancing laws that ban employers from discriminating against employees based on family responsibilities.
Healthcare
Inequality is also present in healthcare: in this paywalled op-ed for The Straits Times, Salma Khalik looks at the long-standing practice of not having air-conditioning in subsidised wards. The idea was to discourage overuse, which means these subsidised wards have been deliberately made less comfortable due to the fear that there would be "no limit to the amount of medical care which patients might want, and which the State will have to subsidise." Salma points out that while such wards in Singapore's newest hospital are only ventilated by fans, the nursing station is air-conditioned, with a glass plane separating the nurses from the patients: "It is hard to see how a hospital can justify providing staff with a cool environment to work in when not providing direct care for patients, while leaving patients—the very reason for having a hospital in the first place—to suffer the humid midday heat."
Drugs and class
These stories are paywalled too but the key point is that the number of professional, well-educated Singaporeans who have been sent to the Drug Rehabilitation Centre in Changi Prison has increased. In 2017, people with tertiary education or higher formed 9% of the DRC population. This is bad, but also means that 91% of the DRC population don't have tertiary education qualifications. From my experience with the death penalty in Singapore, many of the death row inmates and families I've come across (unfortunately anecdotal as data on death row isn't readily available) come from low-income backgrounds.
Related: a lawyer tried to get the Court of Appeal to reopen his client's capital case. He was unsuccessful, and now faces the risk of being ordered to personally pay the prosecution's costs for allegedly including irrelevant legal content in his submissions. I'm worried this is going to make it more difficult or intimidating for lawyers to fight for death row inmates in the future.
On democracy
Remember Our Singapore Conversation? And whatever other dialogue series the 4G leadership have said they want to kickstart? Garry Rodan of Murdoch University reminds us that more consultation doesn't always mean more democracy. On the student front (go students!), Daryl Yang from CAPE writes about what student activism can look like in Singapore.
RIP Tay Lai Hock
Tay Lai Hock, the 54-year-old founder of Ground-Up Initiative, collapsed at work on Tuesday and could not be revived. He touched a lot of lives, and it's good to hear that the Ground-Up Initiative is going to continue despite their loss.
---
And now for a visual break…
Okay, this isn't much of a break, but I was trying to find something about Singapore to put in here, and rejected National Day songs, parody videos and random travel guides. So if you want to find out more about the state of politics in Singapore, watch this documentary.
---
Events and announcements
IndigNation Queer Conference
I'll be speaking at the queer conference today and tomorrow—say hi if you're there!
Out-of-print book sale
Ethos Books is having a book sale from 1–7 September, where they'll sell rare or almost out-of-print books. Someone keep me away; I don't have space at home as it is!
En Bloc, or Buildings Must Die
A series of events are being held at The Substation to look at issues of conservation and heritage when it comes to Singapore's buildings. (The old school Golden Mile Complex is the latest in a line of historic buildings to go en bloc.) Programming includes Too Young To Die: Singapore's Modernist Icons, which will be exhibited from 21 August to 23 September.
Triptych of the Unseen
Post-Museum's latest work on Bukit Brown will be exhibited from 21 August to 3 September at The Substation.
Apply for a course on civil resistance
The International Center For Nonviolent Conflict is offering a free online course on civil resistance called "People Power: The Study of Strategic Nonviolent Resistance". The course will run from 6 September to 1 November. Application deadline: 26 August. More information here.
We, The Citizens Newsletter
Join the newsletter to receive the latest updates in your inbox.