#22: What's the definition of a "deliberate online falsehood"?
Okay, people who think Singapore is boring and that nothing ever happens need to swap lives with me for a bit. You'll see Singapore a whole new way and I'll get a break.
If you've been forwarded this newsletter, click here to subscribe to get updates sent to your inbox every Saturday morning. If you have any feedback (newsletter too long? too short? have a tip?), just hit reply!
---
The Select Committee drops its report
We've all been waiting for this. The Select Committee on Deliberate Online Falsehoods submitted its report to Parliament on 19 September, and published it the next day. The PDF of the main report is 317 pages; then there are the written representations and the minutes of evidence of the public hearings. You can download it all here, or read the executive summary.
It should come as no surprise that the Select Committee recommends legislation, among other things, to deal with "deliberate online falsehoods", and that the government "should have the powers to swiftly disrupt the spread and influence of online falsehoods".
But what is a "deliberate online falsehood"? One would have thought this a very basic question, but the report doesn't actually contain a definition. When asked about this at the press conference, Law Minister K Shanmugam said, "The Select Committee has been quite clear: falsehoods are capable of definition, they have been defined in legislation, they have been defined in the courts and the Select Committee is quite comfortable that it can be defined. Shouldn't be an issue."
Right, so that's sorted then. 😒
The government has already accepted, in principle, the Committee's recommendations—again, not surprising, as members of the government were themselves in the Committee—so we'll just have to wait for the Bill and see what new legislation is coming our way.
The Select Committee report also takes one more swipe at Dr Thum Pingtjin, historian and my colleague at New Naratif, saying that he had lied about his academic credentials, because his job title at Oxford wasn't what he had initially described himself as. (But it's actually inaccurate to say it's about PJ's credentials, since the Committee is quibbling over his exact job title, and not actually claiming that he's lied about his qualifications.) When asked if action would be taken against PJ for allegedly lying under oath, Shanmugam said it would be "inappropriate for us to comment at this stage".
And where is the trusty opposition co-driver in all this? With the Select Committee report saying that all decisions were unanimous, it seems as if Pritam Singh, the Workers' Party member of the Select Committee who has since become the WP's new leader, has endorsed the claim that PJ lied. (You can read my exchange with him on his Facebook page here.)
And of course, The Straits Times can always be counted on to be part of the smear campaign: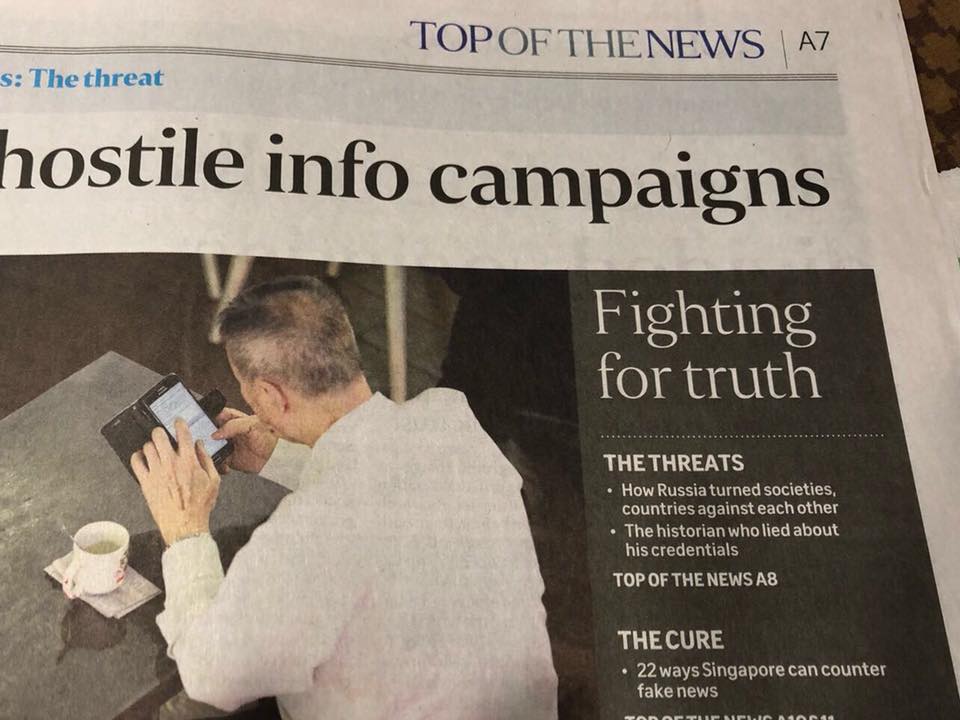 The 377A debate's still hot
Apart from the Select Committee report that popped up on Thursday, the 377A debate is still raging.
The Catholic Archbishop of Singapore stated in a pastoral letter that he's against repeal: "[U]ntil and unless Parliament puts in place a formulation that more perfectly encapsulates the spirit of the law, guaranteeing the protection of the rights of the majority who favour the traditional family, and that no further demands be made to legalise same-sex unions, adoption of babies by same sex couples, surrogacy, or to criminalise those who do not support the homosexual lifestyle, I am of the view that S377A should not be repealed under the present circumstances." If only he were this gutsy when it comes to the death penalty.
The Archbishop wasn't the only religious leader to come out for 377A this week; the Singapore Islamic Scholars and Religious Teachers Association, or Pergas, have also said that they aren't in support of repeal, as it could "threaten the importance of the traditional family unit as the foundation of a society", and also, erm, affect population growth.
But Action for AIDS has argued for repeal, as 377A presents a barrier for gay men to get tested for HIV. "Many men who have sex with men fear that if they go for HIV testing, they will have to reveal that they engage in illegal sexual activity," said AFA president Professor Roy Chan.
Meanwhile, the Ready4Repeal petition continues to grow. Notable additions include former Attorney-General Walter Woon, who said, "We cannot have a crime which is not enforced. The Government should not tell the Public Prosecutor that some things are crimes but there will be no prosecution. This is a slippery slope that we should not go down."
I wrote about the ongoing debate and the LGBT movement for the Lowy Institute, but if you're looking for a good read about this whole issue—from secularism and religion in Singapore to issues with 377A—check out this piece by Daryl Yang, who co-founded the Inter-University LGBT Network.
And there's more…
Migrant domestic workers are marketed as commodities in Singapore, and someone's taken it to the extreme by listing women on Carousell. The Ministry of Manpower is investigating this, and it's also drawn condemnation from an Indonesian advocacy group.
Get ready for more surveillance in Singapore as the authorities are looking to deploy thermal cameras to catch people smoking where they shouldn't.
Ekawit Tangtrakarn, the Thai national who plead guilty to defaulting on his National Service obligations (covered in a previous issue), has been fined S$6,000.
There's also been a bit of a hoo-ha online about Nas Daily vlogger Nuseir Yassin, and his videos about Singapore. tl;dr: he loves Singapore and thinks it's "almost perfect". He's also had amazing access, meeting both the minister for foreign affairs and the prime minister himself. But he's rubbished claims that he was paid by the Singapore government to make his videos. He's also hit back at a Facebook post criticising his video, saying "too many Singaporeans lack perspective" and are "crybabies".
---
Events and announcements
"Why Can't We Just Repeal 377A?"
I also want to know! Sign up for this discussion at Yale-NUS, taking place from 7–9pm on 25 September. Only those who register will be allowed entry, so don't get lazy about filling the form.

Ready4Repeal Town Hall
If you can't make it on 25 September, there's another chance to discuss 377A at Ready4Repeal's town hall, currently scheduled for 29 September. They're taking in expressions of interest first—time and venue to be confirmed later, and they'll send out invites.
Another Naysayers' Book Club session
This time, they're looking at the politics of representation with June Chua of The T Project and Filzah Sumartono from AWARE. This is happening on 4 October, from 6:30–8:30pm at WeWork City House. And there'll be drinks! Register here.
---
About the neighbours
I'm sharing one of my own articles this week: a look at the ASEAN Intergovernmental Commission on Human Rights, or AICHR. It's been around for almost a decade now, but almost every civil society advocate I've met in Southeast Asia has said that it hasn't been very useful in addressing human rights issues in the region. 😕I reached out to some of AICHR's representatives and talked about the context in which the body operates, as well as the challenges and barriers that they face. Most worryingly, there are proposals this year to cap the amount of funding AICHR can get from External Dialogue Partners (who are officially recognised by ASEAN) for their activities. Some reps say this will further hamper the already limited work AICHR does.
We, The Citizens Newsletter
Join the newsletter to receive the latest updates in your inbox.