It's the weekend, and the end of the year is creeping up. I am not prepared. But this week I'm looking forward to heading to Splice Beta, where I'll be leading a workshop and doing a presentation on how to make freelancing work for you. Exciting!
---
Here comes the constitutional amendment
In the next step to repealing Section 377A of the Penal Code, the government has introduced the Penal Code (Amendment) Bill and the  Constitution of the Republic of Singapore (Amendment No. 3) Bill. The former gets rid of Section 377A, while the latter proposes the change to the Constitution that the government promised to "protect" the definition of marriage. This is what the bill's explanatory note says about the proposed Article 156 of the Constitution:
The new Article 156(1) expressly enables the Legislature to legislate for the purposes of defining, regulating, protecting, safeguarding, supporting, fostering and promoting the institution of marriage. The new Article 156(2) similarly provides that the Government and public authorities may, in the exercise of their executive authority, protect, safeguard, support, foster and promote the institution of marriage. Examples of measures that could be taken under these provisions include housing preferences and financial benefits for married persons, as well as education and media policies that promote and safeguard the institution of marriage.
While the proposed amendment doesn't write the definition of marriage as being between a man and a woman into the Constitution itself, it does protect laws that state that definition, and precludes people from launching legal challenges against such laws.
Seeing it all the legalese really does highlight just how much more lies ahead in the push for equality.
---
📢
Have you got tickets to the Transformative Justice Collective's events on the death penalty in Singapore? Come join us for mini-lectures, panel discussions, open mic performances and more!
Get your tickets here.
---
How to make sure a film gets maximum attention
The Singapore government has made Ken Kwek's latest feature film the most sought after ticket in town after they banned it from screening in Singapore on the grounds that it has "the potential to cause enmity and social division in Singapore's multi-racial and multi-religious society".
#LookAtMe premiered at the New York Asian Film Festival in July. The film's protagonist is a young man who uploads a vlog after getting pissed off by a pastor's homophobic rhetoric. The video goes viral and lands him in trouble for "wounding religious feelings". If you're a long-time follower of current affairs in Singapore, some of these references will definitely be ringing bells.
According to our paternalistic overlords, this is all too much for innocent Singaporean eyeballs. If we're exposed to this film, we might not be able to make our own judgements and end up getting violent against Christians and pastors.
Of course, what this has really done is spurred unprecedented interest in the film. Most Singaporeans probably hadn't even heard of #LookAtMe until the news of its ban came out. Now we're all going to be looking out for ways to watch it.
---
A conditional warning out of the blue 😵
On Thursday, I sent out a special issue to Milo Peng Funders about being called in to the Ang Mo Kio Police Division HQ for a Facebook post I'd published on 10 May 2022, despite not being told what the problem actually was.
I also wrote about it on social media. You can click the tweet below to open the thread, if you need background. Otherwise, read on about what happened when I went for my appointment at the police station.
Yesterday morning, three friends accompanied me to the police station at the agreed upon time to see what the whole thing was about. It turned out that there was no police investigation, because the Attorney-General's Chambers have already decided that the Facebook post I'd written on 10 May 2022 amounted to contempt of court, and directed the police to issue me a 12-month conditional warning.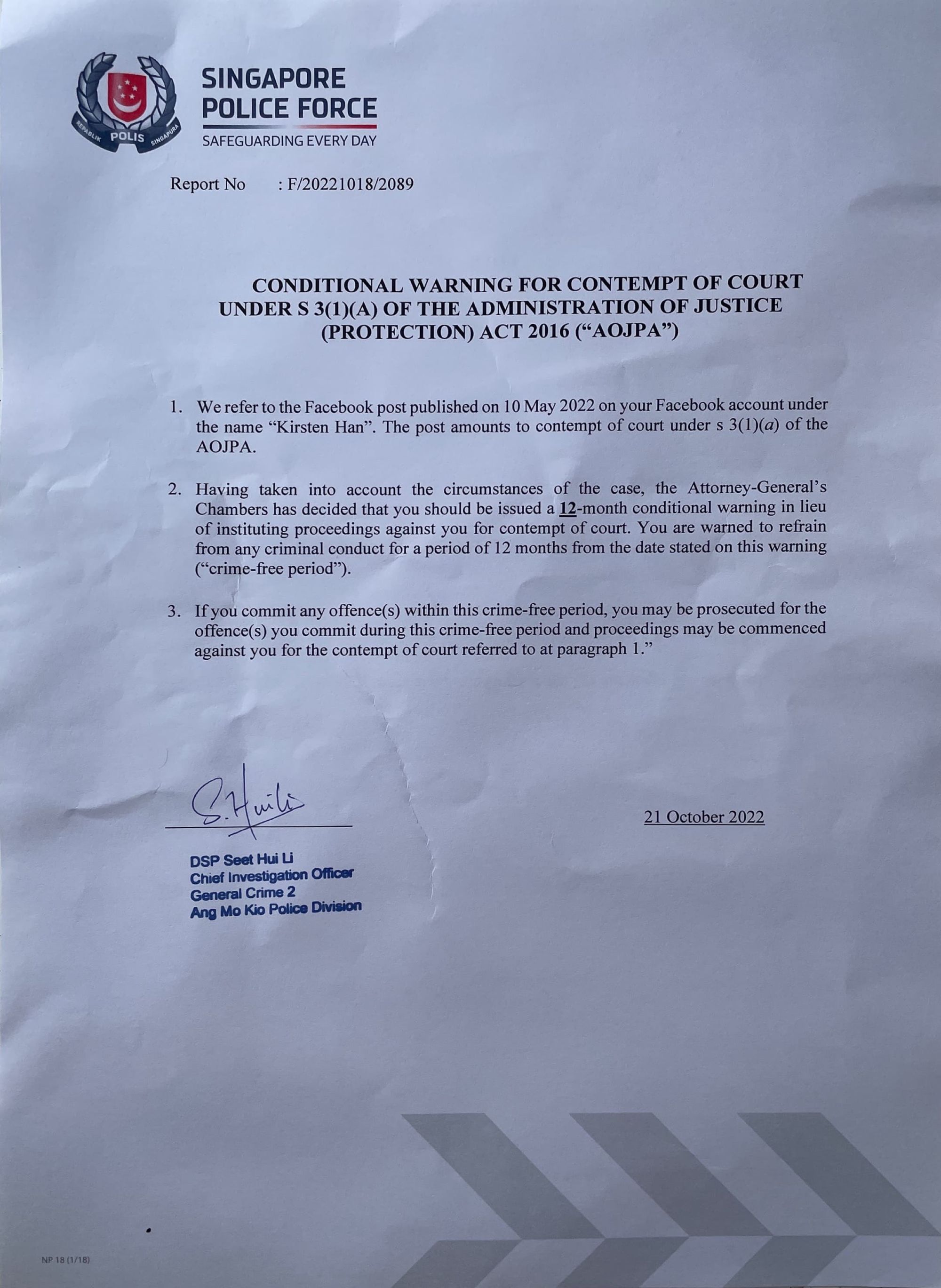 Conditional warnings technically have no real legal effect. Essentially they tell you that the prosecution has found you to have been naughty, but aren't going to charge you in court for it as long as you refrain from any further naughtiness for a stated period of time (in my case, 12 months). If you do commit an offence during that period, the AGC can choose to charge you with both offences — the one they've issued you the warning for, and the new naughty thing. It's a "we're watching, so you better be good" thing.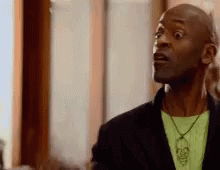 I hadn't known of a police investigation about this, nor have I been questioned about it — and the officer didn't question me yesterday — so it was a bit of a surprise to suddenly get slapped with a conditional warning. It also feels really unfair that the AGC gets to decide, just like that, that I've committed the offence of contempt of court. To make it even more frustrating, it wasn't even explained to me which bit of my Facebook post was in contempt. I asked if it was the fact that I'd shared a post written by the anti-death penalty activist and lawyer M Ravi, or if the AGC was unhappy with the comments that I'd added when I shared his post, and all the police officer could tell me was that it was my whole 10 May post that was the issue. But that still leaves me guessing which part of what I said was in contempt of court.
Personally, I feel like this is just harassment and intimidation from the AGC. I feel like they're trying to scare me into lying low for at least 12 months by waving the possibility of criminal charges in my face.
I'm not the only one enjoying fun and games with the police this week. This morning, M Ravi is getting investigated for criminal defamation and contempt of court for his Facebook posts:
---
Got some more...
🙊 POFMA orders were issued against The Online Citizen and economist Yeoh Lam Keong for their comments about how losses in HDB projects are calculated. I don't know anyone who is convinced by this POFMA order, do you?
📱 Telecommunications companies have flagged concerns about privacy and text message disruptions (paywalled) that might come with two new measures aimed at targeting scams in SMSes. The authorities are requiring telcos to scan SMSes for malicious links and suspicious phrases and block them, among other things.
👷 Nine migrant workers are being investigated for illegal assembly after they stood outside a building to protest about not being paid their salaries. Given past cases, it's likely that they might lose their jobs and be repatriated afterwards. But why should they be penalised for a nonviolent action that was only prompted by employers failing to hold up their end of the bargain to pay them?
🚛 New regulations will come in next year requiring at least 30 minutes of rest for workers who double up as drivers of lorries that transport people. They will also need "vehicle buddies" to make sure they're alert. This sort of tinkering around the edges is really frustrating when the key point is that HUMANS SHOULD NOT BE TRANSPORTED IN LORRIES LIKE CARGO.
---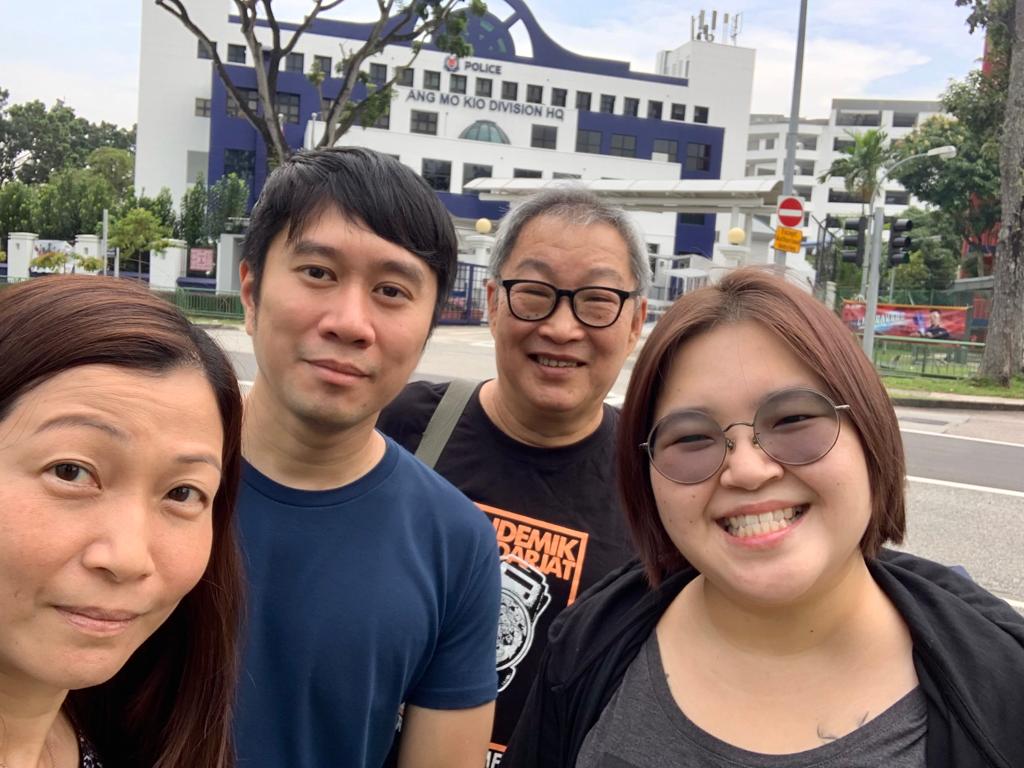 Help spread the word about this newsletter! You can share it on social media, or forward this email to people you know. 😊