Here we go again. On Tuesday morning I received a call from an investigating officer at the Ang Mo Kio Police Division asking me to present myself at the police station because of an issue pertaining to a Facebook post I published on 10 May this year (i.e. five months ago). I'm not in the habit of committing all my social media posts to memory, so I had no idea what she was referring to over the phone, but she also refused to tell me more — even when I asked what the post actually said — and just said that she would explain more in person. 😑 Anyway, long story short, I'm supposed to go to the police station next Friday morning and see what this is all about. At this stage, I have no idea if they are actually investigating me for an offence or not; when I asked if this was an actual investigation, all the officer told me was that she would explain more in person. Tsk. I've asked for a written notice, so just waiting to see if they'll send me one or not.
---
Seeking accountability from law enforcement
In June this year, Rocky Howe and I were questioned by the police about two occasions where we were outside Changi Prison: the first, when we sat with a couple of other friends on the pavement outside the prison in quiet conversation and contemplation the night before the hanging of Abdul Kahar bin Othman, the second when we posed for a photo with an "END OPPRESSION, NOT LIFE" sign by the prison entrance a couple of nights before Nagaenthran K Dharmalingam was executed. Because we'd turned up in T-shirts with anti-death penalty slogans, the police told us that our walk from the hawker centre across the street to the police station might have constituted an "illegal procession" and that they would therefore have to confiscate the T-shirts we were wearing. We found out a couple of days later via the newspapers that we hadn't committed an offence wearing those shirts to the police station after all.
Rocky has now filed a legal application asking the court to declare that the police had acted beyond their power and authority in commencing that "illegal procession" investigation on the spot and seizing his T-shirt. He has already served the papers on the Attorney-General, so we should keep our eyes peeled for what comes next. It's so rare that anyone takes action against the police like that, even though so many of us have experienced how law enforcement have wielded broad powers to harass us.
You can read the Transformative Justice Collective's statement here:
In another case highlighting the power of the state in comparison with people who encounter law enforcement, a 19-year-old boy facing a capital murder charge is now not only being kept in remand for a longer period of time, but also denied access to legal counsel. His defence lawyer had filed multiple applications to be allowed to see and advise his client. However, the prosecution argued that there is no legal requirement in Singapore for an accused person to see their lawyer and obtain legal advice before the police begin taking statements.
I know this from personal experience, as well as all the times I've waited at police stations for friends, that people are not allowed access to legal counsel while they are interrogated by the police. The last time I was questioned, the police asked for my social media passwords. When I refused to give them, I was told that an obstruction charge might apply. I asked if I could have legal advice, and was told sure, I could go and talk to a lawyer later if I wanted, which really missed the point of why I was asking for access to legal counsel. I found not having access to a lawyer during interrogation troubling in my case, but it's so much worse when it comes to a teenager facing a serious charge that could actually land him in death row. Access to a defence lawyer should be a crucial aspect of the investigation process, but it seems as if it's seen as a hindrance in Singapore. 😠
---
Rest days for domestic workers
As of January next year, domestic workers will have to be given at least one mandatory rest day a month. They're currently allowed days off, but the loophole is that employers can compensate them with money to work on that day instead. One mandatory day off a month is utterly pathetic, and really says a lot about Singapore and our treatment of migrant workers that it has taken NGOs and labour rights advocates this long to even get this much from the government.
To facilitate this transition to the mandatory monthly rest day, the Ministry of Manpower has produced a guidebook to teach employers how to treat their workers a little more like human beings with rights. The whole thing is brightly coloured, cheery, and incredibly infantilising: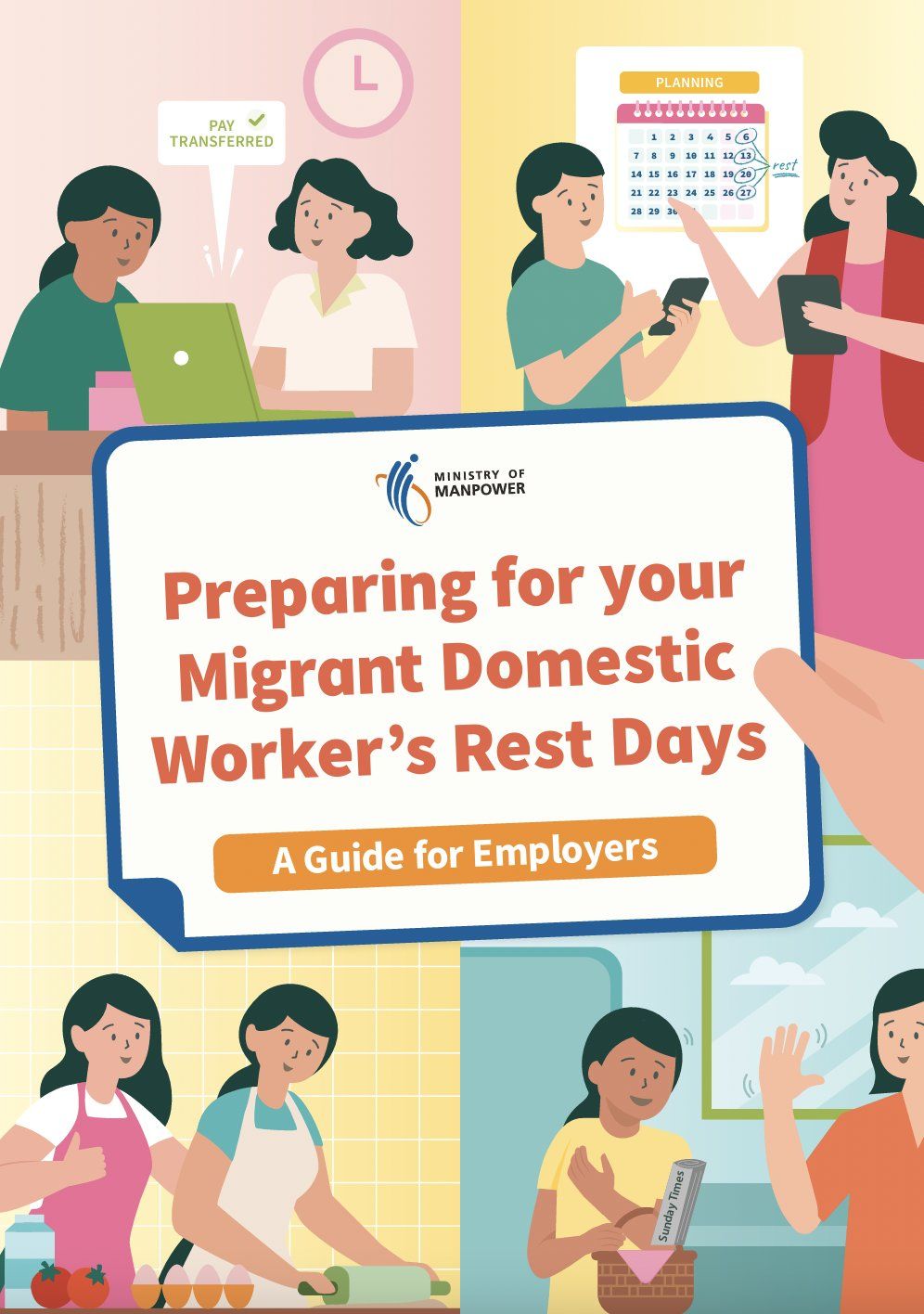 As the Humanitarian Organisation for Migration Economics (HOME) points out, there are still problems with this mandatory rest day, mainly that the government has stopped short at defining that the rest day should be a full 24 hours. In fact, the MOM guidebook includes as a "tip" that most employers give their workers a continuous break of eight hours (on top of sleep and meals). That seems to suggest that employers might be able to make workers do chores in the morning before the eight-hour block begins, or to work at night after a day out. That's not a full rest day.
*sigh* We have so much further to go.
---
Got some more…
🫣 For the first time, Singapore has convicted an OnlyFans creator for his content. Titus Low was fined $3,000 for obscene content, and was also sentenced to three weeks in prison for accessing OnlyFans during the police investigation even after they'd told him not to. Considering that OnlyFans is a paid service that people actually have to opt into viewing, this is all very overblown. And, as Project X observed when Low's case first hit the news, we don't need more policing of sex workers and adult content creators.
🤨 The Ministry of Communications and Information has issued Vogue Singapore a stern warning and shortened its permit from one year to six months. They say the magazine breached content guidelines pertaining to nudity and promoting "non-traditional families" four times over the past two years, although they haven't publicly identified the offending articles. Again, this sort of moral policing is really annoying: Vogue Singapore isn't a public broadcaster that's easily accessible by children, it's a fashion magazine that you actually have to go out and subscribe to and buy. (And, given the dwindling number of magazine stands around Singapore, I feel like this is getting more difficult to do.) There has been some speculation among my social circle that Vogue Singapore might also be getting this unwanted attention because of its willingness to feature activists and be more progressive than the average fashion magazine in Singapore, but there's no confirmation of this and we're unlikely to get any, so we'll just have to nurse our suspicions.
👩🏻‍🤝‍👩🏽 Our national carrier Singapore Airlines has finally decided in Twenty Twenty-Two that it will be less sexist and shitty towards women by allowing female flight attendants to apply for temporary ground crew work while pregnant and go back to flying after their maternity leave. Before this policy change, women would be put on no-pay leave upon getting pregnant, and forced out of the company after giving birth. Even now, there are other details that need answers: as AWARE asked, will there be requirements that might still discriminate against new mothers, such as demanding that they lose their pregnancy weight? SIA's answer — "We maintain the same grooming standards for all cabin crew" — suggests the answer is yes.
---
✊🏼
The Transformative Justice Collective has launched the #StopTheKilling campaign calling for an immediate moratorium on executions pending an independent and transparent review of the death penalty regime. Check out
stopthekilling.sg
for more information on how you can be a part of this.
There's also a series of events on the death penalty over the next month, you should
get your tickets here
!
---
Checking in on the neighbours
🇲🇾 Parliament has been dissolved in Malaysia. The Election Commission will meet on 20 October to decide on the date of the general election. Najib will not be let out of prison to campaign. (Personally I find it wild that this is even a question that had to be asked and answered.)
🇹🇼 What should Southeast Asian states do if there's trouble between China and the US over Taiwan? Here's a discussion hosted by the Lee Kuan Yew School of Public Policy:
---
Thank you for reading this week! As always, please help me spread the word about this newsletter by sharing it widely.