Branson rejects debate challenge, swimmers get fined for weed consumption
This week: Richard Branson refuses to take the bait and debate Shanmugam, national swimmers get slapped with fines for smoking weed abroad, and the risks of delivery riders working long hours to earn more.
Happy weekend! I spent the first half of this past week in Chiang Mai, my first time there since the pandemic. I was attending Splice Beta, a festival for media start-ups and my all-time favourite media community. As I mentioned in an email to Milo Peng Funders, a Splice event is pretty much the only time an introvert like me voluntarily does this scary thing called "networking". I also sang karaoke. And I talked about y'all — the We, The Citizens community — a lot!
---
Branson doesn't take the bait
Richard Branson has responded to Law and Home Affairs Minister K Shanmugam's challenge to a live televised debate. This is what he said:
"I have decided to decline this invitation. Here is why: a television debate — limited in time and scope, always at risk of prioritising personalities over issues — cannot do the complexity of the death penalty any service. It reduces nuanced discourse to soundbites, turns serious debate into spectacle. I can't imagine that is what you are looking for. What Singapore really needs is a constructive, lasting dialogue involving multiple stakeholders, and a true commitment to transparency and evidence.

The other reason is that this conversation needs local voices. I am a global advocate for abolition of the death penalty, and I will continue to raise the issue wherever I can, as I have for many years. But in this advocacy, we stand on the shoulders of giants. In Singapore's case, we have been inspired by several people and organisations — advocates, lawyers, journalists — with experience, knowledge and data. The brave thing for you would be to actively engage those Singaporean stakeholders, from Transformative Justice Collective to Mr M Ravi, Nagaenthran Dharmalingam's courageous lawyer, and regional voices, such as the Anti-Death Penalty Asia Network, and treat them as equals who are just as interested in Singapore's progress as I'm sure you are. They deserve to be listened to, not ignored, or worse yet, harassed."
The Anti-Death Penalty Asia Network also issued a statement calling for meaningful engagement, pointing to errors within the Ministry of Home Affairs statement that had contained the challenge to Branson.
Branson's answer did not please Adrian Tan, the president of the Law Society. Tan claimed that Branson's concerns that a TV debate would be "limited in time and scope" was a "feeble excuse", asserting that Branson would have got as much time as he wanted. I wonder how Tan can make that claim, when the Ministry of Home Affairs had only issued the challenge but not any details about the format and scope of the debate. Does he have access to information or a decision-making process that the rest of us don't? It seems a little too easy to throw out something like this in a rebuttal, especially since the debate is now not going to happen and there's no way to verify this claim. And, for the record, there is no amount of time Branson could have possibly asked for that would have been enough, because the death penalty is an issue that fundamentally requires much more deliberation than a single TV debate (no matter how long it is), with participation from a much broader range of people and communities.
This debate hullabaloo has always been about political theatre and manufactured outrage. If the government was really sincere about engaging on the death penalty, they could pay more attention to Singaporeans who have been vocal on the issue, and heed the calls of the #StopTheKilling campaign. Similarly, if the president of the Law Society would like to pay more attention to death penalty-related issues, perhaps he could come out stronger on the issue of access to legal counsel, the provision of procedural accommodations for persons with psychosocial disabilities, and how the Certificate of Cooperation is a form of inducement that gets people to give statements to the police that might incriminate themselves, before they have access to legal advice.
Separately, there's some good news, at least: Punithan Genasan, who had been sentenced to death via Zoom in the early period of the pandemic, has been acquitted. New evidence submitted by his defence lawyers convinced the Court of Appeal that the prosecution had not proved their case beyond a reasonable doubt.
---
Swimmers get fined for smoking weed
The Singapore National Olympic Council (SNOC) has imposed fines on three swimmers for consuming cannabis while out of the country. Joseph Schooling has been fined $10,000 alongside a conditional warning that says he'll be disbarred from major games for two years if he breaches any SNOC rules again. Teong Tzen Wei was fined $3,200, and Amanda Lim fined $2,800. The money from the fines will go to the Singapore Olympic Foundation, a charity that supports the development of sports in the country. The prize money that they were due for their various achievements at the SEA Games have been released to them.
This will hopefully be the last we hear of this brouhaha, and I hope the swimmers can move on with their lives the best they can. Being in Thailand over the past week, it's so weird to see the contrast: just within the little neighbourhood of Chiang Mai that I was in, there were cannabis cafes and products all over the place. Some of them were really atas and hipster, and a friend showed me a photo of a scented candle that looked so pretty she was almost tempted to buy it, only to realise in the nick of time that it was a cannabis candle.
For the record I would like to say that I didn't touch even the edge of a leaf of a cannabis plant. I was imagining the absolute bad-faith field day Shanmugam and the Ministry of Home Affairs would have had if I'd been caught consuming cannabis abroad. In fact, I only had one beer throughout my entire time in Thailand. I was sober AF even while yelling Don't Stop Believin' into a mic during the karaoke party so there was really no excuse for how badly I sang.
---
Support food delivery riders
A survey done by the Institute of Policy Studies has found that fewer than 4% of the riders surveyed earn more than $5,000 a month. The largest proportion, 33.9%, earn between $1,000 and $1,999. 23.6% earn less than $1,000 a month.
Unsurprisingly, the workers who earn more work longer hours each day — those who reported earning more than $5,000 a month tend to work about 10–12 hours a day. They were also more likely to get into accidents that are serious enough to require medical attention, likely because they're tired and overworked.
When asked if they would prefer that the food delivery companies provide more protections (like insurance coverage) with lower payments, or fewer protections with higher payments, more workers still chose higher payments.
---
🎂
I love November because it's my birthday month. 🥳 So I've decided to offer some discounts this month! Again, Ghost doesn't let me generate a discount code, so you'll have to click the button for the category that you want below.
---
Checking in on the neighbours
Since I spent this week hanging out with amazing peers from all over the world, I'm going to dedicate this week's regional section to highlighting some (I can't fit them all!) of the great outlets and newsletters that were represented at Splice Beta.
🌏 I co-presented a session with Nithin Coca on freelancing on the first day of Splice Beta. Nithin runs Asia Undercovered, a newsletter which zeros in on issues and events that deserve much more attention than they're getting from the international press. Subscribe to Asia Undercovered here to find out what you might be missing elsewhere.
🌏 I've followed and chatted to Erin Cook on Twitter for years but this trip to Chiang Mai was the first time we actually met! Erin runs Dari Mulut Ke Mulut, which is the newsletter you need to keep abreast of what's going on in Southeast Asia. As someone who gets stuck in the Singapore rabbit hole a little too often, I use Erin's newsletter as a reminder to widen my gaze. Subscribe, subscribe!
🌏 Here's some Singapore pride for the Kontinenalist, a locally based outlet that covers Asia through data journalism. Their stories are gorgeous and informative. Must support.
🇰🇭 I feel like Darathtey and I have a lot of the same energy: we both have book projects that feel like they are never going to end because we're doing so much at the same time. Sometimes we get all social-ed out and just want to sit in a corner and space out, but then we have newsletters to write. In any case, Darathtey's newsletter Cappuccino is a fantastic way to keep up with what's going on in Cambodia. Subscribe here.
🇲🇾 The Malaysian general election is coming so you're going to need Between The Lines to keep you in the know. I met Darshini from the BTL team for the first time at Splice Beta too. Sign up here so you can talk to your friends about Malaysian politics and sound damn smart.
🇲🇲 Frontier Myanmar is doing absolutely stellar work in extremely challenging conditions. Many of their team have had to leave Myanmar since the coup, but that's not stopping them from producing independent journalism. Become a member of Frontier right now.
---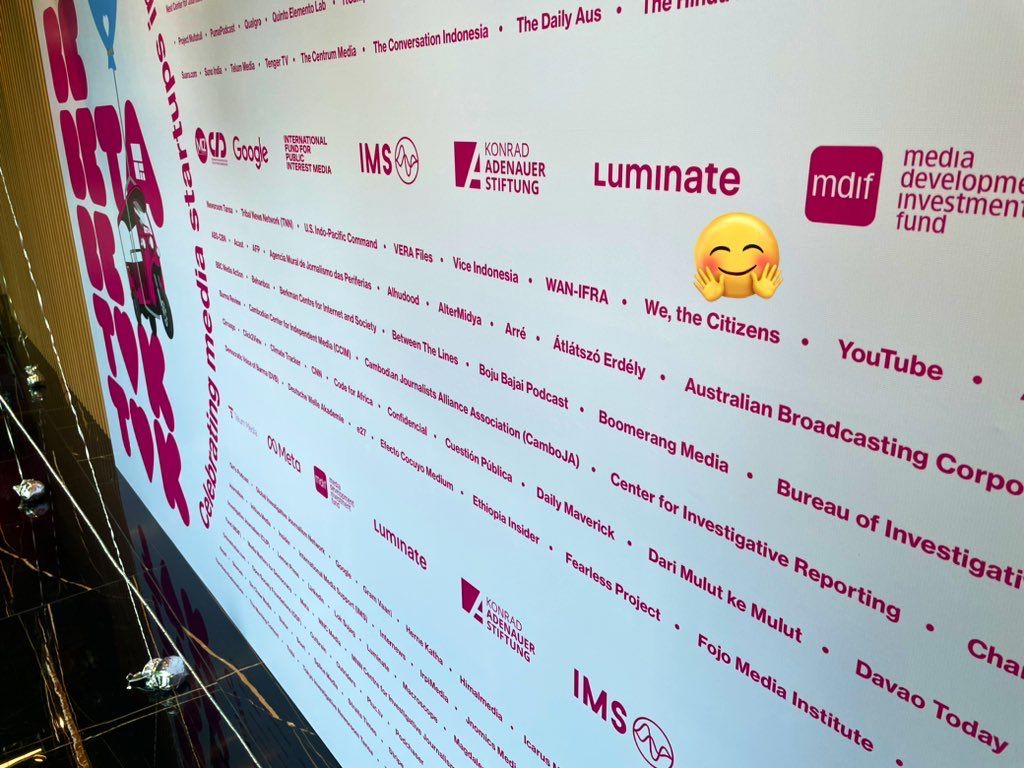 Thank you for reading this week! As always, please help me spread the word about this newsletter by sharing it widely. And if you have any feedback, questions, or comments, hit reply to write to me!
We, The Citizens Newsletter
Join the newsletter to receive the latest updates in your inbox.