Apologies for sending this week's wrap late! I was on the go all of yesterday and didn't get a moment to sit and write it.
---
More "GE is coming" vibes
Last weekend I wrote a special issue about the formation of The Coalition (this was only emailed out to Milo Peng Funders, but there's no paywall to read it in your browser for now) and how increased talk about opposition coalition tends to add to "GE is coming" vibes. We've got more now: the People's Action Party and Workers' Party are introducing some new faces who might contest the next election.
Rumblings about the PAP transition continue. The party convention usually takes place in November—will Lee Hsien Loong finally announce that he's stepping back to let Lawrence Wong lead the party into the next general election, or will Wong continue to play second fiddle until after the GE (and what would that say about the PAP's confidence in his popularity with the electorate)?
There's been some spotlight cast on Wong because of the culmination of the Forward Singapore exercise. The full report is out, but it doesn't really say anything particularly new, to be honest. There's a lot around the motherhood statements that we've heard before: I mean, is a report ever going to say that we're not going to be supporting Singaporean families, respecting our elders or working together to be "one united people" in a country where everyone can thrive? It's already been pointed out how similar Forward Singapore sounds to the conclusions of Our Singapore Conversation after the 2011 general election.
I don't put much stock in these big "national conversations". We've had so many, and they tend to make the same big declarations about working towards a better life for all Singaporeans together, because we have a together Singapore plan. The process is, as Garry Rodan puts it, "participation without democracy".
What I'm much more interested in is how we handle conversations and criticism that take place outside of the boundaries set by the ruling party. How did the government react to the Minimum Income Standards report? What was their reaction when Singaporeans wanted to hold a peace rally at Hong Lim Park calling for a ceasefire in Gaza? How do they respond to civil society organisations calling for substantial changes that touch on issues they aren't so comfortable in addressing? Basically, what happens when things aren't happening on the PAP's terms? This tells us much more about Singapore and how the government sees the "social compact" than any government-curated "national conversation".
---
Misinformation on Israel, Hamas and Gaza
At this point I don't think it should surprise anyone that there's a ton of misinformation/disinformation about what's happening between Israel, Hamas and Gaza on social media. CNA took a look at inaccurate, distorted or blatantly fabricated content on TikTok, now a popular go-to source of information for many people.
This, of course, brings us back to the same old conversation about the responsibility of tech companies, information operations (domestic or foreign) and what should be done about it. As usual, there is no easy answer. As usual, laws like POFMA and FICA might turn out to have very little utility here, and could potentially even feed further into conspiracy theories and fuel more anger and frustration. It's a tough nut to crack, but it's clear that media literacy and emotional maturity (to deal with conflicting positions and to be able to reflect without immediately getting defensive) are crucial here. I also don't think it's helpful or fair to act as if it's Muslims, and only Muslims, who might get upset or overreact to what's going on with Israel and Palestine.
---
Okay, but that's not the point...
From the beginning of next year, more lorries will have speed limiters installed to make sure they don't go faster than 60km/h. This is supposedly to improve safety for migrant workers being ferried around Singapore by lorries not actually made for transporting humans.
Again, we're seeing tweaks rather than acknowledgement of the fundamental fact that, regardless of speed limiters, only migrant workers are transported in this way in our country. We deem it unacceptable for anyone else. It is clear discrimination, and the rhetoric from the government and businesses make it clear that they're looking at it from a dollars-and-cents perspective where the humanity and dignity of migrant workers are treated as subordinate considerations. The government, who present themselves as leading Singapore from the front and also collect large sums of levies from employers, has the responsibility to do much better.
---
Got some more...
📣 Elbegdorj Tsakhia, the former president of Mongolia, wrote an op-ed about how death penalty abolition is not a Western imposition upon Asian countries. He should know: he successfully pushed for an end to capital punishment in his country.
👾 Distributed denial-of-service (DDoS) attacks were behind the recent disruptions to Singapore's public healthcare institution websites. So far Synapxe, who provides services for the operations of many public healthcare institutions, says there's been "no compromise" to healthcare data.
---
On my radar...
I've marked my calendar for the Ethos Books Festive Market in December!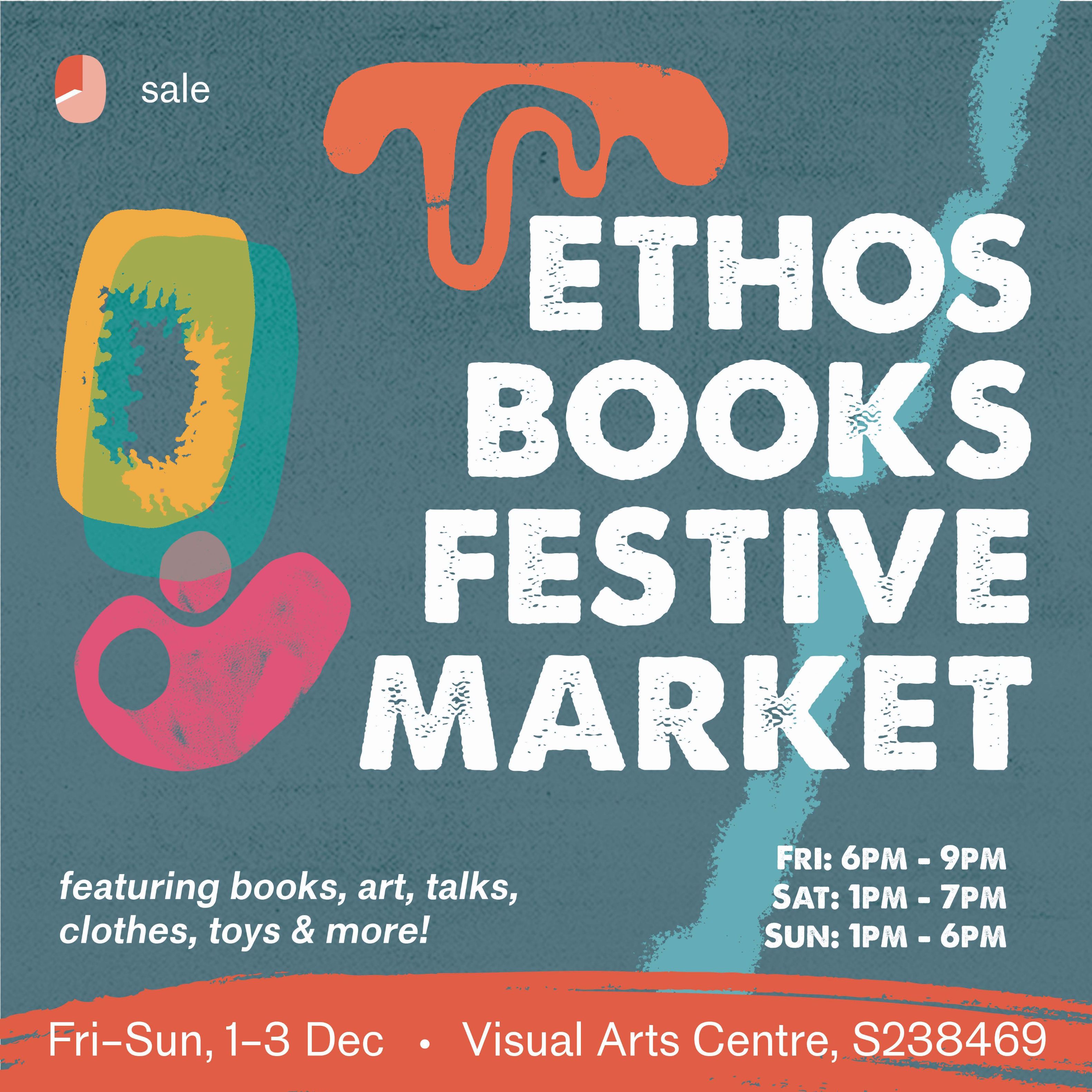 ---