I was walking on the street in the blistering heat yesterday afternoon and it was such a relief to be able to take off my mask! 🥵 I've missed the feeling of the breeze on my face — not that there's been much of one these days.
---
Rest In Peace, Abdul Kahar
Early in the morning on 30 March, as Singaporeans began to stir and get ready for another day of school or work, Abdul Kahar bin Othman was hanged in Changi Prison.
Over the past week, I sent out a special issue telling Kahar's story. He'd spent more of his life behind bars than as a free man, and struggled with an addiction to heroin for many years of his life. His brother, Mutalib, said that Kahar had struggled whenever he was released from prison. In 2005, after 10 years in preventive detention, Kahar had been "like a baby", lost and disoriented by the fast-changing Singaporean cityscape, and even had to be reminded to sit on chairs instead of squatting on the floor, because he'd lived so many years in a cell without furniture.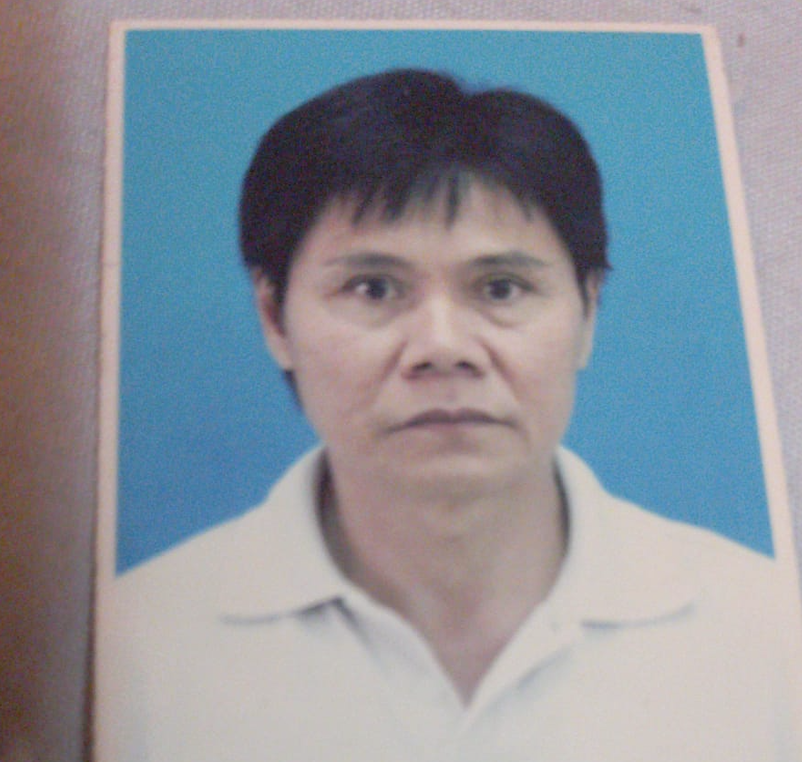 In a piece for The News Lens International, I argued that the execution of Kahar was the taking of inequality and injustice to an extreme conclusion. Kahar's childhood had been marked by poverty and hunger, and he'd not received the treatment and support he needed to deal with his addiction and to rebuild his life. Instead, incarceration left him alienated from society and stressed out, with his opportunities and options further restricted. Kahar was someone who needed m0re help, not condemnation, punishment, and neglect. But now he's gone.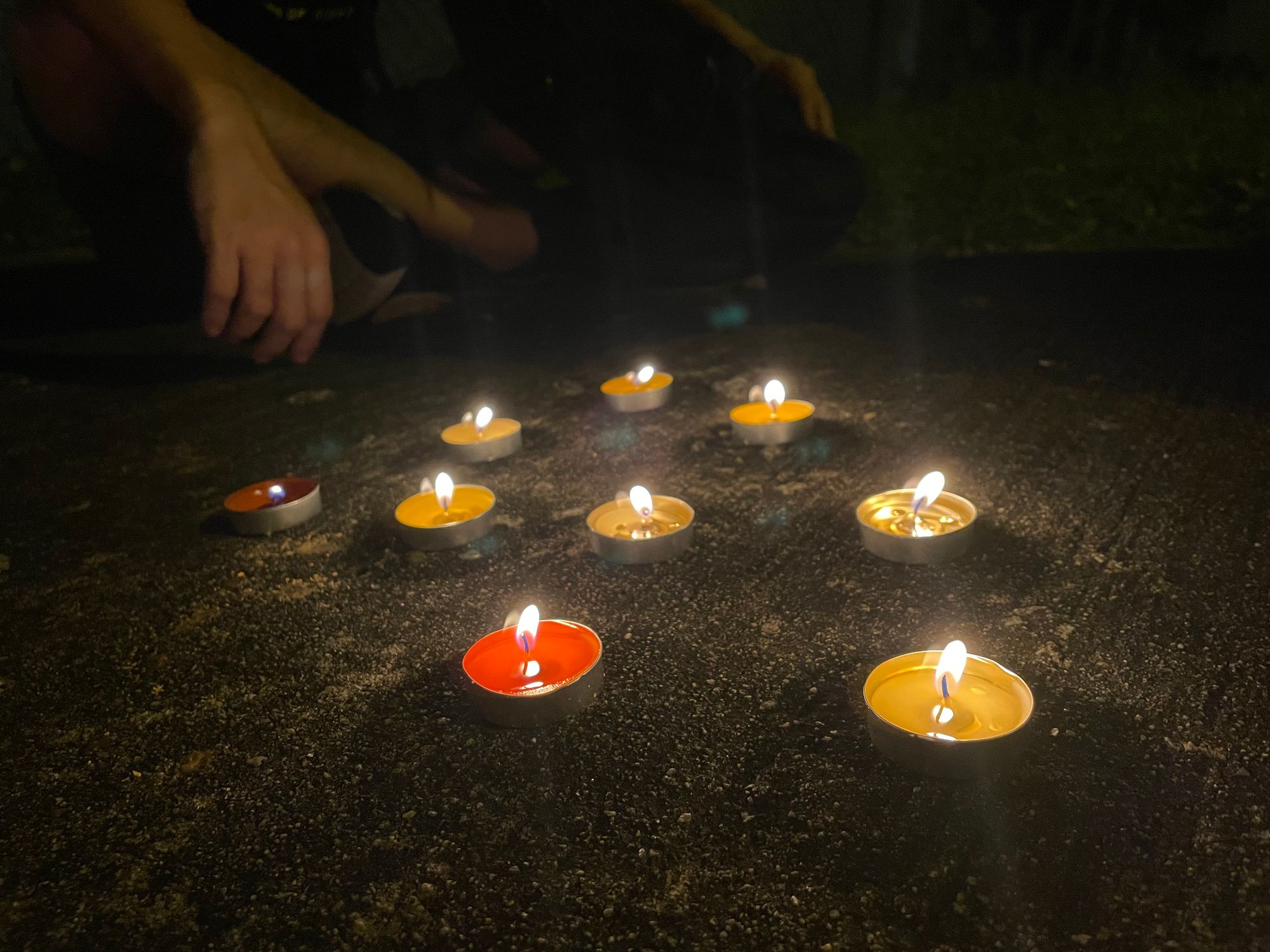 Late at night on 29 March, a few friends and I got together outside Changi Prison and lit aromatherapy tea lights on the pavement. We sat in a little circle and chatted, keeping one another company so we wouldn't have to process the knowledge of a looming execution alone. After 40 minutes, firefighters showed up in their gear; someone had apparently made a report saying that there were people lighting fires, and they seemed to have got an impression that people were setting fire to the prison fence...? But before the firefighters got to say more to us, they were called over by some plainclothes police officers. I don't know what was said, but the firefighters left.
We blew out the candles and were about to leave when the plainclothes police stopped us, demanding to know what we were doing. They took down our particulars, but let us leave. I'm guessing they might call us up for questioning later.
---
The fight for Nagen continues
Kahar's execution isn't the only bad death penalty-related news we got this week. On Tuesday, the day before Kahar's life was ended, the Court of Appeal dismissed both of Nagaenthran K Dharmalingam's appeals.
One of those appeals had to do with a request for the court to order that Nagen be assessed by an independent panel of psychiatrists. However, the court said that there was "no admissible evidence" demonstrating that Nagen's mental condition has declined: they dismissed lawyer M Ravi's affidavit, saying that Ravi had no expertise and that, in any case, he was an interested party. The affidavit of Nagen's younger brother Navin was similarly rejected as not being a qualified assessment and that Navin was even more of an interested party. However, the court accepted the deposition of the prison officer in charge of observing Nagaenthran, saying there was "no reason to disbelieve" him because he has no reason to want to see him executed. I was really struck by this: we might not know what the prison officer's personal views on the death penalty are, but this guy works for the prison, the very institution that issued the execution notice and is going to carry out the execution!
The court also made some comments on international law, saying that "treaty obligations are not self-executing under our legal system". This is because arguments had been made by Nagen's counsel that international standards prohibit the execution of persons with intellectual disabilities. The court said that even if Singapore had treaty obligations, "neither customary international law nor treaty law can trump an inconsistent domestic law that is clear and unambiguous in its terms" — since the Misuse of Drugs Act is clear about how the mandatory death penalty must be imposed unless certain narrow criteria are met, "it is not open to the court to imply or create new carve-outs."
On top of all this, the court also had strong words for Nagen's legal counsel, accusing them of "a blatant and egregious abuse of the court processes" in attempts to delay Nagen's execution. The court said that the "proper recourse is to seek legislative change" rather than bringing such applications. Leave was given for the prosecution to file submissions on the issue of cost orders to be issued against Nagen's lawyer.
I was in court that morning and, while not unexpected, it was tremendously disappointing to hear all this. I'm someone who has been seeking legislative change for over a decade, and while it's easy for the Court of Appeal to pontificate about how that's the "proper recourse", my experience has shown how the odds are stacked against us. While government rhetoric about the death penalty gets coverage in the traditional mainstream media, abolitionist perspectives tend not to get space. If you look at The Straits Times or TODAY, you wouldn't even hear of Kahar's death — there was no coverage of it in either of those outlets that I could see. This is not an open, democratic playing field. It is immensely frustrating to have to struggle against these barriers in the public sphere, then watch lawyers get berated by the court for trying whatever they can to save a life.
The Court of Appeal's verdict on Tuesday means the end of legal avenues for Nagen, but the #SaveNagaenthran campaign continues. Rice Media did this interview with Sarmila, Nagen's older sister, who has worked tirelessly from her home in Ipoh to save him. "I've just been constantly thinking about him. He's always on my mind. I'm recording his voice and listening to it every night," she said. Please read it and share it widely.
There'll also be a protest against the death penalty at Hong Lim Park tomorrow from 5pm. I'll be one of the speakers. Please come and join us.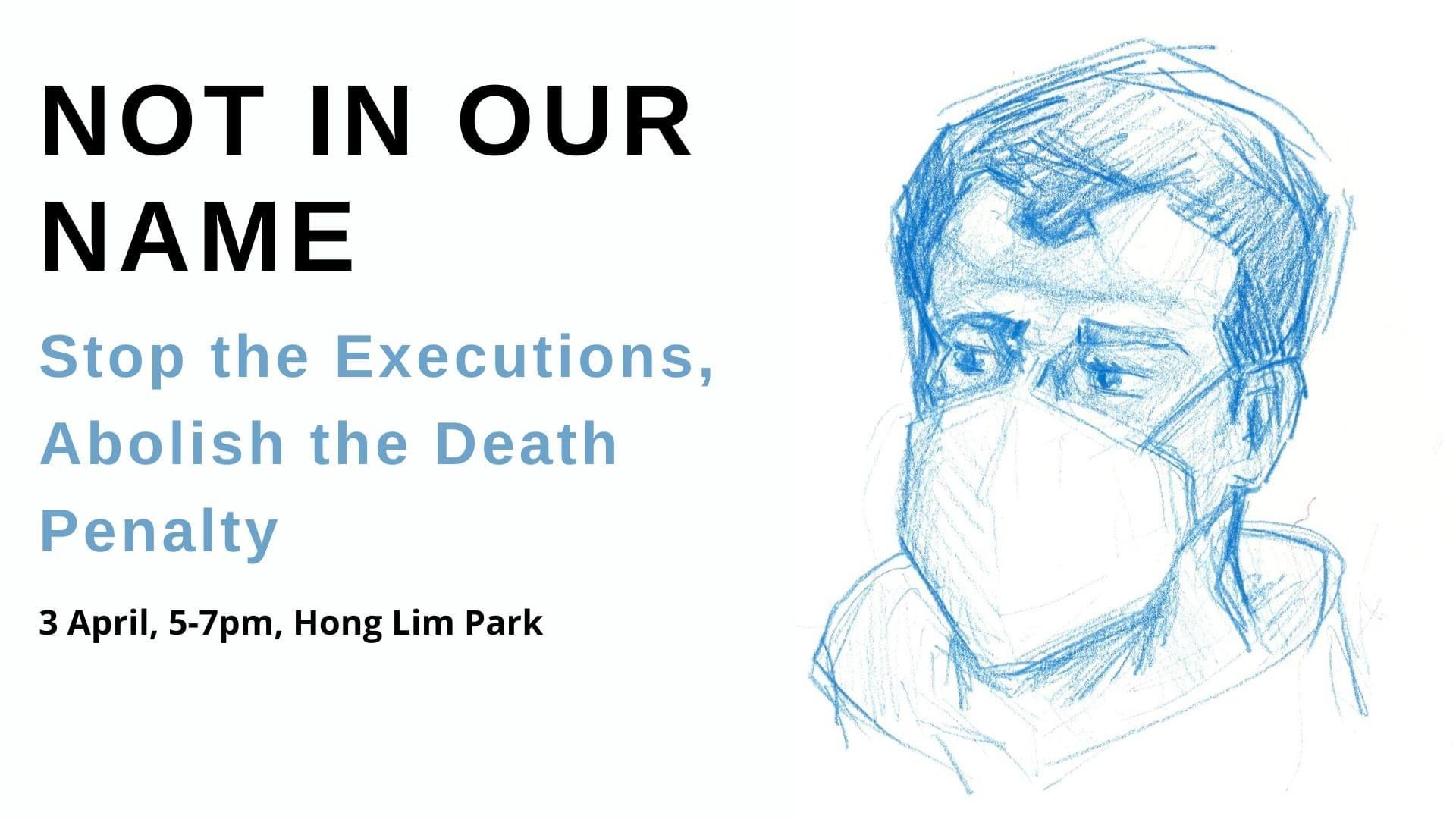 ---
Ridiculous: Untold Tales of Singapore
On Wednesday evening, Function 8 launched their new book Ridiculous: Untold Tales of Singapore. As part of the launch, lawyer Jeannette Chong-Aruldoss moderated a discussion with myself, actor Lim Kay Siu, SDP leader Dr Chee Soon Juan, and playwright Alfian Sa'at. We had a great conversation about authoritarianism, civil society and the arts, democracy, organising, and more besides. If you missed it, you can catch up here:
The book is also now on sale! If you would like to get a copy, here are details: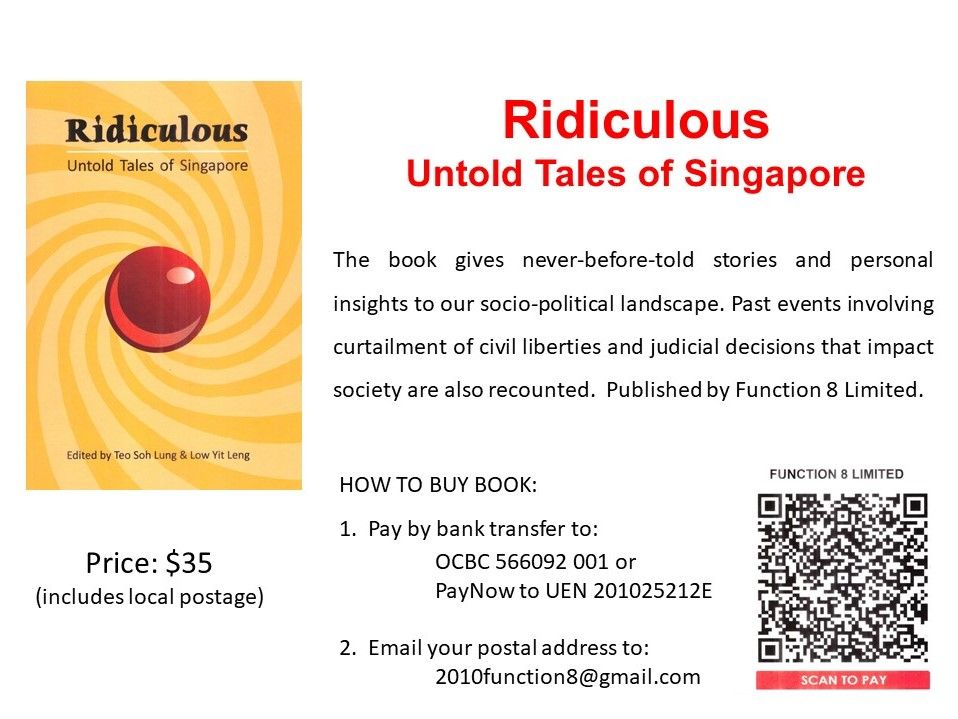 ---
💡
Last week, after I said that only migrant workers and prisoners are locked up under strict Covid regulations, a reader of the newsletter reached out to remind me of the plight of residents in nursing homes who also have been isolated for a long time. While in-person visits can resume on 4 April, it's been a difficult time for staff and residents alike. It prompted me to look into writing something about what people in nursing homes, and their families, have experienced. Do you have a loved one in a nursing home? Do you work in one? I'd like to get in touch, if that's okay! You can respond by replying to this email, or using the contact form on my website at kirstenhan.com.
---
Got some more
🧑🏻‍💻 Even though Wake Up, Singapore had already corrected and apologised for inadvertently published a false story of a woman who'd claimed to have miscarried after being made to wait hours for medical attention at KKH, they were still issued a POFMA correction direction. KKH had also filed a police report over the claim. Separately, for the first time, the POFMA Office issued a conditional warning to a woman who had published a falsehood about a child dying of Covid at KKH. I hadn't even realised that the POFMA Office had the power to issue conditional warnings.
👩🏻‍💼 A White Paper on Women's Development has proposed 25 action plans, to be implemented over the next decade, ranging from equal opportunities in the workplace to protection against violence and other measures that will improve support for women.
👨🏻‍💼 The PAP has introduced "new faces" to their Sengkang GRC team: NUS Associate Professor Elmie Nekmat, Burpple's chief strategy officer Theodora Lai, and lawyer Ling Weihong. Dr Lam Pin Min is the only one left from the old team. The fact that there's no minister in this group has been interpreted by some as evidence that the PAP Sengkang GRC team are nothing more than a "suicide squad" sent to go up against the WP's team of He Ting Ru, Jamus Lim, Louis Chua, and whoever will replace Raeesah Khan in the next election.
---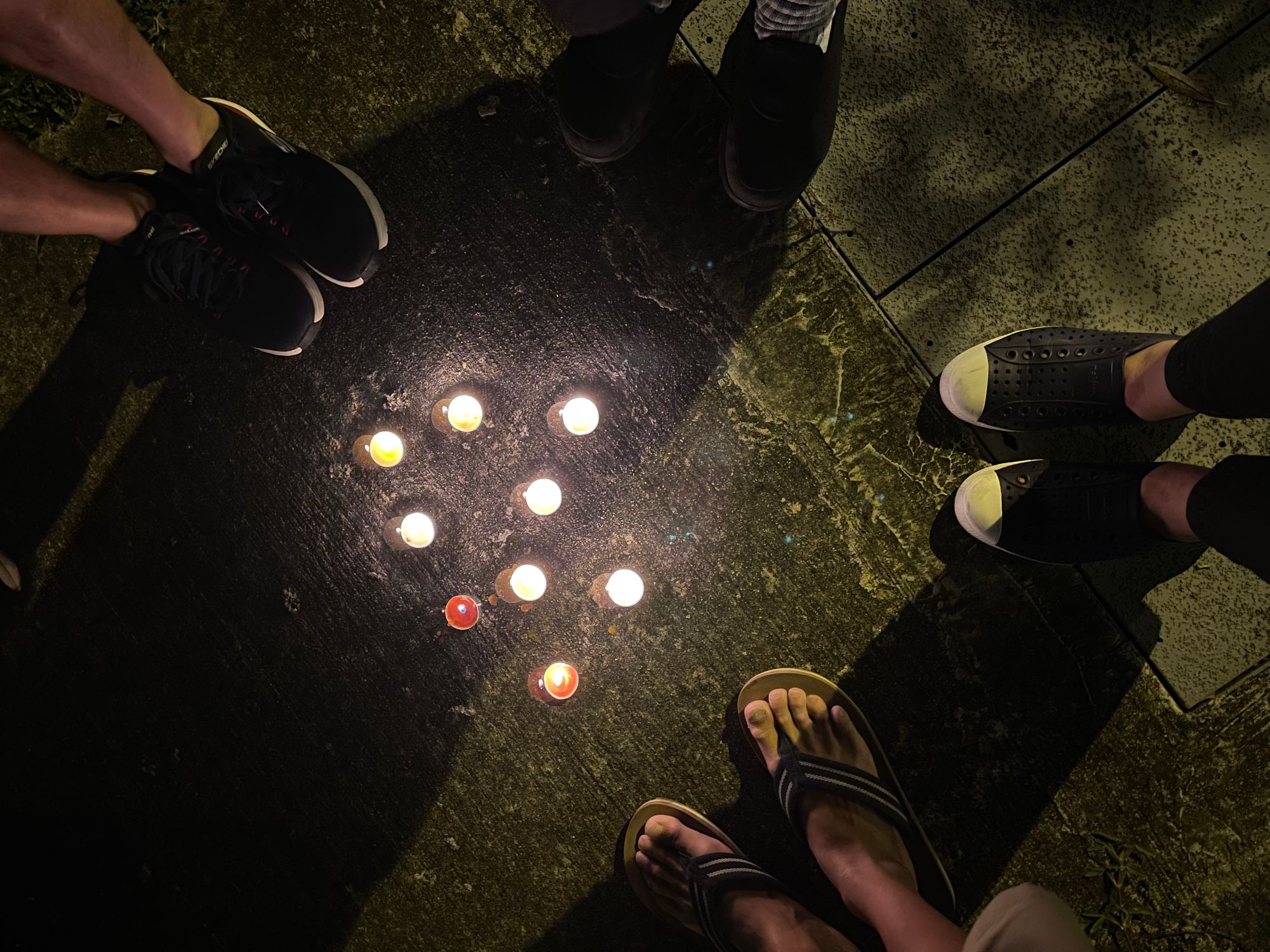 Thank you for sticking with me for yet another week of news from Singapore! Spread the word about this newsletter by forwarding it to your friends and family.