On 23 February I sent out a special issue on access to justice of persons with disabilities, focusing specifically on procedural accommodations. Mad in Mexico has now published a Spanish translation of the piece.
---
🇸🇬 and 🇺🇦
Singapore's sanctions against Russia include barring local financial institutions from transactions with Russia's central bank and four others. It also covers cryptocurrencies, and a ban on export products that could be used against Ukrainians in the war. Meanwhile, the Singapore Red Cross says that the latest tranche of aid they sent to help the Ukrainian refugee crisis is valued at $2.4 million. It's going to the Red Cross' partners in countries like Poland, Hungary and Slovakia (and Ukraine, of course) working with affected communities.
Still, Singapore's support doesn't extend to approval of people in Singapore enlisting to fight in Ukraine. The Ministry of Home Affairs has sent out a reminder that it's a criminal offence for anyone in Singapore to wage war with a government that Singapore isn't at war with — this also extends to Singaporeans abroad.
In a sickening development none of us needed, former Minister for Foreign Affairs George Yeo is now sharing disinformation. He shared a Tucker Carlson video in which Carlson is parroting the conspiracy theory pushed by Russia and China that there are secret US-run biolabs in Ukraine. This claim has not only already been debunked, it's also dangerous to amplify but it's yet one more narrative to justify Putin's act of aggression, and there are fears that it could also provide cover for Putin to deploy bioweapons. It's also bad that George Yeo is sharing it, because he still commands a lot of respect and trust from Singaporeans.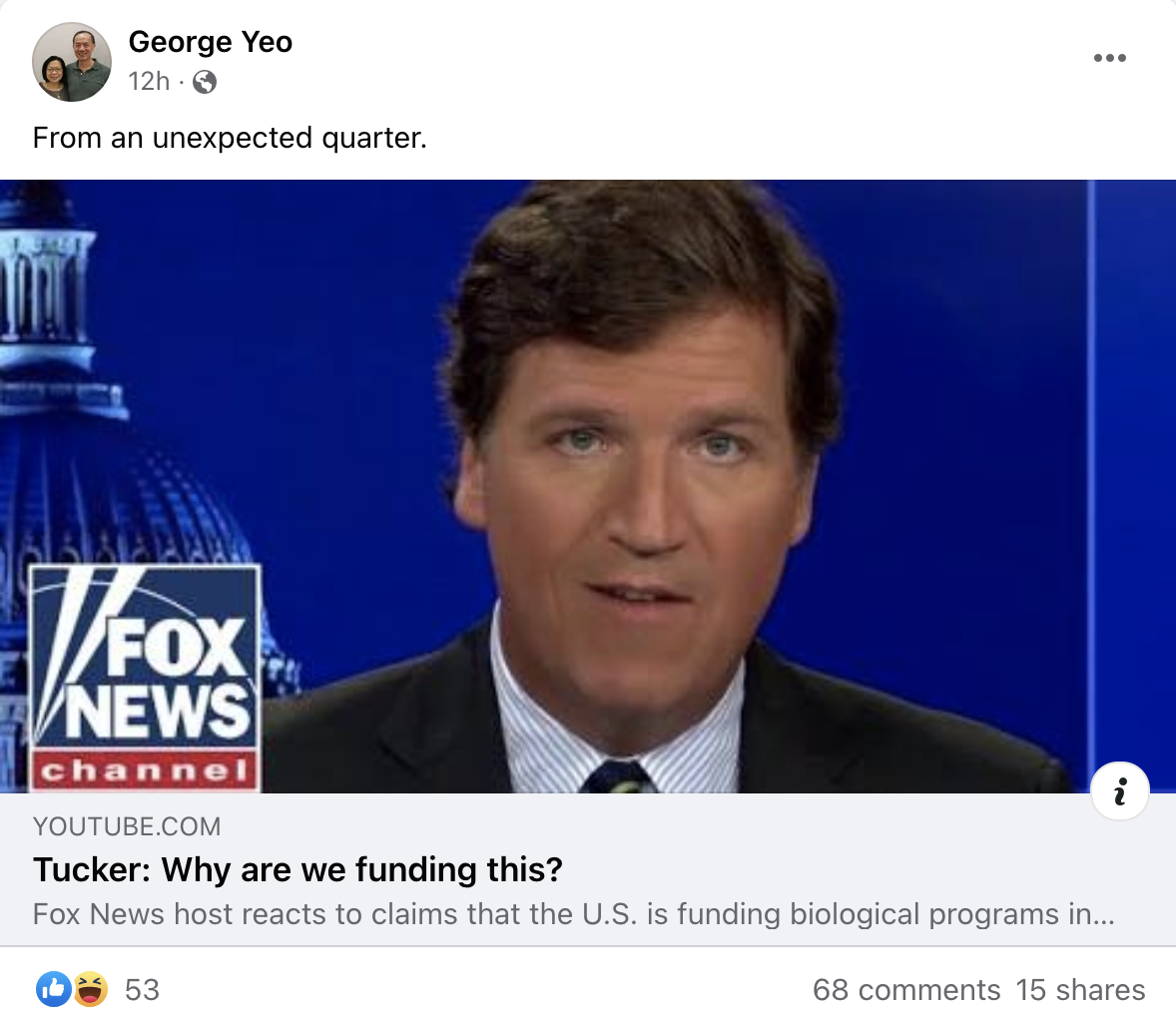 AAAAAAARRRRRRGHHHHHHH. Is the government going to POFMA George Yeo? Would that even achieve anything?
---
The real cancel culture in Singapore
Here we go again. The familiar narrative cycle of Censorship, Plausible Deniability, and Gaslighting.
Veteran activist and feminist Constance Singam is launching an expanded version of her memoirs, Where I Was: A Memoir About Forgetting and Remembering, this month. It was originally meant to be held at The Arts House, as part of the Singapore Literature Book Bazaar. According to the publisher Ethos Books, the National Arts Council asked to review the manuscript of the book on 25 February, and on 2 March the bazaar organisers told Ethos that they would not be able to host the launch of Connie's book. "Later, we understood that this was because the book contents did not comply with funding guidelines of NAC nor the Arts House," Ethos said in their Facebook post. In a response to a question in the comments, they said they were not told which part of the book contravened funding guidelines.
The National Arts Council has now come out to claim that it has no issue with Connie's book, pointing to how the first edition of the book was published in 2013 with no problems, and is even available in public libraries. They even say that they tried to be helpful to Ethos. "When NAC was informed that it was not possible to hold the launch event at The Arts House, NAC reached out to the publisher to offer support in finding an alternative location," a spokesperson said.
This doesn't explain much. Who informed the National Arts Council that it was not possible to hold the launch at The Arts House? It's worth noting that The Arts House is managed by The Arts House Limited, a public company under the National Arts Council. So who was calling the shots and making the decision about withdrawing the venue two-and-a-half weeks before the scheduled launch? What was the reason given to the NAC — if they were indeed just being informed, and not involved in the decision-making process — for cancelling the launch at The Arts House? As a body ostensibly meant to nurture the arts and support artists, did the National Arts Council not see a problem with suddenly pulling the rug out from under a writer and publisher like that?
In any case, it's part of NAC's funding guidelines that they will not fund work that "undermine[s] the authority or legitimacy of the government and public institutions, or threaten the nation's security or stability." This was broad enough for them to withdraw the publishing grant of Sonny Liew's brilliant graphic novel The Art of Charlie Chan Hock Chye. Singaporeans should be asking whose interest this rule serves — the public, or the ruling party?
And it isn't as if the cancellation of Connie's book launch at The Arts House is an isolated incident. Jolene Tan says The Arts House had also withdrew from hosting the launch of her novel (which I recommend!) last year:
---
A look into prisons
We got some hard-to-come-by information about prisons this past week, thanks to questions asked by Workers' Party MP Leon Perera.
People in prison aren't allowed to do vigorous exercise in their cells — they can only stretch. Minister of State for Home Affairs Muhammad Faishal Ibrahim used the example of shadow boxing, saying that this isn't allowed because people might actually be secretly learning how to fight. 😐 He also said that the rule is in place to prevent conflict between cellmates, since there isn't enough space for everyone to be doing vigorous exercise. But in the interests of "equal treament", you're not allowed to do such exercises even if you're in a cell by yourself, despite not having any cellmates to disturb.
According to Minister for Law and Home Affairs K Shanmugam, incarcerated people who participate in work programmes earn $0.30–$2.60 per hour — he framed this as an allowance, not a wage — in prison workshops.
One complaint I've heard multiple times from the family members of people in prison has to do with medical attention; they say that it might take a long time before the person gets to see a doctor, or that there are sometimes issues with getting medication. Leon Perera also asked about the time between a prisoner raising a medical complaint and them getting medical attention. While Shanmugam said that the authorities do track the time it takes to get a response during medical emergencies, he didn't say what the time was. He also said that prisoners can inform the officers if they are unwell and be referred for medical examination.
---
Got some more...
🚍 Some new measures, such as requiring lorries to install speed management devices, have been introduced to improve safety for the migrant workers who get transported in these vehicles. But the government isn't going to ban the transport of workers in lorries; at the end of the day, it's still coming down to costs and "efficiency". 😡 Migrant workers are the only people in Singapore who are transported by lorries in such a way. If we saw them as equal human beings worthy of respect and safety, we wouldn't be treating this issue as something negotiable like this. By the way, workers are still largely confined to dorms, although there will be some expansion of schemes that allow them to "visit" the "community".
🌏 Minister of State for Home Affairs Muhammad Faishal Ibrahim said that Singapore has to be careful of "foreign interference" on the issue of the death penalty. He largely pointed his finger at the Malaysian NGO Lawyers for Liberty, which has been outspoken about the death penalty in Singapore and death row cases here. What he did not mention was that members of Lawyers for Liberty are acting as Malaysian counsel for Malaysian death row prisoners in Singapore.
☠️ In other death penalty-related news, the Court of Appeal has said that there is no law prohibiting the execution of individuals with IQ of 70 or below.
🌳 In February 2021, Chan Chun Sing said in Parliament that the unauthorised clearing of Kranji Woodlands had taken place between December 2020 and January 2021. It then turned out that this clearance had taken place even earlier. Now Chan says that two JTC officers have been found by the police to have given inaccurate information to their superiors, and have been referred to the Attorney-General's Chambers to see if charges will be brought against them. Note that they haven't been found guilty in a court of law yet; Chan said that he was bringing it up because he wanted to update Parliament.
😢 Progress Singapore Party NCMP Leong Mun Wai was made to apologise for alleging that he had not been allowed to speak during the Ministry of Manpower's Committee of Supply debate.
🗳 Volunteers have delivered 1,021 postal votes from Singapore-based Malaysians voting in the Johor state elections.
---
Shout-outs!
✍🏼 I'm restarting the Kaya Toast Mini-Mentorship Initiative! This time, it'll be running on a rolling basis. Check out this page (and share it!) for more details.
🎞 The Oscar-nominated documentary Writing With Fire will be screened exclusively by The Projector starting 17 March. The documentary follows the only newspaper in India that's run by Dalit women.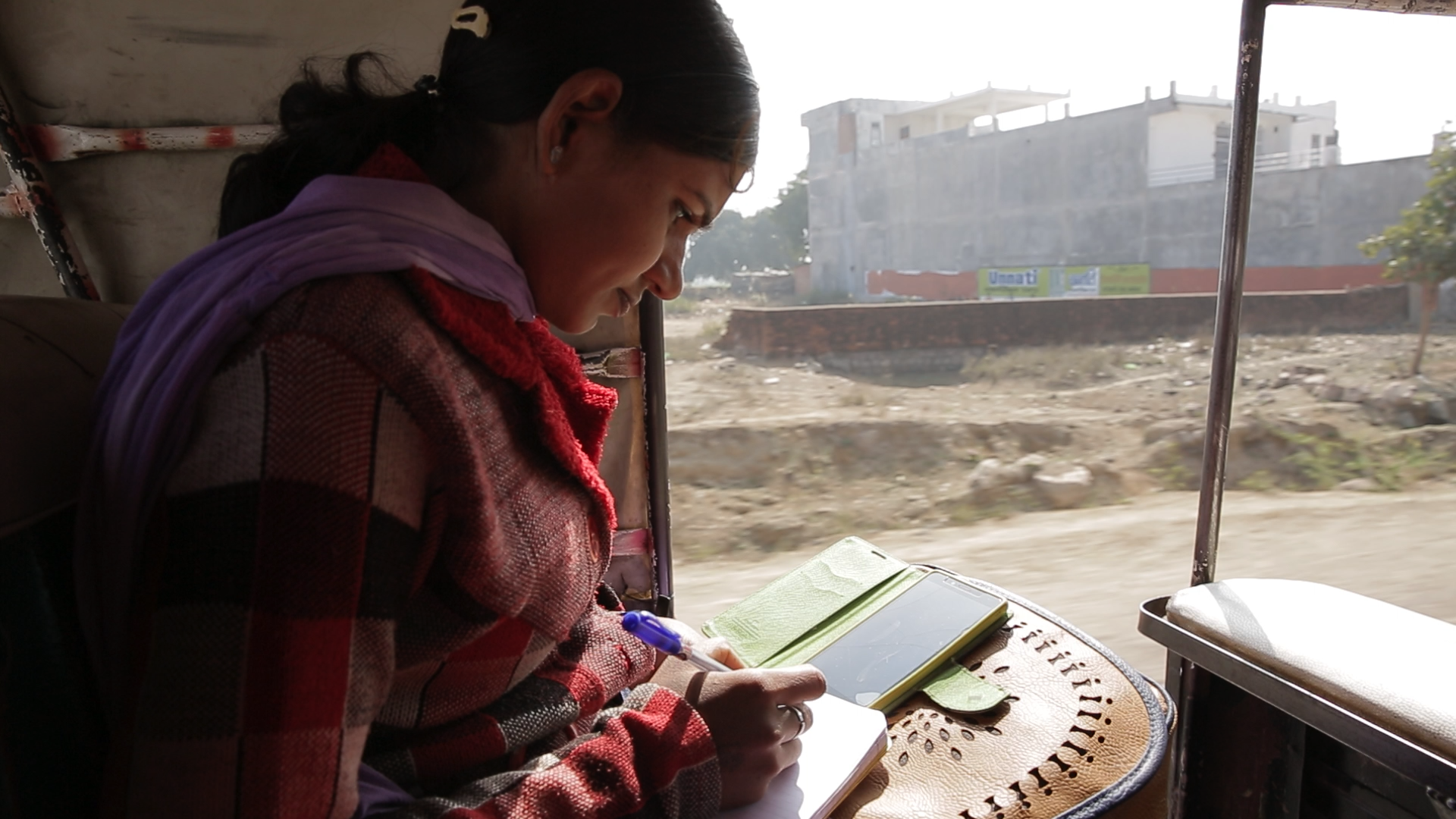 ---
Thank you for reading this week, as with all other weeks. This newsletter is run with the support of Milo Peng Funders, whose subscription fees also allow me to continue my civil society activism as well as to work on my book (which is coming along, slowly but surely) and also pay an honorarium for guest issues, including those that come out of the Kaya Toast Mini-Mentorship Initiative. Please consider becoming a Milo Peng Funder if you can!