Who's talking about truth and trust?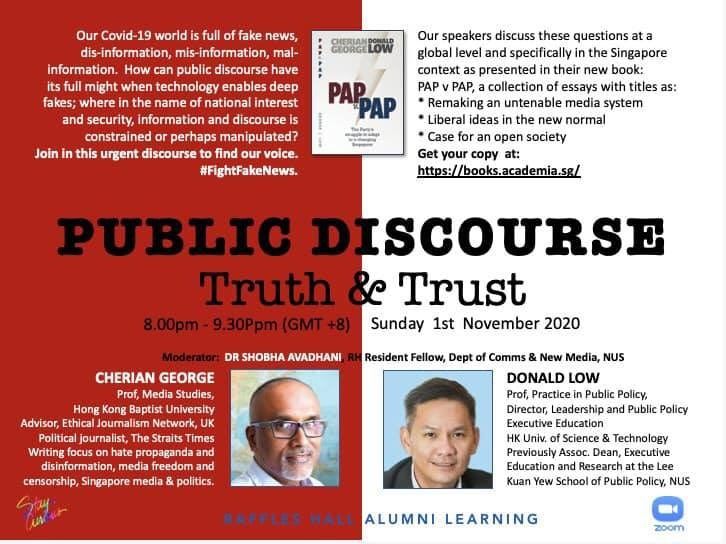 It's the weekend again! For those of you who might have missed it, check out this guest-written special issue on the protests in Thailand. Special issues like these are emailed directly to Milo Peng Funders, then made free on the website later.
---
Well, this is awkward.
Cherian George and Donald Low have co-written a book, PAP vs PAP: The Party's struggle to adapt to a changing Singapore, which you can buy here. The first print run has already sold out, and I'm assuming that the second print run is going to do just fine, given all the free publicity they've got over the past week. (I'm reading the book now with a plan to review it for this newsletter, so keep an eye out!)
Here's the rundown on the free publicity PAP vs PAP has received:
The Raffles Hall Association — an alumni group made up of National University of Singapore students from Raffles Hall — originally advertised an upcoming Zoom session with both Cherian and Donald, on the topic of public discourse, truth, and trust in Singapore. According to Donald, RHA had invited them to speak over a month ago.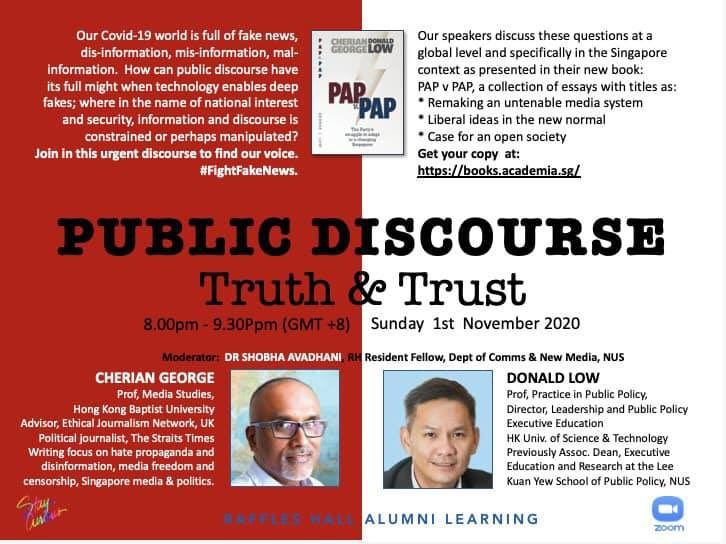 This event garnered lots of interest, with even non-Raffles Hall alumni signing up (including yours truly), since the registration link was openly accessible on their Facebook event page.
Then a new RHA event flyer emerged, for an event with the same name, and at the same time… but with a different line-up of speakers.
🤔🤔🤔
It turned out that Donald and Cherian had been disinvited and replaced. Not that they were ever officially informed; Cherian told Yahoo! Singapore that all he knew was that the organiser of the session had called to tell them that "NUS wanted the event cancelled".
NUS, Raffles Hall, and the Raffles Hall Association have been quick to distance themselves from one another. Raffles Hall stated on its Facebook page that RHA is "an autonomous alumni group that is not governed by Raffles Hall and NUS." Meanwhile, RHA's founding president said in their public Facebook group that "this is a closed door community and voluntary event, the programme and its contents are developed at the organiser's discretion…"
(Yes, they ended their public statement on a '…', it must be a RHA tradition to leave people hanging and confused.)
It's not clear what's happening to the event now, although Arun Mahizhnan has said that he's withdrawn from the session, and that it hadn't been made clear to him that he was a replacement speaker (he's one of Cherian's bff's some more, aiyoh!)
I received an email the night before cancelling the link to the Zoom session I'd originally been sent. The message from the host seems to suggest that the event isn't cancelled, but that they need to "update the Zoom link due to overwhelming responses" — I have no idea what this means.
Interestingly, the mailer also directs me to contact the host at an email address that turns out to be the email address for the same Raffles Hall that said that the event was an RHA one and nothing to do with them.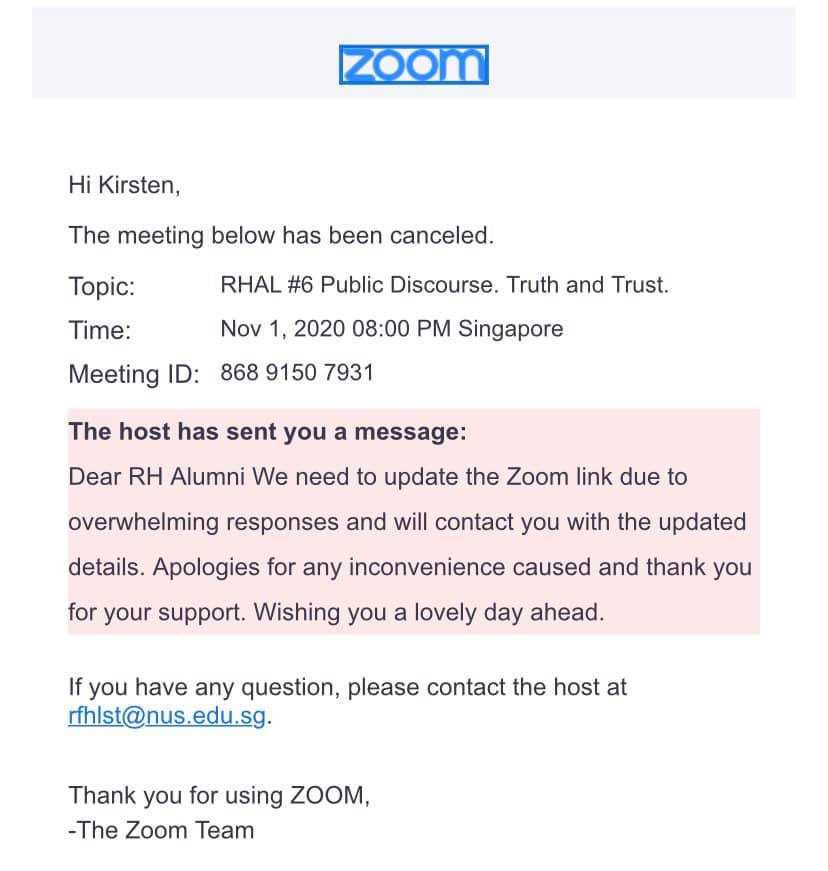 What's notable is that, through all this hullabaloo, no one from NUS has confirmed or denied what Cherian told the media: that the university was the one that hadn't wanted the event to proceed, and had indicated this wish to a supposedly autonomous alumni group.
This has been such a fiasco, but a Very Singaporean Fiasco. Ironically, I think it's become an excellent example of the state of public discourse, truth, and trust in Singapore. It has the classic elements:
a tentative attempt to open up some space to talk about something "controversial" (i.e. actually shouldn't be controversial, but not officially sanctioned so wah scary sia)
someone somewhere gets scared, thus derailing this attempt in a way that triggers the Streisand Effect, making everything worse (or better, or hilarious in the most depressing way, depending on where you stand)
a lack of transparency and accountability as everyone tries to deflect responsibility and save face
widespread speculation that this is censorship, or at the very least, self-censorship, with…
…no clarity as to how high up (to Raffles Hall? to NUS? to some government ministry? to some minister? to the spirit of LKY?) this matter has gone, therefore opening up questions about whether this was direct political interference, or just someone further down the hierarchy chickening out
the truth can be guessed at, but the ones who are willing to state it don't have concrete evidence, while the ones who are really in the know won't state it
trust becomes collateral damage, which is sad because this was entirely unnecessary
Oh, we are, as this government ad suggests, gonna be "the greatest generation".
NOTE: I'm currently slogging (😓😓😓) through my book draft. If anyone would like to book me for a talk some time next year, please hit reply to this newsletter. The condition is that you have to unceremoniously drop me in the most inept and highly visible way possible about a week before my book launch. Thank you for supporting independent writers! 🙏🏼
Who trusts TraceTogether?
With the news that TraceTogether will become mandatory for entry to schools, workplaces, and public venues by the end of the year, people have been scrambling to collect TraceTogether tokens. This overwhelming response led to long queues, which in turn led to the distribution of tokens being temporarily suspended. The tokens will now be distributed one constituency at a time, and has begun with Marsiling.
But that's not all: online, you'll also find threads on social media and forums discussing ways to circumvent TraceTogether, such as sticking a different QR code over the one on the token, or opening up and tampering with the token more directly. The government has warned that tampering with the token is an offence, while infectious diseases specialist Leong Hoe Nam has scolded those tampering with the device for being "thick-headed".
This isn't a problem that scolding is going to solve: if people are going out of their way to find ways to tinker with the device, it at the very least suggests some apprehension or unhappiness about being forced to use TraceTogether. That's a trust issue, and should be taken seriously. If the government were really serious about wanting to reassure people, then they should quickly bring in legally binding measures that will regulate data collection, restrain their power in terms of use and access, and provide citizens with meaningful avenues for redress should any abuse, breach, or lapse occur.
Singapore, the environment, and the climate crisis
The government is setting aside S$49 million to fund low-carbon energy research, as well as looking into hydrogen and carbon capture utilisation and storage. In another positive step, biodiversity impact assessment guidelines have been introduced for development in Singapore, requiring more sensitivity to wildlife and the environment. But this might not be enough to save the Clementi Forest, which has already been designated for residential development in the Master Plan.
Still got some more…
Personal information from 1.1 million RedMart accounts have been stolen and sold online. Lazada is investigating the data breach. If you ordered anything from RedMart before March 2019, you might be affected. As a precaution, change your login credentials!
Parti Liyani is now seeking a compensation order from the court over her case. She estimates her losses to be about S$71,000. The judge, pointing out that the maximum compensation she can get from the prosecution will only be S$10,000, has sent both the AGC as well as Parti and her lawyer back to think about third-party mediation.
The criminal defamation trial for both The Online Citizen's editor Terry Xu and TOC contributor Daniel De Costa has begun. The two are accused of criminal defamation: Daniel for writing a letter alleging corruption at the "highest echelons" of the Singapore government, and Terry for publishing the letter. Daniel is also facing an additional charge under the Computer Misuse Act for using someone else's email account without permission.
Senior Counsel Harpreet Singh Nehal has written a commentary for Singapore Law Watch about the need for a moratorium on the death penalty while all cases are carefully audited and reviewed. He points to three Supreme Court decisions this year related to the prosecution's duty of disclosure, and how these decisions have far-ranging implications for death row cases. He argues that the AGC needs to review all existing death row cases to see if there was evidence that they'd previously believed did not need to be disclosed, but should be disclosed now given what the courts have said. He writes: "While the review will undoubtedly take considerable time and effort, any efficiency concerns must give way to ensuring the safety and correctness of any death penalty conviction."
---
Join this workshop on community asset mapping!
Kokila Annamalai is organising a workshop that will "equip participants with asset mapping tools that can be used across contexts. Using a mix of case studies and interactive exercises, we will go through the different stages of an asset mapping process, from gathering the community to presenting the findings in forms that enable future action."
If this sounds like something you're interested in, please sign up!
---
As usual, share this newsletter and help me get the word out!
If you'd like to receive all special issues of the newsletter (on top of this weekly round-up) in your inbox, please become a Milo Peng Funder:
We, The Citizens Newsletter
Join the newsletter to receive the latest updates in your inbox.