Cost orders, POFMA and more
This week: POFMA orders issued over Tangaraju Suppiah's case, arms transfers to Myanmar, and lots of interest in GCBs on Ridout Road.
I was going to say happy weekend but it isn't really for me. 😅 It's been confirmed that I'll have to pay $8,000 in costs for the failed application to get my conditional warning quashed. (If you don't know what I'm talking about, you can catch up here.) I don't have plans right now to start a crowdfunding campaign… if you would like to chip in and help with this cost order, perhaps you could become a Milo Peng Funder (you can subscribe for a year and then cancel so it won't automatically renew next year) or send a tip via Ko-Fi?
---
Kena POFMA
It's really not been Kirsten's Favourite Day, that's for sure. Apart from that cost order thing, I received a POFMA notice in my email this evening regarding statements made about Tangaraju Suppiah's case in the week leading up to his execution. Minister for Communications and Information and Second Minister for Home Affairs Josephine Teo directed the POFMA Office to issue me correction directions for two Facebook posts, a tweet, and an issue of this newsletter. Others — M Ravi, Andrew Loh, The Online Citizen and the Transformative Justice Collective — also received POFMA orders for various statements related to Tangaraju's case.
In the case of myself and TJC, the statements the minister took issue with were ones in which I'd stated that Tangaraju had asked for a Tamil interpreter during the recording of his first statement and that this request had been denied. The government says that this statement is not true. They point to what the High Court judge said about Tangaraju's claim:
"The accused also alleged that his repeated requests for the assistance of an interpreter during the recording of his 24 April 2014 statement had been denied. As a result, he did not fully understand Insp Ng's questions, nor the recorded statement when it was read back to him. Again, this was a bare allegation raised for the first time during his cross-examination, which I found rather disingenuous given the accused's admission that he had made no such request for any of the other statements subsequently recorded from him."
I've put up the correction notices where I was told: on two Facebook posts, then as a new pinned Facebook post, as a pinned quote-tweet of the tweet the POFMA Office identified, in the WTC newsletter issue identified, and on the WTC main page (sorry it doesn't look fantastic, but they said it had to be up top and that was about as high up as I know how to get it). I also received a notice from Twitter saying:
"Hello @kixes,

In the interest of transparency, we are writing to inform you that Twitter received a notice under the Code of Practice for Giving Prominence to Credible Online Sources of Information from the Singapore government regarding your Twitter account, @kixes. It states that a Part 3 Correction Direction under the Protection from Online Falsehoods and Manipulation Act 2019 was issued with respect to a Tweet in your account. Please note that under Singapore law, Twitter is required to limit the Tweet's visibility. More information regarding this can be found on our Help Centre: https://help.twitter.com/en/rules-and-policies/enforcement-options.

It is our policy to notify our users if we take action related to their account pursuant to applicable local legislation, rules or directions, pursuant to communication from an authorized entity (such as law enforcement or a government agency). This page provides more information on our policy: https://help.twitter.com/en/rules-and-policies/defending-and-respecting-our-users-voice.

For more information on legal notices Twitter receives from governments worldwide, please refer to this article on our Help Center: https://help.twitter.com/en/rules-and-policies/twitter-legal-faqs.

Thank you,
Twitter"
This is what I know:
Tangaraju said he could speak some English, but preferred speaking Tamil. He did not have an interpreter when his first statement was recorded.
During his trial, Tangaraju claimed that he had asked for a Tamil interpreter when the police were recording his first statement, but his request was denied. He said that, because of this, he had trouble understanding some of the questions the police officer asked, and parts of his recorded statement when it was read back to him. The High Court judge didn't believe him, saying in the judgment that this claim was just a "bare allegation" Tangaraju had brought up for the first time during cross-examination, and that it was "rather disingenuous" because Tangaraju hadn't asked for an interpreter any of the subsequent times statements were recorded.
---
Arms transfers to Myanmar
A new report by the UN Special Rapporteur on the situation of human rights in Myanmar has pointed to entities still involved in the arms trade with the Myanmar military junta, currently engaged in the brutally violent oppression of civilians after the 1 February 2021 coup. This includes entities in Singapore. I wrote about this for Altering States, pointing to the link between conflict and the illicit drug trade.
The UN Special Rapporteur said that they'd passed on information that they'd gathered on Singapore-based entities engaged in arms transfers with Myanmar to the Singapore government. The Ministry of Foreign Affairs says the government has worked to prevent the flow of arms into Myanmar and that Singapore won't hesitate to take action against those who contravene the laws.
---
Got some more…
🏡 Have you been following the chatter about Home Affairs and Law Minister K Shanmugam and Minister for Foreign Affairs Vivian Balakrishnan's huge rented abodes? Members of Parliament have filed questions about the circumstances around the two ministers renting those state-owned Good Class Bungalows.
🤖 A 40-year-old man who rammed a patrolling robot with a trolley while suffering from a schizophrenic episode at Changi Airport has been sentenced to four weeks in prison after he plead guilty to a charge of committing mischief. The prosecution said that if he hadn't had a mental condition, they would have sought a two- to three-month prison sentence instead.
---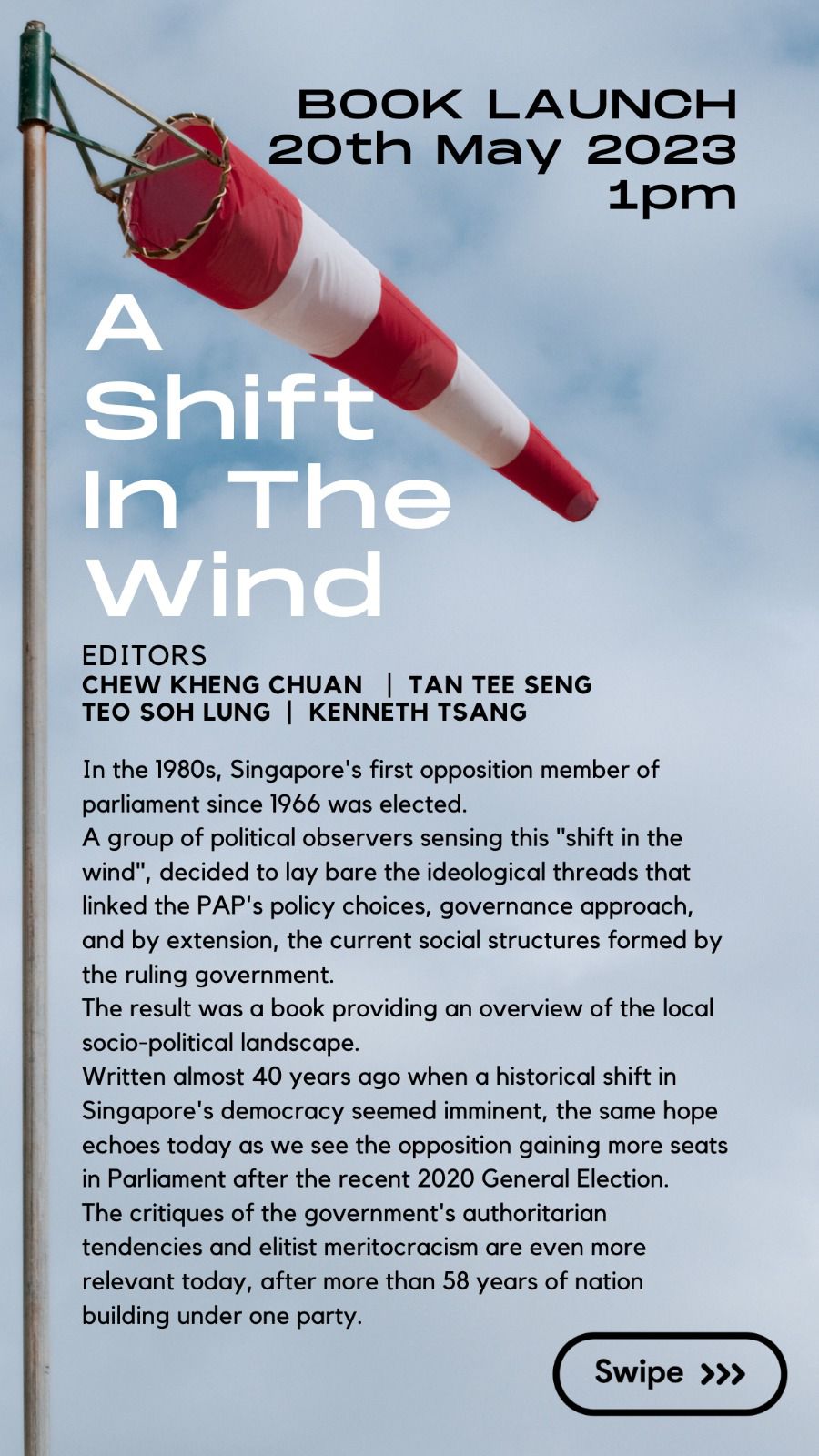 Launching today! A Shift in the Wind, a book written about Singapore's political landscape after the first opposition member was elected in the 1980s. You can pre-order the book here. The book launch is at 1pm today at Palm Bistro (60 Anson Road, #01-02, Singapore 079914), and you'll be able to pick up a copy of the book for $15.
---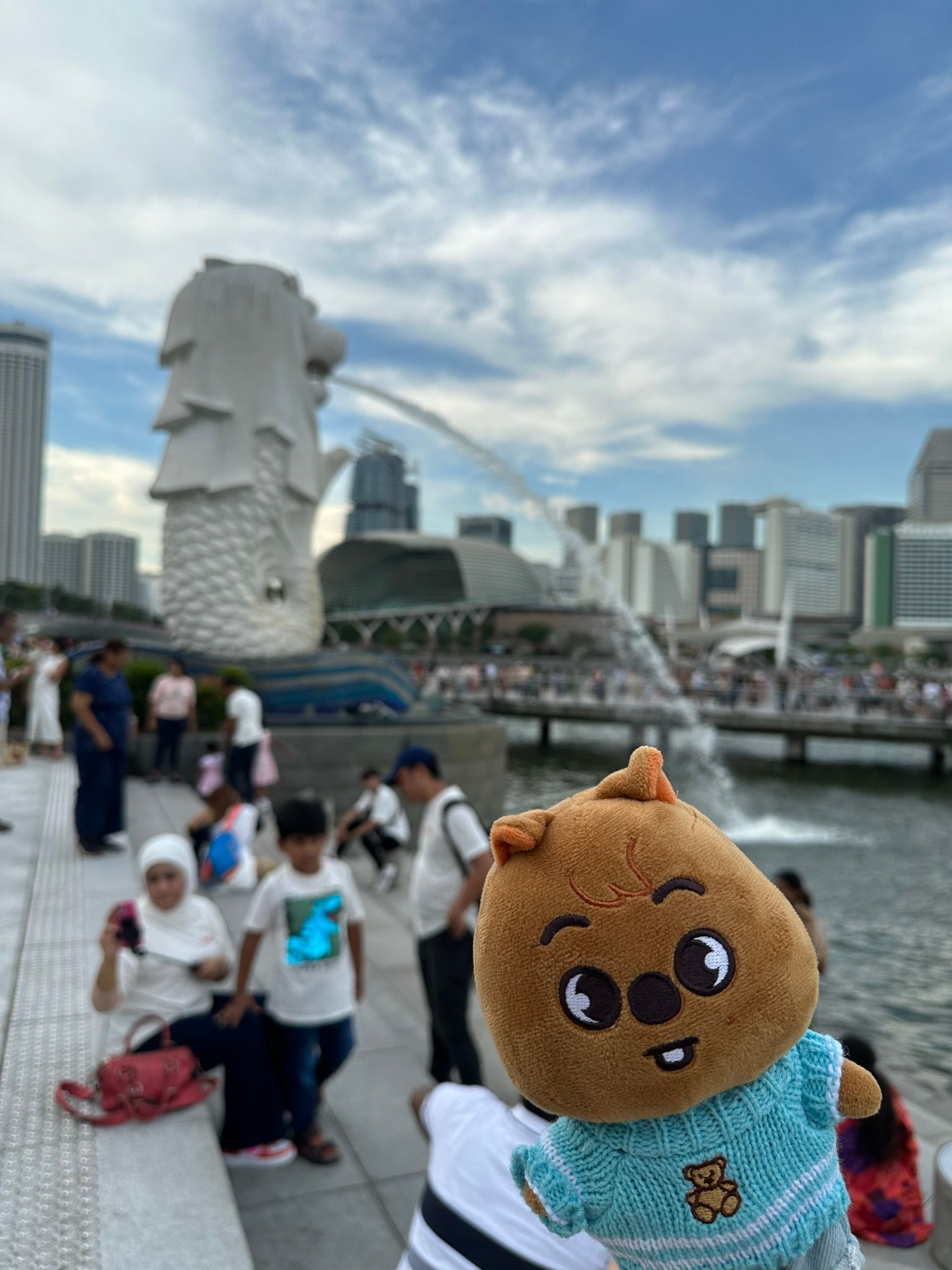 We, The Citizens Newsletter
Join the newsletter to receive the latest updates in your inbox.