Primer: Civil and political rights in Singapore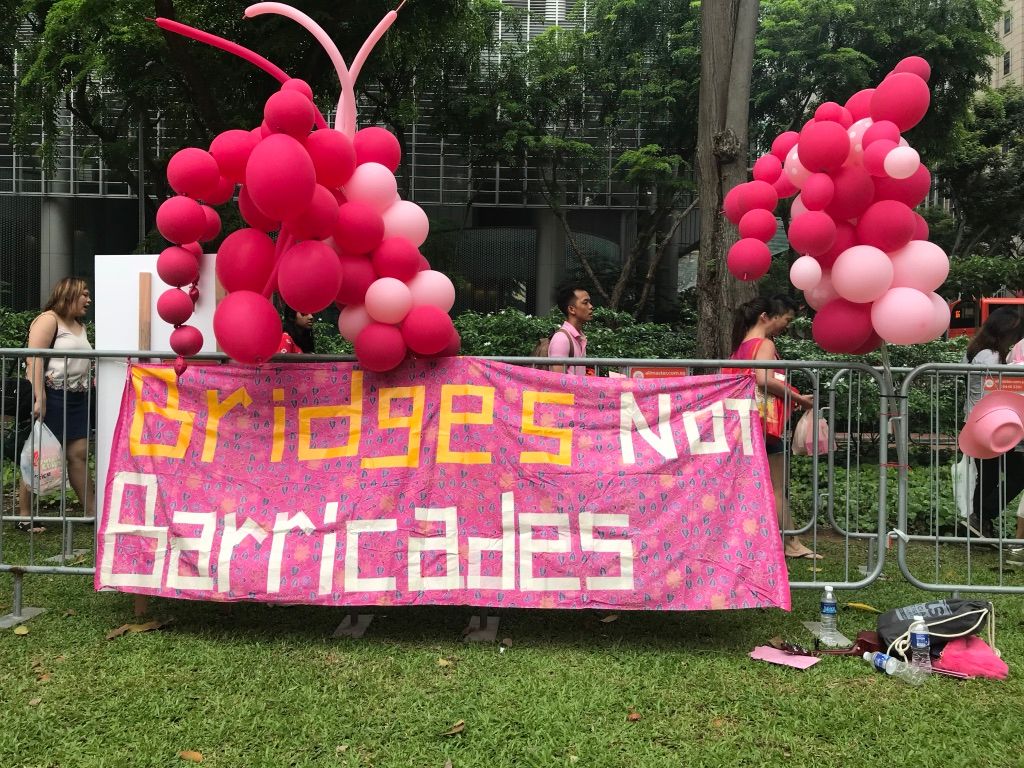 Most subscribers of We, The Citizens are Singaporeans, or people who have an interest in/familiarity with Singapore and its politics. But I often meet people who would like to learn more, particularly in relation to politics, democracy, and civil liberties. I hope this primer will be helpful! Feel free to forward/share it.
I plan to periodically update this primer, as I did with the previous overview. I'm re-issuing this as a new piece because I think it's sufficiently different from the old version.
Last updated: 29 March 2021
---
Singapore's political context
Singapore has impressed the world with its economic achievements, but there's much to be desired when it comes to political rights and civil liberties.
It effectively operates like a one-party state: the People's Action Party, or PAP, were first voted into power in 1959, and have won every election since. They've always had a supermajority in Parliament; today, there are only 10 opposition Members of Parliament, two Non-Constituency Members of Parliament (NCMP), and nine non-partisan Nominated Members of Parliament in a 104-seat House. Everyone else is PAP.
What this means is that proposed laws and amendments—even to the Constitution—are easily passed according to the PAP's wishes, with little challenge. Even motions put forward by the opposition can be amended to the PAP's satisfaction.
I start with this because the PAP's long, uninterrupted reign forms the foundation of all the other issues that will be discussed here. It's the political backdrop against which generations of Singaporean lives have unfolded. Singaporeans born after 1959 have no memory of a time when the "Men in White" (a well-known term for the PAP, because of their all-white party uniform) haven't been dominant. In daily lived experiences, there's little distinction between the party and the government, and it's all tied into our notions of "country" and "nation" and "state". Decision-making is presented and perceived as top-down processes operating in accordance with the PAP's technocratic approach, with limited space for scrutiny and dissent.
The PAP's dominance gives it power over many aspects of Singaporean lives—"from cradle to grave", as some have put it. The party can craft narratives and national myths, perpetuated through multiple channels—from the education system to the mainstream media—to shape (or limit) citizens' political imagination, engineer social norms, and set the direction in which the country develops. For many of us, it's become difficult to imagine a different political reality on our island.
The idea of the press being the "Fourth Estate", to scrutinise and hold the powerful to account, is rejected in Singapore; instead, local news outlets are seen as part of the "nation-building" effort, and predominantly responsible for informing and educating people about government policies. There's also no right to freedom of information, which means that the flow of information is largely mediated by the government. This affects what Singaporeans are able to know and debate, be it our own history or contemporary issues.
One common narrative is that Singaporeans have made a "trade-off" and chosen economic growth and security over civil and political rights. This narrative points to a "social contract" between the people and the government that allows successive PAP governments to pursue GDP growth while restricting fundamental freedoms such as the freedom of expression and assembly.
While constantly parroted, it's a claim in need of more scrutiny: while civil and political rights are suppressed, limiting the ways in which Singaporeans can voice our opinions and participate in political discussions, how can we determine if the people have genuinely consented to this state of affairs?
Freedom of expression and Singapore's media scene
The restriction of freedom of expression in Singapore is not a recent problem. It can be traced back decades: to laws, such as the Newspaper and Printing Presses Act, that brought the mainstream media to heel, and to defamation suits that high-ranking members of the PAP filed against news publications (such as the Far Eastern Economic Review or the International Herald Tribune) and political opponents (such as the late opposition politician J B Jeyaretnam and current secretary-general of the Singapore Democratic Party Chee Soon Juan).
More recently, ordinary citizens have also found themselves on the receiving end of such defamation suits: Prime Minister Lee Hsien Loong was awarded S$150,000 in damages after suing the blogger Roy Ngerng over a blog post the latter had written, and was more recently awarded S$133,000 in damages from a suit against financial advisor Leong Sze Hian over an article shared, without comment, on Facebook. (After being sued by the prime minister, both Ngerng and Leong entered opposition politics; the former contested in the 2015 general election, and the other in the 2020 general election.) Lee is also suing Terry Xu, the chief editor of independent news website The Online Citizen, for an article published on the website.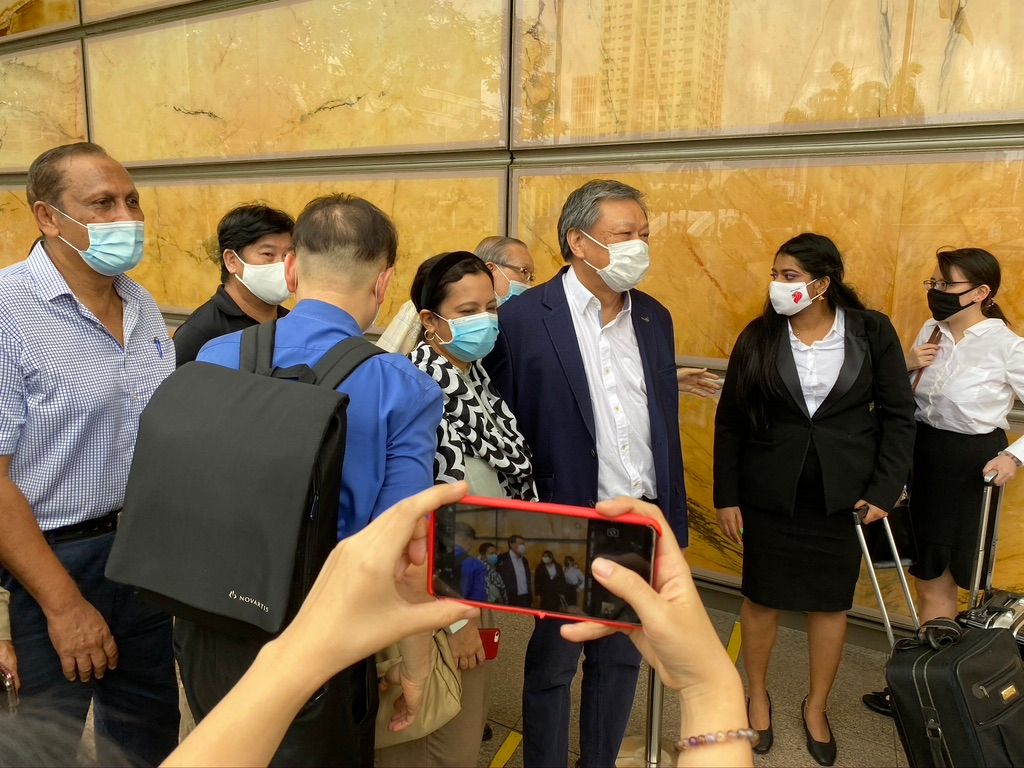 Such high-profile examples of clampdowns on free speech and press freedom have contributed to a culture where people resort more to self-policing than resistance. Journalists in mainstream media newsrooms get used to dealing with calls from government ministries, and some even embrace the fact that they produce propaganda. Self-censorship is rife in Singapore, not just within the media industry, but also among public servants, academics, and ordinary citizens. This culture of self-censorship and fear is widely acknowledged, and has featured in plays like Tan Tarn How's Fear of Writing and Press Gang.
The lack of space for dissenting viewpoints in the mainstream media gives the Internet extra significance when it comes to political discourse and discussion. In Singapore, the online sphere is practically the only space that exists for wider political talk that isn't automatically dominated by the PAP. Over the years, citizen journalists and bloggers, such as those at The Online Citizen, have also reported on, or opened up discussions of, un- or under-reported issues in the mainstream media.
The PAP government previously said that they would regulate the Internet with a "light touch", but bloggers and journalists have taken issue with moves such as a licensing regime introduced in 2013 that required websites (as identified by the authorities) to register for a licence with the Media Development Authority (since re-organised into the Infocomm Media Development Authority). These websites are expected to put down a performance bond of S$50,000 and commit to removing objectionable content within 24 hours. This "light touch" approach is now a thing of the past, particularly with the passage of the Protection from Online Falsehoods and Manipulation Act, or POFMA.
POFMA, which was passed in Parliament in May 2019 and came into force later that same year, gives the government wide powers to intervene or regulate content online, including social media. Under POFMA, any government minister is empowered to order correction notices, the removal of content, and the blocking of access to content online. Failure to comply with such orders could result in heavy fines and imprisonment. Although the law allows for appeals to the High Court, these potentially costly appeals can only be made after one has applied to the minister in question for review. In any case, compliance with the order is required from the outset.
The bill also proposes that ministers can make a website or page a "declared online location" as long as it has had three orders against it within the past six months. Once so declared, a website will not be allowed to generate revenue, whether through ads, subscriptions, or donations. Such a provision could be the death knell for independent news websites like The Online Citizen, for whom funding is a perennial issue.
As of 11 July 2020, POFMA has been used over 70 times by various government ministers. While some orders targeted opposition politics and critics of the ruling party, the law was also occasionally invoked against misinformation related to the Covid-19 outbreak. Orders have also been issued to internet service providers and internet intermediaries like Facebook to block access to websites and pages, such as the website of Malaysian NGO Lawyers for Liberty, or the Facebook page of the anti-PAP site States Times Review.
During the 2020 general election, permanent secretaries of various government ministries were appointed alternate authorities and given the power to issue orders on behalf of ministers. POFMA orders were issued against claims made by opposition politicians during the campaigning period, but it's unclear if they made an impact on voters' decisions. It's notable that, since the election, no new POFMA orders have been issued.
The Online Citizen, currently Singapore's longest-running independent news website, has endured a series of government actions that have stifled its growth and development. In 2011, the website was gazetted by the Prime Minister's Office as a "political association", which meant that it was required to adhere to political donation laws that banned it from receiving funding from foreign sources and limited the amount of anonymous donations it could receive every year. It was removed from the list of political associations in 2018, then registered with the IMDA under conditions that continue to block the site from receiving any foreign funding.
Apart from the ongoing civil defamation case brought by Prime Minister Lee Hsien Loong, The Online Citizen's chief editor Terry Xu is also facing a charge of criminal defamation for the publication of a readers' letter that made reference to "multiple policy and foreign screw-ups, tampering of the Constitution, corruption at the highest echelons". The author of the letter, Daniel de Costa, has also been charged. The case is ongoing.
In March 2021, Xu was again summoned to police headquarters for questioning, this time in relation to a new investigation under the Administration of Justice (Protection) Act, a contempt of court law passed in 2016. His electronic devices were confiscated from his home.
The Online Citizen is not the only independent news website that has received unwelcome attention from the state. After the 2020 general election, New Naratif, an independent Southeast Asian platform with Singaporean founders (including myself, although I no longer work there) came under investigation for alleged unauthorised election advertising, pertaining to posts it had boosted on Facebook during the campaigning period. While New Naratif is officially registered as a company in neighbouring Malaysia, its Singapore-based managing director, Thum Ping Tjin, has been questioned by the police twice so far. His laptop and mobile phone were also seized.
Various independent media outlets have sprung up online over the years, with the intention of providing news coverage and commentary. But starting up is far easier than achieving sustainability, and multiple outlets—such as SIX-SIX and The Middle Ground—have folded due to the lack of funding. With little in the way of local philanthropy or financial backing for independent media ventures, on top of regulatory restrictions against foreign sources of funding (including grants from foundations) and the lack of a culture of paying for online news, those who have made forays into the Singaporean independent media scene have struggled to balance the books and stay in the black. Those who appear to be thriving, such as Mothership.sg, count government agencies among its long-term advertising partners; an arrangement that would be impossible for more critical outlets.
Politics and the political on social media
Given the gatekeeping of more traditional and mainstream spaces for national discourse, social media has become a major platform for Singaporeans to engage in political discussion and dissent. Although younger Singaporeans, like their counterparts elsewhere, tend to lean towards platforms like Twitter, Instagram and Tiktok, Facebook is still the most popular social media platform in the country.
While the reach of these online spaces must still be considered limited when compared to that of the traditional media—particularly when one takes into account that a large number of social media users in Singapore might not be consuming any political content at all—the impact of social media cannot be discounted. It has challenged the monopoly of mainstream news sources, as well as shifted boundaries and normalised a wider range of expression (such as openly declaring one's support for opposition political parties). Opposition parties and civil society groups have also used social media to reach Singaporeans, spread messages, and launch campaigns.
The PAP has been aware of the need to respond to online chatter for a long time. A 2007 article in the Straits Times described a "quiet counter-insurgency against [the PAP's] online critics". According to this report, members and supporters of the PAP were coordinated to go to internet forums and blogs to "rebut anti-establishment views" and anonymously post pro-PAP views.
All PAP Members of Parliament have social media pages, and many actively post about their activities, views on issues, and interact with (or hide/block) comments. The PAP government has also teamed up with social media influencers, such as during the Budget, in efforts to engage with younger Singaporeans. Unsurprisingly, when its comes to budgets for public relations and social media management, the ruling party and the government's pockets are much deeper than opposition parties, NGOs, and activists.
The PAP government has made much about foreign interference and misinformation campaigns, pointing to events such as the 2016 US presidential elections to justify the need for laws like POFMA (and more). That said, there has, as yet, not been any known large-scale misinformation campaign targeting Singaporeans, although there are multiple Facebook pages and groups producing or sharing political content (of all stripes).
Around the 2020 general election period, Facebook removed a few pro-PAP pages for "inauthentic behaviour". While there has long been talk of a coordinated "Internet Brigade" or "IB", there has so far been no clear evidence of the ruling party or government directly funding or orchestrating trolls (i.e. a Singaporean equivalent of the Chinese wumao). This has, however, not stopped people from asking why the PAP has not done more to rein in their hardcore supporters on Facebook, who sometimes attack or harass opposition politicians and activists online. (See also: this call on Academia.sg for political parties to commit to good faith practices on social media.)
Concepts and terminology from abroad have also seeped into Singaporean political discourse. While liberal or progressive activists have been accused of "importing Western influence" or "culture wars" incompatible with Singapore's context or "Asian values", the establishment and other conservatives have themselves adopted imported framing. Over the past year, the mainstream media has flagged concerns about "cancel culture" as perpetrated by people who are supposedly "woke". Within this framing, progressive activists are positioned as the ones shutting down freedom of thought and expression. (I've written about this hullabaloo over "cancel culture" and "wokeism" in the Singaporean context, here and here.)
Restrictions on freedom of assembly
Multiple individuals have been called in for investigations into "illegal assemblies", whether or not these gatherings have actually caused any public disturbance or disorder.
Singapore's Public Order Act prohibits public cause-related events—even if only one person is involved—unless permission is granted by the police. The definition of a "cause-related event" can be extremely broad: in February 2021, the police issued a statement to say that opposition politician Chee Soon Juan needed a police permit to collect signatures for a local petition calling for the construction of a sidewalk, or the activity would be illegal.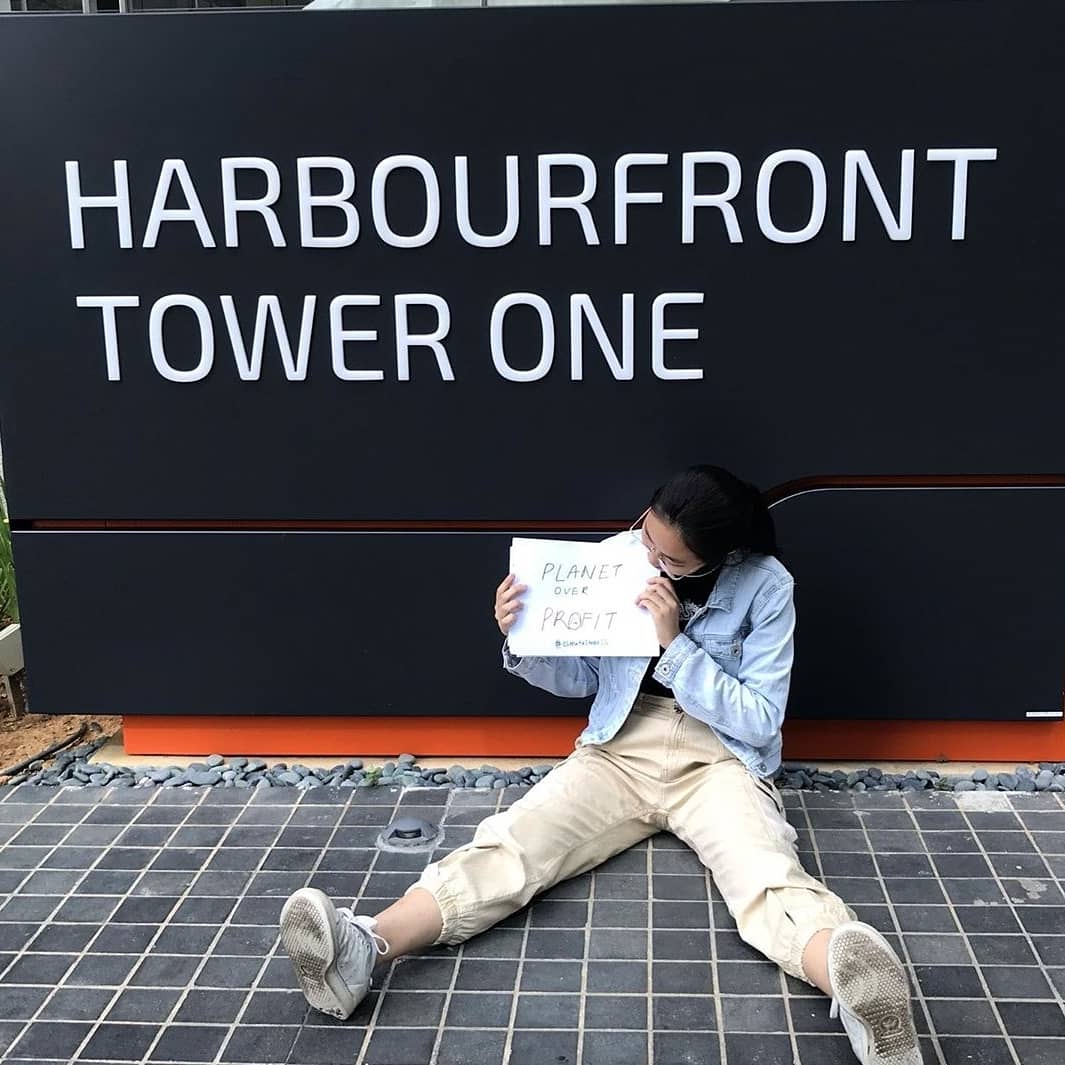 In March 2020, two young climate strikers posed separately for photos in which they held up signs drawing attention to Big Oil's presence in Singapore. Although they hadn't lingered in those public places, their action still resulted in them being investigated and later issued stern warnings by the police. When activist Jolovan Wham recreated one of their photos—replacing the original placard with one of a smiley face—he was charged for allegedly violating the Public Order Act. After Singaporeans asked why Wham had been charged for holding up a smiley face when PAP politician Louis Ng had done something similar to rally support for hawkers, the police opened an investigation into Ng as well.
In February 2021, a small group of Singaporeans stood in front of the Ministry of Education headquarters to protest transphobia and discrimination against LGBTQ+ students in the education system. They were approached by police within minutes, and three were eventually arrested. The police investigation is ongoing, and has involved interrogations of all five protesters, some of their associates, and myself (I was there live-tweeting/reporting).
Such investigations have sometimes also involved confiscations of electronic devices like mobile phones and laptops, leading to concerns about privacy. While most investigations have eventually been concluded with written warnings from the police, some cases have led to charges and conviction in court.
Non-Singaporeans are not immune to these restrictions; they are, in fact, even more restricted in terms of expression in physical spaces. In November 2019, a restaurant owner from Hong Kong was banned from Singapore after he was investigated for allegedly organising a public assembly without a permit. He'd organised an event inviting people to share their views about the ongoing protests in Hong Kong. In December 2019, an Indian national was investigated for the same offence after he posted a photo of himself holding a placard protesting India's citizenship law at Marina Bay. In February 2021, police began investigating two Japanese men and an Indonesian for protesting outside the Myanmar embassy in solidarity with anti-coup protesters in Myanmar. As non-citizens, such individuals are at risk of having their visas revoked and being deported, or even banned, from Singapore.
The multiple cases of Jolovan Wham
There is currently no one in Singapore's civil society with as many pending cases as civil rights activist Jolovan Wham. Out of three "illegal assemblies" investigated—an indoor forum on civil disobedience and social movements, a silent protest on an MRT train, and a candlelight vigil for an imminent execution—he was the only one of all the participants charged. He was also charged for refusing to sign his statement to the police in all three of these investigations; he's said that, as a principle, he would prefer not to sign documents that he can't get a copy of. Another charge of vandalism was added because Wham had allegedly put up two signs printed on A4 paper in the MRT carriage during the silent protest. (While there is no caning for the first conviction of vandalism, Wham could be in danger of judicial corporal punishment should he ever be charged with the offence again.) In 2020, Wham was also charged with two further instances of alleged illegal assemblies: in both cases, he had merely posed for photos while holding up signs.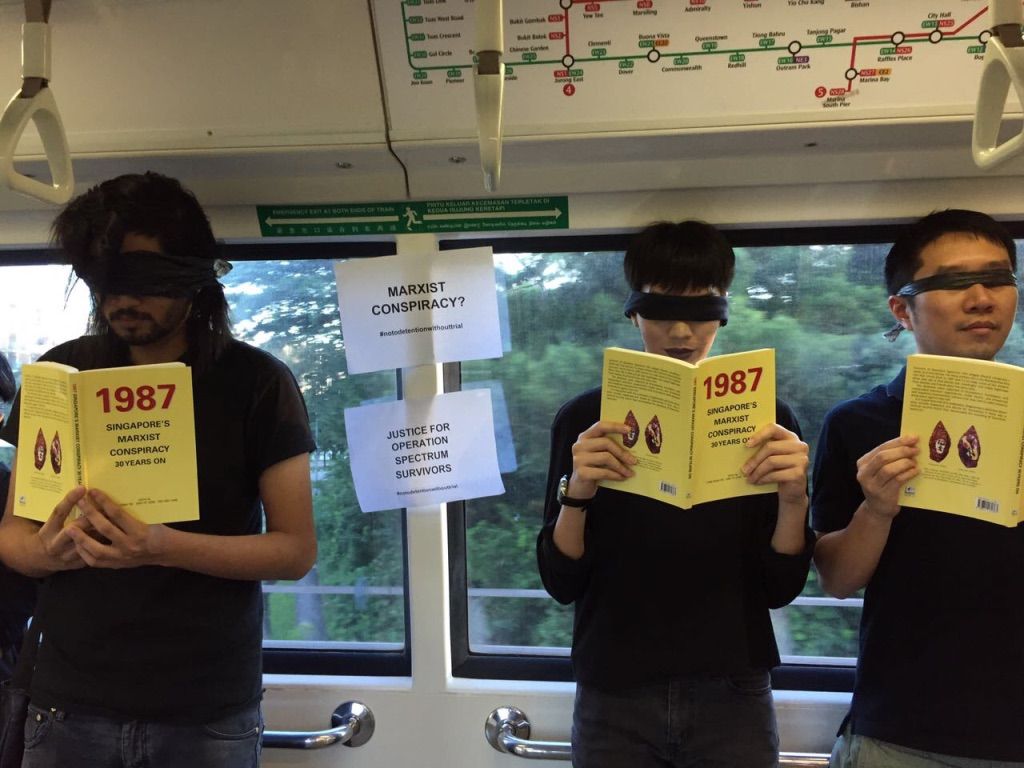 Wham was also the first to be charged and convicted of scandalising the judiciary under Singapore's Administration of Justice (Protection) Act, alongside Singapore Democratic Party chairman John Tan. Wham had commented on a Facebook post that he found Malaysian judges to be more independent than Singaporean ones when it comes to political cases. After the Attorney-General's Chambers commenced proceedings against Wham, Tan posted on Facebook that their action had merely proved Wham right—this, as it turned out, was also enough to get Tan in hot water. Following conviction, Tan was barred from contesting in the 2020 general election.
In both this contempt of court case and the case of the indoor forum, Wham was convicted and fined. He refused to pay the fines, choosing instead to serve time in prison. He spent one week in prison for the first case, and 10 days for the second. In 2021, Wham pleaded guilty and served two-thirds of a 22-day sentence (again in lieu of paying a fine) for his participation in the silent protest on the MRT train and the charge of vandalism.
Repercussions that are harder to name: blacklisting/greylisting
There have been reports of academics being blacklisted and shut out of employment in academia in Singapore. Public cases include journalism professor Cherian George, who lost his position at the Nanyang Technological University in 2013 after being denied tenure for the second time, artist and assistant professor Lucy Davis, whose Employment Pass was not renewed three years after she lost her permanent residency status, and historian Thum Ping Tjin, who has since been subject to smear campaigns by members of the PAP.
Such incidences can be challenging to verify in many cases, as there is a lack of transparency into how decisions are made. Foreigners can fail to obtain visas, or visa renewals, without being told of the reasons for rejection, thus making it difficult to obtain concrete proof of retaliation for dissent, criticism, political activity, or activism.
Human rights abuses
Restrictions on the right to freedom of expression and assembly aren't the only human rights issues in the city-state.
Among notable abuses is Singapore's retention of judicial capital and corporal punishment. While Singapore's laws allow for the death penalty for a variety of offences, the most common are drug trafficking, murder, and firearms offences. There are currently about 50 death row inmates in Singapore, most of whom were sentenced to death for drug offences. (You can refer to this post for a primer on the death penalty in Singapore.) Caning is also routinely carried out; between January to October 2016, 987 people were caned in Singapore's prisons.
The issue of LGBTQ+ rights is another contentious one. Under Section 377A of Singapore's Penal Code, sex between men is illegal. The government has repeatedly refused to repeal the law. Previous constitutional challenges against it were unsuccessful; the most recent three challenges are currently before the Court of Appeal.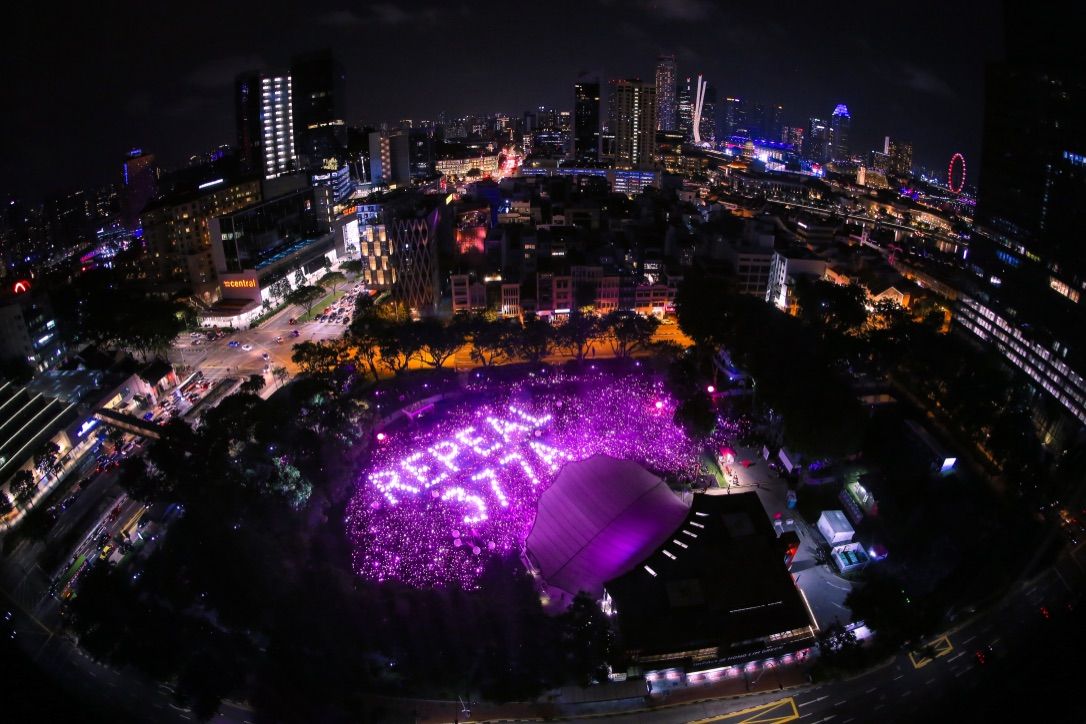 As a form of compromise, the PAP government has said that, despite its retention, Section 377A will not be pro-actively enforced. PAP leaders, such as Prime Minister Lee Hsien Loong, have said that Singapore is "not ready" for more openness and acceptance of things like same-sex marriage, while also asserting that LGBTQ+ people are not discriminated against or harassed. LGBTQ+ activists have rebutted such claims, producing ample documentation of homophobia, transphobia, censorship, and discrimination in Singapore. (To read more about the development of Pink Dot, a movement for LGBTQ+ rights in Singapore, click here and here.)
A comprehensive list of human rights issues in Singapore will require something much, much longer than this overview. But here are some websites/books/articles that you can refer to for the following issues:
Are things changing?
Although there was a brief period around 2011 (particularly after the 2011 general election) where the PAP talked about a "new normal" of more openness, control over the online sphere and civil society spaces has gradually tightened over the years. However, there have been signs of change—particularly among a younger generation of activists, and the considerations of many Singaporean voters.
Prime Minister Lee Hsien Loong exercised his prerogative to call a snap election in July 2020, even though Singapore was then still in the middle of a gradual reopening from a partial lockdown. In the run-up to the election, assumptions that the electorate would adopt a "flight to safety" mentality led to concerns of an "opposition wipeout".
Instead, the opposite happened, and the opposition made further in-roads into Parliament. The Workers' Party won 10 seats; they not only retained Aljunied GRC—won in 2011 at a time when it was believed that opposition parties would never be able to snatch GRCs from the ruling party—but also won the newly formed Sengkang GRC. The Progress Singapore Party, as the "best losers", were offered two Non-Constituency Member of Parliament seats. Given the largest presence of opposition in Singapore's independent history, the Workers' Party's leader Pritam Singh was officially named Leader of the Opposition.
Young Singaporeans, many of whom were first time voters, made their presence felt during the election, mobilising to share resources and discuss politics. Social media influencers used their platforms to amplify candidates and/or parties, helping them reach different audiences. When the police announced that they were opening an investigation into the Workers' Party candidate Raeesah Khan for old comments she had made on Facebook, Singaporeans rallied behind her online. The strong response pushed the ruling party to not only back-pedal on their attacks against Raeesah, but also to acknowledge that young Singaporeans want more space to talk about race and racism.
The results of the election showed that, while Singaporeans might still want the PAP to hold on to power for now, voters care about political plurality in Parliament. In this way, opposition parties' message of not giving the PAP a "blank cheque" resonated, even at a time when many conditions—such as the pandemic, and uncertainty about jobs and the economy—were expected to have worked in the ruling party's favour.
Singapore's civil society scene
Singapore's civil society has struggled to thrive, mature, and grow. There have been multiple state-led interruptions, such as mass arrests and detentions in the 1960s–1980s—most notably Operation Coldstore and Operation Spectrum—that disrupted community organising and solidarity building, while also entrenching a climate of fear.
But none of this has stopped Singaporeans from trying. NGOs continue to serve marginalised communities, walking the tricky line between pushing the boundaries in their advocacy and working with the government to tweak and improve policies. Young Singaporeans are also highly literate and adept at using technology and social media to conduct political education, share resources, and draw attention to important issues such as racism, discrimination, and the climate crisis.
When the Covid-19 pandemic pushed more activity online, civil society organisations, informal groups, and individuals took advantage of technology like Zoom to organise webinars and online discussions, such as the Activism in Crisis online festival. While there are limitations to video conferencing as a method of collective organising and relationship-building, such online events have also allowed Singaporeans to circumvent restrictions on public assemblies to engage in discussions outside of the establishment hegemony.
Singapore's civil society scene is a difficult, contested space, constantly at risk of being co-opted or suppressed. Yet it is also a space that's full of hope, powered by dedicated individuals. While these people all have their own idiosyncrasies, theories, tactics, and strategies—leading to constant clashes and disagreements within the community—their presence holds space for the important conversations and change-making that need to take place in the ongoing practice of democracy.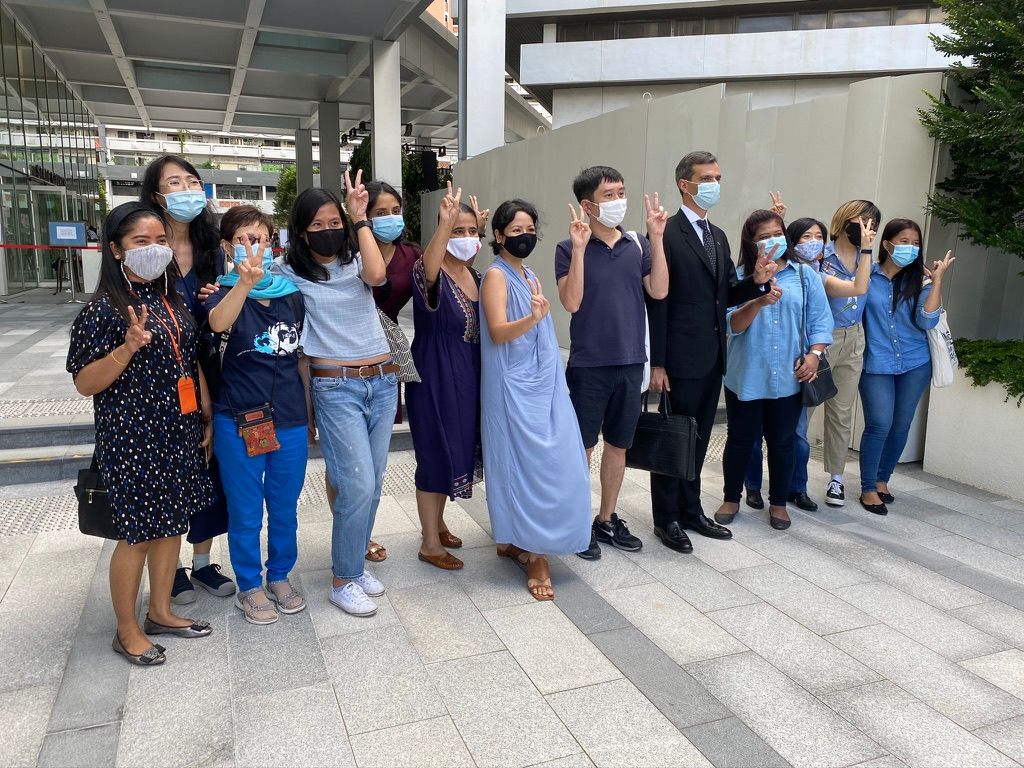 We, The Citizens Newsletter
Join the newsletter to receive the latest updates in your inbox.