Taking the fight to the state
In which I announce that I've taken steps to take the AGC to court.
I've been in Berlin this week attending the 8th World Congress Against the Death Penalty (and the various side events and meetings that sprouted up around it). I've participated in two panels, gave a speech at a reception, and attended what feels like 234234827981 meetings. I've been really encouraged by how kind and supportive everyone has been, and this has been a great opportunity to meet up with old friends — some of whom I haven't seen for years — as well as new ones. I've also had some serious "omg senpai noticed me" moments where people who've been involved in abolitionist work for waaaaay longer than I have came up to tell me that they appreciate my work and my writing. 🥹
Right now, though, sitting in my hotel bed on my last night in Germany, I'm just absolutely knackered. I've been going like a Duracell bunny for four full days now and I'm looking forward to burrowing in bed when I get home to Scotland tomorrow night. 😮‍💨 So please forgive me for keeping this one short and snappy — I'm having trouble keeping my eyes open!
---
"Singapore: STOP THE KILLINGS"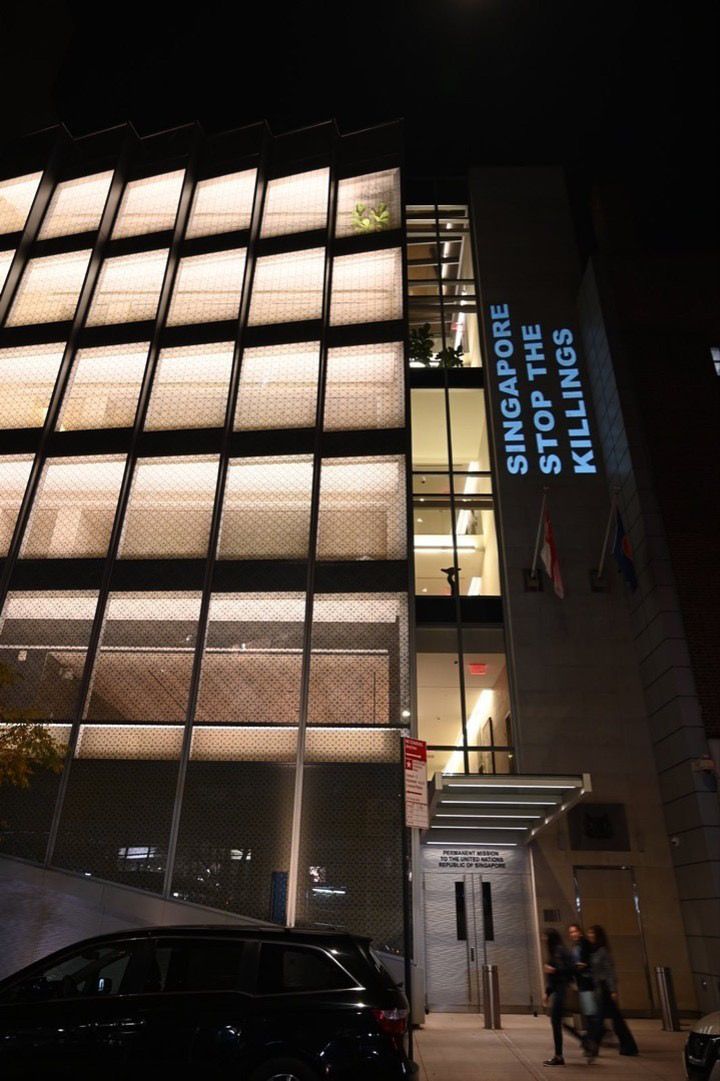 While we've been working hard on the #StopTheKilling campaign in Singapore, allies in New York City came up with this brilliant idea to support the movement from where they are. On 2 November, supporters of the abolitionist movement teamed up with art-activist collective known as The Illuminator to project the message "Singapore: STOP THE KILLINGS" on to the building housing Singapore's Permanent Mission to the United Nations.
"The goal is to name and shame on the international arena, to increase awareness outside of Singapore and show our support for those in Singapore fighting for justice," said an organiser.
I love it.
---
I'm taking the state to court
Yeah, you read that right. I've filed an originating summons seeking leave to commence judicial review proceedings in relation to the conditional warning that I was issued last month (catch up here), after the Attorney-General's Chambers decided off its own bat that a Facebook post I'd published five months ago amounted to contempt of court. I filed the application on my birthday last week before leaving for Berlin, and got the notification while in Germany that the application has been accepted.
In a nutshell: I'm asking the courts to rule that I did not commit contempt of court by publishing the Facebook post I published on 10 May 2022, and to quash/void the 12-month conditional warning that I'd been issued by the police at the behest of the AGC. I'm also asking the courts to tell the police to give me a copy of the report against me — I'd applied for it the day I was given my conditional warning, but have since been told that the police can't give me what I asked for.
I wrote more about why I decided to take this action here.
---
Social media and freedom of expression for Singaporeans
You might have heard that Elon Musk has bought over Twitter, and it's going fairly terribly. People working at Twitter's Singapore office haven't escaped the upheaval unscathed; many lost their jobs and it's all a mess. But there are other concerns about Twitter going down the drain, and I've spoken to a few journalists about this.
Twitter is not that major a platform for Singaporeans, but that doesn't mean it's useless. Personally, I've found Twitter incredibly useful not just for making friends, but also for telling the world about human rights issues in Singapore, and to highlight repressive actions against civil society. I've generally had a good experience on the platform, and I don't want it to fail. Yet Musk isn't inspiring confidence. He seems to have a very narrow, US-centric view of the situation, and things seem to jerk around based on his own whims or experience. I'm not convinced that he comprehends the complexity of running a social media company that operates in many countries with vastly different contexts, and how tricky it can be to devise thoughtful and effective policy while taking into account all this diversity. I'm also worried that if even more content moderation problems emerge, it gives authoritarian governments — including Singapore's — even more of an opening to consolidate power and make the case that they need to be the ones regulating online content.
Meanwhile, Singaporeans are also moving to other social media platforms, like Mastodon. Find me there! @kixes@kopiti.am
---
🎂
I have discounts running all this month! Do you know someone who is a Singapore politics or human rights nerd? Maybe they need a subscription to the newsletter as an (early) Christmas present. Again, Ghost doesn't just let me generate a discount code, so you'll have to click the link for the category that you want:
---
Checking in on the neighbours
🇲🇾 The general election is today! Have you listened to this podcast series hosted by Bridget Welsh and produced by Between The Lines?
🇹🇭 A civil suit has been filed in Thailand against the NSO Group, the Israeli spyware firm behind Pegasus, for infringing the rights and privacy of eight people whose phones had been infected by the surveillance software. This follows a report from earlier this year that found that critics of the Thai government — activists, academics, opposition politicians — had been targeted with Pegasus.
---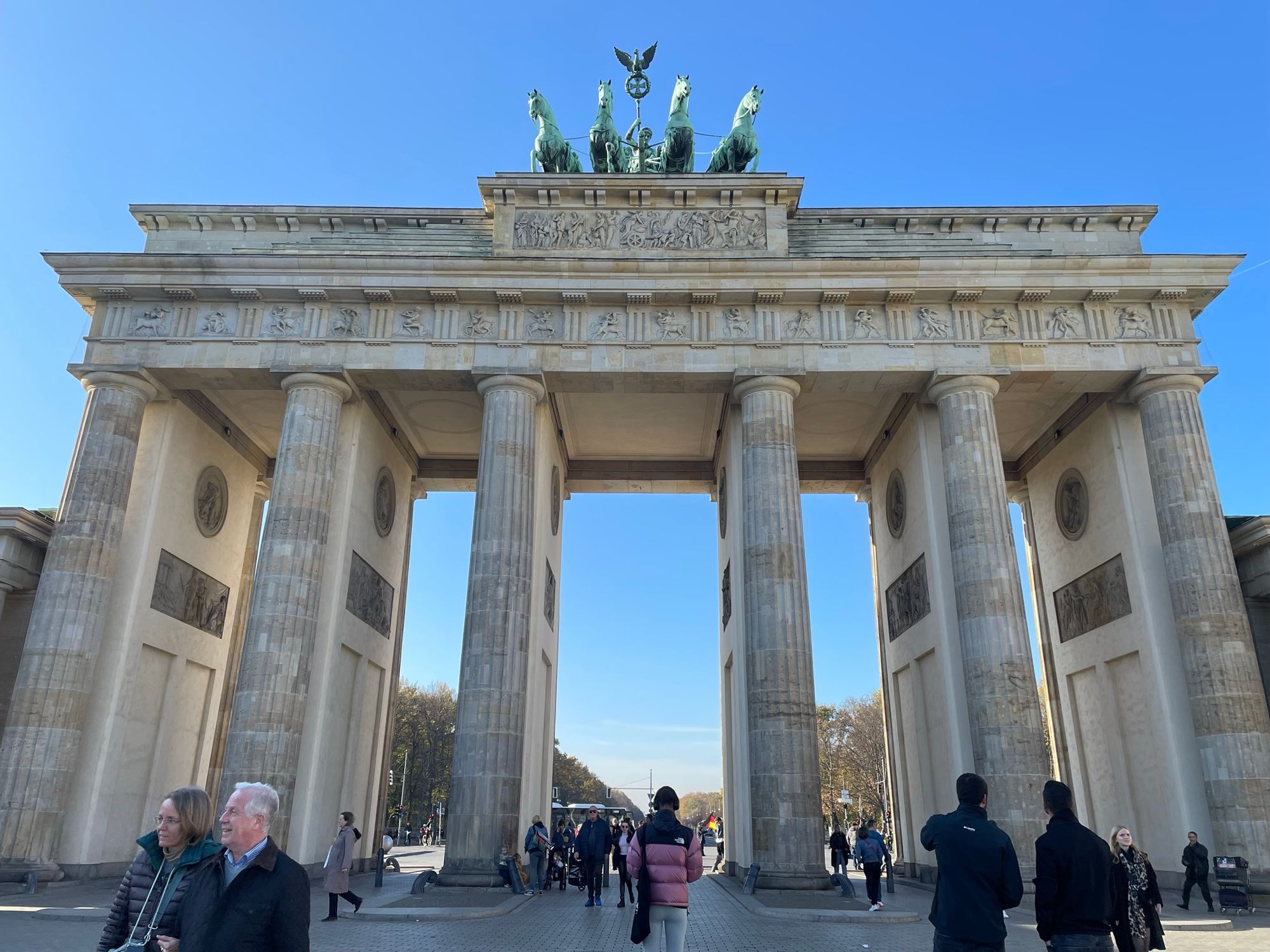 Thank you for reading this week! As always, please help me spread the word about this newsletter by sharing it widely.
We, The Citizens Newsletter
Join the newsletter to receive the latest updates in your inbox.